14 Biggest Surprises of the NFL Season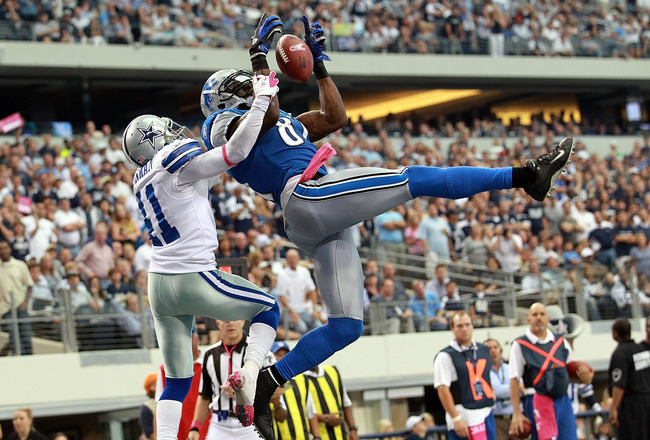 Ronald Martinez/Getty Images
NFL equals surprises.
Well, at least this year it does; never in recent memory have teams had such turnarounds, both positively and negatively.
The Detroit Lions were winless in 2008, now a distant memory as they just boosted their record up to 4-0. The Eagles, dubbed the "Dream Team" this summer, with a group of players that should easily be competing for the Super Bowl, is 1-3.
Yet, it's not only teams that have made fans throw away everything they thought they knew about the NFL, it's players as well.
Chris Johnson had a perennial MVP season just two years ago, rushing for over 2,000 yards, and was still top-three material just last year. Yet, this year, he's rushed for over 100 yards just once, and has faded away down the stretch multiple times.
Ryan Fitzpatrick, who was an NFL laughing stock for the Bills during their humiliating season, has turned the team around, and is now at the point where it's considerable to call him an elite quarterback.
Needless to say, surprises are anything but a rare occurrence in the National Football League, yet some are obviously more intriguing than others.
So, without further ado, the 15 biggest surprises of the season thus far...
Lions Are Undefeated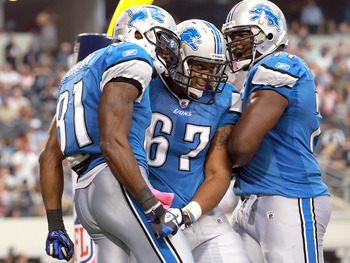 Ronald Martinez/Getty Images
It seems like just yesterday, where on this list of the same title, the Detroit Lions would be here—but for a very different reason. Just three years ago, the Lions went down in history going 0-16 in the regular season, reaching a new level of infamy of a football club.
Several years, a new coach and a new quarterback later, the Lions find themselves one of only two undefeated teams, and winning in classy fashion.
Calvin Johnson has established himself as the No. 1 (at worst, No. 2) best receiver in the league, they have a great quarterback in Matthew Stafford and Suh leads their improving defense.
Honestly, three years ago, NO ONE would believe that they'd be undefeated a quarter through the 2011 season. No way.
The "Dream Team" Has Only One Win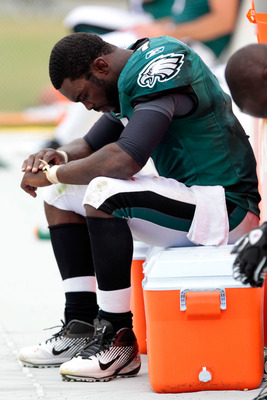 Chris Trotman/Getty Images
In a completely different universe, the Eagles have disappointed beyond belief. A team dubbed the "Dream Team" by their back up QB, and honestly with a roster that should back up the given name, find themselves at 1-3, without even having faced the tougher part of their schedule.
Michael Vick hasn't brought back the magic that made him an MVP candidate last season, their pass defense hasn't matched expectations and their run defense has gone from slightly below average, to straight dismal.
Frank Gore, who had been terrible leading into Week 4, demolished the Eagles last week, exploiting every single weakness on the defensive end of that squad.
Super Bowl talks have flown out the window, and playoff talks will follow in that direction unless they can pull together in the upcoming weeks.
Cam Newton Is Playing out of His Mind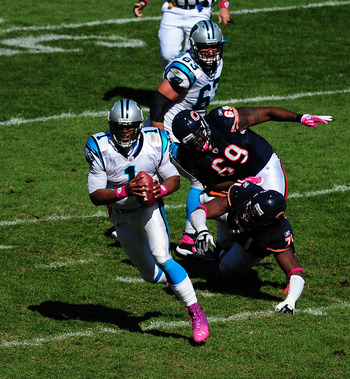 Scott Cunningham/Getty Images
Cam Newton's expectations heading into the draft ranged from MVP candidate to biggest bust in recent NFL history.
Slowly, especially after a tough preseason, the expectations started slipping more and more to the "bust" spectrum of the scale.
No one would have guessed how giant of a jump he would make back to even the most absurd expectations, once the season started. After the first two games, he had the second most passing yards in the league, and his rushing skills were unmatched by any quarterback not named Michael Vick.
We can almost safely assume that he will surely improve, which gives only scary thoughts for NFL defenses, and glorious thoughts for Carolina Nation.
The Redskins, Bills, Titans and 49ers Are 3-1
Rick Stewart/Getty Images
Redskins, Bills and Titans all came into the season with similar expectations, and for similar reasons. All their starting quarterbacks were supposed to play their first full season with their respective teams.
For the Redskins it was Rex Grossman, for the Bills it was Ryan Fitzpatrick, and for the Titans it was, way past his prime and playing in a non-West Coast offense for the first time in his career, Matt Hasselbeck.
Not exactly three starting quarterbacks who enhance a team's optimism coming into a season full of other packed teams.
Yet, they've all played way above expectations, and find their teams at surprising 3-1 records, and with full of playoff promise.
Peyton Manning Has Missed All 4 Games
Joe Robbins/Getty Images
...and is likely out for season.
Peyton Manning, the iron man of the NFL, was at first suspected to miss just the preseason and be able to play come the actual season.
Yet, the injury was way worse than it appeared, and it now seems that Manning, for the first time in his career, will miss much time.
The Colts are no longer a safe bet to return as a top seed to the playoffs, as they seem rather the safest bet to have the worst record in the league, with Kerry Collins and Curtis Painter both failing to do anything productive.
What a turnaround for originally the league's most consistently good team...
The Vikings Are (Maybe) the League's Worst Team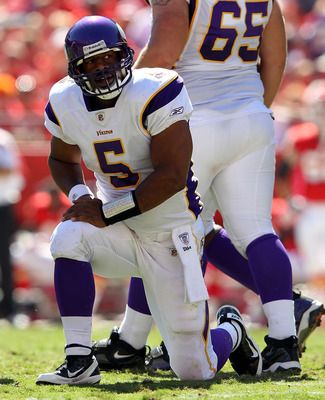 Jamie Squire/Getty Images
When you have Adrian Peterson on your team, perhaps a future Hall of Famer at the quarterback position and a defense led by Jared Allen, excuses for being 0-4 should be hard to come by.
It's not like the Vikings aren't competitive in the games, they just seemingly always find ways to lose. Actually, in the fourth quarter, sometimes it seems like they are desperate to lose.
I'm assuming AD is smacking his head on the table thinking about the gigantic deal he signed with Minnesota, and how glum their future is looking right now.
Honestly, time to insert McNabb on the bench and give a certain rookie the nod to start.
The Bengals D Has Conceded the Least Yards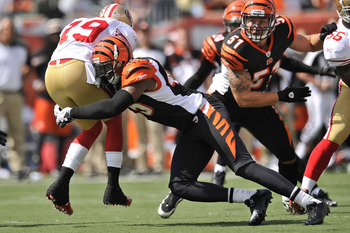 Jamie Sabau/Getty Images
What?!
Before the season started, if you had given me 20 guesses to pick what defense would allow the least yards after four games, no way I pick the Bengals. No way.
Without Palmer, I thought for sure they'd be 1-3 at best by now, yet their unbelievable defense has them holding a 2-2 record.
I consider myself an avid NFL fan at worst, yet I can't say honestly that I can name even three players on the Bengals defense.
Tony Romo Has Played with a Cracked Rib
Ronald Martinez/Getty Images
He has been labeled a wimp for years, and will have the label for years to come.
Yet, like his performances or not, Tony Romo has played all four games with a cracked rib, an injury most players would without a doubt sit out on.
And, disregarding the fourth quarter, he's also played some of the best ball of his career, and playing two of the games without his best receiver in Miles Austin.
Say what you will about Romo, but I think he's thrown the whole wimp thing out the window with this season.
Wes Welker Has the NFL's Most Receiving Yards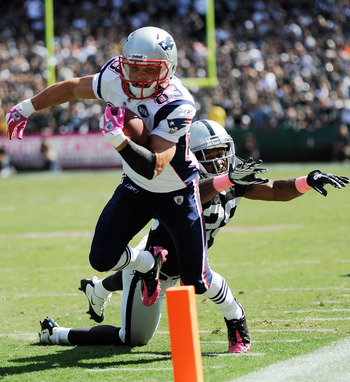 Thearon W. Henderson/Getty Images
Everyone already knew that Welker was a very good receiver, perhaps even a great one.
But I highly doubt anyone thought he'd have both the most receptions and yards in the NFL this season. He's become a possession receiver, who also gets more yards than big-gain wide outs.
If he continues even near this pace, he'll have both the most receptions and yards in any season in National Football League history.
Frightening to think about...
Kansas City's 2010 Magic Is Gone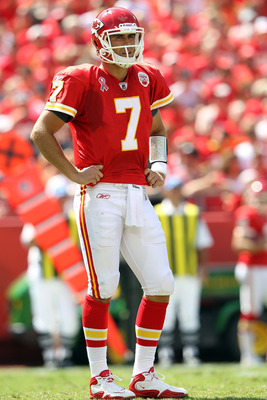 Jamie Squire/Getty Images
Todd Haley and Matt Cassell's hype from 2010 is now officially gone. Instead, Kansas City has seamlessly gone from a young playoff contending team to a bottom dweller in their conference.
There are reported disputes, some caught on live television, between coach and QB, probably one of the larger reasons for the team's demise.
The fact that star running back Jamaal Charles is now officially out for season, probably doesn't cheer up Chiefs hopefuls too much.
Matthew Stafford Is off the IR and Playing the Best Football of His Life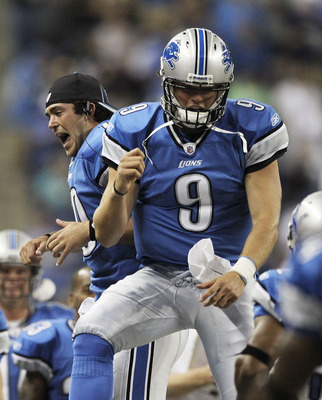 Leon Halip/Getty Images
Perhaps the most injury-prone quarterback in the league the last two seasons, has been Matthew Stafford. Lions fans, and NFL fans in general, were always left speculating about how well Stafford could play if, and this is a big if, he could stay healthy.
Well, this season, so far so good. Stafford has started all four games, and all four games, as aforementioned, were victories for Detroit.
Though Matthew obviously has a giant advantage having, in my opinion, the best receiver in the league on his team, he's been playing out of his mind, and has made the Lions a Super Bowl contender.
Sam Bradford Is in a Sophomore Slump
Jeff Curry/Getty Images
Sam Bradford looked like a genius pick last year, and looked like he would bring the Rams back to the promised land.
Yet, in something that generally happens in the NBA, Bradford is undergoing what he calls a "sophomore slump."
Not only has he failed to live up to the hype he created last year, he's actually taken a step back. Last year, the Rams were a team one win away from the playoffs—this year, they're facing a winless record without having to face their toughest competition yet.
Let's hope that he can bounce back to the potential he showed last year—for the Rams' sake.
Darren McFadden Has Established Himself as the Best RB in the League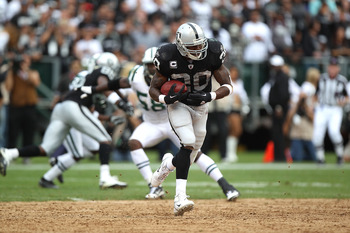 Jed Jacobsohn/Getty Images
Three years ago, Darren McFadden had established himself as one of the biggest in the NFL.
Now, well...just look at the title of the slide.
No. 20 has been literally running all over opponents, including the likes of the Jets, while also becoming one of the best receiving running backs in the league.
The promise he showed in college, and the hype he generated, now seems completely justified, as his speed and unbelievable force has been dominant all season.
Andy Dalton and A.J. Green Are Becoming a Great Duo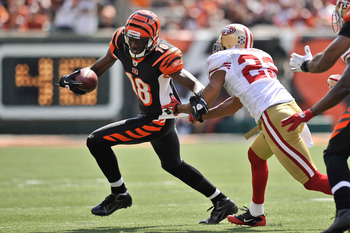 Jamie Sabau/Getty Images
As mentioned earlier, the Bengals defense is the sole reason they find themselves at 2-2. But the offensive side has shown tremendous upside and promise.
Andy Dalton, even with all his faults and rookie mistakes, has shown great skills and awareness, and has created a duo to be reckoned with, with fellow rookie A.J. Green.
Both struggled in the first game (Dalton getting injured and Green getting one catch), yet have had great pass-catch combinations in the last three games.
This team might not make much noise this season, but this duo will surely grow together, making them one of the better 1-2 tandems in the league.
Hope you enjoy, and feel free to share your thoughts and opinions in the comment section.
Keep Reading