Justin Tryon: Release of Colts CB Unlocks Pandora's Box for Indy Front Office
September 29, 2011
Andy Lyons/Getty Images
When the Indianapolis Colts released cornerback Justin Tryon on Wednesday, few national media entities were quick to react.  But once lingering questions about power dynamics in Indy's front office —specifically those revolving around the hierarchy of head coach Jim Caldwell, vice chairman Bill Polian and owner Jim Irsay — were dredged from the moat of red tape and half-answers surrounding the Colts' brain trust, the questions really started pouring in.
Why did the Colts cut Tryon?
What did Tryon do wrong?
Who makes the personnel decisions on West 56th Street?
Tryon's release is a complex issue in that, on one hand, it presents a simple surface question: should Tryon have been handed a pink slip?  Many, including myself, argued that Tryon, not starting cornerback Jacob Lacey, should have been on the field with the starters at the start of training camp in Anderson, Ind. this past August.
Tryon, who started six games in 2010 after Indy traded a seventh-round pick in the 2011 NFL Draft to the Washington Redskins for rights to the young cornerback, made a strong bid for playing time. The predominant thought was that, surely, he had established himself as the nickel cornerback behind Jerraud Powers and then-Colt Kelvin Hayden.  The release of Hayden, of course, only figured to strengthen his claim for a starting spot.
For some reason, however, coaches decided to go with Lacey, despite film clearly showing Lacey as the weaker cornerback of the two.  You can break it down any way you like, but at the end of the day, the evidence is clear: Tryon can still make a play on the ball when giving a cushion in coverage, Lacey cannot.  Tryon has closing speed, Lacey does not.  Tryon has above-average reactionary skills, Lacey struggles to react.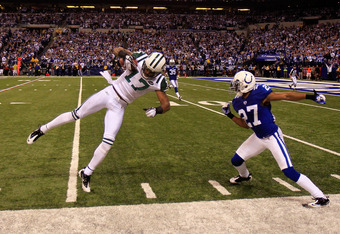 Jonathan Daniel/Getty Images
And yet, despite all recorded evidence suggesting that Tryon is and was the better player, the coaching staff decided to go with Lacey, whose position is now being threatened by 2010 undrafted free agent Terrence Johnson.
Coaches can't get Lacey out of the lineup fast enough, and yet Tryon — who actively proved in 2010 that he was the better cornerback — couldn't start over him?
Color me skeptical.
Beyond the surface issue of talent discrepancy, though, is the larger issue that consistently hangs around the necks of everyone populating the Colts' front office: just who the heck calls the shots anyway?
Is it Irsay, who spends half his day tweeting about green cigarettes and "giz," and the other half throwing 69 five-dollar bills at anyone bold enough to follow the man down the rabbit hole?
Is it Bill Polian, who purportedly has one foot out of the door, but seemingly only by a shoelace if that?
Is it Chris Polian, son of Bill and heir to the front office throne, who supposedly managed the 2011 NFL Draft for the Colts, but has questionable involvement with anything in-season?
Or is it Caldwell, who is actually entrusted to mentor and coach Indy's players — a task made markedly more difficult with the injury-related absence of franchise quarterback Peyton Manning.
Given the front office's complete lack of transparency and tendency to be as vague as possible, it's impossible to address that question with any certainty, but a certain tweet from Tryon may have opened up a figurative Pandora's Box in pursuit of an answer:
"Caldwell wanted to start me but it wasn't up to him!" he wrote.  Another tweet later said: "IM BLESSED!! lay off of Caldwell he's a great coach! Peace."
If Tryon is correct, then Caldwell has literally no power in Indianapolis.  It would be generous to even label him a figurehead.  In that case, he's a puppet at best, a plaything made to dance on strings pulled by the Polians.  He has no say in who starts.  He has no say in who stays or goes.  He only has the power to take the podium and half-answer direct questions.
Caldwell, however, contested Tryon's tweet today, claiming that he's hardly the Motorola mannequin the team's ex-cornerback would make him out to be:
"Well, probably without being boastful or seeming as if that I'm reacting to that particular statement, but I can just tell you that if I wanted him to start, he would have started," Caldwell said. "If I wanted him to here, he'd still be here, plain and simple. I'm not going to carry on a back-and-forth, you know, because the young man did a good job for us while he was here and I hope he's able to land with someone else."
If Caldwell is correct, then he made a decision that he not only did not want Tryon starting, but wanted Tryon nowhere near his team.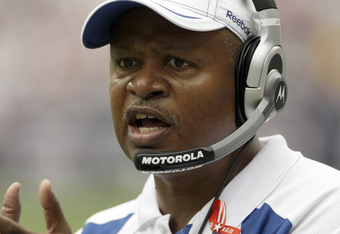 Thomas B. Shea/Getty Images
Let's consider the implications of that scenario.
Assuming Caldwell is correct, he does not assess Tryon as starting-caliber talent, despite all game tape suggesting otherwise.  Instead, he views Lacey as starting talent, which only serves as good news to opposing quarterbacks, who spend every Sunday targeting the undersized cornerback.
If this is Caldwell's decision, then it reflects on a poor ability to assess talent and evaluate the best players for his team.
Either way, Colts fans lose, which may be the larger point.  Either the front office is making decisions in lieu of the head coach, which makes Caldwell look inept and puts the Colts in a perilous position where Polian's ego is apt to come before sensible decision-making, or the head coach is simply incapable of seeing the difference between a serviceable starter and a defensive back who is way out of his league against NFL competition.
Perhaps the most frustrating element of this controversy is the fact that we'll never really know who's to blame, because the Colts' front office perpetuates a confidential culture, endlessly constructing an iron curtain between the brain trust and the fans, between the franchise and the media.  If ever there was a time for transparency, a time to be straightforward about the rationale behind a given situation, this is it.  
Silence only figures to further demonize the front office — but then, they don't really care what anyone else thinks, do they?  For Polian, it's never been about the fans or the media, or even about what the players think (lest we forget the locker room's reaction to a decision to forgo the pursuit of a 16-0 season in 2009), but rather, it's always been about being right.  About being more right than everyone else.  About not having to explain anything to the cheap seat peasantry, because after all, how could the everyman possibly understand Polian's genius?  What could Phil Wilson or Paul Kuharsky or Michael Grady possibly know about anything?
Nothing will change, of course.  Polian will continue hosting "The Bill Polian Show" without providing clear answers to hard questions, without inviting any callers to ask him questions without first undergoing a KGB-esque screener interrogation.  Caldwell will continue toeing the company line, unwilling to speak out — except in the silences Grady noted, which speak louder than any of the coach's words — about the perilous power dynamics of Indy's managerial model.  
And Irsay will continue taking to Twitter, creating chaos every time he feels the need to defend the organization by insisting that there is no chaos (well why are you bringing it up then, Jim?).
Fans will continue being ostracized.  The media will continue being shut out.  And at least until common sense finally persuades the Colts to start someone like Johnson, Lacey will continue giving up automatic 15-yard completions to any receiver lucky enough to draw his assignment.
Surely someone must feel like a winner here, but in cutting Tryon, the Colts sure seemed to create a plethora of losers.  Given the way the 2011 season is going, though, that losing feeling can't seem entirely foreign.