Who will be hungrier? Sanchez, or the Raiders defense?
Jeff Zelevansky/Getty Images
September 24, 2011
It might not have been "easy as pie".
For the Jets, instead, it seemed easy as a "hot dog".
One week after their surprise win over Philadelphia as a 14 point underdog, the Raiders, having scored a total of two touchdowns in their prior four games, played host to the Mark Sanchez and the Jets in October of 2009.
There would be no upset this time.
At least not in the game.
The only thing upset during the Jets' 38-0 pounding of the Raiders might have been Mark Sanchez's stomach.
With the Jets up 24-0 at halftime and cruising to an easy victory over a Raiders team who could get nothing going offensively, Mark Sanchez took a break on the team bench for some rest, relaxation, and a snack.
Seemingly trying to be slick and elusive, the rookie quarterback took a hot dog, put his head down like nobody was looking, and stuck it in his mouth.
Only he wasn't as fast as Takeru Kobayashi during the Nathan's annual hot dog eating contest, because he was caught on camera, and ESPN picked it up. 
It became the game's No. one highlight for days.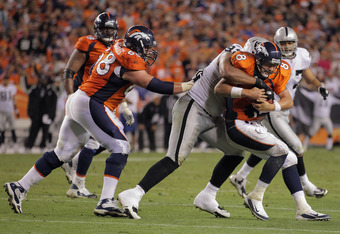 Richard Seymore leads a defense out for revenge
Doug Pensinger/Getty Images
The Raiders certainly haven't forgotten it.
New coach Hue Jackson, who is a huge step up from Tom Cable and Lane Kiffin (although that's an extremely easy thing to achieve), has used this as a motivational tool for his defense, which was embarrassed that day.
But the motivation started way before the season opener in Denver.
Take Richard Seymour.
The former New England Patriot, who signed a two-year contract with the team in February, is taking this season quite seriously. 
So much so that he funded team-building drills in the off season during the lockout in an attempt to rally his teammates for a breakout season.
It's not just the players who are serious.
Perhaps Seymour's confidence and motivation has resonated with the fans, because this weekend's game has sold out—a first for Oakland since the home opener in 2009 where the Raiders played surprisingly well as a 10-point underdog to the seemingly powerful San Diego Chargers.
JaMarcus Russell went 12-30 passing in that game, a figure that likely won't be met by Jason Campbell.  
Russell, who started the 2009 Jets game during a year where he was constantly seen at McDonald's drive-thrus ordering multiple Big Macs (when he could afford Kobe beef), headed a team that didn't seem to care.
With Jason Campbell now under center and a new coach that at least has shown a promise of how to light a fire beneath his players' behinds, this team is much different from the one that was (-4) in turnover margin in what was their worst lost of 2009. 
Although it will be a challenge for Darren McFadden to have a breakout game against a Jets defense that allowed a 100-yard rusher just once in the last 24 games, the Raiders showed great offensive poise at Buffalo considering they were at a major scheduling disadvantage. 
Coming off a short week and having to travel across the country for a 1:00 game on the east coast, the unit scored 35 points, but the defense allowed the same number to the Bills in just the second half alone, including allowing Buffalo to convert a pair of fourth downs on the final drive.
West coast teams in that situation of playing in the east in the early time slot were just 23-51, and the Raiders alone were 6-26 in the east (now 6-27).
The return to Oakland Coliseum couldn't come quicker (no disrespect to Overstock.com, who bought the rights to the Raiders' stadium name, which we all know sounds tacky). 
If the hot-dogging by the Jets isn't enough to fire up the defense this week, their performance in the second half of last week's game certainly will be. 
Last week I recommended the Bills (-3) over the Raiders, but this week it's the Raiders I'll be backing, and look for them to get the straight up win.
The Jets, favored by 3.5 points, have either lost or failed to win five of their last six west coast games by four points, and that one was the blowout at Oakland.
But with the Raiders defense double fired up, and the offense much improved from the debacle led by JaMarcus Russell, expect the home team to bounce back with a resilient effort and move to 2-1 on the season, but as a 3.5 point underdog, even a three point loss will bring home the bacon in this one.
Or should I say, the hot dog.
Take Oakland to cover 3.5 points
Like the new article format? Send us feedback!