NFL Picks Week 3: All 16 Games Picked
Jim Rogash/Getty Images
Week 3 of the NFL Regular Season is when the league really starts to take shape.
A team that starts 0-3 is almost certain to end the season as a bottom-feeder. And a team that starts perfect will have the easiest grasp on its division early on.
In Week 3, we also get our clearest look at each of the 32 teams. There's not much more to guess about a team after seeing them in action three times.
Some teams were impressive in the first week, and just plain awful during the next one. After Week 3, we'll all have a good idea of how these squads will do throughout the year.
These are my NFL Picks for Week 3.
New England Patriots vs. Buffalo Bills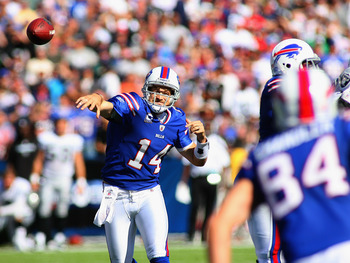 Rick Stewart/Getty Images
The Buffalo Bills have enjoyed a fast start in 2011.
In Week 1 they absolutely crushed the Kansas City Chiefs in a game that was almost impossible to predict.
After winning the AFC West in 2010, the Chiefs were expected to continue their quality—this was not the case when Buffalo came into town.
The next week Buffalo proved to have some serious offensive power as they erased a huge deficit to climb atop the Oakland Raiders with only 17 seconds remaining in the fourth quarter.
Week 3 will be a humbling experience for the Bills.
Tom Brady is coming to town, and he's already put almost 1,000 yards on the stat books in only two games.
We could simply agree that the San Diego Chargers and Miami Dolphins don't have the most stellar secondaries, but I don't expect Brady's good fortune to end against the team that allowed Jason Campbell to pass for 323 yards and two touchdowns.
This one goes to the New England Patriots. A fast 3-0 start with a 35-10 win over the Bills.
San Francisco 49ers vs. Cincinnati Bengals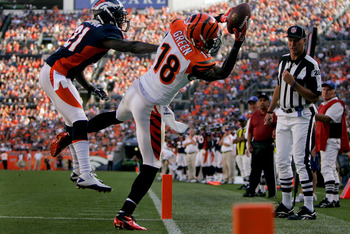 Justin Edmonds/Getty Images
The San Francisco 49ers have proved to be the best team in the NFC West. Unfortunately, that doesn't mean a lot.
Head Coach Jim Harbaugh certainly has some talent on his team this year, but it's about the same amount that the Cincinnati Bengals have playing for them.
Cincinnati was unable to overcome the Denver Broncos in Week 2 after a big second half comeback, and a quick glimpse of the lead late in the fourth.
Andy Dalton needs a fast first half start this week to put his passing yards to better use.
The 49ers will find themselves behind early, unlike last week when they enjoyed a big lead against the underachieving Dallas Cowboys.
In Week 3, the Bengals will complete the task they left waiting in Week 2 with a win against the 49ers at home. 35-24 Cincinnati.
Miami Dolphins vs Cleveland Browns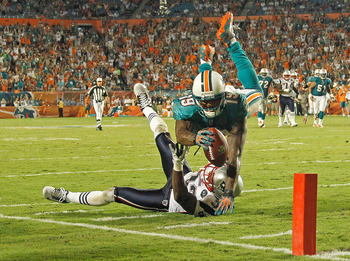 Mike Ehrmann/Getty Images
The Miami Dolphins and Cleveland Browns are both on their way to a boring season.
Chad Henne and Brandon Marshall make a good team, but they're not enough to win games against the good teams in the league.
They enter Week 3 at 0-2 after losses to the juggernaut Patriots, and the AFC South favorite Houston Texans.
Cleveland's season has started differently with a tough loss to their division and state rival, the Bengals. Afterwards, they scored an easy win against a Colts team with no leader.
This win must be taken with a grain of salt. Without Peyton Manning, the Colts and grey-bearded Kerry Collins are destined for defeat in 2011.
This week, Cleveland's hangover from a stifling win in Week 2 will undoubtedly serve as their demise against a Dolphins team that's scraping for wins in the ridiculously difficult AFC East.
Dolphins take away their first win, on the road, 24-21.
Denver Broncos vs Tennessee Titans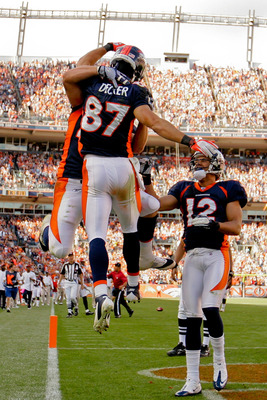 Justin Edmonds/Getty Images
So far the Denver Broncos haven't had an opportunity to display to the league exactly how they'll play in 2011.
In Week 1, the weather was poor, and the crowd was less than motivating for Denver and their new head coach John Fox.
After suffering a slew of injuries against Oakland, they continued once more against Cincinnati.
At this point, Denver looks to return four stars to the field against Tennessee. Brandon Lloyd, Knowshon Moreno, D.J. Williams, and Elvis Dumervil all returned to practice on Wednesday.
Tennessee is fresh off of a huge upset against the Baltimore Ravens in Week 2.
Matt Hasselbeck passed for 358 yards and carried the offense as Chris Johnson did nothing on the ground once again.
Were the Ravens still hurting from running through the Pittsburgh Steelers in Week 1? Or is Tennessee really this good? It's hard to say with the Titans first week against the Jacksonville Jaguars, where they lost by two points.
Week 3 will serve to shape up the look of both of these squads. Both have managed to confuse us so far.
As a Broncos fan, it's tough to make this call... Titans beat the Broncos in a shootout, 38-31.
Detroit Lions vs Minnesota Vikings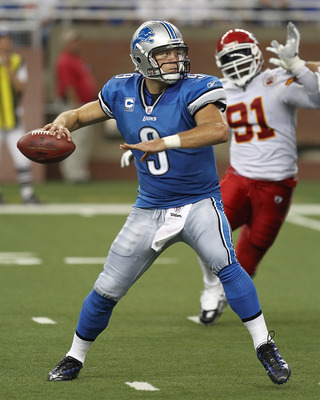 Dave Reginek/Getty Images
This one is probably one of the easiest to call this week.
Yes, the Vikings have Adrian Peterson.
However, they don't have much else going for them at this point.
The Detroit Lions are on a roll and coming off of a huge win in Week 2. Against their NFC North rival, the Lions will make a big statement in Week 3.
Lions win another easy game, while still allowing Adrian Peterson to make some fantasy owners happy. Final score of 28-14.
Houston Texans vs. New Orleans Saints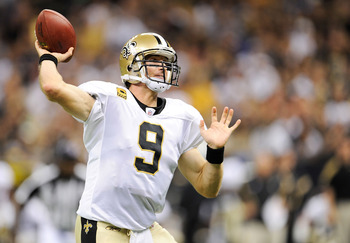 Stacy Revere/Getty Images
This is going to be one of the best games of the season.
For the first time the Houston Texans have a realistic opportunity to take grasp of the AFC South and end the season with a division title.
On the other hand, the Saints are still attempting to recuperate from a Week 1 loss against the defending NFL Champions and regain a dominant position in the NFC South.
Matt Schaub and Andre Johnson will shoot it out with Drew Brees and his full arsenal of pass-catching weapons and eventually end up just short.
New Orleans takes the game by a hair in the fourth, completing the highest scoring game of the week. Final score: 42-35.
New York Giants vs. Philadelphia Eagles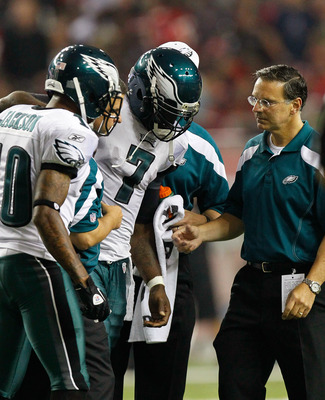 Kevin C. Cox/Getty Images
Mike Vick made his way into Atlanta last Sunday night and left with a loss, and a concussion.
This week he's at home against the New York Giants and Eli Manning.
The Giants played adequately against the St. Louis Rams but anybody can tell that they're not one of the premier teams in the league.
The Eagles have a statement to make this week against an NFC East rival.
The" Dream Team" will live up to its preseason name in Week 3 and easily handle the Giants at home.
Eagles win the game, 21-10. Not a lot of action, but a clean win and no more concussions for Vick.
Jacksonville Jaguars vs. Carolina Panthers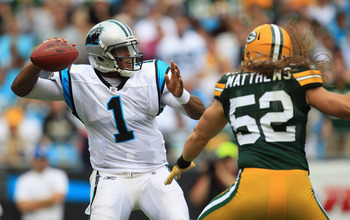 Streeter Lecka/Getty Images
The Jaguars and Panthers would seem to be pretty close teams considering their place in the preseason rankings, and their movements in the NFL Power Rankings after Week 2.
However, anybody that has watched the games knows that Cam Newton and his team are in another league compared to the bottom-dwelling Jaguars.
Yeah, the Jaguars have a better record, but their win came against a Titans team that was playing together for the first time with it's new starting quarterback.
In Week 2 their true colors were evident in a big loss to the Jets. It's clear that there's hardly anyone that would have picked the Jaguars to win in Week 2, but I'm sure they were expected to put up a little bit more of a fight.
Cam Newton will earn his first win as an NFL starting quarterback in Week 3 against what will soon be known as one of the worst teams in the league.
Panthers 33, Jaguars 6, and 400 more yards for Newton. Does everybody own him on their fantasy teams yet?
Kansas City Chiefs vs San Diego Chargers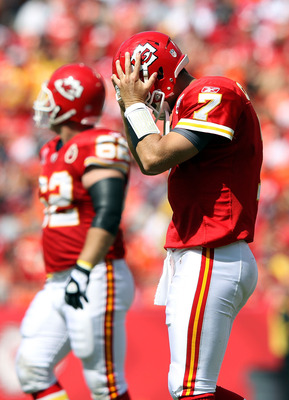 Jamie Squire/Getty Images
The Chiefs won't catch a break in Week 3.
They're on the road against the best team in their division, regardless of what Oakland Raiders fans have to say.
The Chargers have said goodbye to their slow starts this year, and will enjoy a 2-1 record after a huge win against the Chiefs.
There's not much to analyze about this game, except that we should expect to see San Diego rest their starters after a 40-point lead in the fourth quarter.
San Diego Super Chargers - 42, Kansas City Chiefs 21 (All in the fourth quarter.)
New York Jets vs Oakland Raiders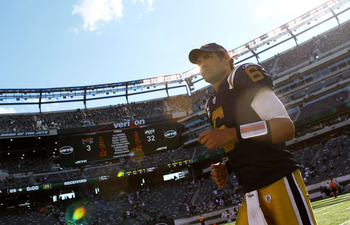 Nick Laham/Getty Images
Oakland Raiders, say hello to your first great opponent of the 2011 season.
The New York Jets are in the Black Hole on Sunday and are on a roll.
After a great Sunday Night comeback win against the Dallas Cowboys, and an absolute butt-kicking handed to the Jaguars, the Jets will look to score their first win against the AFC West in 2011.
The Raiders have enjoyed some great offensive play in the first two weeks, and I'm sure it will continue in Week 3. However, the Jets will not only match Oakland's output, but beat it.
New York needs every game this year to attempt to win a division title in the AFC East. Don't expect the Oakland Raiders to get in their way this week.
The Jets win a close one in Oakland, 27-24.
Baltimore Ravens vs St. Louis Rams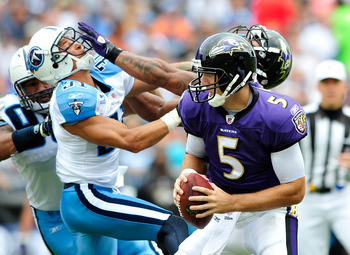 Grant Halverson/Getty Images
It's never easy to take a loss as tough as the one the Ravens took against the Titans in Week 2.
They call it a trap game, and it certainly captured Baltimore.
What's even tougher is taking a loss and then heading out on the road the next week.
The St. Louis Rams have yet to win a game this year and face the possibility of dropping off the face of the earth, or in other words, to the bottom of the NFC West.
Sam Bradford needs to make some big plays and keep the St. Louis faithful on his side this week. With help from Steven Jackson, if he returns, Bradford can earn his team their first win of the 2011 season.
But that's not until Week 4 against Washington.
Joe Flacco, the Flacc-ness Monster, returns with strength against the Rams and keeps pace with the Pittsburgh Steelers in the AFC North.
Ravens win a defensive slugfest on the road, 24-17.
Atlanta Falcons vs Tampa Bay Buccaneers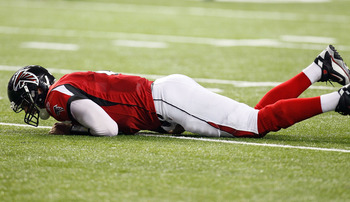 Kevin C. Cox/Getty Images
My first real upset pick of the week occurs when the Falcons visit the Buccaneers on Sunday.
Atlanta earned themselves a great win against the "Dream Team" last Sunday. However, they did it while Michael Vick was on the sidelines.
Josh Freeman is beginning to look like a very decent signal caller in Tampa Bay. He led them to a great year in 2010, and will continue his work this year.
Atlanta will fall victim to exactly what Baltimore did in Week 2, as they lose to the Buccaneers on the road.
Don't dismay Falcons fans, Matt Ryan will win more games this season, just not yet.
Falcons 17, Buccaneers 30.
Green Bay Packers vs Chicago Bears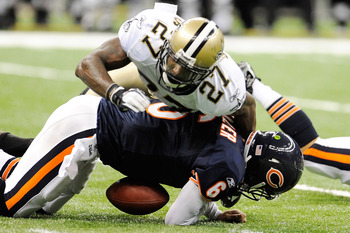 Stacy Revere/Getty Images
Another NFC North matchup on Sunday will end just the way it should.
Yes, the Bears looked great in Week 1 against the Falcons. But then they looked terrible in Week 2 against the Saints.
Jay Cutler will soon be on pace to break his record of being sacked that he set in 2010, as his offensive line is doing nothing to get any better in 2011.
Cutler will have his face in the dirt many more times on Sunday, and Green Bay will show us once again why they won the Super Bowl last January.
Big Offense. Stout Defense.
Green Bay wins an easy one on the road, 35-13.
Arizona Cardinals vs Seattle Seahawks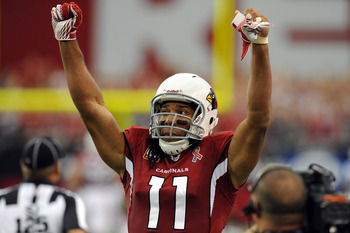 Norm Hall/Getty Images
Yawn, another NFC West matchup to quickly forget about.
The Arizona Cardinals have some great playmakers on their team, and a quarterback that should eventually do well to get the ball to them.
The Seattle Seahawks have just about nothing.
The only thing clear in the NFC West is that the 49ers are okay, and the other three teams are going to struggle. Yes, the Rams and Cardinals will win some games, but don't expect any serious impact on the playoffs.
This one is tough to pick. The Cardinals appear to be the better team, but the Seahawks play in one of the loudest stadiums in the league. The home-field advantage will be critical for Seattle this week.
I expect a close one. And maybe one of the more exciting NFC West matchups of the season as Kevin Kolb puts on a show through the air, and Tarvaris Jackson keeps drives alive with his legs.
Cardinals take one away from Seattle on the road with a 28-27 win.
Pittsburgh Steelers vs Indianapolis Colts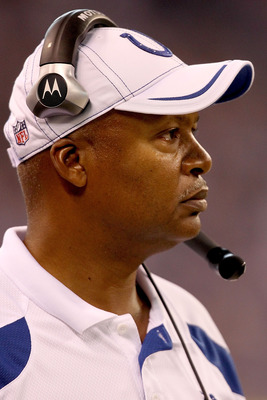 Matthew Stockman/Getty Images
The Colts will not be earning their first win of the season in Week 3.
This is a very easy game to call as Pittsburgh is still trying to make up for its Week 1 loss to the Ravens.
Without Peyton, the Colts are not even close to being the same team. And this will be proven once again in Week 3 after a crush to their morale, and to their record.
Pittsburgh Steelers match the Baltimore Ravens in the AFC North with a 31-10 win at Lucas Oil Field.
Washington Redskins vs Dallas Cowboys
Jed Jacobsohn/Getty Images
Monday Night Football features two NFC East rivals, the 'Skins and the 'Boys.
The Redskins and Rex Grossman have impressed many this year with two quick wins to begin the season.
The Cowboys on the other hand have continued to underachieve, as they do every year.
Tony Romo has managed to silence some of his critics after returning from a devastating injury to lead his team to a fourth quarter comeback and overtime win in Week 2.
The only problem was that it was against the San Francisco 49ers, who just so happened to set the pace for the first three quarters of the game.
Were it not for Miles Austin, the Cowboys would be 0-2, and Romo may have been in need of an unemployment form by mid-season.
This week, both teams are on a national stage and each one needs a big win for their fans, and for their national reputation.
I'm not sure if this will be considered an upset or not, I guess it depends on who you're rooting for, the Washington Redskins will earn their first loss of the season as Dallas attempts to climb out of an early hole.
Cowboys 21, Redskins 10. Grossman won't be so impressive this time around.
Keep Reading