NFL Power Rankings Week 2
September 21, 2011
Peter Aiken/Getty Images
Since 1990, 64 percent of teams that have started the season with a 2-0 record have gone to the postseason.
Seven teams have started 2-0 this year, and two of those teams face off in Week 3.
While they have identical 2-0 records, the Patriots and Bills still have different perceptions as Buffalo is nearly a double-digit underdog (8.5 points) at home. Are the Bills for real? We will find out this weekend.
Here are rankings of all 32 NFL teams from best to worst:
1. Green Bay Packers (2-0): The defending Super Bowl champions are 2-0, but they have allowed back-to-back 400-yard passers and the third-most yards in the NFL after the Dolphins and Patriots.
2. New England Patriots (2-0): Only one quarterback in the history of the NFL has thrown for more yards than Tom Brady has in back-to-back games. As mentioned above, however, only the Dolphins have allowed more yards than the Patriots this season.
3. New York Jets (2-0): Overhyped? Maybe. But one of the elite teams in the AFC? Absolutely.
4. Houston Texans (2-0): Last year, the Texans defense was horrible. This year, they have allowed the fewest points (10.0 per game), total yards (271.0 per game) and passing yards (162.5 per game) and are the only team to keep opponents from completing 50 percent of their passes.
5. New Orleans Saints (1-1): The high-powered Saints offense takes on the Texans, the league's top-rated defense (wait, what?!) in Week 3.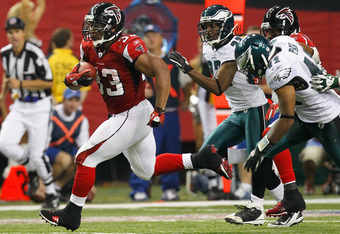 Kevin C. Cox/Getty Images
6. Atlanta Falcons (1-1): Running back Michael Turner has back-to-back 100-yard games, but more surprisingly, he has already caught four passes for 72 yards. (His career high is 85 receiving yards set last year.)
7. Detroit Lions (2-0): With a dominant defensive line and lethal passing attack, the Lions are a team nobody wants to see on their schedule. Thanksgiving is two months away, but I'm thankful for a Lions-Packers matchup to kick off the trio of games that day.
8. San Diego Chargers (1-1): My bold preseason prediction was that quarterback Philip Rivers would break the single-season NFL passing yardage record. So far, he's still on pace (but trailing Tom Brady and Cam Newton by a mile).
9. Baltimore Ravens (1-1): After Week 1, I was tempted to put the Ravens at No. 1. After Week 2, the temptation is gone.
10. Philadelphia Eagles (1-1): The biggest question for the Eagles going into the season was: Can Michael Vick stay healthy for 16 games? A concussion, however "slight" it may be, suffered Sunday night puts Vick's Week 3 status in jeopardy.
11. Pittsburgh Steelers (1-1): After getting blown out by their arch rivals in Week 1, the Steelers rebounded and shut out Seattle, 24-0 and face the Peyton-less Colts in Week 3.
12. Buffalo Bills (2-0): One of the most surprising 2-0 teams, the Bills are league's highest-scoring team and lead the NFL in rushing (190 yards per game) behind Fred Jackson, the NFL's leading rusher.
13. Chicago Bears (1-1): Guess who is the most-sacked quarterback in the league? Some things don't change. Through two games, running back Matt Forte has 324 yards from scrimmage and leads the team in rushing (117 yards) and receiving (207 yards).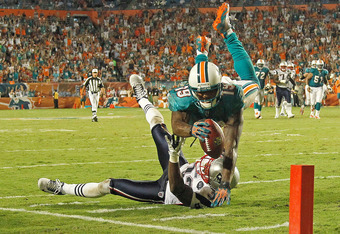 Mike Ehrmann/Getty Images
14. Washington Redskins (2-0): Aside from perhaps Rex Grossman, who else thought the Redskins would be the only NFC East team to start the season with a 2-0 record?
15. Dallas Cowboys (1-1): Tony Romo went from goat to hero in one week. What is troubling for the Cowboys is all of their injuries: Romo (ribs/lung), Miles Austin (hamstring), Dez Bryant (thigh), Felix Jones (shoulder), etc...
16. Tennessee Titans (1-1): Running back Chris Johnson has 33 rush attempts (tied for 11th in the NFL) and no carries of 10 yards or more. Of the 20 running backs with 27-plus carries, he's the only running back without a single run for double-digit yards.
17. Tampa Bay Buccaneers (1-1): Here's an interesting stat about quarterback Josh Freeman: Freeman has completed 18 of 19 passes (94.7 percent) on third or fourth downs this season.
18. Oakland Raiders (1-1): Led by Darren McFadden, who ranks second in the NFL in rushing, the Raiders are third in rushing attempts (34.5 per game), fourth in rushing yards (160.5 per game) and first in rushing touchdowns (four).
19. New York Giants (1-1): The Giants lead the NFL in injuries (and fake injuries).
20. Cleveland Browns (1-1): Last year, Browns running back Peyton Hillis wore down at the end of the season. Through two games, he ranks third in rushing attempts (44).
21. Arizona Cardinals (1-1): The Cardinals have allowed the fourth-most yards this season. In Week 3, they head to Seattle, who ranks last in total offense, so their defense should get a bit of a breather.
22. Carolina Panthers (0-2): If any team can feel good despite their 0-2 start, it's the Panthers, who rank second in the NFL in total offense (476 yards per game) due almost exclusively to Cam Newton, the first overall pick in 2011.
23. Cincinnati Bengals (1-1): Rookie Andy Dalton is one of four quarterbacks that have thrown 50-plus passes this season without an interception. The other three are Drew Brees, Aaron Rodgers and Sam Bradford.
24. Minnesota Vikings (0-2): Two games. Two second-half leads. Two losses. No matter how you add that up, it's not good.
25. Miami Dolphins (0-2): Going back to Week 16 of the 2009 season, the Dolphins have won only one home game in 12 tries. The glass-half-full view is that the majority of their remaining games are on the road.
26. San Francisco 49ers (1-1): Although the 49ers were on the verge of a 2-0 start before losing in overtime Sunday, the 49ers rank second-to-last in the league in total offense (207.5 yards per game). Only the Seahawks are worse.
27. Denver Broncos (1-1): Some Bronco fans got their wish, sort of. Tim Tebow was on the field, but out wide instead of under center. Speaking of Bronco "receivers," Eric Decker is one of the names you'll find on our waiver-wire pickups column this week.
28. St. Louis Rams (0-2): The Rams are consistent—they have started with 0-2 records for five straight seasons. Fortunately, they play in the league's worst division, by far.
29. Indianapolis Colts (0-2): If I had a vote for the 2011 league MVP, I think I would give it to Peyton Manning. Without him, the Colts are so bad that they are double-digit underdogs at home in Week 3.
30. Jacksonville Jaguars (1-1): Week 1 was a fluke. This team is bad. Really bad. Can Blaine Gabbert (or anyone) be as bad as Luke McCown was last week?
31. Kansas City Chiefs (0-2): Not only have the Chiefs scored the fewest points (10), they have allowed the most (89). With tight end Tony Moeaki, safety Eric Berry and running back Jamaal Charles all lost for the season, it might not get much better.
32. Seattle Seahawks (0-2): With Tarvaris Jackson under center, Marshawn Lynch leading the team in rushing at 22 yards per game, Sidney Rice dealing with a torn labrum and Robert Gallery out for several weeks, it might be a moral victory in games that the Seahawks score some points.
If you're looking for fantasy football rankings, we will release our Week 3 rankings later today. In addition, our free fantasy football contest for Week 3 is up and running.