New York Jets: This Is Not the Ground-and-Pound I Had in Mind
September 19, 2011
Jeff Zelevansky/Getty Images
Dear Mr. Ryan, Schottenheimer and Callahan,
WHAT ARE YOU THINKING?!?!?!?
Sending Mark Sanchez in to try to get Plaxico Burress a meaningless touchdown after the game was well out of hand, and he gets flattened by Matt Roth? Are you serious? 
And Plaxico wasn't even complaining!  
I've railed over and over against this "get everyone their catches" philosophy—it's stupid. The people who will get thrown the balls are those receivers who run routes correctly and can get open. Play-calling that forces it anywhere else is a mistake and just the kind of bad habit you've been trying to break Sanchez of since his rookie season.
Again, what are you thinking? 
It was already a blowout win. There is no danger from Jacksonville this season. 
Sanchez should have been pulled—just like if you find yourself in another 45-3 shellacking at Foxboro in a few weeks, he should also be pulled. This is the second week in a row Sanchez has taken a beating.
Let me just explain something to you which, by now, should be as plain as the noses on your faces:
Darrelle Revis may be the best player on this Jets team, but Sanchez is the most important. 
Yes. I said it. 
If Sanchez goes down for any length of time, you will be booking tee times in January.
When I heard the radio guys hush after Sanchez absorbed that last blow, I was shaken. And then you put him back in for another snap? Best-case scenario is you were trying to show everyone he was OK, but that is no excuse.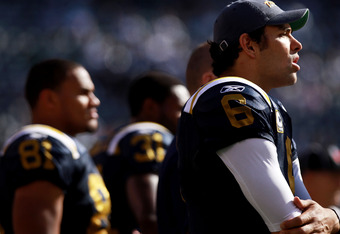 Nick Laham/Getty Images
Why is it so hard for everyone to understand that this team goes nowhere without No. 6? Would you like an abject lesson in what your life will be like without your franchise quarterback? 
Why don't you call somebody in the 317 area code and ask them how that is working out?
Coaches, they pay you to be smarter than this.
Of course Sanchez is going to beg to go back in as long as he has a pulse. He's a gamer, and it's one of his most terrific qualities.
But last week I wrote about how Sanchez has to constantly be aware of trying to protect his body.  Easier said than done, I realize—especially in the heat of the moment and at the warp speed of the NFL.
But Sanchez shouldn't have to protect his body from stupendously dumb decisions made by the coaching staff. 
You have to be smarter with him. 
You tell me, what happens if he goes down? 
Wait, don't bother—I'll tell you right now what will happen. 
You will be frantically searching for Kellen Clemens' phone number. Mark Brunell could never absorb the kind of hits Sanchez has taken the last two weeks. Greg McElroy is still out with an injured thumb. 
What, David Garrard is going to come in and run the offense? Old man Favre? 
Look, Sanchez is not Tom Brady or Aaron Rodgers, but he is the only way you get to, then advance in, the postseason—period. 
And right now, things are looking dire. 
I don't care that you are 2-0—take a look at the next three games: Oakland, Baltimore, then followed by an epic revenge grudge match against New England. 
And you just lost center Nick Mangold to a high ankle sprain for minimal 2-3 weeks. You already lost your backup center to a broken leg. You've seen the chaos that ensues from a replacement center not being familiar with Sanchez's cadence and the line-blocking schemes. 
You think all those defensive coordinators do not smell blood?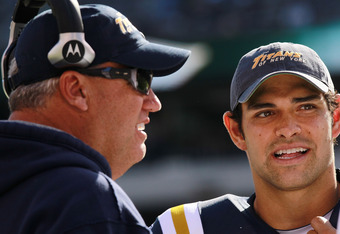 Nick Laham/Getty Images
The protection on the line has to get fixed. I ranted about this last week, but once again, Wayne Hunter got beat twice for two brutal hits on Sanchez. You are not helped at all by the fact that the run game has been so atrocious the past two weeks, either. 
Jets, with all my heart I want to believe this is the year, but your young quarterback—even in his athletic and physically fit prime—cannot continue to take these hits and last. 
Please talk to Tom Moore and pick his brain to find out what he did to keep Peyton Manning from getting flattened snap after snap. Make whatever adjustments you have to make in the protection. If every snap has to be max protect, then every snap has to be max protect. 
Let me take a deep breath.
I reread this numerous times and tried to tone it down, but I know it still comes off as shrill and panicky—and I live all the way out in California (where there is a sizable pro-Sanchez contingent). I can only imagine the hand-wringing in New York.
Please, please New York Jets, do not jeopardize your season by taking these kinds of unnecessary chances. 
There is a lot of collective wisdom on this coaching staff, so start acting wisely.