Buffalo Bills vs. New England Patriots: AFC East Showdown Headlines Week 3 Bouts
September 19, 2011
Rick Stewart/Getty Images
Sunday, September 25 will be a good day to be in Buffalo. In fact, it will be the perfect day to have a couple of tickets to the Bills game.
How many times do you think you'll hear that in your lifetime?
Week 3 of the NFL season does not jump off the page and punch you in the mouth with excitement. The Miami vs. Cleveland game sounds like a real treat to those seeking a cheap alternative to sleeping pills. If you prefer your football less atrocious, then tune into the Arizona against Seattle slug-fest. Better yet, try to record it. Watch as your DVR disconnects itself and jumps out the window.
Fans of the NFC East, or as they are sometimes (well, hopefully) called, The Obnox (short for obnoxious-wimpy-baby-whiner), will be sure to enjoy the Monday Night Football offering this week, which pits the Washington Redskins against Tony Romo and the Cowboys, in Dallas.
Monday Night Football in Dallas is the epitome of overbearing. We get it. You're America's team. You have a huge Jumbo-Tron. Stop waving it around in everybody's face already.
There is one game being played this Sunday, though, that catches the eye, that doesn't have me wishing there was still a lockout. A game that carries with it a tingling, rising anticipation.
That tingle is in Buffalo.
The undefeated Bills welcome the undefeated New England Patriots to town for a one o'clock showdown at Ralph Wilson Stadium. This would not normally be a date Bills fans enjoy keeping. The Patriots are one win shy of a dozen straight victories over Buffalo, and have played lights out so far this season in double digit victories over Miami and San Diego.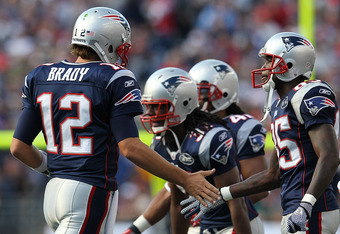 Jim Rogash/Getty Images
Tom Brady has amassed nearly 1000 passing yards in just two games, exploiting defenses with his Swiss army knife of offensive weapons, led by wide receivers Wes Welker and Deion Branch. Welker is averaging over 100 yards a game, and Branch, a 10 year veteran, is on pace for the first 1,000 yards season of his distinguished career. Life is good for the Pats and its faithful, although reports of Bill Belichick smiling twice in the same hour this past weekend have been explicitly denied by a team spokesman.
Bills fans should have nothing to smile about this Sunday. Recent history has not been kind to this franchise or its win column. The last time Buffalo made the playoffs, locals were building bunkers and hoarding canned beans in preparation for Y2K.
But this is not your usual Bills team. Quarterback Ryan Fitzpatrick, in his seventh professional season, has finally found his footing as a starter. He tossed four touchdowns in Buffalo's 41-7 blowout of the Kansas City Chiefs at Arrowhead Stadium in the season opener. To rephrase, Fitzpatrick and company handed Kansas City its worst opening loss in team history.
For an encore, the Harvard alum led an offensive onslaught in the second half of Buffalo's 38-35 comeback win over the Oakland Raiders, including a go-ahead touchdown to rookie WR David Nelson with 14 seconds left to play. 
Great athletes at wide receiver like former University of Florida standout Nelson, and the ever-explosive Stevie Johnson, are valued assets to a Bills team that had probably forgotten what a touchdown celebration looked like before this season started. Throw in workhorse running back Fred Jackson, and just like that the Bills are making headlines for doing things right.
Now we move onto next Sunday.
This game may be too early in the season to the shape the playoff picture or warrant rooftop shouting, but the ripple effect of toppling a nemesis like New England would be enormous for the Bills as it slowly turns the page on its cold, depressing past. 
Reports forecast a bright, beautiful day for football on September 25. Bills fans know skies won't always be as clear down the road, and that they need to enjoy the sun while it is still shining.