NFL Week 2: Power Ranking Aaron Rodgers And All 32 Starting Quarterbacks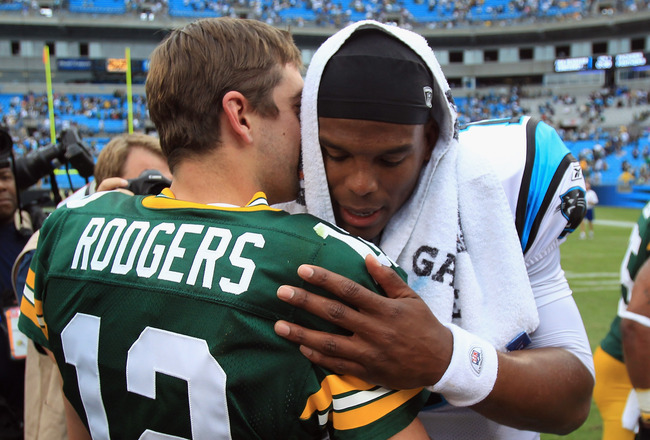 Streeter Lecka/Getty Images
There have been a lot of surprises at the quarterback position: Ryan Fitzpatrick is playing like an All Pro, Cam Newton set two records only to see one of them beaten by Tom Brady a few hours later and Matt Cassel seems unable to do anything.
After a lot of surprises in both Week 1 and Week 2, our idea of who is better than who has changed dramatically.
Using a combination of what they've done so far this season and what their records were in past seasons, I've power ranked all 32 starting quarterbacks. Read on to see who came out on top:
32. Luke McCown, Jacksonville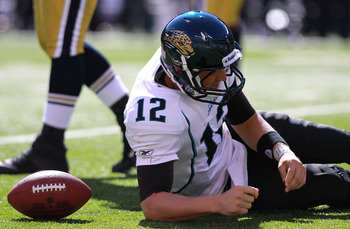 Nick Laham/Getty Images
Luke McCown actually looked OK against the Titans in Week 1, but he was completely inept in Week 2.
He's currently averaging 119 yards a game, which isn't the absolute worst he could be doing. However, the stat that's most telling is his touchdown to interception ratio, which right now is zero to four.
That's right, Luke McCown has yet to throw a touchdown but was able to give away four picks. For good measure, he gave two fumbles away to the Titans last week too.
His play has been so bad that he may have already lost his starting job to Blaine Gabbertt, who came in in the fourth quarter against the Jets on Sunday.
Until he proves otherwise, he's the worst starting quarterback in the league.
31. Matt Cassel, Kansas City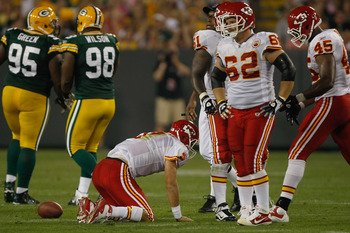 Scott Boehm/Getty Images
Matt Cassel had a great year last year, so what happened? I don't know any more than you do.
Either way, he and the Chiefs have been anemic so far on offense.
Cassel has only thrown for 252 yards and one touchdown. He has, however, managed to get four balls into the hands of the other teams.
Cassel is leading the Chiefs to first place in the "Suck for Luck" campaign unless something changes.
30. Kerry Collins, Indianapolis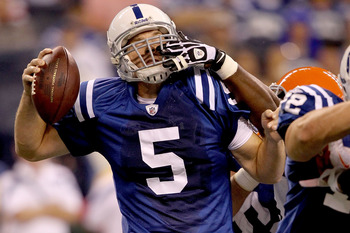 Matthew Stockman/Getty Images
Poor Kerry Collins. He's trying to win on a team that was built entirely around a guy who isn't playing anymore and it's not working out too well.
Collins isn't doing much better than Cassel. He's thrown for only 388 yards and two touchdowns.
He has only thrown one touchdown, but he's also fumbled the ball three times, so he is managing to give away his fair share of turnovers.
I love what Collins did for the Titans for all those years, but he's obviously done as a starter in the NFL.
29. Donovan McNabb, Minnesota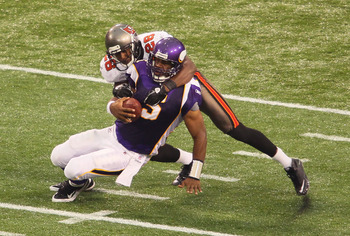 Adam Bettcher/Getty Images
It looks like it's only a matter of time before Christian Ponder gets called up to start now.
Despite having Adrian Peterson there to take pressure off the passing game, McNabb has scored only a single touchdown as a Viking.
He has also thrown one interception, but that isn't too hard when you've only thrown for 267 total yards in two games.
Obviously, McNabb's best days are behind him and even though I have little faith in the abilities of Christian Ponder, he would still be an improvement.
It looks like Andy Reid knew exactly what he was doing when he split with McNabb before his value dropped to zero.
28. Alex Smith, San Francisco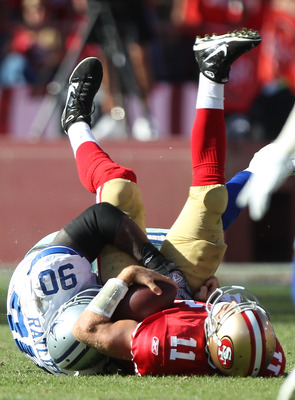 Jed Jacobsohn/Getty Images
I guess this comes as a shock to no one. The 49ers picked Colin Kaepernick in the second round for a reason, after all.
Alex Smith was drafted first overall in 2005. That's 23 spots before Aaron Rodgers and 24 spots before Jason Campbell.
He's shown flashes of franchise talent, but that's all they've ever been.
So far this season, he doesn't look any better. He's thrown for 303 yards, two touchdowns and one interception.
Not the worst numbers in the league (McCown), but pretty terrible either way.
If the 49ers think Kaepernick is their long term answer, he might see some time pretty quickly.
If not, expect San Francisco to pick a quarterback early in the draft next year.
27. Tarvaris Jackson, Seattle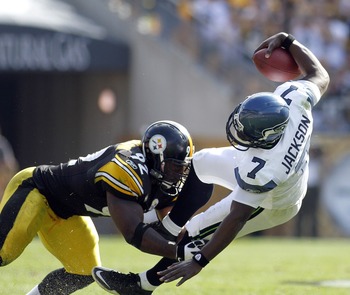 Justin K. Aller/Getty Images
Another surprise to no one is the play of Tarvaris Jackson. The Seahawks may very well be racing the Chiefs to the bottom for that No. 1 pick.
Jackson has thrown for 356 yards, two touchdowns and an interceptions in his first two games. He's also fumbled twice and led the team to an 0-2 start.
When Alex Smith's team beats yours, you suck. The Seahawks are near the front of the "suck for Luck" campaign and if that's Carrol's goal, then he's doing an outstanding job.
26. Kyle Orton, Denver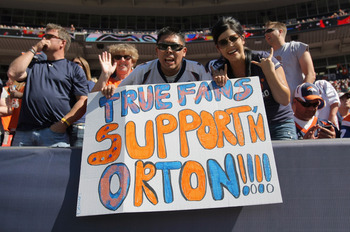 Doug Pensinger/Getty Images
This is the point in the rankings where gauging who goes where became difficult.
I'm evaluating based on what I've seen in the first two weeks, but at the same time, I can't completely ignore a player who's been consistently bad his whole career.
Somewhere in the middle, you have Kyle Orton. While he put up a respectable 304 yards against Oakland, he only did so because the Broncos had to try to catch up.
The second game against Cincinnati seemed like a more typical performance to me, where Orton only threw 195 yards.
He's fumbled twice this season and thrown one interception to three touchdowns against mediocre (at best) opponents. Kyle Orton is a quarterback that a team can win with, but he'll never play at the next level.
All that aside, he's still a better option than Tebow.
25. Mark Sanchez, New York Jets
Nick Laham/Getty Images
Yeah, he threw for 335 yards against the Cowboys. Their defensive backs are terrible and he has great protection in the pocket every time.
The Jets are a great team overall, but I think we can all admit that there's nothing special about Mark Sanchez. He's a mediocre quarterback with a great team around him.
For the season, Sanchez has passed for 517 yards and four touchdowns, but he's also thrown three interceptions and lost a fumble.
He threw for as many interceptions against the Jaguars as he did touchdowns, and that was with the Jags defense on the field the whole time getting no rest.
Sanchez isn't the worst in the league, but several of the traditionally bad guys (Grossman, Henne, Campbell) have had really good seasons so far, so I'm giving them the nod over Sanchez for now.
24. Chad Henne, Miami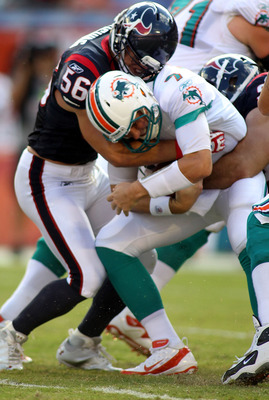 Marc Serota/Getty Images
Don't get me wrong, I did see the Dolphins-Patriots game. In that game, Henne looked like a franchise quarterback, throwing for 416 yards and two touchdowns.
What I saw, however, was a Patriots squad that was pretty weak against the pass, not a huge improvement for Henne.
Keep in mind that Henne is still just completing about 53 percent of his passes and his 586 total passing yards starts to look a lot less impressive.
He's also thrown two interceptions and three touchdowns, so he's obviously not the long term answer.
Still, he had a great game against the Patriots, so I can't completely dismiss him just yet.
23. Jason Campbell, Oakland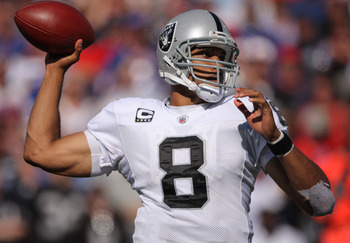 Tom Szczerbowski/Getty Images
Jason Campbell has never been terrible, but he's never been great either. If you ask me, he's a lot like what Mark Sanchez would be without the rest of the Jets around him.
However, he's been pretty impressive so far this season and was one close play away from starting the Raiders out 2-0.
Campbell has thrown for 438 yards, three touchdowns and one interception while rushing for another six points. A pretty good start. He lost one fumble, but beyond that, he's looking like a solid player.
Still, there's his history as a mediocre quarterback, so he has yet to earn a spot amongst the top quarterbacks.
22. Sam Bradford, St. Louis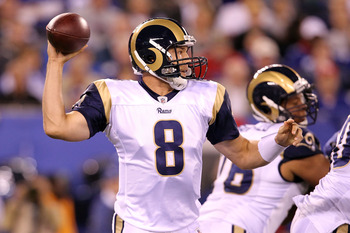 Al Bello/Getty Images
Weren't the Rams an up and comer? Talk about a sophomore slump.
Bradford has so far only thrown for a single touchdown in two games.
While he put up a decent number of passing yards (331) on the Giants, that was mostly because the Giants switched to playing prevent defense once they took a commanding lead.
In his first outing against the Eagles, he only put up 188 yards and no touchdowns.
Even worse, he is barely completing 50 percent of his passes. It's obviously too early to tell, but Bradford might be in for a poor season.
21. Colt McCoy, Cleveland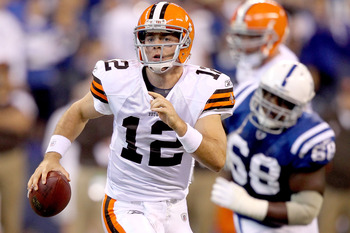 Matthew Stockman/Getty Images
They're still working the kinks out in Cleveland. McCoy has done a good job so far in his sophomore season, but he hasn't exactly impressed.
So far, he's passed for 424 yards and gotten three touchdowns to one interception.
He also lost two fumbles though, so he's turned the ball over once for every touchdown he's thrown.
Furthermore, his team's only win was against an absolutely terrible Colts team.
He'll need to do better than that if he wants to keep his job with the Browns. 2012 has a great quarterback class.
20. Matt Schaub, Houston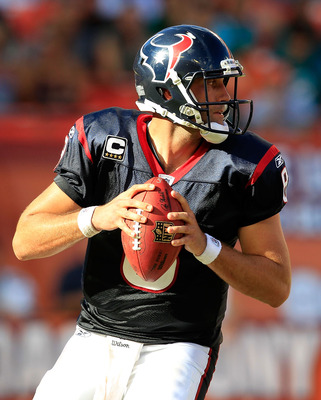 Sam Greenwood/Getty Images
No. 20 might seem low for Matt Schaub, but by looking at what other quarterbacks have done in the first two weeks, I felt that there were 19 other guys who deserved to be ahead of him.
Keep in mind we are just two weeks into the season, so these will change drastically before the season is out.
Matt Schaub has put up 450 yards through the air, and he did so throwing to one of the best wide receivers in the league. He was also playing against the Colts and the Dolphins.
Brady threw for more than that against the Dolphins in one game.
Schaub also has three touchdowns and two interceptions. That isn't bad, but it isn't great either. I'll expect his numbers to improve once Arian Foster becomes a part of the offense again.
19. Rex Grossman, Washington
Patrick Smith/Getty Images
I'll admit that Grossman's performance in these first two weeks has been better than several of the quarterbacks I have ranked ahead of him.
He has thrown for 596 yards with four touchdowns and only two interceptions.
But it's still Rex Grossman. I can't look at his body of work throughout his career and dismiss it all two games into the season. He's always been an up and down guy and I think he just happened to be up for the first two weeks.
If he is putting up these kinds of numbers two weeks further into the season, I'll change my tune. Until then, he stays near the bottom.
18. Matt Hasselbeck, Tennessee
Grant Halverson/Getty Images
The first (or last, I guess, since we're counting backwards) in a trio of quarterbacks that can't seem to decide if they're good or not.
Hasselbeck could barely complete a pass against the jaguars in Week 1, but in Week 2 he absolutely took it to the Ravens, who supposedly have one of the best defenses in the country.
This is probably what Hasselbeck's story will be all year: he'll do terribly one game and then do his best Peyton impression the next. That's how the Seahawks beat the Saints in the playoffs last year.
In his first two starts as a Titan, Hasselbeck has thrown for 621 yards, three touchdowns and two interceptions.
It probably helped that he didn't get sacked even once in Week 2.
17. Ben Roethlisberger, Pittsburgh
Justin K. Aller/Getty Images
Roethlisberger is having a slow start to the year. yes, he's thrown for a healthy 578 yards, but he's also thrown three interceptions and only two touchdowns and fumbled the ball twice.
That's five turnovers in two games. Ouch.
It isn't all that bad, though. All of those turnovers were against the Ravens, so I expect Big Ben to rebound and have his typical good season without the playoff run. Still, he's gotta watch turnovers.
The Ravens are tough, but Hasselbeck had no problem passing on them. Roethlisberger has been good enough for long enough to get the benefit of a doubt.
16. Joe Flacco, Baltimore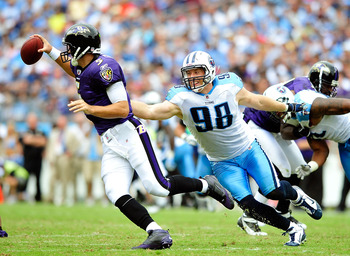 Grant Halverson/Getty Images
The Ravens are a team I can't figure out. The Steelers do nothing to them in Week 1, but when the Ravens visited the Titans in Week 2, all of a sudden Flacco is running for his life on every play.
Makes no sense to me(but, as a Titans fan, I'll take a win even if it makes no sense).
Flacco has put up pretty pedestrian number so far: 421 passing yards, four touchdowns and two interceptions. This is far from great, but like I said, he was running for his life the entire game against the Titans and his receivers didn't help him out.
I expect him to recover and do very well for the season.
15. Eli Manning, New York Giants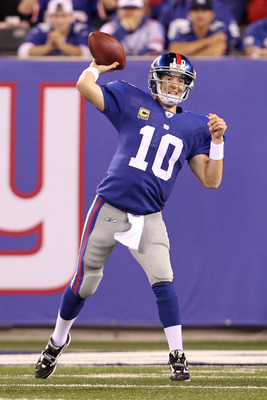 Al Bello/Getty Images
I still laugh that Eli Manning put himself on the same level as his brother and Tom Brady. His first two showings are a perfect example.
Manning has passed for 468 yards and picked up two touchdowns on the way. Hardly elite, but not terrible.
Manning's biggest problems though his career have been inconsistency and turnovers. He's been inconsistent already, but turnovers haven't been a big problem. He's thrown only one interception thus far.
Manning isn't, and never will be, an elite level quarterback, but he's better than average and he gets his team the win more often than not.
He'll do OK in the end.
14. Andy Dalton, Cincinnati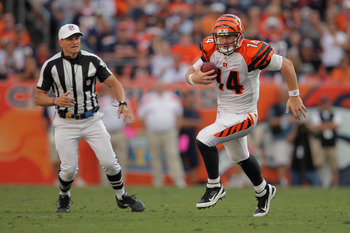 Doug Pensinger/Getty Images
His passing yards are modest, sitting at 413 yards, but that isn't what's impressive about Dalton.
So far, Dalton hasn't thrown an interception and has just had one fumble. His completion percentage is also very promising for a rookie, sitting at over 66 percent.
Furthermore, he only played part of his first game before leaving with an injury. He played all of his second game and he threw for 332 yards.
There isn't a lot to go on as of yet, but the Bengals may have gotten a steal when they landed a true franchise quarterback in the second round.
13. Josh Freeman, Tampa Bay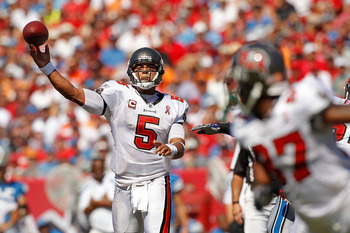 Mike Ehrmann/Getty Images
Stafford may be getting off to a better start, but Josh Freeman is still the best quarterback of his class in my book.
Last year was his breakout season with the Buccaneers and even though the team looks like they might be having a bit of a hangover, Freeman is still impressive.
Freeman has thrown for only 502 yards, but he did so against a very impressive Lions defense before increasing his completion percentage to 71 percent against the Vikings.
He also has 47 rushing yards at six yards per attempt. I fully expect Freeman to lead his team to another winning season, even in an increasingly crowded NFC South.
12. Kevin Kolb, Arizona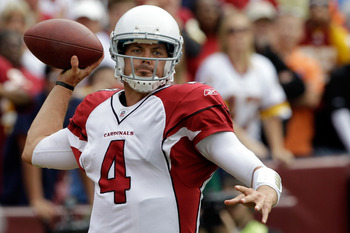 Rob Carr/Getty Images
I do not think Kolb will end the season this high in the quarterback rankings. However, so far, he has thrown 560 yards, four touchdowns and only one interception. You can't ignore that.
Playing against Carolina and Denver isn't exactly a test either, but I'm giving way to the numbers on this one.
He's also completing a respectable 61.4 percent of his passes (and most of them aren't to Larry Fitzgerald either), which raises his stock.
With Bradford suffering a sophomore slump and the 49ers and Seahawks neck and neck in terrible quarterback play, Kolb could very well lead the Cardinals to the playoffs if he keeps up the good work.
11. Matt Ryan, Atlanta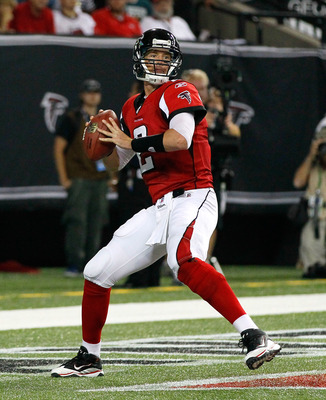 Kevin C. Cox/Getty Images
Matty Ice is starting a little slow this year, but he's played against two great defenses, so he deserves some slack.
He had to face the Bears explosive pass rush before having the Eagles come down with both Asante Samuel and Nnamdi Asomugha (each of whom caught an intercepted pass).
You have to take that into account when looking at his numbers.
He's passed for 514 yards and four touchdowns. That by itself is very good, but then there are the turnovers. Ryan has thrown three picks and fumbled once as well.
His numbers ought to recover once he faces some looser defenses. For now, they keep him out of the top 10.
10. Jay Cutler, Chicago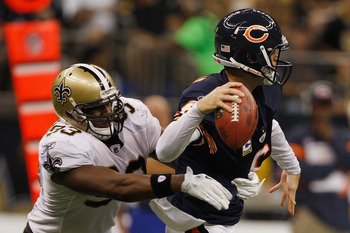 Chris Graythen/Getty Images
He couldn't do much against New Orleans, but Cutler is still getting sacked more than any other quarterback in the league (six times against the Saints), so what he does is impressive in my book.
Cutler has thrown for 556 yards this season against two very good teams (the Falcons and the Saints) and scored three touchdowns along the way.
Turnovers are still a bit of a problem; Cutler has only thrown one interception, but he's lost two fumbles too.
Like I said, he gets hit a lot. If he had the protection of most other quarterbacks in the league, there'd be fewer turnovers and sacks and he'd play more comfortably. It doesn't help that he lost his favorite target, Earl Bennett, early in the game against the Saints.
If the Bears had a standout receiver or a better offensive line, Cutler would be a consensus top 10 quarterback. In my book, he still is.
9. Tony Romo, Dallas
Jed Jacobsohn/Getty Images
Tony Romo may be out for commission again already, but he showed a lot of toughness by returning to the game to beat the 49ers in overtime on Sunday. He had a punctured lung by the way.
He has also put up very respectable numbers: he has passed for 687 yards, four touchdowns and one interception.
Not bad considering that the lone interception came from Darrelle Revis while the Cowboys were trying to come from behind to beat the Jets.
Romo may not be the absolute best quarterback, but he's better than most and he hides a lot of flaws on the Cowboys.
8. Matt Stafford, Detroit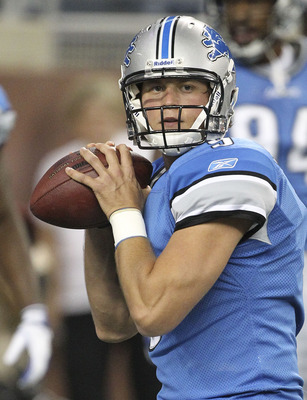 Leon Halip/Getty Images
Matt Stafford has finally arrived and if he can stay healthy, Detroit fans are going to have a very good year.
The gunslinger from Georgia has passed for 599 yards while throwing for seven touchdowns and only two interceptions and staying fumble free.
He is also leading an undefeated team with a stud defense led by Ndamukong Suh.
So far, Stafford has always looked good when he's on the field, but that's where the trouble usually lies.
He's been out with injuries nearly his entire professional career and that will have to change if the Lions want to make the playoffs in a stacked NFC North.
7. Cam Newton, Carolina
Streeter Lecka/Getty Images
Is this too high a ranking?
Maybe, but come on, the kid threw for 854 yards in his first two games as a starter! Even those who were sold on Newton before the draft (me) are shocked by what he's done so far.
The only thing keeping him this far down on the list is the three interceptions he threw against Green Bay.
Newton has thrown as many interceptions as he had touchdowns (four), but he also has 47 rushing yards and no fumbles to throw in there.
Besides, do I need to remind you again that these are the first two games he's played in the NFL?
When you consider than three of his four interceptions came from one of the best defenses out there, you have to be impressed by Newton. If he can limit the turnovers, he'll be a lock for offensive rookie of the year by mid-season.
6. Ryan Fitzpatrick, Buffalo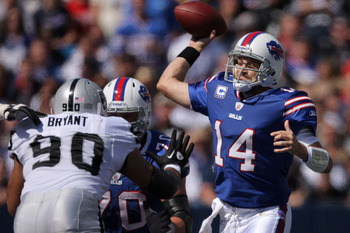 Tom Szczerbowski/Getty Images
What? Cam Newton at No. 7 and Ryan Fitzpatrick at No. 6?
Am I crazy? Perhaps, but given the body of work that Fitzpatrick has accumulated two weeks into the season, I really can't justify putting him any lower.
Fitzpatrick has thrown for 472 yards, seven touchdowns and only one interception. He also has no fumbles.
Most important of all, his team is 2-0 and everyone knows that's the most important statistic.
I thought that Fitzpatrick was impressive considering how little was around him last season. Now, with an improved Buffalo squad, Fitzpatrick gets to show how good he really is.
I expect big things for Buffalo this season.
5. Michael Vick, Philadelphia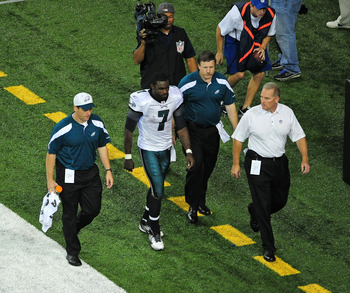 Scott Cunningham/Getty Images
No, he isn't playing as well as last year, but he's still doing pretty well.
He was leading the Eagles to what looked like certain victory when he had to leave the game with a concussion, rendering the Eagles offensive unit wingless and allowing the Falcons to fly by them as they soared to victory.
There, had to get all the bird puns in there.
Even though he didn't play two whole games, Vick has managed some pretty impressive stats thus far. He's passed for 429 yards and four touchdowns while rushing for an additional 122 yards.
He had a rough night against the Falcons, but he is still an elite player until someone proves otherwise.
4. Philip Rivers, San Diego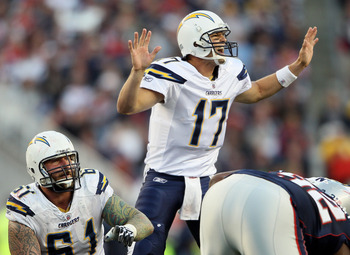 Elsa/Getty Images
They may have lost to the Patriots, but Rivers is still making fantasy owners happy.
Rivers has thrown for 713 yards and four touchdowns. The only thing keeping him from being amongst the elite-elite is his turnovers.
He's thrown four interceptions and fumbled the ball as well.
Still, he's completing over 70 percent of his passes and putting up big numbers. He's also got a record of excellence, so he gets the benefit of a doubt for now.
The Chargers ought to make the playoffs solely on the poor play of the Chiefs, Broncos and Raiders, so fans shouldn't worry about his turnover numbers just yet. Everything always looks different by Week 14 or so.
3. Aaron Rodgers, Green Bay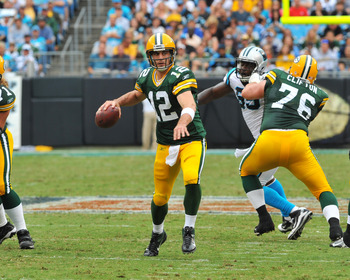 Al Messerschmidt/Getty Images
The player with the highest QB rating of all time in both the playoffs and the regular season has not disappointed thus far.
He's passed for 620 yards, five touchdowns, no interceptions, no fumbles and his team is 2-0.
He also provides hilarious commentary to the press after games.
There really isn't much to say about Rodgers that hasn't already been said. He's the whole package.
2. Drew Brees, New Orleans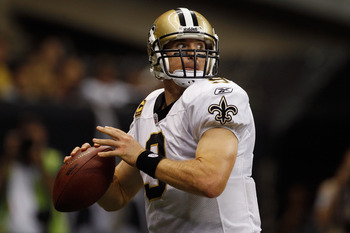 Chris Graythen/Getty Images
The Saints may have lost to Green Bay in Week 1, but you'd never know it looking at Brees's stats from the game. He threw for 419 yards and three touchdowns.
Even with two starting receivers out (Marques Colston and Lance Moore) Brees put a hurting on the Bears in Week 2, passing for 270 yards and three touchdowns in the Saints' 30-13 win.
To make his case even stronger, he's yet to fumble the ball or throw an interception. Only he and Aaron Rodgers can make such a claim and Brees did it with an injured group of receivers.
No. 2 in the quarterback rankings seems appropriate.
1. Tom Brady, New England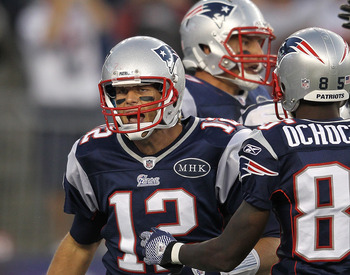 Jim Rogash/Getty Images
Well shucks, who would've thought that Tom Brady would be the best quarterback in the league this year? Everyone? Yeah, that sounds about right.
With Peyton Manning out for the season, the road is clear for Brady to steer his way toward another MVP.
There's already talk that Brady might beat Dan Marino's single season record for passing yards.
He's thrown for 940 yards already, so it wouldn't be a big surprise.
He's also picked up seven touchdowns to one interception and completed 75 percent of his passes on his way to two wins. Last season, Brady had one of his best years ever, but don't be surprised if this year tops that.
I'm no Brady fan, but right now, there's no denying that he's just making everyone else look bad.
Keep Reading