NFL
Week 2 NFL Picks: Patriots Win Shootout and Other Game Predictions
Even the mild-mannered Troy Polamalu is fuming after last week's debacle.
Doug Pensinger/Getty Images
September 17, 2011
Sunday, September 18
Seattle Seahawks (0-1) at Pittsburgh Steelers (0-1)
Sidney Rice will have to wait another week to make his Seahawks debut but won't matter much this week. The Steelers return to the confines of Heinz Field infuriated and raging after a 7-35 punking at the hands of the Ravens last week. The Seahawks won't touch Ben, Steelers will build an early lead, Dick Lebeau sicks his dogs on Tarvaris Jackson. Steelers 31, Seahawks 13
Oakland Raiders (1-0) at Buffalo Bills (1-0)
Fans will be treated to a surprisingly tasty matchup between two teams that enjoyed impressive road victories in Week 1. The Raiders travel to Buffalo where their defensive line will manhandle the Bills inexperienced offensive line. The Broncos couldn't get their ground game going against Oakland and Buffalo should struggle doing so as well against the Raiders' base defense. On the other hand, Buffalo's 3-4 defense should confuse Oakland's green offensive line considerably in passing situations. The difference should be Darren McFadden, who should be the best player at Ralph Wilson Stadium on Sunday. Raiders 20, Bills 17
Arizona Cardinals (1-0) at Washington Redskins (1-0)
Hard to believe that one of these teams will be 2-0, but that is indeed the case as Ken Whisenhunt brings his Cardinals across country to face the Redskins. The Redskins had a superb defensive showing last week against the Giants, including holding Eli and Co. to just 1/10 on third downs. Kevin Kolb and Larry Fitzgerald will hook up for their first of many touchdown connections together, but the Skins will dominate time of possession, and Rex Grossman will find plenty of windows against the Swiss cheese secondary of the Cardinals. Redskins 24, Cardinals 17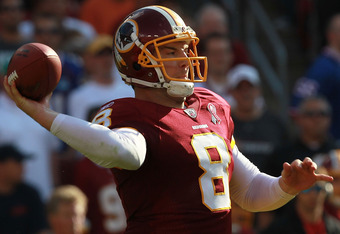 Rex Grossman will find little resistance from the Cardinal's defense.
Ronald Martinez/Getty Images
Tampa Bay Buccaneers (0-1) at Minnesota Vikings (0-1)
The Vikings return home looking to get in the win column after holding the lead for the vast majority of the game in San Diego in Week 1. Tampa Bay on the other hand was thoroughly outplayed in almost every facet in Week 1 against the Lions and look to prove their 10 wins last year weren't a fluke. The Buccaneers can be ran on, and Minnesota will look to feature Adrian Peterson heavily on early downs. When the Tampa safeties inevitably creep into the box to limit AP, play-action opportunities will be available for Donovan McNabb. He'll fare far better than the 39 yards he mustered against the Chargers. Vikings 20, Buccaneers 19
Jacksonville Jaguars (1-0) at New York Jets (1-0)
The Jaguar faithful has been calling for Jack Del Rio's head for years, but his eeking out eight wins last year with that decimated roster was nothing short of miraculous. Now, he's down his franchise QB, who was cut days before the season but is still asked to contend for the AFC South crown in lieu of Peyton Manning's absence. Back to the game...the Jets will do everything in their power to stop Maurice Jones-Drew and will succeed. Luke McCown will then try to pass against the league's best secondary, with the league's worst wide receivers at his disposal. And Jags' receiver Jason Hill openly questioning Darrelle Revis won't help matters. Jets 27, Jaguars 10
Chicago Bears (1-0) at New Orleans Saints (0-1)
Deepest condolences to Brian Urlacher, who lost his mother this week. Urlacher will lead the Monsters of the Midway into the Superdome supercharged with emotion and vitriol, but 10 days of preparation and game planning for offensive geniuses Sean Payton and Drew Brees will prove too much for a Saints team desperate for a victory. The Bears offense will have a very difficult time keeping up with New Orleans' big play potential. Saints 24, Bears 16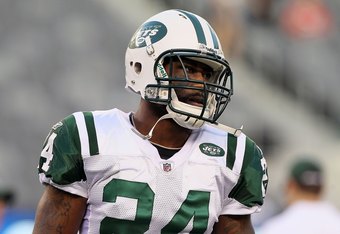 Darrelle Revis will be highly motivated for his Week 2 matchup with Jacksonville.
Jim McIsaac/Getty Images
Green Bay Packers (1-0) at Carolina Panthers (0-1)
Ron Jaworski called Cam Newton's debut "maybe the most impressive QB debut I've ever seen". Give Newton all the credit in the world for a remarkable performance, but last week, he faced an Arizona defense that can't pressure the quarterback and employs one of the worst secondaries in the league. This week he gets formally introduced to Clay Matthews Jr. and his gang of elite Packer defenders. On the other side, Aaron Rodgers gets 10 days to prepare for one of the worst defenses in the NFL, a unit which is now even thinner with the loss of All-Pro Jon Beason. Packers 34, Panthers 20
Baltimore Ravens (1-0) at Tennessee Titans (0-1)
As far as opening week statements go, no one in the league made one as loud and as emphatic as the Baltimore Ravens. This week, they travel to Tennessee where Chris Johnson will have to earn every centimeter. The Titans are better than their pathetic showcase in Jacksonville in Week 1, but the Ravens' offensive coordinator Cam Cameron will keep the Titans guessing with his formidable running game and revamped passing attack, while holding CJ2K to a very pedestrian day. Ravens 13, Titans 10
Kansas City Chiefs (0-1) at Detroit Lions (1-0)
Two teams headed in completely opposite directions, with fans and analysts alike deeming the Lions the vogue sleeper pick and everyone jumping off the Chiefs bandwagon in droves. Kansas City will attempt to redeem themselves from a thrashing last week by keeping Matthew Stafford and his lethal set of playmakers on the sidelines with last year's No. 1 ranked running game but won't find a lot of running room with Ndamukong Suh and his brigade of high motor linemen wreaking havoc. When the Chiefs look to open the passing game up, they will struggle to keep Matt Cassel up right. Lions 27, Chiefs 13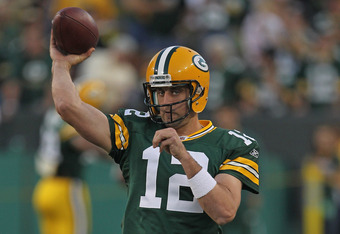 Yeah, Tom Brady is in the zone. But so is this guy.
Jonathan Daniel/Getty Images
Cleveland Browns (0-1) at Indianapolis Colts (0-1)
Things have gotten so bad for the Colts that this week the Browns are favored to win in Indy. Peyton Manning obviously will sit, so the Colts offense naturally will fail to move the ball consistently and will struggle converting third downs. The Colts' offensive ineptitude will cause their defense to be on the field a lot more than they're accustomed to, and Cleveland should win the ever important time of possession battle as a result.
But when Cleveland does have the ball, an offensive juggernaut they are not. Lest not forget they were thoroughly outplayed by the Cincinnati Bengals in Week 1. As bad as the Colts looked in Week 1, they're a different team at home, with or without No. 18. Indianapolis knows full well they aren't capable of getting into shootouts, but can they win a grind it out game?   Colts 20, Browns 17
Dallas Cowboys (0-1) at San Francisco 49ers (1-0)
For three quarters last Sunday, the Cowboys looked the part of dominant NFL team with their explosive offense and ability to pressure the quarterback. In one of the worst collapses in their franchise's rich history, they gave the game away thanks to multiple blunders in the fourth quarter.
This week, they travel to San Francisco, where sledding won't be nearly as tough as it was against the Jets. Felix Jones won't find any running room whatsoever but Bryant, Austin and Witten will be running free all day downfield. On the other side of the ball, Dallas will be short two of their three starting corners, with Mike Jenkins playing hurt. Will Jim Harbaugh trust his embattled QB Alex Smith enough to open up the offense and take advantage? Is Smith capable of taking advantage? No and no, I'm afraid. Cowboys 27, 49ers 23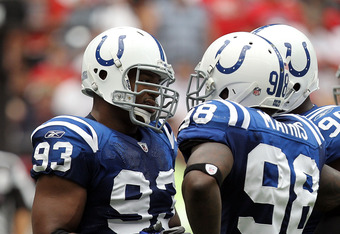 Dwight Freeney and Robert Mathis know they must pick up the slack for the Colts with Peyton Manning sidelined.
Ronald Martinez/Getty Images
Cincinnati Bengals (1-0) at Denver Broncos (0-1)
As far as ugly debuts go, John Fox's first game as Denver's head coach ranks right up there. For a coach who is notorious for dominant ground games and sound defense, the Broncos offered little of either in Week 1. This week they again have a relatively favorable matchup.
Denver will find more success on the ground, but they are the walking wounded as Elvis Dumervil, Champ Bailey, Knowshon Moreno and Brandon Lloyd are all nursing injuries. Bengals' defensive coordinator Mike Zimmer will illustrate a game plan to confuse Kyle Orton just enough, and Cincinnati will keep the chains moving by keeping third downs short and manageable. The Broncos will start out 0-2, and the chorus of boos for Kyle Orton will become deafening. Bengals 17, Broncos 13
San Diego Chargers (1-0) at New England Patriots (1-0)
Kudos to the Chargers for starting out a season with a win for a change, but with Tom Brady playing the best football of his career presently, marching into Foxboro and getting a win is nearly impossible. The Pats don't turn the ball over and confuse opponents with their vast array of personnel groupings, so if somebody is going to beat them it would have to be a team that can keep up.
The Chargers are capable of doing so, but a near-perfect game would have to be called by Norv Turner to outscore Tom Brady. Not out of the question, but unlikely, given the man across the chess table from him is one Bill Belichick, he of the defensive genius variety. Side note: Philip Rivers has never beaten Tom Brady head-to-head, regular season or playoffs. Patriots 34, Chargers 27
Houston Texans (1-0) at Miami Dolphins (0-1)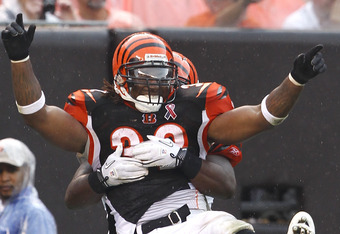 Cedric Benson looks to take full advantage of his second straight favorable matchup.
Matt Sullivan/Getty Images
The newly-acquired Jonathan Joseph and Danieal Manning will get their first real test in covering up the Texans' previously embarrassing secondary as they travel to Miami. The Dolphins will again look to spread Houston's newly-installed 3-4 defense, and Reggie Bush should be the recipient of multiple receptions. Arian Foster's return should add to the threat of play-action, which will be paramount in this contest. The Texans will swipe a couple of turnovers, and that will prove the difference in the game. Texans 24, Dolphins 20
Philadelphia Eagles (1-0) at Atlanta Falcons (0-1)
Lost in the Bills' shellacking of the Chiefs and the Ravens' beat down of the Steelers was the Bears dismantling of the Falcons. Atlanta had a virtual no show, running the ball just 10 times and with their defense largely getting pushed around. This week it gets no easier as Michael Vick brings his crew of extraordinarily fast playmakers with him to the Georgia Dome, where they'll be even faster. The Falcons will make a concerted effort to balance their play-calling, and Atlanta will fend off a supremely talented Eagles team and earn a very important early season victory. Falcons 27, Eagles 24
St. Louis Rams (0-1) at New York Giants (0-1)
I'm sure ESPN is incredibly thankful for such a juicy matchup (dripping with sarcasm). The Rams bring their mash unit of injured cogs to Metlife Stadium to face a Giants team fresh off a thorough spanking in Washington last week. Steven Jackson and Danny Amendola won't play, and Sam Bradford will be limited, but the Giants will have no compassion as they've experienced a large number of key injuries as well.
Rams coach Steve Spagnulo is very familiar with the weaknesses of Eli Manning, having worked against him in practice for years as their defensive coordinator, but the Rams just don't have the horses to compete with the Giants this week. Giants 20, Rams 10
Like the new article format? Send us feedback!