Peyton Manning vs. Tom Brady: The Final Round of Football's Epic War
September 13, 2011
Elsa/Getty Images
When it comes down to it, Peyton Manning versus Tom Brady is a battle that will be fought until football comes out of the limelight.
Both are great quarterbacks; both have different reasons for greatness.
Manning has the career statistics. In the regular season, he has completed 65 percent of his passes for nearly 55,000 yards (third all-time, behind Brett Favre and Dan Marino, respectively). He's third all time in touchdowns with 399. In the postseason, he's ninth in all-time passer rating at 88.4. On top of it all, he's the only player in NFL history with four MVP awards, and he has one Super Bowl MVP award.
But for all of Peyton Manning's undeniably great statistics, there are Tom Brady's three rings, four Super Bowl appearances, single-season touchdown record with 50 touchdowns (56, counting postseason), and a multitude of other records that nearly reach Manning's.
Manning and Brady are loved by their own camps, all over the nation. And their rivalry is amazing. The Patriots lead the rivalry, but the Colts have pushed back in recent years. Every year, be it in the regular season or the playoffs, Manning versus Brady is a game that people want to watch. For a long time, it was shaded by Tony Dungy versus Bill Belichick.
But this battle looks like it could end soon. Manning is hurt, and badly. His season, and ultimately his career, is in jeopardy.
As a result, so is the glorious rivalry of Indianapolis and New England. Even Tom Brady has shared his concern over Manning's injury and its potential effect on the rivalry.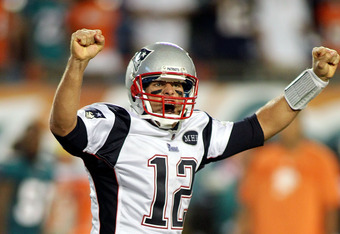 Marc Serota/Getty Images
But I have to say that as I sit here and think about Manning versus Brady and the Colts versus the Patriots, a thought does cross my mind: Why hasn't Indianapolis already found a viable heir to Manning's throne? 
Look at it this way: Manning has been an iron man his whole career, going back to high school and college. He gets the ball out quick enough to not get hit, and he's strong in the pocket. To put it simply, the Colts haven't needed a backup for nearly 15 years.
This injury came on a bit suddenly, from the front office's perspective. And while Manning puts it on the lockout, I put it on him. He knew he was hurt, and yet he waited until May to have surgery.
But the point here is, the Colts built this team around Manning. Their offensive personnel works well with Manning; they all mesh around him. The receivers are built to work with Manning's style.
And it works excellently, when Peyton is playing. 
But as we saw on Sunday, the Manning-less Colts are a headless team. Kerry Collins in the Colts' offense is like a guy who's never driven a stick getting put in a Ferrari. It won't work well until he's had time to get used to it. There will be sticky gears.
Unfortunately, the team that builds a team around one player is at risk, as we see now. New England's method is quieter, and much more effective. 
While they have built their fame around Brady, New England hasn't built their team around Brady. And before you get upset, hear me out.
Think about it. The carousel they've had at receiver, running back, and even tight end. The revolving door of coaches under Belichick. It all points to a changing team. Even the bringing in of quarterback Ryan Mallett shows the dedication to a plan set up by Bill Belichick and Robert Kraft.
Brady, like Manning, is getting up there in years. While he has a lot of time, he's helping to groom Mallett like Brett Favre did with Aaron Rodgers. Look how that turned out. I would argue that this team has been built around a system, not a player. Around a coach. A coach who has consistently been one of the best coaches in recent memory, if not all time.
The Colts may not be a winning team this year. The Patriots may well be Super Bowl champions. But this year's game won't be the same without No. 18 at the helm of one of the most prolific offenses ever. Brady and the Patriots will likely walk all over them. As a Colts' fan, this is tough to write. But this is something we, as Colts fans and football fans, must accept.
Brady and Manning. Colts and Patriots. Two of the greatest storylines in the NFL, this side of dynasties of the 70s and 80s. Kings of the league. If this is the end, it doesn't seem fitting. It should end on the field of a snowy Foxborough night. Or under the lights at Lucas Oil Field.
It should end with one team winning on a field goal after a dramatic game-winning drive, with the AFC Championship on the line. Two heavyweights, walking away into the sunset.