T.O. and Rosenhaus Are Blocking Desean Jackson from Catching New Deal
September 9, 2011
Al Bello/Getty Images
"Fraud" is a popular word in Philly sports talk radio and was used frequently by Philly sports talk "legend" Howard Eskin. So, in keeping with tradition, Drew Rosenhaus is a fraud.
The world, or better yet ESPN, would have you believe that he is one of the best agents in the game. His constant visits to television and radio stations give credence to this horrible misconception.
The truth is that Rosenhaus is nothing more than an over-hyped Jimmy "the mouth of the South" Hart, who has failed miserably at getting the most for his clients.
NFL power agent Tom Condon is responsible for outrageous rookie contracts. Eugene Parker has single-handedly put Larry Fitzgerald in the top two percent of the wealthiest athletes ever and Fletcher Smith made Donovan McNabb the first $110 million dollar man.
What has Rosenhaus done for his clients but have them despised by the very same fans who have loved them?
The agent used to proudly boast his client list for the world to see on his website; now he requests you contact his office for that information. No doubt this is an attempt to find out your motive for obtaining such information.
An innocent man has nothing to hide—or so they say.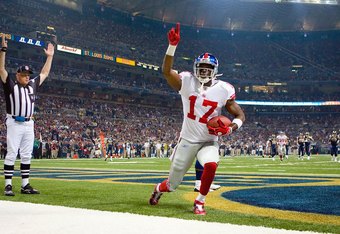 Dilip Vishwanat/Getty Images
The "Mouth" boasts he has his clients' best interest in mind, yet his actions are inconsistent with his words. In 2005 Plaxico Burress had to beg for a job before the Giants signed him to a modest (by NFL standards) six-year, $25 million dollar deal. The deal gave Burress $14.6 million over three years, which was less than what the Oakland Raiders' reserve receiver, Jerry Porter, signed for.
Porter who was also a free agent that same year, received $15 million in the first three years of his deal. Burress, a starter for the Pittsburgh Steelers, received less money than a player who could not crack the starting lineup and had never had a 1,000-yard receiving year.
Former Carolina Panthers receiver Mushin Muhammad also signed a better deal than Burress that season, despite not being a better player. Muhammad's deal was for six-years and $30 million, with $16 million to be paid in the first three years.    
That same year, the "power agent" signed Philadelphia Eagles wide receiver Terrell Owens on to his agency and proceeded to fight vigorously for his client to receive a new contract. The problem was that his client had just signed a brand new deal a year earlier.
Owens' contract came with a $10.3 million signing bonus and made him the third highest paid receiver in the league. However, Owens felt he needed a new deal—or Rosenhaus gassed him into believing he could get him a new deal. Either way, Owens became the next player to fall victim to Drew "No Results" Rosenhaus' game.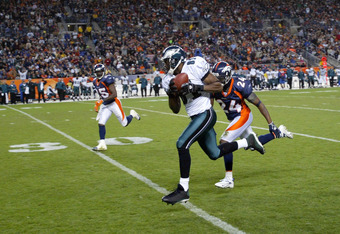 Doug Pensinger/Getty Images
One year and 75 crunches later, Owens was released by the Eagles. He was quickly picked up by the Dallas Cowboys, who gave him a three-year deal worth $25 million. The deal also came with a $5 million bonus and a $5 million salary, which fell short of the deal Owens had with the Eagles.
The Birds would have paid him $27.4 million in the first three years, including a $10.3 million signing bonus in 2004 and $3.25 million owed to him in 2005. Hey, who cares about silly semantics like that? Rosenhaus got the job done. Next question.
He works for notoriety. He works for the money. He works for himself and it appears he could care less about assisting his clients. Chad Johnson, Javon Walker, Terrell Owens and Anquan Boldin all wanted trades or new contracts when they retained the services of Rosenhaus; he failed to deliver to ALL of them. He put them in worse situations than what they were in before they even hired them.
In 2004 cornerback Mike McKenzie was a top-flight player in Green Bay and coming off a playoff appearance. Entering that 2004 season, he expressed his desire for a new contract and he, with Rosenhaus, decided to hold out.
After missing the first four games of the season, McKenzie was traded to the New Orleans Saints. The cornerback got his money, but lost his career. He never made the playoffs again and went from an up-and-coming star to a never-was. After tallying 20 interceptions in the first six seasons of his career, McKenzie had eight interceptions in the next five seasons.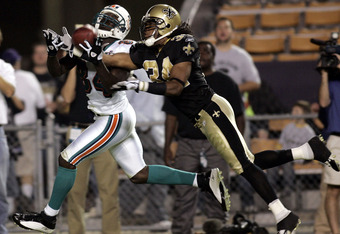 Chris Graythen/Getty Images
This is a Rosenhaus trademark. He manages to agitate management and alienate the player from his teammates, all in an attempt to secure a "good deal" for his clients. What is lost in his pursuit of happiness is what is best for the player.
A player's value can escalate or deescalate depending on the team. For instance, T.O. was an invaluable piece to a Super Bowl contender in Philly, but was just another good player in Dallas. Ederrgin James is a borderline Hall of Famer in Indianapolis, but in Arizona he is second-string to some cat named Hightower.
There have been countless players who have held out under the Drew Rosenhaus regime, only to find themselves in worse situations professionally and comparable situations financially.      
Fast forward to Philadelphia Eagles wide receiver Desean Jackson, who is now represented by D.R. Jackson is in the best situation professionally that he could be in, but still took a major risk in holding out this season.
The Eagles are notorious hard-ballers, or so the media would have you believe. The Birds do spend money, they are just more meticulous about who they spend it on. Jackson was caught in a difficult spot and it gave the Birds minimal wiggle room to get him signed. However, before the ink could dry on the new collective bargaining agreement, the Rosenhaus player was holding out.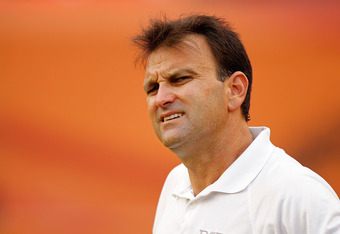 Mike Ehrmann/Getty Images
Jackson's holdout was about as beneficial as boycotting Sal's Famous Pizzeria and surely hurt him at the negotiating table.
This is where the agent should have stepped in and "advised" said player that it would behoove him to attend camp, but in keeping with the Rosenhaus way, Desean held out.
Let this be a lesson to all wide receivers: The handshake does not match the smile. If you doubt the validity of that statement, do the math. What wide receiver or player has flourished under Rosenhaus? What player was better off once retaining his services?
Receiver Anquan Boldin fired the agent and less than a year later was traded to the Baltimore Ravens. He also received that new contract that Rosenhaus failed to acquire for him, courtesy of agent Tom Condon. In fact, for all the hoopla and lip service, the "power agent" boasts the 17th highest paid wide receiver in Plaxico Burress. Burress rests comfortably after Nate Washington of Tennessee, Mike Sims-Walker of the Rams and Michael Crabtree of the 49ers.  
Desean Jackson fell victim to the game and bought stock in Rosenhaus. And now? Well, now he sits without the deal he most certainly earned. Jackson, a self-made man, has to be wondering why the "power broker" has not put him in a new tax bracket.
The answer is simple: Rosenhaus is not as good as advertised. He is a lot of talk and very little action. The man is smoke and mirrors and that is about it. So, Jackson will either have to continue to grin and bear it or hire an agent who specializes in results and not rants.
The time has come for the wide receiver to get a new deal and the Eagles are well aware of that. However, the Eagles need Jackson to help them help him by dismissing Jimmy Hart and bringing in someone who is only concerned with obtaining the best deal for his client—an agent who believes in making historic deals, not making television appearances.