NFL Opening Weekend: Cowboys at Jets and the 10th Anniversary of 9/11
September 6, 2011
Jim McIsaac/Getty Images
You know how I knew that we wouldn't miss any regular season games this year?  Take a look at the date of the first Sunday of the regular season:  Sunday, September 11, 2011.  The ten-year anniversary of 9/11. 
The whole labor dispute drove me crazy and it can't disappear in the rear view mirror fast enough for me.  Thankfully, we only lost one preseason game.  However, I believe that had regular season games come into jeopardy, Roger Goodell would have twisted every arm he could get hold of to get a deal done that would keep opening weekend intact. 
No way does the NFL, which has made an art-form of co-opting patriotism as an integral part of the game (amazingly without partisanship), miss the anniversary of 9/11.   
This is not an article meant to analyze that day and what it has all meant since, from a national and global perspective.  I suspect there will be no shortage of pieces in that vein written by others.  I do, however, want to look back at it through the narrow prism of being a sports fan and how the events of that day affected all of us who are part of that family.  
September 9, 2001 was a Sunday.  It was also opening Sunday of the 2001 NFL regular season.  I don't need to tell anyone reading this how much we all look forward to that day each year.  The games were played and we were underway.  Fans rejoiced, commiserated and retooled their fantasy lineups as necessary.  Football was back and it was great.  It was the kind of fall Sunday we Americans do best.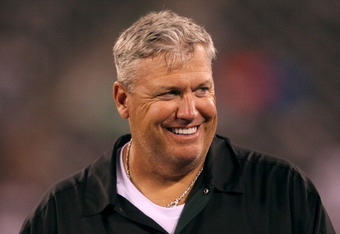 Al Bello/Getty Images
And then, Tuesday morning, in the blink of an eye, everything changed forever.  There was almost no precedent for what happened that morning.  Perhaps the closest event may have been Pearl Harbor.  But that was 60 years prior and a totally different age in media.  9/11 was so shocking and visceral not only because of how horrifying it was, but because we all were real-time witnesses. 
As the next few days unfolded, Americans sought to try to understand all the fear, anxiety, sorrow, rage and uncertainty that colored this new world.   
So, in the very narrow context of football, what happened next? 
Well, the following weekend was Week 2 of the regular season, but no one really knew what to do.
Should the games be played?  Was that disrespectful?  What about safety, for both the public and the players?  Could teams even travel to away games? 
Remember, the FAA took the unprecedented step of grounding every single airplane in the air in the immediate hours after the attacks.  Full ground-stop.  No one wanted to get on a plane. 
Just like after any tragic event, rumor, conspiracy theories and misinformation abounded.  Cities large and small were on edge.  I won't go so far as to say that there was mass hysteria, but the anxiety was palpable anywhere you went.  Besides the unimaginable sorrow and the heroics of the valiant first responders, there lurked the unanswerable question: was another attack imminent?  And what better target to be next than the epitome of Americana—an NFL football game.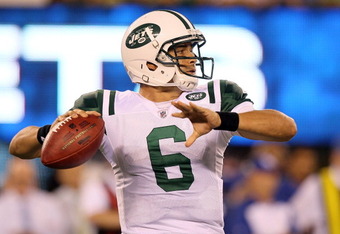 Jim McIsaac/Getty Images
It was too risky.  The NFL called off the games in Week 2.   
Then, something amazing happened.  It's almost like everybody collectively thought to themselves:  no way will we let these terrorists keep us down.  
And so, while we gave blood, cooked for the firemen, neighborhood-watched, searched for survivors and comforted the bereaved, somehow, everyone knew that to go forward and live vibrantly out in the open would be an unmistakable act of courage and resolve.   
Sunday, September 23: football was back on.   
I have the home video of the recap of the Patriots' 2001 season.  I dare you to watch the footage of that second game of the Patriots season (against the Jets!) and not get a little misty.  Security was beefed up but really at that point, we were all deputized.  Everyone knew about "let's roll" by then. 
Still, there were no guarantees. 
The shock and surprise of 9/11 was still too new.  Even if every precaution had been taken, how could you really know you were safe in the stands?  Even watching on TV, what if the worst happened and a stadium was attacked?  Your heart was in your throat the entire time.  There was no half-hearted singing of the national anthem on that day.  If you're one of those people who complains about the unnecessary costs of military flyovers at football games, well you got over it fast.  I'm more than happy to have my tax dollars go for that.  There was no amount of love and thanks that was enough to shower upon our fire fighters, police officers and military service folks.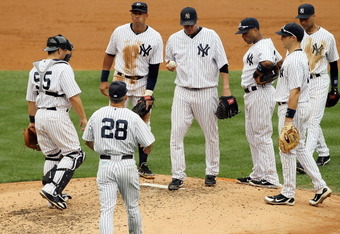 Jim McIsaac/Getty Images
The games were played.  And I think we were all better for it.  In a way that very few institutions in our polarized country can do anymore, sports brought us together and reminded us of our better selves.  And it wasn't just limited to football.  September is the playoff push in Major League Baseball.   
In a twist any self-respected screenwriter would laugh off as absurd, both the Yankees and the Patriots ended up in playoff runs that year.  If you've never seen the amazing HBO documentary "9 Innings from Ground Zero", don't wait another second.  It tells the story of the 2001 World Series between the Yankees and the Diamondbacks and what that was like for the city of New York.  
But that doesn't do it justice. 
They cut back and forth between interviews with players, fans and citizens along with game footage all set against the continuous back drop of the smoking wreckage of the World Trade Center.   They capture all the uncertainty everyone felt.  No matter what reassurance officials gave, you couldn't help but wonder: is Yankee Stadium also a target?  Every game was fraught.  One of the highlights of the film, regardless of your political leanings is the footage of George W. Bush throwing out the first home pitch of the series in the Bronx.  Even better is the footage of Derek Jeter advising the President right before he walks onto the field to make sure he got the ball across the plate (this is Yankee Stadium after all).  Jeter said, "Don't bounce it; they'll boo ya."   No pressure.  GWB threw a perfect strike and the crowd went absolutely nuts.  You just can't script things like that.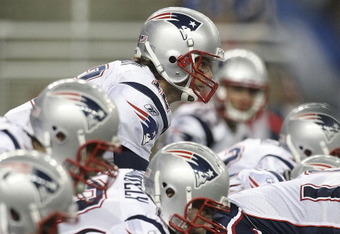 Leon Halip/Getty Images
So that fall, the NFL kept playing and the Patriots kept winning.  Some sixth-round draft pick out of Michigan took over for an injured Drew Bledsoe.  Next thing you know, the Patriots were in the Super Bowl as the underdogs to the heavily favored St Louis Rams—the Greatest Show on Turf. 
The Super Bowl can never be described as understated.  Each player receives a deafening welcome from the crowd as he takes the field.  But I knew the minute the Patriots were introduced as a team, they would prevail.  And sure enough in the last 81 seconds, they did, and the legend of Tom Brady was born.  A tall, blond, handsome quarterback right out of central casting led the scrappy and underestimated Patriots to the pinnacle of sporting success. 
It couldn't have happened any other way.   
So, lucky for the NFL, the calendar fell just right and the 9/11 tenth anniversary falls on opening day, Sunday.  I don't mean that flippantly in any way.  Like I said before, the NFL specializes in Americana, football, flags and the red, white and blue.  Just take a look at their logo. 
They'll do us all proud with ceremonies and pieces produced to help us remember and honor the past, while reminding us what a great country this truly is.  They will crush, in terms of emotional resonance, whatever the news networks produce for the event.  Trust me.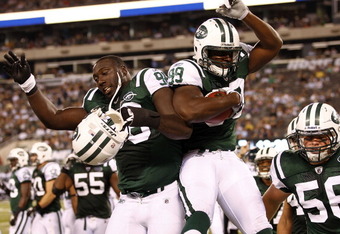 Jeff Zelevansky/Getty Images
And, oh yeah, they might play a little football.  The schedule looks great.  The Giants play Washington.  Pittsburgh is at Baltimore.  Football Sundays are back.  
And just to wrap it up in epic NFL over-the-top fashion – what do you think is the nightcap on NBC's Sunday Night Football?  Dallas Cowboys at New York Jets. 
I refuse to believe that this is scheduling coincidence.  America's team versus the mouthy, cocky Hard Knocks upstarts, your New York Jets.  I bet the local stores are sold out of flags and red, white and blue bunting already.    
So, that's the set-up. 
And then there are the football storylines.  Handsome Mexican-American quarterback versus handsome Mexican-American quarterback.  Ryan Family defense versus Ryan Family defense.  Gajillionaire owner versus gajillionaire owner.     
That's just for starters.  This game is going to resonate deeply with the New York Jets.  As one of the pro franchises of the New York area, they hold a public trust.  Not to say that the rest of the country won't be cognizant of the anniversary, but New Yorkers really feel it.   Obviously Washington DC and Pennsylvania too.  Apparently the Jets visited Ground Zero last week and were appropriately reflective and inspired.  Whether they hail from New York or not, this is their city now.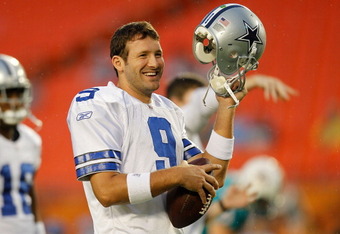 Mike Ehrmann/Getty Images
But  9/11 touched our whole country.  The thing the Yankees and the fans who were interviewed in the "9 Innings" documentary talked about over and over was that they were a little unsure about whether to participate in the games.  Amidst the unbearable tragedy of 9/11, it almost seemed frivolous to go to or participate in a ball game.  What the fans and the players soon discovered was that this was an act of courage and national pride in the face of unimaginable tragedy.    
Baseball and football are uniquely American.  Fans and players both talked about how they were surprised at how much the games helped them. They all noted the intense spirit of community.  The players set aside any guilt they had over playing a game when they understood that the fans needed the release.  The fans had a moment of brightness and solidarity in an otherwise overwhelming and frightening time.    
Mark Sanchez's father is a firefighter.  Mark wears No. 6 because that's the number of his father's firehouse in Orange County, California.  Now, Rex Ryan has named Mark the offensive captain for the year.   Sanchez has shown amazing ability to produce his best work as quarterback when the lights shine brightest.  He'll need it on Sunday.  
These Jets are an emotional team and it comes straight from the top.  I think it is one of their best qualities.  They care.  But the Jets cannot fall apart and get distracted in this game.  The playoffs this year are no guarantee. The Jets must do everything possible to win as many games as they can.  Tie-breakers will be critical.  Beating Dallas would be a nice start.  What I would like to see particularly from Sanchez this regular season is the kind of focus and determination that he has shown in the two playoff runs he has been in.  If the Jets don't beat the Pats for the division, the race for the wild card will be brutal.  The Jets need every win they can get.  I'm not talking about a 16-0 run; that's probably unrealistic.  But there is no longer room for boneheaded losses.    
Unbelievably, it already feels like the Jets are back in playoff atmosphere.  It's almost like it couldn't be any other way in New York, on the 10th anniversary of 9/11.  I hope the game lives up to the hype it is sure to receive.    
Here we are 10 years later.  The scars are still visible.   Times are hard.  Losses run deep.  
Sometimes it's hard to recall how things were before September 11, 2001.  But Americans are resilient and hopeful. 
No one knows what the future holds.  Call me crazy, but the fact that we're still capable of enjoying a ballgame gives me hope.    
So if your eyes get some dust in them when they start singing the national anthem, don't say I didn't warn you.  
Just remember one thing: United we stand.  
Play ball.