NFL Preseason 2011: 7 Surprising AFC Storylines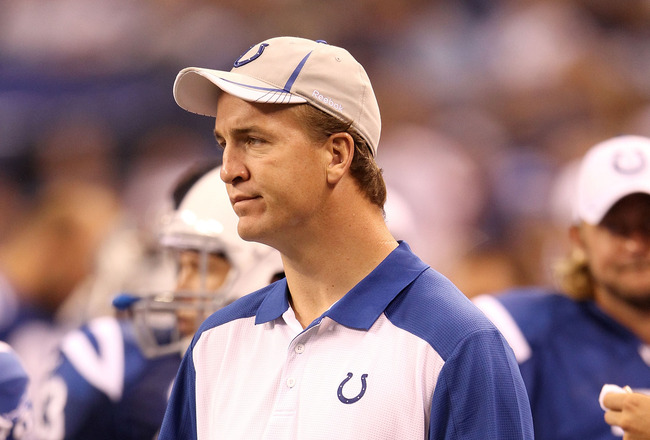 Andy Lyons/Getty Images
The 2011 NFL regular season—one many believed might not come to pass—is upon us. The NFL lockout did not affect the regular season, but it sure did make the preseason a lot more exciting as teams scrambled to fill their rosters and get below the salary cap.
The Philadelphia Eagles grabbed the biggest headlines this offseason as they assembled the "Dream Team." On the whole, however, teams from the AFC generated far more buzz than their NFC counterparts.
There were more than a few stories coming out of the AFC that could shape the outcome of the regular season. Some came as no surprise—the Jets resigning Santonio Holmes—but in the NFL, the stories that may have the biggest impact on the season are the ones that no one sees coming.
Whether it was a surprise trade, the release of a veteran or the signing of a big-name player, these five stories could determine who wins the AFC this season.
7. Baltimore Ravens Release Todd Heap, Derrick Mason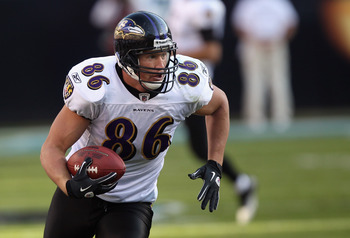 Streeter Lecka/Getty Images
For years, Todd Heap was a major part of the Baltimore Ravens sometimes shaky passing attack. Starting in the 2002 season, after being used in a limited role as a rookie in 2001, Heap was the security blanket for a number of Ravens quarterbacks.
Although he suffered from injuries in 2004 and 2007, Heap had managed to stay healthy as he passed the age of 30. Ravens fans grew to love the tight end during his time in Baltimore, and his release, despite the presence of emerging players at the tight end position in Ed Dickson and Dennis Pitta, came as a huge surprise to Baltimore fans.
Todd Heap, however, was not the only key member of the receiving corps Ravens brass chose to part ways with. Derrick Mason, one of the NFL's most quietly consistent receivers over the past decade, was also cut. In his six seasons with the Ravens, Mason put together four 1,000-yard seasons.
At 37, Mason is definitely beginning to feel the effects of age. Speed, however, was never a huge part of Mason's skill set. Yes, he was fast. As an NFL receiver, he obviously can run, but what made him so effective was his ability to run crisp, precise routes and develop chemistry with his quarterbacks.
The release of these players is not surprising in itself. It is surprising in what it signals. These cuts signal a necessary change in the Ravens passing attack. The new tight ends, Dickson and Pitta, bring a downfield dimension that Heap never had. Derrick Mason's exit coincides with the arrival of Lee Evans and Torrey Smith, two speed merchants.
The Ravens offense has evolved very deliberately from its days as the team's weakest link. Change has been gradual for the most part. That is why it was so surprising to see the team do a 180 by releasing possession types in Heap and Mason in favor of less tested speed demons.
6. Jets Gamble at the Wide Receiver Position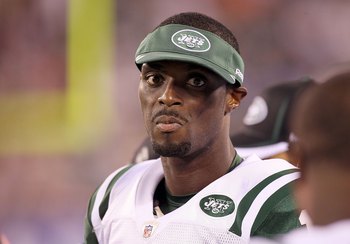 Jim McIsaac/Getty Images
The New York Jets took one of the biggest risks of the offseason by signing Plaxico Burress. The Jets chose the embattled hero of Super Bowl XLII over the safer option, Braylon Edwards. The move came as a huge surprise, as the Steelers and Giants had been the only two teams rumored to be pursuing Burress.
Burress has not appeared in an NFL regular season game since the 2008 season, and did not do much in the preseason to show that he still has the ability stretch a defense. He appeared in only two preseason games, registering only three catches for 66 yards.
It took Michael Vick over a year to readjust to the NFL after his prison term was up. It is difficult to say if Burress will be able to bounce back faster due to his position. As a wide receiver, Burress should be able return to his old level of play relatively quickly.
All he needs to excel for the Jets is the same speed and leaping ability that allowed him to average over 15 yards per catch for the Steelers and Giants. Will he be able to bring that same explosiveness as a 33-year-old who has not played a full NFL game in nearly three years? The Jets are certainly hoping so.
The Jets made another gamble by signing Derrick Mason to replace Jerricho Cotchery. Cotchery was a fan favorite and team leader in New York. He had also developed a good chemistry with quarterback Mark Sanchez.
Mark Sanchez is still very far from being a fully developed NFL quarterback. He needs all the help he can get from his receivers. The Jets believe they have given him two very good targets in Burress and Mason. It was a huge gamble to let two of his favorite targets go.
5. Steelers Fail to Upgrade Their Offensive Line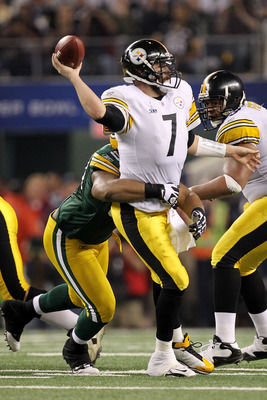 Ronald Martinez/Getty Images
Yes, the Pittsburgh Steelers were the AFC champions last season. It was due in no way to the play of their offensive line. The Steelers offensive line was the team's weakest unit during their run to the Super Bowl.
Ben Roethlisberger played a total of 15 games last year. He was sacked 41 times, and forced to run for his life countless others.
The Steelers did not address this weakness in the offseason. The offensive line has looked just as bad during the preseason. It is surprising, then, that the team did not attempt to shore up their weakest unit. There certainly were plenty of linemen available.
The Steelers biggest rival, the Ravens went into the offseason with questions on their offensive line. Unlike the Steelers, they attempted to correct those issues. By bringing in Bryant McKinnie and Andre Gurode, two former Pro Bowlers, the Ravens made a statement. They will leave no stone unturned as they look to topple the Steelers.
Big Ben has managed to avoid injury playing behind a weak offensive line. His willingness to do anything possible to keep a play alive may not allow that streak to continue if he is continuously forced to run for his life.
Sometimes championship teams improve by staying put. This does not appear to be one of those cases.
4. Arian Foster Re-Aggravates His Hamstring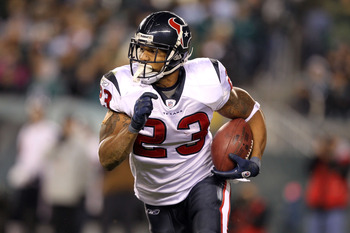 Al Bello/Getty Images
Arian Foster had already missed 10 days of training camp action when he took the field on August 27th for the Houston Texans third preseason game. Foster had been limited due to a strained hamstring.
Late in the first quarter, the star running back was sent to the sidelines by that same hamstring. He has not gotten back to full strength, and may not do so before the season opener.
Hamstring injuries are always tricky. Foster obviously felt he was ready to go. It is just surprising that the Texans were not more cautious with him.
Coach Gary Kubiak is running out of chances in Houston. He has been handed one of the league's most explosive offenses, but has not delivered a playoff berth. Why then was his best running back on the field despite a balky hamstring?
Now, Arian Foster—the NFL's leading rusher a season ago—is 50-50 for the season opener. Even if he does play, he will probably not be at 100 percent. The Texans could have avoided this if they had just been a little more careful with Foster's injury.
Teams are usually more than willing to sacrifice preparation for health, it comes as a huge surprise that the Texans were not willing to do so with their leading rusher.
3. Patriots Release Brandon Meriweather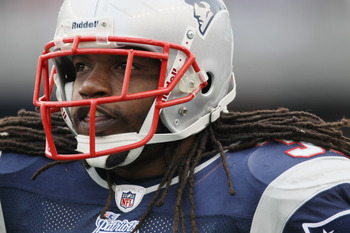 Elsa/Getty Images
Two-time Pro Bowl safety Brandon Meriweather had obviously fallen out of favor in Foxboro when he was released in the last round of cuts by the New England Patriots.
The safety was given his release after rampant speculation that the Patriots were willing to trade or release the talented player who has had his fair share of trouble off the field.
The move is still somewhat surprising because the Patriots held onto Meriweather up until the last possible chance to trim their rosters to 53 men. It had appeared they were willing to keep him.
Meriweather is obviously still very talented. His level of play has not slipped a bit. The Patriots finally decided they could take no more from this talented but troubled player.
2. Patriots Trade for Ochocinco, Haynesworth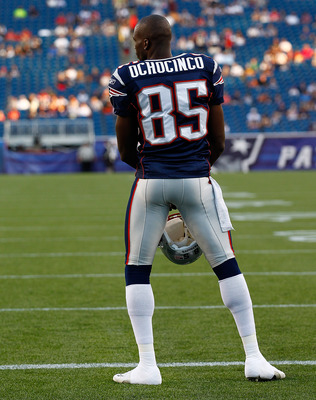 Jim Rogash/Getty Images
The Patriots shocked the football world by trading late round draft picks to the Cincinnati Bengals and Washington Redskins for Chad Ochocinco and Albert Haynesworth. There is no disputing the talent each of these men brings to New England.
Where the questions come in is whether or not they will be able to follow the Patriot Way under Bill Belichick. Haynesworth clashed spectacularly with Mike Shanahan in Washington, and Ochocinco sometimes seems to be from another planet.
Albert Haynesworth was at one point in consideration as the most dominant defensive player in the NFL. If he is able to accept his role with the Patriots, he will team nicely with Vince Wilfork to clog the middle. He will need to be willing to follow orders, a concept he struggled with as a member of the Redskins.
Chad Ochocinco has always been a me-first player. His celebrations and tweets have earned him celebrity status. He may have to be willing to swallow his pride as a member of the Patriots.
The Patriots never seem to strike out when it comes to personnel. They obviously believe that Ochocinco and Haynesworth will fit into their plans.
1. Peyton Manning May Not Be Ready for the Season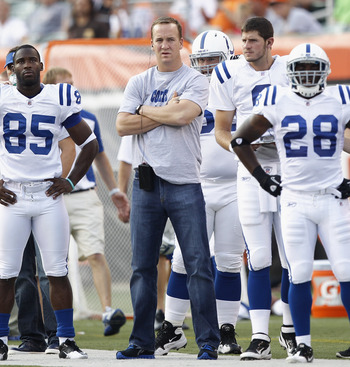 Joe Robbins/Getty Images
Peyton Manning never plays a lot in the preseason. Some years he does not even play at all. This was one of those years.
Unlike in years past however, Manning may not be ready for the season opener. Manning spent the offseason recovering from his second neck surgery. His recovery was hindered by the NFL lockout. He was not able to meet with team doctors.
Peyton Manning is one of those players you expect to see every Sunday no matter what. Now, Manning's consecutive games streak—208—is in serious jeopardy.
With his recovery stalled, Manning has been told by doctors not to practice. This leaves his status for Week One very doubtful. Manning will not return to the field before doctors decide his neck has recovered sufficiently. No one really knows right now when that could be. Week One appears to be out of the question, and after that the future is blurry.
What makes this story really surprising is the fact that Manning and the Colts agreed to a five-year, $90 million contract at the beginning of the preseason. The Colts obviously had to offer Manning the moon, but would they have been so generous if they knew the full extent of his neck issues? Probably not.
The Colts are a very different team with Manning on the sidelines. Kerry Collins is a serviceable option for the time being, but he is nowhere near the elite quarterback Manning is.
Of all the stories mentioned in this slide show, this is the one that could have the biggest implications on the race for the AFC title.
Keep Reading