NFL Fantasy Nirvana: Fantasy Football Sleepers and Predictions for Week 1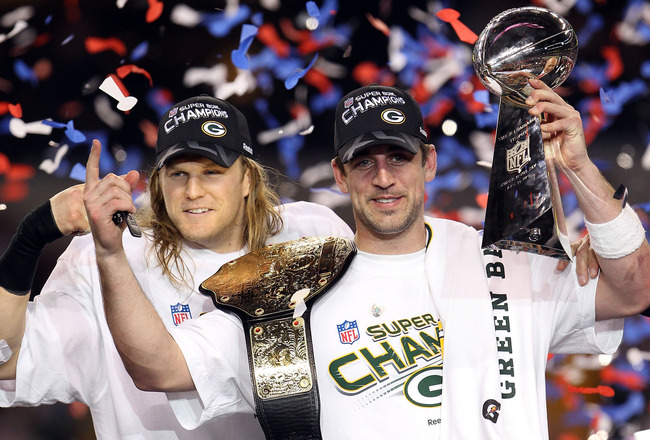 Jamie Squire/Getty Images
Hello and welcome to NFL Fantasy Nirvana.

And before anybody asked, no this has no relation to Kurt Cobain.

Nirvana is "a state of perfect happiness; an ideal or idyllic place." It comes from both Hinduism and Buddhism, but all has ancient roots in the game of fantasy football, as any fantasy team owner is said to reach such place after defeating all opposition and becoming a champion.

Depending on how well this goes, each week, I intend to deliver you my advice on three facets of fantasy football. I'll break down each matchup in Pigskin Pick 'em, give you fantasy sleepers and dreamers and finally, give you some options for any survival/eliminator leagues you may be competing in.

So, without further ado, let's begin!
New Orleans Saints at Green Bay Packers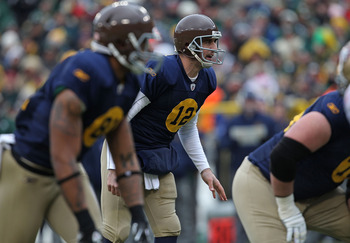 Jonathan Daniel/Getty Images
Against the spread—Green Bay by four

Yahoo Community Pick'em

Green Bay 82 percent
New Orleans 18 percent

My Pick—Green Bay

As much as I would love an opening game upset, I just can't see this Packers team losing.
With all the distractions and the big red bulls-eye on the team, the Packers will find a way to get it done, just like they did last year. I anticipate a shootout. This game has two very effective offenses which should result in points and plenty of them.
This may be Green Bay's homecoming, but don't expect the Saints to lie down and take the defeat. Drew Brees and co. will be fighting right up to the last minute.
Atlanta Falcons at Chicago Bears
Kevin C. Cox/Getty Images
Against the Spread—Falcons by three

Yahoo Community Pick'em

Falcons 76 percent
Bears 24 percent

My Pick—Chicago

Does this count as an upset?

The Bears had the second best defense in the league last year. That doesn't just disappear. The same core players are there from last year, with Peppers and Idonije bringing outside pressure and Urlacher and Briggs controlling the middle of the field and Chris Harris patrolling the deep zones.

If they Bears can reach the NFC championship game with an offensive line which gives up 50+ sacks and no receivers, imagine what they can do with an improved line and more weapons.

The Falcons do impose a great challenge for the Bears; they will be throwing the ball a lot more this year which should cause great concern for a Chicago secondary lacking elite talent.
In the end, Bears scrap for a small margin victory
Indianapolis Colts at Houston Texans
Ronald Martinez/Getty Images
Against the Spread—Houston by six

Yahoo Community Pick'em

Houston 55 percent
Indianapolis 45 percent

My Pick—Houston

Even if Peyton Manning does find a way to play, I'm still taking Houston.
Any time you lose a four time MVP and your backup is Kerry Collins, you are in a spot of bother. Manning may find a way to play, but he's not take snaps with the first team all training camp, it's going to take at least 3-4 weeks before he gets back to the Peyton Manning we know.

Arian Foster is going to play, don't you worry about it. Remember last year in this exact same game? Foster ran for 231 yards and three TD's. He's not going to put up the same numbers as last year but he still will put up some good numbers.

The Texans defense is looking to improve from its abysmal showing last year and with new cornerback Johnathan Joesph, rookie Defensive End J.J. Watt and Mario Williams rushing off the edge.
It's looking up in Houston and the playoffs are no longer an ambitious target, but a realistic one.
Buffalo Bills at Kansas City Chiefs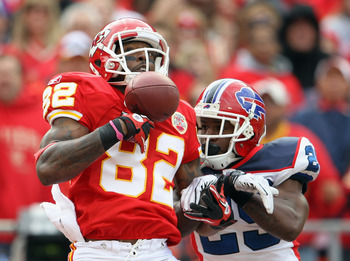 Jamie Squire/Getty Images
Against the Spread—Kansas City by 6.5

Yahoo Community Pick'em

Chiefs 90 percent
Bills 10 percent

My Pick—Kansas City

Pretty straight forward pick.
Kansas City have a better offense than Buffalo and they also have a better defense. Jamaal Charles has the potential to have a big game against a Buffalo defense which really struggled against the run last year.

Last year's meeting between the two teams went to overtime, where former Mr. Irrelevant Ryan Succop converted a 35 yard field goal as overtime expired, giving the Chiefs a victory of 13-10. If he had missed, the game would have ended in a tie.

Let's hope this year's meeting will be a bit more interesting.
Tennessee Titans at Jacksonville Jaguars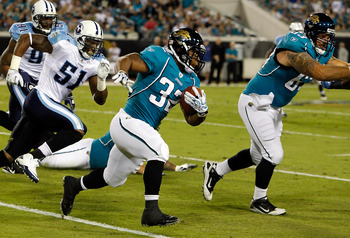 J. Meric/Getty Images
Against the Spread—Jacksonville by three

Yahoo Community Pick'em

Jacksonville 63 percent
Tennessee 37 percent

My Pick—Tennessee

When I first published this article, my original pick was Jacksonville.

Since then, the Jags have released starting quarterback David Garrard and have named Luke McNown as their starting quarterback.

After hearing this news, I'm changing my pick.

I'd be lying if I said that this news wasn't the reason why I changed the pick, because it is. The Jags have gone from a player in Garrard who isn't spectacular by any means, but got the job done, as demonstrated in their 8-8 finish and run for the AFC South title.

Had Blaine Gabbert been named started, I may have stuck with the decision to keep Jacksonville. But Luke McCown? No thank you. I'm taking the Titans.
Cincinnati Bengals at Cleveland Browns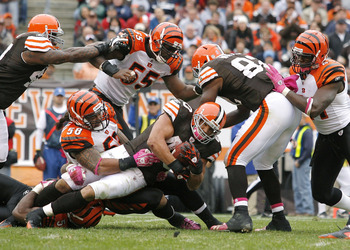 Matt Sullivan/Getty Images
Against the Spread—Cleveland by 6.5

Yahoo Community Pick'em

Cleveland 86 percent
Cincinnati 14 percent

My Pick—Cleveland

The battle of Ohio has lost some of its luster with both teams owning top 10 draft picks last year.
However, it doesn't mean that it is a game you shouldn't miss...
It's very hard to believe that the Bengals a playoff team two years ago and now they are fighting their way out of the NFL dumpster.
The Browns on the other hand, have a solid foundation now with up and coming quarterback Colt McCoy and "Albino Rhino" Peyton Hillis. It's not going to be pretty, but the Browns will leave victorious
Philadelphia Eagles at St. Louis Rams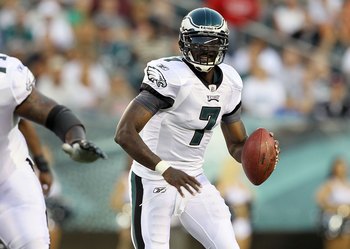 Jim McIsaac/Getty Images
Against the Spread—Philadelphia by five

Yahoo Community Pick'em

Philadelphia 90 percent
St. Louis 10 percent

My Pick—Philadelphia

The Eagles come into this game upgrading their arguably the best team in football.
It's a rough start for the Rams who should challenge for the NFC West, but the Eagles are far too strong for them. The Eagles are better than the Rams, plain and simple and even though the game is taking place at Edward Jones Dome, home field advantage won't be enough to stop the Eagles from going 1-0.
Pittsburgh Steelers at Baltimore Ravens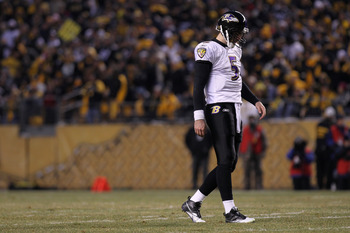 Nick Laham/Getty Images
Picks against Spread—Ravens by 2.5

Yahoo Community Pick'em

Pittsburgh 64 percent
Baltimore 36 percent

My Pick—Pittsburgh

The Steelers are still the same hard hitting team they were the past 40 years. Not much has changed from their Superbowl run from last year; if anything, they have improved.

Wide receivers Emmanuel Sanders and Antonio Brown are home run hitters who can come in and change the pace. Jerricho Cotchery is a reliable receiver if they should turn to him.

Their defense is the same as it was last year and should be set to repeat their dominance.

On the other hand, we have the Ravens, whose offensive line has been shuffled around with people coming back from injury and the signing of Bryant McKinnie. No more Todd Heap as a safety blanket and no more Willis McGahee is pound the ball down the throat of the stingy Steelers run defense.

Though the Ravens defense may have improved with the drafting of cornerback Jimmy Smith, I am not confident he will be able to handle Mike Wallace or the ever ageless Hines Ward.

Overall, the Steelers will grab a very tight game in Baltimore.
Detroit Lions at Tampa Bay Buccaneers
J. Meric/Getty Images
Picks against Spread—Tampa Bay by 1.5

Yahoo Community Pick'em

Tampa Bay 56 percent
Detroit 44 percent

My Pick—Detroit

This may not sound believable, but consider if my all prediction are correct, as slim as that may be, the Saints, Falcons and Bucs will start the season 0-1. Now if Carolina were to beat Arizona, they would top the NFC South.

The main word in that sentence would be "if."

The reason the Lions win this game is pretty simple. If Drew Stanton can take a Detroit team into Raymond James Stadium and leave with a victory, albeit an though overtime, then Matthew Stafford should be able to as well.

Whilst everyone seems to be on the Buccaneers and Lions bandwagon, I am yet to board either. Detroit still has secondary issues and until Tampa Bay can record wins against big teams, not NFL minnows, I am a firm non believer in both. Don't get me wrong, both have great talent, but until either of them can convert that talent into wins, count me out.

Either way, a win for either team here puts a good foot forward in the chase for playoff football.
Minnesota Vikings at San Diego Chargers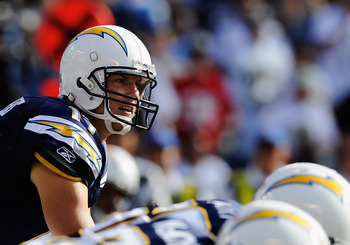 Kevork Djansezian/Getty Images
Picks against Spread—San Diego by nine

Yahoo Community Pick'em

San Diego 84 percent
Minnesota 16 percent

My Pick—San Diego

San Diego may not be the team they were a few years ago, but they are still a strong force to be reckoned with.
With Vincent Jackson back with the team for the opening game and Ryan Mathews finally fully fit, the Chargers have a chance to make a bold statement against a Vikings team stuck between rebuilding and challenging.
Remember, just two years ago, they were in the NFC Championship and they still have the best running back in the league with Adrian Peterson.

I fully expect the Chargers to cruise this game, but here's something to consider: What happened last time Adrian Peterson played the San Diego Chargers?
Just a thought.
New York Giants at Washington Redskins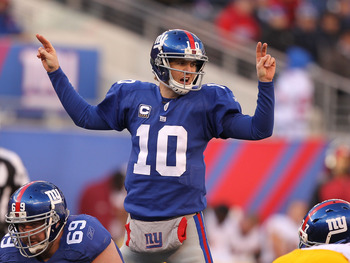 Al Bello/Getty Images
Picks against Spread—New York by three

Yahoo Community Pick'em

New York 84 percent
Washington 16 percent

My Pick—New York

Don't be sleeping on Washington this year.

Despite having a preseason quarterback battle between Rex Grossman and John Beck, which was ultimately won by Grossman, their team is actually pretty good.

However, it won't be as strong as the Giants.

With a depleted secondary, I was tempted to pick Washington as an upset special, but the G-Men are too powerful on offense and if Eli can be given time, he can find Mario Manningham or Hakeem Nicks, two quality receivers.
Watch New York ground and pound with Ahmad Bradshaw and Brandon Jacobs then look to the play action game to attack the Washington defense.
Carolina Panthers at Arizona Cardinals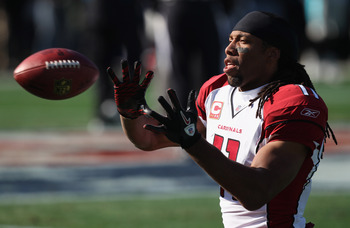 Streeter Lecka/Getty Images
Picks against Spread—Arizona by seven

Yahoo Community Pick'em

Arizona 83 percent
Carolina 17 percent

My Pick—Arizona

I almost feel happy for Larry Fitzgerald. He no longer has a stable of mules throwing the ball to him; now he has Kevin Kolb, who is not a mule.

During the preseason, we saw Kolb exploit defenses with the long ball and I doubt there is anyone else in the league you would rather throw to on the bomb.

If this game were to be in Carolina, I would be inclined to take Carolina, seeing as Arizona haven't exactly cracked this cross country road game thing.
But it isn't.

Cam Newton hasn't looked good in preseason, and nothing will change in the regular season.

Rack one up for Arizona.
Seattle Seahawks at San Francisco 49ers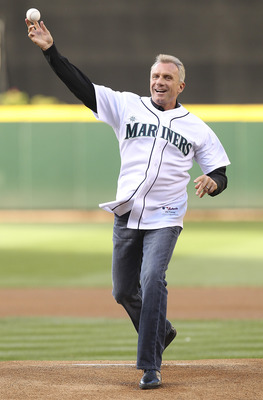 Otto Greule Jr/Getty Images
Picks against Spread—San Francisco by 5.5

Yahoo Community Pick'em

San Francisco 68 percent
Seattle 32 percent

My Pick—San Francisco

If you wonder why the main photo is of a 55-year-old Joe Montana, the reason is I genuinely believe that if Montana decided to come back out of retirement, he would be a better option at quarterback for either team.

Alex Smith is bust. The sooner the 49ers realise this, the quicker they can move onto the project of Colin Kaepernick.

As for Tavarris Jackson, was there ever a point with the Vikings where you thought to yourself "We're gonna win this game, I trust the T-Jack will win it for us?" He's a better option than Clipboard Jesus, but neither of them are starting calibre quarterbacks.

As for the game, yhe 49ers have a much stronger running game and a safety blanket tight end in Vernon Davis and deep threat receiver in Braylon Edwards for the play action attack.
Dallas Cowboys at New York Jets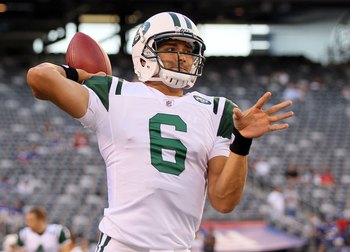 Jim McIsaac/Getty Images
Picks against Spread—New York by 4.5

Yahoo Community Pick'em

New York 77 percent
Dallas 23 percent

My Pick—New York

The Jets should take this one, but it hinges on Mark Sanchez.

He's stepped up into a leadership role but now needs to back that up with solid play. He doesn't need to be amazing, just consistently good.

As for Dallas, you should expect a little bit of defensive confusion, given that they have been given a small amount of time to learn a complicated Rob Ryan system.

Though Tony Romo is back, I don't trust the running game, spearheaded by Felix Jones, or the three new starters on the offensive line. The Jets will bring all sorts of confusing blitzes and will get to the quarterback, in comparison to the Jets offensive line, which is one of the strongest in the league.
New England Patriots at Miami Dolphins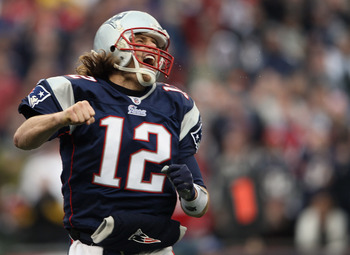 Elsa/Getty Images
Picks against Spread—New England by seven

Yahoo community Pick'em

New England 93 percent
Miami seven percent

My Pick—New England

Probably one of the easiest picks to make this week.

The Patriots are coming off a 14-2 season, Tom Brady is coming off an MVP season and yet they have upgraded both offense and defense.
The Dolphins, on the other hand, are relying on Reggie Bush to carry the load, which shows exactly why New England will start the season 1-0.
Oakland Raiders at Denver Broncos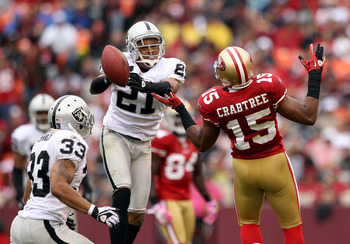 Ezra Shaw/Getty Images
Picks against Spread—Denver by three

Yahoo Community Pick'em

Denver 73 percent
Oakland 27 percent

My Pick—Oakland

Yes, I do realise that Oakland no longer can blanket one side of the field with Nnamdi Asomugha. Let me explain why I picked the Raiders.

The Raiders were 6-0 in their division last year.

They know how to beat their division opponents, not only in Oakland, but on the road.

With Hue Jackson as head coach, the offense will become better, with Jason Campbell actually looking like a starting quarterback.

Receivers such as Darius Heyward-Bey and Jacoby Ford have speed, like a certain Cliff Branch had back in the 70's. I challenge any cornerback, especially an aging Champ Bailey, to keep up with them, both recording 4.3 40 yard times or less.

I believe the Raiders are the better team, as their record showed last year and will show on Monday night.
Survival League Options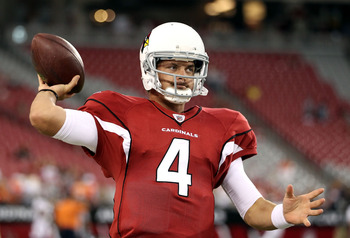 Christian Petersen/Getty Images
Here, I provide three options which isn't the Patriots on who you could pick in your Survival/Eliminator leagues:

Arizona Cardinals—At home against a rookie quarterback is always a nice way to start the season. With the additions of Todd Heap and Kevin Kolb, the Cardinals are less of a laughing stock and more of an NFC West challenge, such is the level of quality in the division. Arizona have the offensive firepower which Carolina have not shown, hence why you should pick the Cardinals.

Cleveland Browns—Again, another team at home against a rookie quarterback. Away from home in the battle of Ohio with the Dawg Pound creating noise is hardly the best place for a rookie to start, never mind a rookie quarterback. Colt McCoy is a better quarterback than Andy Dalton and Peyton Hillis can run all day if he wishes, both of which point in the direction of a comfortable Browns win.

Kansas City Chiefs—Is there any doubt that the Chiefs are better than the Bills? The Chiefs added to their offense with Steve Breaston and rookie Jonathan Baldwin. Jamaal Charles is primed to compete with Chris Johnson and Adrian Peterson in the debate for best running back. The Chiefs should torch the Bills at Arrowhead Stadium.
Sleepers: Quarterback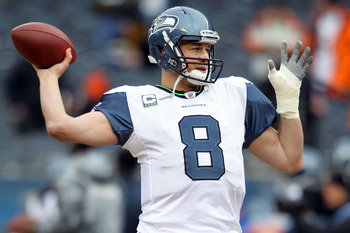 Andy Lyons/Getty Images
Matt Hasselbeck

As I mentioned in the preview to the Titans game, I don't expect Chris Johnson to be fresh. He's going to need some time to game back into reading his blocks and getting used to taking hits.
With that in mind, you have Matt Hasselbeck, a veteran game manager at quarterback. He's got weapons in Kenny Britt, Nate Washington and developing tight end Jared Cook. The Jaguars gave up the second most points to fantasy quarterbacks, so you can expect the veteran to exploit a weak secondary.


Kevin Kolb

Kevin Kolb has fallen for his new target in Larry Fitzgerald. In the third preseason game against the San Diego Chargers, Kolb threw for 205 yards and one touchdown, which just happened to be an 80 yard strike to none other than Larry Fitzgerald.

Carolina do not have a bad pass defense by any means, in fact it was their strongest area. However, with realistically only Beanie Wells to turn to in the running game, the Cardinals will air it out more often. More passing attempts for Kolb means more chance of hitting Fitz or Todd Heap for a touchdown. More touchdowns for Kolb means if he is available in free agency, he might be worth a pick-up.
Sleepers: Running Back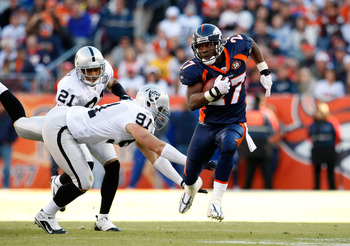 Jeff Gross/Getty Images
Joseph Addai
One man's loss is another man's gain. If Peyton Manning can not go against the Texans on Sunday, Joseph Addai is going to see a lot more of the ball.

To sweeten the proposition, Houston gave up the sixth most number of points to running backs last year. I don't expect Addai to have a monstrous game, but with either Curtis Painter or Kerry Collins projected at starting quarterback, the Colts will need to rely on the running game more than usual.


Knowshon Moreno


With John Fox coming into Denver, you know that Moreno is going to be getting the ball more this year. Fox loves to run the ball. Moreno like to run the ball. It's a match made in heaven.

The Raiders gave up the 10th most number of points to opposing running backs last year and whilst their secondary is now missing Nnamdi Asomugha, I expect the Broncos to come out and run the ball against Oakland. And to make things better, Moreno is a good pass catcher, so that's extra points for those who are in a PPR league.
Sleepers: Wide Receivers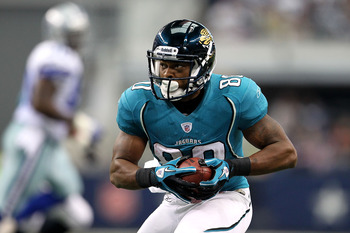 Ronald Martinez/Getty Images
Mike Thomas


Mike Thomas is a very underrated player who finally gets a chance to shine as the Jags' No. 1 receiver. Now Mike Sims-Walker has left, he will be the favourite target for Blaine Gabbert, who will start for the Jags now David Garrard has been released.

Admittedly, playing a receiver who has a bad quarterback throwing to him goes against fantasy principles, but I'll let this one slide. Tennessee gave up the ninth most points to fantasy receivers last year and with Jason Hill, former San Francisco backup receiver, as the No. 2 receiver, Thomas will receive plenty of targets.
Davone Bess

This one is especially for those people in PPR leagues. Davone Bess is not a player who strikes fear in opposing fantasy players whilst they check out your line out. The metaphor best used to describe Bess is he is like a Stone Fish.

For those of you who are not familiar with this deep sea creature, a Stone Fish has the appearance of a simple, non dangerous rock. However, If you stand on it, it releases poisonous toxins, slowly killing.

Now, am I saying that if you stand on Davone Bess, he will kill you? No. The point I have gone far out of my way to make is that he is a silent fantasy point machine. Your opponent will be thinking 'what the heck is this guy doing playing Davone Bess?'

The Pats gave up the second most number of points. Bess caught 79 passes last year. He is a great underneath receiver and if you need a player to fill out that third receiver position or flex spot, you seriously need to consider Davone Bess.
Sleepers: Tight Ends
Chris Graythen/Getty Images
Jimmy Graham

If you haven't already jumped on the Jimmy Graham bandwagon, there is still time.

Graham is the sleeper this year. In his final three games of last season, Graham finished with 11 receptions for 70 yards and four touchdowns.

Graham's role in the Saints offense is expected to continue to grow, just like it did towards the end of last year. Though the Packers may be one of the stronger defenses in the NFL, they gave up the eighth most points to tight ends last year. With his 6'6" frame, he's too big for safeties and too fast for linebackers—the perfect mismatch.

Jared Cook

If you haven't already jumped on the Jared Cook bandwagon, there is still time.

Jared Cook is a deep sleeper, who emerged as a reliable target for the Titans towards the end of last season. Buried in the depth chart behind Bo Scaife, he showed promising signs for the last seven games of the season, in which he caught 26 balls for 303 yards and a touchdown.

The Jacksonville Jaguars gave up the second most amount of points to tight ends last year, which bodes well for Cook. He owned in no more than 50 percent of leagues and is definitely worth the pickup.
Sleepers: Team Defense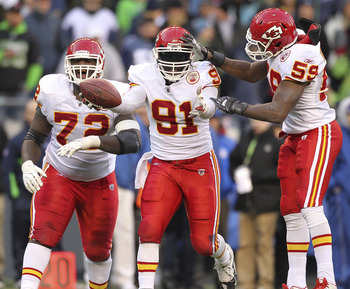 Otto Greule Jr/Getty Images
Kansas City Chiefs Defense

Whilst teams like the Packers and Steelers may be seen as the elite fantasy defense, some would say a better way to play defenses is on matchup, not skill.

For example, the Packers are a better defense than the Chiefs. But, with the Packers facing a high scoring Saints team whilst the chiefs are at home to the futile Bills, the Chiefs have a better matchup.

In the last meeting between the two teams, the Chiefs recorded three sacks, one interception and three forced fumbles, whilst only giving up 10 points.


Cleveland Browns

I really don't rate the Bengals offense this year. At all. Andy Dalton needed to sit behind a starter for a year before he could play. Carson Palmer could have made this offense average, but he continues to make stupid decisions. Cedric Benson lost his way last year and outside of rookie A.J. Green and Jermaine Gresham, they have no offense.

The Browns on the other hand have slowly been building up their defense, with additions of rookies Phil Taylor and Jabaal Sheard. Second year players Joe Haden and T.J. Ward solidify the secondary. The defense is better than the Bengals offense and has the ability to cause turnovers.

This is more of a deeper sleeper—obviously you would take defenses like the Steelers or Ravens ahead of the Browns. But if you are in need of a defense, consider the Browns.
Dreamers: Quarterbacks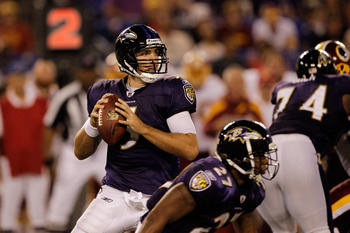 Rob Carr/Getty Images
Sam Bradford

Bradford is going to have a big year, he just won't have a big first game. With Josh McDaniels dialing up plays, he will be throwing the ball more, which is great news for fantasy players who own him. His opening matchup is a tough one, even if it is at home.

The Eagles now have three quality corner backs in Nnamdi Asomugha, Asante Samuel and Dominique Rogers-Cromartie. It's going to be tough throwing against them, whilst being pressured by Trent Cole and Jason Babin, both pass rush specialists. I just can't see Bradford putting up big numbers in this game


Joe Flacco

The Steelers gave up the least fantasy points to opposing quarterbacks last year, which should be enough for you to sit Joe Flacco.

To add insult to injury, the new offensive line starters have yet to take a single snap together. The only player who took snaps for more than one preseason game at the position they will play now was Ben Grubbs. Michael Oher will switch over to right tackle while Bryant McKinnie starts at left tackle. Matt Birk didn't play during the preseason and right guard Marshall Yanda.

All of this adds up to a high possibility that Joe Flacco won't put up good numbers this week.
Dreamers: Running Backs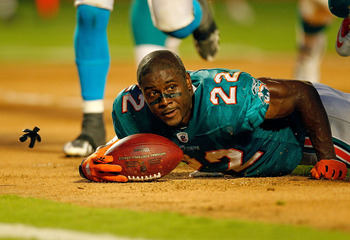 Mike Ehrmann/Getty Images
Reggie Bush

I refuse to believe that Reggie Bush is anything more than a third down back, which was proven in New Orleans. Sure, he can be explosive, but he isn't a three down, pound the ball back. The best way to utilise him is to get him in space one on one with a linebacker, where he can use his athleticism to make a huge mismatch.

As long as Reggie Bush is being used as a three down back, he's not going to be in any team of mine. It isn't necessarily a bad matchup for Bush, the Patriots gave up the 10th most points to opposing running backs, but the Patriots will not be afraid to stack the line and force the Dolphins to try and throw it.

If you have Reggie Bush as a fantasy starter in a 10 team league, you seriously need to re-asses your options.


Michael Turner


For those of you who have paid attention to the Falcons in the preseason, you will realize one subtle difference in their offensive philosophy. They are throwing the ball. A lot. In the third game alone, Matt Ryan threw 42 passes.

With the addition of Julio Jones, the Falcons will be throwing the ball more, meaning less attempts for Michael Turner. Add that to the fact that their opening day opponents are the Chicago Bears, who gave up the 27th most points to fantasy running backs and had the second least number of yards against them on the ground, you should be wary about the amount of points Turner will get you.
Dreamers: Wide Receivers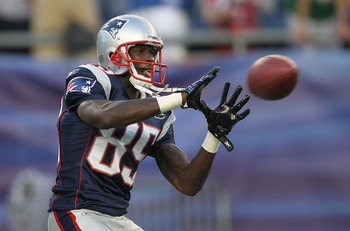 Jim Rogash/Getty Images
Chad Ochocinco

This is still the same Ochocinco which caught who caught 90+ passes for over a thousand yards all those years back. He is entering his 11th season and the wear and tear is starting to show.

For those of you who believe Ochocinco will put up big numbers this year, consider this: Wes Welker. Deion Branch. Aaron Hernandez. Rob Gronkowski. Danny Woodhead. Stevan Ridley. BenJarvus Green-Ellis. Ochocinco will have to compete with all these players for touches of the ball and touchdowns. Wes Welker will get at least 80 catches as per usual, Gronkowski and Hernandez will get the red zone targets and Deion Branch will still be that reliable receiver Brady loves.

Oh, and to make things worse, Miami gave up the 26th most fantasy points to receivers last year.


Percy Harvin

I tend to stay away from predicting explosive people as people you shouldn't start, because all it takes is one moment of magic from them and I look like and idiot.

Percy Harvin is a great receiver as long as you don't use him as your No. 1, which the Vikings seem to be trying to do.

As a slot receiver, it's hard to find somebody harder to cover. He's quick, nimble and gets YAC. But if you try and put him on a corner backs island, he's not got the body frame to work against a 6'0" cornerback.

Harvin played his best when the Vikings had a Sidney Rice to take away the No. 1 cornerback and gave Harvin a chance to work in the slot. He was a nightmare for opposing defenses to try and cover. But now it's so much easier. As he's going to be split out wide, you can put your big physical cornerback on an island with him and let him go to work.

The Chargers gave up the second least points to opposing receivers last year, so all indications show to a low performance from Harvin.
Dreamers: Tight Ends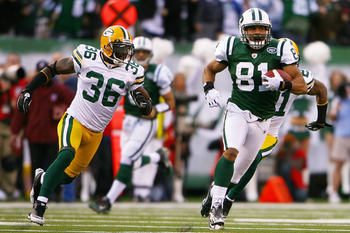 Andrew Burton/Getty Images
Zach Miller

Zach Miller's trip up the west coast lost him a lot of fantasy love. Last year, he was a reliable player, catching 60 balls and five touchdowns. Now, he's gone to an offense where Tavarris Jackson, who is not a starting quarterback, will be throwing him the ball.

His fantasy value regained some of it's charm when John Carlson was put on IR, but his first game as a Seahawk comes against the San Francisco 49ers, who gave up the least points to fantasy tight ends last year. With receivers Mike Williams and Sidney Rice also thrown into the situation, Miller might be best left to your bench.


Dustin Keller

Keller has seen his production rise during these three seasons with the Jets and although he may not be seen as an elite fantasy tight end, he is still a reliable starter.

In the Sunday night game against the Dallas Cowboys, Keller faces the team who gave up the second least number of points to fantasy tight ends. He may well be worth the gamble but the Jets should be looking to exploit a still weak Dallas secondary by looking at both Santonio Holmes and Plaxico Burress. Whether or not Sanchez can connect is irrelevant, as they are still passes which aren't going to Keller.
Dreamers: Team Defense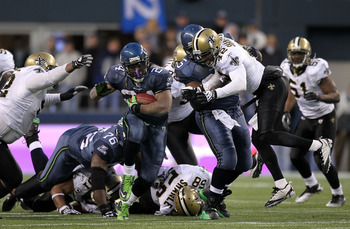 Otto Greule Jr/Getty Images
New Orleans Saints

Two years ago, the Saints were a viable fantasy defense. With Gregg Williams' defense, led by AP all pro Darren Sharper, exceeding expectations, over the course of the season they begin to pick up steam as more teams picked them up.

They still are a reasonable defense, not an elite defense, but still worthy of a place on your team. Except for the opening weekend.

We all know of Aaron Rodgers and the Packers offense; it's no match for NFL defenses. I have a gut feeling this game will be high scoring, which won't help the Saints Defense put up fantasy numbers.


Chicago Bears

As I predicted the Bears to beat the Falcons, you may be wondering why it would be risky to start the Bears defense. It's the same reason why you should hesitate when starting Michael Turner. The Falcons are going to pass the ball more than usual.

The Bears were very strong against the run last year, but their pass defense wasn't as elite. See the connection?

Safety Major Wright is a liability and has yet to show the impact the coaches have been looking for. Cornerback Jim Jennings is a solid player, but standing at 5'8", he has a big disadvantage against receivers Roddy White (6'0") and Julio Jones (6'3"),

I still expect the Bears to sneak a victory but Matt Ryan and co. will look to impose their new passing attack on the Chicago bend but don't break Tampa 2 defense, which should result in plenty of yards.
Keep Reading