San Francisco 49ers Report Card: Grades for Every Position on the Roster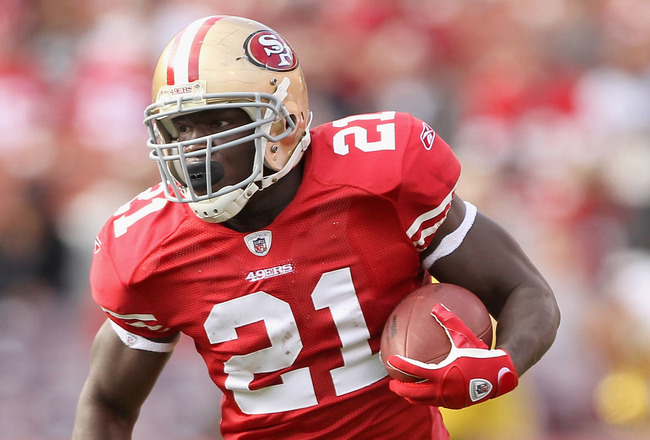 Ezra Shaw/Getty Images
You don't buy a car without taking it for a test drive, and you don't send an NFL team into battle without taking it through the rigors of the preseason.
With the San Francisco 49ers only one preseason game away from the regular season, now is a great time to review who will make up each position, and how they'll look in 2011.
Here are grades for every position for the San Francisco 49ers. In addition to listing the projected starters, this review will also focus on players to look for in 2011 at each position.
Quarterback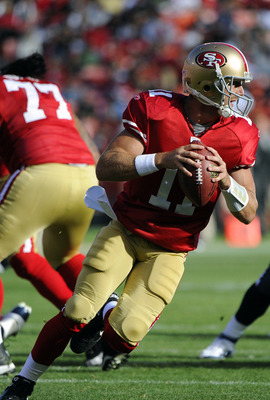 Thearon W. Henderson/Getty Images
Starter: Alex Smith
One To Watch: Josh McCown
The bane of most 49ers fans, the quarterback situation will again be a position with many questions hanging over it. Alex Smith will look to be the starter going into his seventh season, but his preseason stats have been underwhelming.
The big question for the Niners quarterbacks: Will the offensive line provide enough time for Smith to get the ball to some of the best receivers he's ever had?
Colin Kaepernick, while showing growth in his first pro action, will not be ready to play until deep in the second half of the season.
I put down Josh McCown as the person to watch, and this is because if he sees the field this season, the Niners will be in a worse place than even the biggest detractors could imagine.
Jim Harbaugh has a record with working with quarterbacks, but will any improvement under center matter if the line can't give sufficient time to operate?
Grade: C+ (If you don't like Alex Smith: F-)
Running Back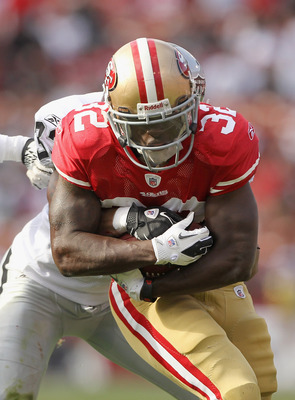 Ezra Shaw/Getty Images
Starter: Frank Gore
One To Watch: Kendall Hunter
All is well for the 49ers rushing attack. Frank Gore has been re-signed (for a pretty reasonable three-year, $21 million extension), and rookie Kendall Hunter (pictured) has impressed during the preseason.
However, the success of the rushing game is contingent on whether the shaky offensive line will give opportunities for the passing game to work. If the pass doesn't work, opposing defenses will continue to load the box and make life difficult for whoever is making the carries.
Grade: B
Fullback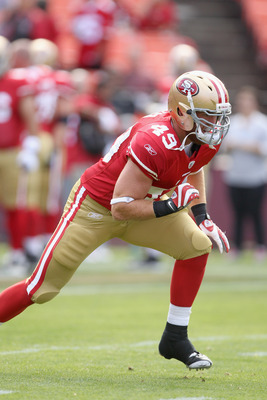 Ezra Shaw/Getty Images
(Likely) Starter: Bruce Miller
Rookie Bruce Miller (pictured) seems to be the guy for the future, signaling the end of the road for veteran Moran Norris. He set up a key block for running back Kendall Hunter, as he broke off a sweet 53-yard touchdown run.
Look for him to perform fine, as he grows into his new position (he played defensive line in college).
Grade: B
Tight End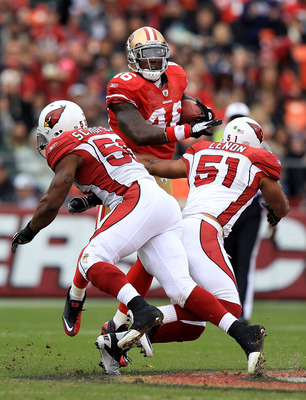 Jed Jacobsohn/Getty Images
Starter: Vernon Davis
One To Watch: Delanie Walker
All signs look to the tight end position being solid in 2011. While the coaching of Mike Singletary had some (pants-dropping) embarrassing moments, one major boost was the maturity he instilled on Vernon Davis. Already one of the best receiving tight ends in football, there's no reason to think he won't be even more successful as the offense shifts to a quick-fire West Coast offense.
Backup Delanie Walker (pictured) has also shown some solid play this preseason. Jim Harbaugh has a background of frequently using more than one tight end, so Walker will have a chance to play a bigger role in the offensive scheme.
Grade: B+
Wide Receiver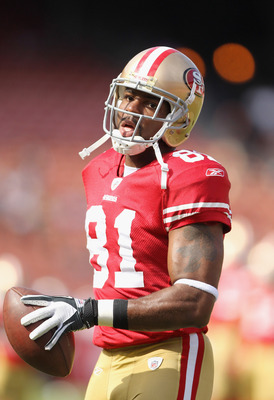 Ezra Shaw/Getty Images
Starters: Michael Crabtree, Braylon Edwards
One To Watch: Joshua Morgan
This could be one of the better positions of the offense,
Braylon Edwards, signed as a free agent from the New York Jets, is playing with the knowledge that he will need a good season if he wants to continue to find work in the league (or at the very least another large payday).
Michael Crabtree has frustrated in missing most of the preseason for the third straight season in a row. While he will get back into the action for the final week of the preseason, it is likely that he will not be up to full speed until a few weeks into the season.
Until then, Joshua Morgan will need to carry some of the slack in picking up receptions from Alex Smith.
Kyle Williams has also shown sparks of fine play in limited preseason action.
Ted Ginn will most likely only factor in for kick and punt returns.
Still, the inability to move the ball through the air could squander any talent this group may have.
Grade: B-
Offensive Line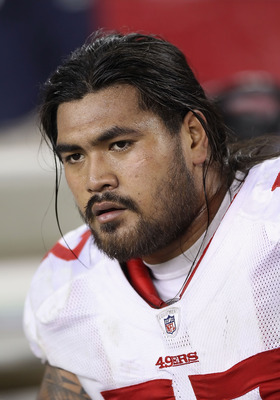 Christian Petersen/Getty Images
Starters: Joe Staley, Mike Iupati (pictured), Jonathan Goodwin, Anthony Davis, Chilo Rachal
One To Watch: Adam Snyder
This group has put the "offensive" in offensive line in the first three weeks of the preseason.
In addition to allowing way more sacks than they should, the line has allowed opposing defenses (who have been playing vanilla for the preseason) to put a lot of pressure on the quarterback.
Coach Harbaugh said the line was "violated" by the rush of the Houston Texans last week.
The line could see major changes based on who wins the starting center role. If newly signed Jonathan Goodwin can hold off Adam Snyder to win the role, it could free Snyder to take over for the struggling Anthony Davis or Chilo Rachal on the right side of the line.
These changes may only be superficial. Should the line struggle early, it will be a cause of major reflection given the number of high draft picks spent to acquire the current line (Joe Staley, Mike Iupati and Anthony Davis are all first-round picks).
Barring major changes in the next week and a half, this group will most likely be the major roadblock to an effective offensive effort in 2011.
Grade: D+
Nose Tackle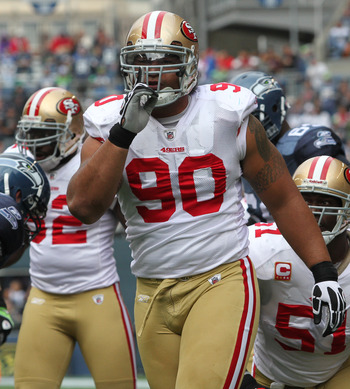 Otto Greule Jr/Getty Images
Starter: Isaac Sopoaga
Filling the big shoes (and jersey) of departing nose tackle Aubrayo Franklin is tough work, and that job now falls to former defensive end Isaac Sopoaga (pictured).
While he has admitted to being uncomfortable in shifting positions, he has showed a strong motor in his limited preseason effort.
Ricky Jean Francois will most likely see the field in limited stretches to give Sopoaga some rest.
While the team may not have wanted to pay the big money necessary to keep Franklin in town, the loss of his size and the attention he garnered may be felt deeply (even if he has injured himself and may miss the Saints season opener).
Grade: C+
Defensive End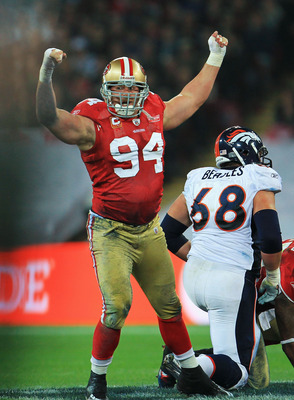 Chris McGrath/Getty Images
Starters: Justin Smith, Ray McDonald
One To Watch: Will Takuafu
With a loss of size at the nose tackle position, there will be extra pressure on the defensive ends to put the pressure on the quarterback after suffering a down year in 2010.
Justin Smith was one of the team's defensive stars, tying a career-best 8.5 sacks in 2010. Ray McDonald, re-signed to a five-year deal, will also need to show some quality numbers as the unit looks to return to the sack numbers it posted in 2009.
Look for Will Takuafu to also find some playing time in this group.
Grade: B-
Linebackers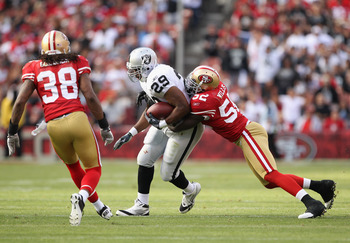 Ezra Shaw/Getty Images
Starters: Patrick Willis, Parys Haralson, NaVorro Bowman, Ahmad Brooks
One To Watch: Aldon Smith
The linebacker unit will be mostly new in 2010, with veterans Takeo Spikes and Travis Laboy splitting out of San Francisco for the San Diego Chargers, and Manny Lawson heading to the Cincinnati Bengals.
The pressure for leading the linebacking corps (and effectively the entire defense) will fall on All-World linebacker Patrick Willis. There is no reason to think Willis will see any drop-off from his extremely consistent play of the past few seasons.
Pairing with Willis will be Parys Haralson, NaVorro Bowman and Ahmad Brooks. One area of interest will be how rookie Aldon Smith will adjust to playing linebacker full time. While he has played effectively in the preseason, there will be growing pains for Smith, as he goes up against better blockers.
With the line's potential struggle in pressuring the quarterback, the pressure will be on the linebackers to bring the heat. I think the unit has the potential to surprise opposing offenses.
Grade: B
Safety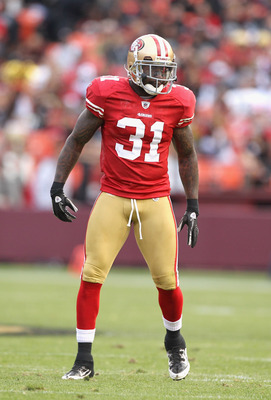 Ezra Shaw/Getty Images
Starters: Donte Whitner, either Dashon Goldson, Reggie Smith, or Madieu Williams
One To Watch: Madieu Williams
In addition to the linebacker unit, the Niners will also see change at the safety position.
One of the team's big free-agent signings, Donte Whitner of the Buffalo Bills (pictured), will be paired with the winner of the three-way battle between Dashon Goldson, Reggie Smith and newly signed Madieu Williams.
The unit should be an upgrade from last year, which traded away Taylor Mays to the Cincinnati Bengals for a seventh-round draft pick.
Grade: B
Cornerback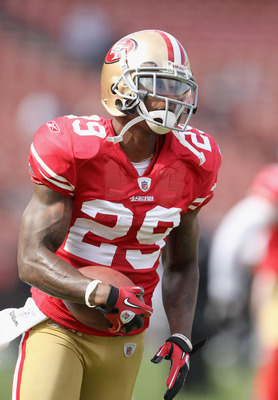 Ezra Shaw/Getty Images
Starters: Shawntae Spencer, Carlos Rogers
One To Watch: Chris Culliver
While the cornerback situation for the Niners has been less than impressive so far in the preseason, this grade will assume that Shawntae Spencer can return to full strength soon. However, there is no established timetable for his return.
The Niners, releasing overpaid signee Nate Clements, will go with a cast of slightly fresher faces in 2011. Newly acquired Carlos Rogers will pair up with Spencer to make up the starting back line.
Without Spencer, the Niners will call on Tarell Brown and Tramaine Brock to take some of the action across from Rogers.
Rookie Chris Culliver will most likely see some action in a fill-in role at some point this season as well.
Even if the unit struggles out the gate, it will be tough for the corners to perform worse than last year, when the team ranked 24th defending the pass.
Grade: C+
Special Teams/Kicking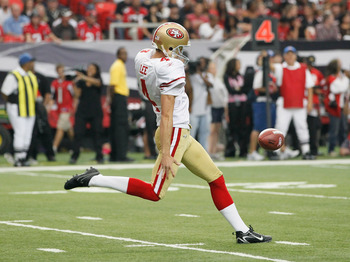 Boom!
Kevin C. Cox/Getty Images
Starters: P Andy Lee, K David Akers
Once again, things are looking solid for the Niners in the special teams game.
Punter Andy Lee looks to be returning from a nasty injury he sustained while being body-slammed in the Niners' preseason win over the Oakland Raiders. In the past few years, he has been a major asset in controlling field possession in low-scoring contests.
Kicker David Akers has also shown himself to be steady this offseason after being signed from the Philadelphia Eagles to replace retiring veteran Joe Nedney.
Grade: A
Keep Reading

San Francisco 49ers: Like this team?