The Tim Tebow Dilemma: 10 Teams That Would Be Smart to Deal for Popular QB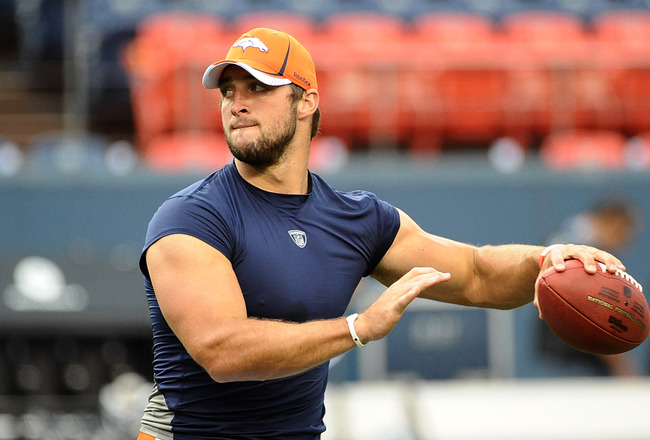 Garrett Ellwood/Getty Images
When this ridiculous free agency period started, after the lockout ended, the Denver Broncos seemed ready to begin the Tim Tebow era.
The Broncos were shopping around quarterback Kyle Orton, but when they could not get the offer they wanted, they suddenly jumped ship and stopped trying to trade Orton. They have now decided to go with Kyle Orton as their starting quarterback for the upcoming season.
But that's not all...
The Broncos are not just starting Orton, they have apparently demoted Tim Tebow to the third-string quarterback job behind Brady Quinn. There have also been reports that Tebow might even end up with the fourth-string quarterback job.
So if Denver is apparently ready to move on from Tim Tebow, they may possibly be looking to deal him.
Let's take a look at ten teams who would be smart to make a deal to get Tim Tebow.
10: The Pittsburgh Steelers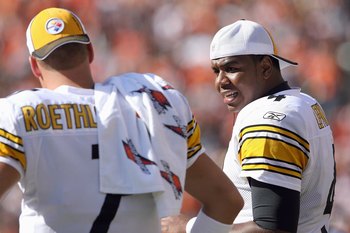 Andy Lyons/Getty Images
The Pittsburgh Steelers obviously do not need Tebow to come in and start, but he would be a more than reliable backup quarterback for Ben Roethlisberger. At least more reliable than Byron Leftwich.
Byron Leftwich is a good backup, but he is very injury prone. In fact, he is injured right now! He is more than solid but what is the point in having a backup quarterback who is just going to get hurt?
Tebow would be a great option for Pittsburgh. Roethlisberger takes a lot of hits and does miss games. That makes a Tebow trade worth it for the Steelers.
The Steelers have a tradition of winning, and Tim Tebow is a winner.
9: The Philadelphia Eagles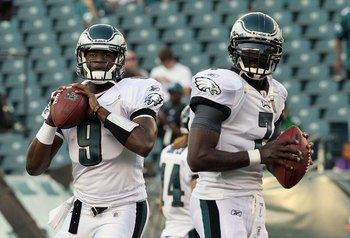 Jim McIsaac/Getty Images
The Philadelphia Eagles are another team who do not need Tim Tebow to come in and start for them, especially since they just gave Michael Vick a $100 million contract for the next six years. With that being said, it does not necessarily mean that Tebow would not help the Eagles.
A lot of people will say that the Eagles have the best backup in the league in Vince Young. Well, Michael Vick leaves himself open for a lot of big hits because of the way he plays. Quite frankly, so does Vince Young. If Vick goes down, Vince Young is just as big of a risk at quarterback. Young has his own history of injuries.
Vince Young has a good starting record as a quarterback, but he was never that great of a quarterback. He was on a great Tennessee Titans team that did most of the work for him. Let's face it, Kerry Collins brought that team to a 13-3 record.
Tim Tebow would provide good insurance to Michael Vick and Vince Young. He may even be a better quarterback than Vince Young with time.
The Eagles signed everyone else this offseason, why not Tim Tebow?
8: The New England Patriots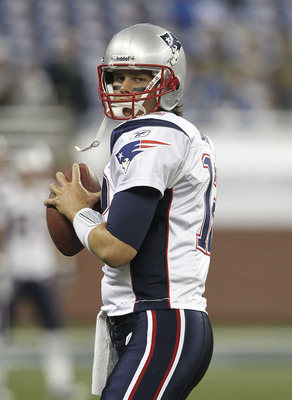 Leon Halip/Getty Images
Tom Brady is not getting any younger, and right now he does not have a viable backup.
Sitting behind Brady for a few years would do nothing but benefit Tim Tebow to great lengths. Brady is one of the best quarterbacks of all time and Tebow would learn a lot from him. Look what sitting and watching an all-time great did for Aaron Rodgers.
Also, you can be sure Bill Belichick would find ways to put Tim Tebow into the game and utilize his abilities. There would be Tebow wildcat packages, Tebow at fullback, Tebow at tight end, etc.
A Tebow trade would benefit both the Patriots and Tim Tebow.
7: The Indianapolis Colts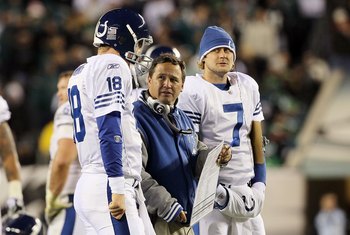 Jim McIsaac/Getty Images
The Indianapolis Colts would benefit from a Tebow trade in a similar way that the Patriots would, but even more.
Like Tom Brady, Peyton Manning is not getting any younger. Not just that, but who knows how serious these neck surgeries are?
Tebow backing up Manning would be even more beneficial to him than backing up Brady. Tebow would be able to sit back and watch the best pure passer in the NFL.
How does the trade benefit the Colts? Simple. Tebow would give them a way more reliable backup than Curtis Painter or Kerry Collins. If Peyton were to hang em up in the near future, the Colts could have their quarterback of the future.
6: The Buffalo Bills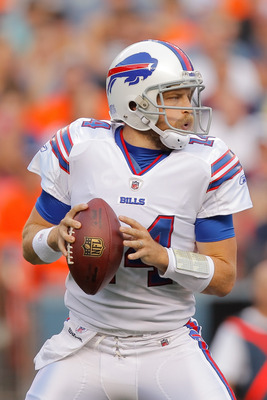 Justin Edmonds/Getty Images
It has been a long time since the Buffalo Bills have been able to call themselves "winners". A big reason for that is the lack of a winning quarterback. Tim Tebow could be that winner the Bills need.
Ryan Fitzpatrick played pretty darn well last season for Buffalo and gives the Bills their first serviceable quarterback since Drew Bledsoe. Fitzpatrick made the Bills, well... fun to watch last season.
With that being said, Tebow would not go in and start immediately for Buffalo. Fitzpatrick is the Bills starter this season and this clear. He earned it, but this is also a make or break year for Fitzpatrick. This is his chance to prove he is either the guy for Buffalo, or the guy who bridges to the guy for Buffalo.
Buffalo would be smart in making the guy who replaces Fitzpatrick to be Tim Tebow. Tebow would be a great fit in head coach Chan Gailey's offense and would bring the winning attitude that franchise needs.
If Fitzpatrick proves to be the guy Buffalo is looking for, then Tebow gives them a more than reliable backup.
5: The Miami Dolphins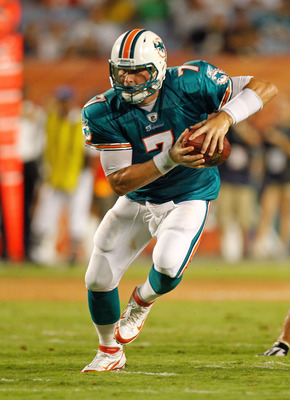 Mike Ehrmann/Getty Images
Chad Henne has been nothing short of a disappointment for the Miami Dolphins. Whenever he looks like he could be a good player, he immediately counters that notion. He was rather inaccurate last season and had a hard time hitting the always open, Brandon Marshall.
While it is too early to call it quits on Henne's career, it is not too early to start thinking about his replacement in Miami. Tim Tebow would be a good replacement for Henne.
We all know how much Tony Sparano loves using the wildcat offense, imagine how much he would love using to use Tim Tebow in the wildcat.
4: The Seattle Seahawks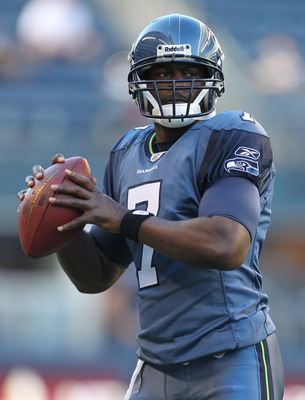 Otto Greule Jr/Getty Images
The Seattle Seahawks have decided to move on from long-time quarterback, Matt Hasselbeck. They will now move on with Tarvaris Jackson as their starting quarterback.
The question is: For how long?
How long will Seattle give Tarvaris Jackson to prove to everyone he can be a good quarterback in the NFL? How long until Seattle gives up on him like Minnesota did?
Jackson is talented, there is no denying that, but he has yet to live up to the potential that his talent gives him. He is inaccurate, trigger happy and tends to not read the field as much as he should.
Tim Tebow could be the long term solution the Seahawks are looking for if Tarvaris Jackson does not pan out. He would have plenty of weapons in Sidney Rice, Mike Williams and Marshawn Lynch. He would also bring the winning mentality that head coach Pete Carroll loves so much.
3: The Oakland Raiders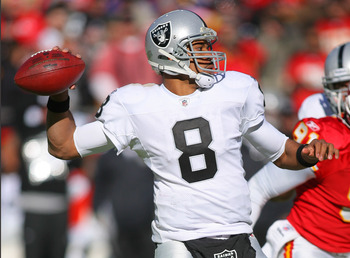 Tim Umphrey/Getty Images
The Oakland Raiders just never seem to be set at quarterback. Quite frankly, they never seem to be set on just about anything with Al Davis running things.
Jason Campbell has never lived up to his potential and is probably on his way out of Oakland sooner rather than later. They just drafted Terrell Pryor, but Pryor will most likely never be a great NFL quarterback.
Tim Tebow could finally bring some solidity to the Oakland Raiders quarterback problem. Tebow would bring a winning presence that the Raiders fans need. With Darren McFadden and all of the speed at wide receiver, Tim Tebow would have a lot of weapons at his disposal.
Al Davis wants to "just win, baby." Well, nobody likes winning more than Tim Tebow does.
While going to Oakland probably is not in Tim Tebow's best interest, the move would benefit the Raiders.
2: The San Francisco 49ers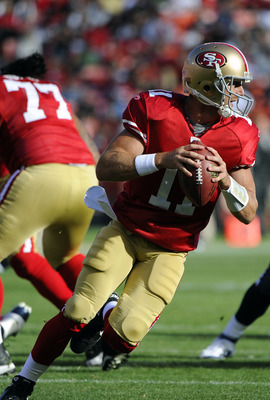 Thearon W. Henderson/Getty Images
Maybe this is the year that Alex Smith finally lives up to his draft status. Maybe this is the year where the San Francisco 49ers finally have a head coach who knows how to use Alex Smith to his abilities.
Or, maybe things stay the same.
How many chances will Alex Smith get? Nobody knows, but one has to believe this is his final opportunity for the 49ers.
The 49ers would be a great fit for Tim Tebow. It would give him a fresh start with a head coach who is good with quarterbacks. Tebow would do well in Jim Harbaugh's west coast offense, and would bring a winning mentality to a team that is used to winning.
Maybe Alex Smith will put talk like this to rest, or maybe he will be the Alex Smith he has been since 2005. If he is the same old Alex Smith, Tim Tebow should be on his way to San Fran immediately.
1: The Washington Redskins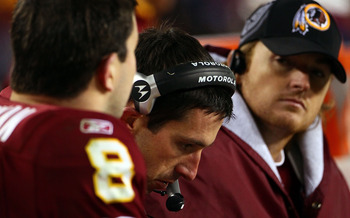 Win McNamee/Getty Images
The Washington Redskins have moved on from Donovan McNabb and have a new quarterback controversy:
Rex Grossman vs John Beck
Really? The Washington Redskins are willing to go into the season with either Rex Grossman or John Beck at quarterback? Either they are banking on Andrew Luck or Mike Shanahan knows something we all do not.
If any team should be calling Denver about Tim Tebow right now, it is the Washington Redskins. If the competition is only Rex Grossman and John Beck, Tim Tebow would start in a heartbeat.
At this point, the Redskins would not just be smart in making a deal for Tebow; They would be stupid not to.
Keep Reading