2011 NFL Preseason: 10 Moves That Look Bad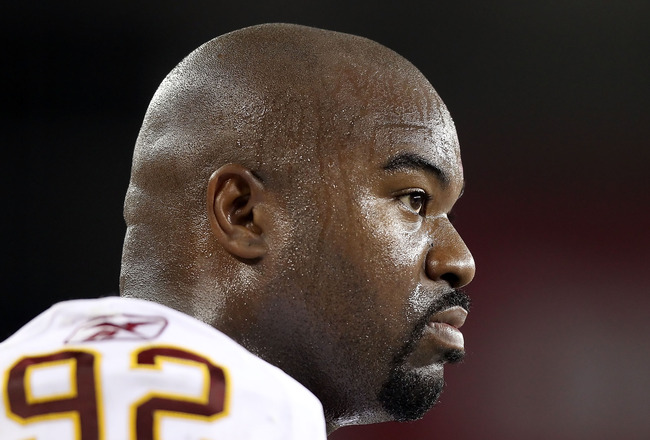 Christian Petersen/Getty Images
The NFL free agency period is mostly over; teams may still acquire free agents, but the major moves have been completed.
Free agency was a whirlwind of activity this year because the lockout forced teams to make quick decisions about bringing in free agents and making trades.
With the preseason almost over, teams have a pretty good idea of how their new players will contribute this season.
Here are ten offseason moves that aren't going as planned.
Denver Broncos: Signing RB LenDale White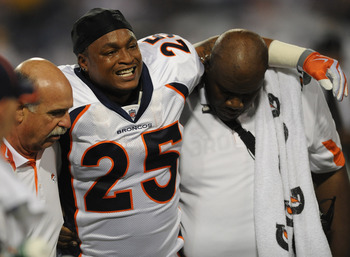 Tom Dahlin/Getty Images
Why did they even try?
The Denver Broncos brought in LenDale White hoping that he could resurrect his career and become the power runner to complement Knowshon Moreno.
Things did not go according to plan.
White only played in the first preseason game and was in the trainer's room more often than he was on the field.
Even if he was healthy, how much could the Broncos have expected out of White? He has not been ineffective for several years and is recovering from a torn Achilles tendon.
Granted, the Broncos did not invest much in White. They were merely taking a chance that he might have something left in the tank.
Unfortunately, White couldn't stay healthy and did not make it out of camp.
San Francisco 49ers: Keeping QB Alex Smith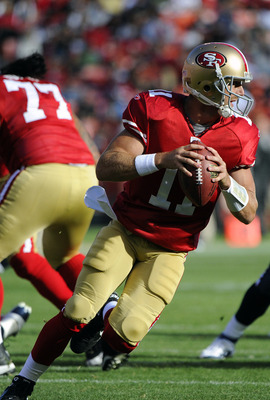 Thearon W. Henderson/Getty Images
The San Francisco 49ers decided to re-sign Alex Smith to a one-year deal worth $5 million and draft Nevada's Colin Kaepernick as their future quarterback.
Why even bother re-signing Smith?
San Francisco knows what kind of quarterback he is; perhaps they think that new coach Jim Harbaugh can mold Smith into a decent player.
But the Niners could have acquired a better stop-gap than Smith at a similar price.
Chicago Bears: Signing RB Marion Barber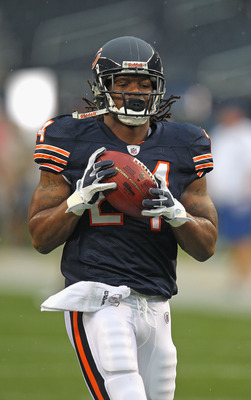 Jonathan Daniel/Getty Images
The Chicago Bears have had an unproductive offseason.
The Bears signed former Dallas Cowboys' running back Marion Barber this offseason to two-year deal worth $5 million. It is not a bad deal money-wise for the Bears.
The problem is that Barber does not have much left in the tank. Barber has not looked good in preseason and is not getting the job done in short-yardage situations, which has been his forte throughout his NFL career.
The Bears were hoping for Barber to replace the aging Chester Taylor Matt Forte's backup. Taylor might not make the team, and Barber's play does not inspire confidence.
Chicago Bears: Trading TE Greg Olsen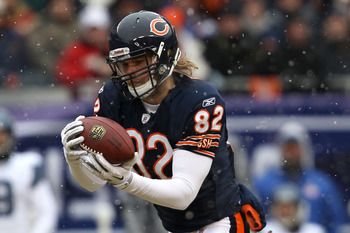 Jonathan Daniel/Getty Images
The Bears have made a few questionable calls this offseason.
Trading tight end Greg Olsen to the Carolina Panthers did not make much sense at the time. Olsen was probably Chicago's best option in the passing game. His athleticism made him dangerous in the red zone as well as between the twenties.
Chicago traded Olsen with the idea that newly-acquired Roy Williams would take over Olsen's role as the top red-zone option in the passing game.
Williams has been a colossal disappointment thus far, and the Bears are struggling to find consistent play from anyone eligible to catch a pass. Quarterback Jay Cutler is likely to miss Olsen's presence in the offense and may struggle without a reliable pass-catcher.
Cincinnati Bengals and New England Patriots: The Chad Ochocinco Trade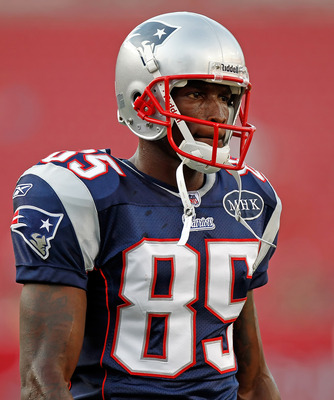 J. Meric/Getty Images
The Cincinnati Bengals appear to be in full rebuilding mode.
Gone are offensive mainstays Carson Palmer and Chad Ochocinco, whom the New England Patriots acquired from Cincinnati for a measly sixth-round pick in July.
The trade has not really worked out for either team.
Cincinnati could have used Ochocinco's experience to mentor their young receivers. Wideout A.J. Green could have benefited from the presence of Ochocinco, one of the best route-runners in the NFL.
On the other hand, Ochocinco has not been impressive trying to fit in with the Patriots. He has yet to develop a solid rapport with quarterback Tom Brady and will probably start the season slow as he and Brady work to get in sync.
It appeared as though the Patriots got a steal in acquiring Ochocinco at such a low price. But if Ochocinco does not get things together, that deal will look mediocre.
Tennessee Titans: Failing to Resign RB Chris Johnson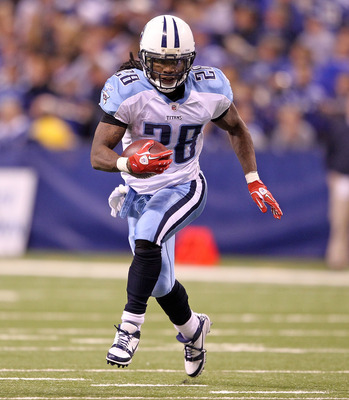 Andy Lyons/Getty Images
I'm not sure what Tennessee Titans owner Bud Adams is thinking.
His decision to refuse to restructure running back Chris Johnson's contract is looking worse and worse each day.
The stand-off appears as though it will continue into Week 1.
Johnson deserves a new deal for this season. His legs won't last forever. He is clearly one of the best running backs in the NFL.
The Titans will likely lose Johnson after his contract is up because of their refusal to negotiate. Owner Bud Adams is basically pushing his best player off the team.
New England Patriots: Signing DT Albert Haynesworth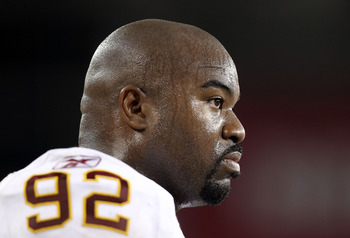 Christian Petersen/Getty Images
So much for this experiment.
New England Patriots Coach Bill Belichick has a history of turning basket cases into stars, but "The Hoodie" has finally met his match in Albert Haynesworth.
Perhaps the Patriots should have seen this coming.
First off, Haynesworth is not Randy Moss. The two players are very different.
Second, Haynesworth started his time in New England similar to how he began in Washington: not practicing. He has been injured and out of practice for most of training camp.
If he does end up getting healthy, he could be a solid player for the Patriots. I just don't see it happening.
Seattle Seahawks: Signing QB Tarvaris Jackson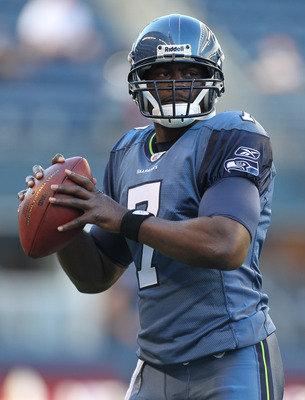 Otto Greule Jr/Getty Images
The Tarvaris Jackson experiment needs to end.
The Seattle Seahawks brought in Jackson to be the starter this season after letting Matt Hasselbeck leave in free agency.
I'm not sure why coach Pete Carroll thinks he can count on Jackson to be an effective quarterback. His track record is horrendous.
The Seahawks did not invest much in Jackson, so they will not incur heavy financial losses. But why waste time on a proven failure at quarterback?
Jackson has looked awful in preseason action, and it seems only a matter of time before Charlie Whitehurst is given a chance to lead the offense.
Chicago Bears: Signing WR Roy Williams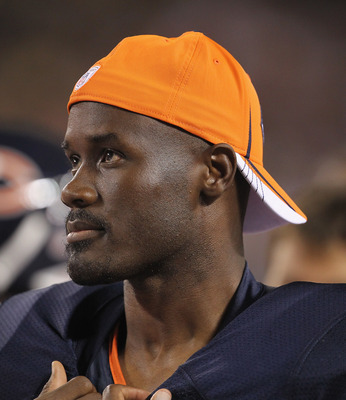 Jonathan Daniel/Getty Images
The Chicago Bears need to stop signing former Dallas Cowboys. First, the Marion Barber accident. Now, the Roy Williams disaster.
The Bears signed Williams during free agency to a one-year, $2.146 million deal. It won't ruin the franchise in the long haul, but the deal has still been a disaster thus far.
Williams admitted to being out of shape three weeks into training camp and has failed to develop chemistry with quarterback Jay Cutler.
The Bears were counting on Williams to be a major player in the passing game. At this point, though, Williams is not ready to contribute.
Arizona Cardinals: Trading RB Tim Hightower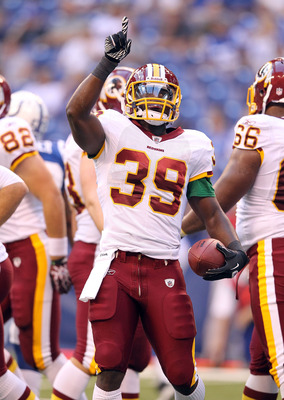 Andy Lyons/Getty Images
Having drafted running back Ryan Williams, the Arizona Cardinals deemed running back Tim Hightower to be expendable.
The move has come back to haunt them. Bad luck struck the Cardinals when Williams went down with a season-ending injury just a few weeks into camp. Now Beanie Wells is the only reliable back on the roster.
The Cardinals couldn't have seen this coming, but the fact that they traded Hightower, an effective and dependable player, for an aging defensive end coming off a two-sack season makes this a bad move.
The Cardinals will miss Hightower this season.
Keep Reading

New England Patriots: Like this team?