Pittsburgh Steelers Nation: Don't Overreact to the Preseason
August 13, 2011
Larry French/Getty Images
Every August, NFL fans look forward to the first sight of two different teams popping pads and being competitive, and Steelers fans' juices got to ooze a bit last night as the team travelled to FedEx Field for a game against the seemingly lowly Washington Redskins.
At best, the team appeared stagnant, especially on starting defense where Washington amassed more yardage on the opening possession that many teams gain on the proud Steelers in an entire half.  And, yes, the offensive line didn't have as superb a showing as many fans would hope. 
In reality, a loss in the preseason means something to coaching staffs that want their players to execute and win...but that's a very small something. The overall impact of defeat has little to no long-term sting on the franchise.  Therefore, it should have no sting on fans, either.
If the Steelers had lost to Washington in October, there would be room for concern, both regarding the outcome against a porous roster in our nations' capital and the performance. 
Yet, this wasn't just a preseason game—it was the first preseason game.  Having things to work on now will better prevent those same problems from costing the team when it counts. 
Truthfully, being too big for the britches is an adage that rings more true with the Steelers than most franchises.  We've all witnessed the disappointing campaigns that have occurred following team championships, both in 2006 and 2009. 
In that vain, perhaps we should be glad that the team has something to focus on heading toward a game that promises even more emotion, at least for preseason, against the Philadelphia Eagles.  Many great teams won't hit any stride until closer to the regular season opener.
Remember when Bill Belichick pulled his starters out of a preseason game against the Bengals, forcing them to go back out in the second half against Cincinnati's backups?  That occurred prior to the 2004 season, a 14-2 campaign that solidified New England's dynastic status.
Steelers fans will surely remember 2005, where Ben Roethlisberger still had his doubters following a terrible performance in his rookie playoffs.  The starting offense was putrid for the entire 2005 preseason, not registering a single touchdown.  
Pittsburgh won their opener that year (34-7) and won the Super Bowl.
Conversely, the 49ers went 4-0 in last year's exhibition games, facilitating confidence within the self-proclaimed geniuses who picked them to win the NFC West.  How did that turn out?
Fans who allow themselves to be taken with anger during exhibition season would never make it in professional sports.  Those involved in this time of high impact, both on and off the field for younger athletes, must have the patience of a coach. 
Those who do possess such patience enjoy the task, much like a crazed scientist laughing in his lab of chemicals and bubbling beakers, molding and crafting a contender and trying to surmise the proper parts to achieve a championship.
While wins are nice, the ultimate victory in August will always be getting back to game speed, fielding and refining athletes into the mold of what is expected and determining the 2011 Pittsburgh Steelers.
Forget the loss.  Last night's game against Washington was a success in some ways.
Cameron Heyward, the team's top draft pick, showed promise as a disruptive defensive force, while Isaac Redman and Antonio Brown flashed signs of promise that they will continue their progress as small, albeit key, members of a championship roster.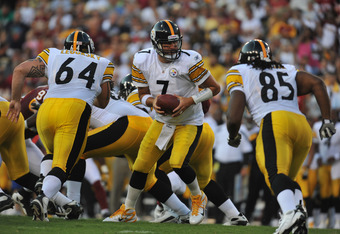 Larry French/Getty Images
Yes, there were concerns.  Did the game go as well as desired?  Of course not!
The Steelers scrutinized secondary made Rex Grossman and Tim Hightower look like Joe Montana and Roger Craig for one meaningless game, and the offensive line was not stellar in its healthy debut.  Additionally, there were minor injuries.
Yet, at a time where wins and losses don't mean nearly as much as progress and observation, the factors that result in victory and defeat are not as simple as the strength of the team across the line.
For Grossman and Hightower, seeing a fully unleashed Steelers defense would be a far different experience.
Last night reminded me of Steve Spurrier's tenure with the 'Skins, as Mike Shanahan kept his starters in the game for far longer than Mike Tomlin. 
Spurrier, however, kept his starters in for nearly an entire exhibition game.
Shanahan's gameplan was very different than Spurrier's motive.  Spurrier took advantage of the situation to entertain his own ego, playing starters against backups to garner undeserved attention on his own coaching entry at the NFL ranks.
The former Gators wizard took advantage of the situation and slaughtered Steelers backups with Redskins starters, erasing a large deficit (34-14) and winning 35-34.  Yes, that is correct:  Spurrier risked the health of his starters to win a meaningless game in the standings.  Speaks well to his confidence heading in the season, doesn't it?
Needless to say, the coach's "smoke and mirrors" preseason, where the club put up record offensive numbers, didn't translate when the games counted. 
Not to be ignored is that the Steelers did look sloppy!  Not to confuse the aforementioned factors with blind optimism, one has to admit that there is work to be done.
William Gay needs to display more crispness with the starting defensive backfield if he is to remain a member of that fraternity.   While Willie Colon looked superb, the rest of the line needs to gel together.  And, let's be honest—Jason Worilds looked very pedestrian while filling in for James Harrison at linebacker.  In fact, most of the defensive front was surprisingly out of sorts.
So, fans need to relax and let the team work out the kinks.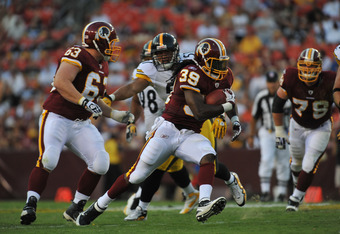 Larry French/Getty Images
Fans who become enraged by a loss at this time of year are simply being irrational.  Only one group of men should be angry with their performances.    Last night, the only stakes- aside from health- were for young athletes trying to make a roster spot.
THEY can be angry for the plays that THEY didn't make.
Truthfully, losing in the preseason means nothing for the fans.  Zip... Zero...
Nada.
("If the point isn't to win, then why do they keep score?")
Selling tickets.
There's no shame in being disappointed about a loss.  I'm sure fans who pay regular season prices- which is criminal- to attend preseason contests would love to leave with the thrill of victory in their hearts and minds!
It's when one uses these outcomes as a litmus test for the real games, exaggerating the events of exhibition football, that their ability to reason comes into question.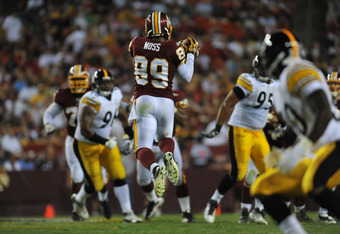 Larry French/Getty Images
Have you heard these responses from negative fans?
"Damn Steelers offensive line is as bad as ever.  We'll never win with those guys up there."
"Wow, if we're this much worse than Washington, we're in for a long year."
"Trade this guy, trade that guy."
Those, along with other common quotes from fans this time of year, are the epitome of overreactions.  Senseless overreactions.  Winning and losing at this time of the year is not straightforward.
The Redskins need practice with the playbook and time on the field for starters.  The Steelers?  They're the defending AFC Champions.  Repetitions are necessary, but not to the degree of other teams just trying to find their way.
For Shanahan, keeping the starters in for multiple drives is not a promotional stunt in the vain of former Washington coaches.  It speaks to one key facet of his team: they are unproven.  A Redskins team that lacked chemistry last season needs every repetition it can get with a reworked roster—and full exposure to the playbook is necessary to ensure the players are familiar with it.
Contrarily, with their many achievements, the Steelers are very comfortable in their own skin, fully knowing the pedigree of their ability when the season kicks off. The unknowns heading into 2011 for the Black and Gold are far fewer than a team trying to find its way, such as the Redskins.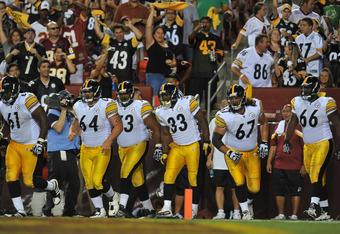 Larry French/Getty Images
Additionally, the Steelers will be rightfully hesitant to demonstrate anything too spectacular, limiting their expertise and play-calling so as to avoid any observations by certain "Birds of Prey" that await Week 1 of the regular season.
Let's all take time to focus on the positives.  Like having no penalties for a large portion of the game. At these times, balancing genuine game experience with the risk of injury, I don't envy NFL coaches. 
It's a fine line between tipping off your early season opponents and not opening up enough of the playbook to truly evaluate the team.
Thankfully, that's a job left to Mike Tomlin and his staff, a crew that has seen three playoff season in four years, two Lamar Hunt Trophies and a championship.
The Washington Redskins defeated the Pittsburgh Steelers 16-7 last night.  More accurately, the Redskins put up 16 points, and the Steelers scored a touchdown during a critical practice that will help both teams field their best players in four weeks.
If the team continues to play with funk for each of the next three games, perhaps there should be alarm.  I guarantee that will not occur.  There's a lot of time to keep getting better.
When the team travels to Baltimore with their full bag of tricks on Sunday, September 11th, both sides will start their top athletes for all 60 minutes, and the final result will be critically important.
Until then, don't let the "Spurrier smoke" of the NFL preseason blind you to the real wins within each game.