Steve Smith Departing for Eagles Illuminates Yet Another Giant Question Mark
August 11, 2011
Win McNamee/Getty Images
Everyone remembers Plaxico Burress' Super Bowl-winning touchdown, but it was a heady third-and-11 conversion by Steve Smith that put New York in position to capitalize on the most exhilarating drive in Giants history.
Now Smith leaves a huge crater in both their offense and a lot of hearts by signing with the arch-rival Philadelphia Eagles, to which many have reacted poorly on his Facebook page and prompted the long-time Giant to respond.
"Instead of cursing at me and wishing my family and my knee harm, I wish you could understand that I truly wanted to stay here but that the giants DIDN'T want me here unfortunately."
I encourage Big Blue nation to click that video just below, shed a tear or two, and just say a wistful goodbye.
Since that tip-toe up the sideline, Smith had been the Giants' certainty of all certainties up until last year's knee injury: You knew he'd run a good route to the sticks on third down, catch it if put on the right spot—heck, he did it 107 times in a season—and give Eli Manning a great safety blanket along with, gulp, Kevin Boss.
Now back to the current reality, where critical members of that Super Bowl squad are vanishing like Marty McFly. The alarming losses of Boss to the Raiders, Osi Umenyiora to an uncertain combo of contract strife and knee pain, and Burress—yes, counting him—to the Jets have made the preseason significantly more interesting for New York.
Granted, the perception of Smith has changed to some degree in the minds at New York's front office. The recent evaluation of his knee did not seemingly yield encouragement, as Coach Tom Coughlin told media that Smith has a ways to go. The prevailing logic suggested he would start the year on PUP for the Giants, possibly missing several weeks before joining the team on-field.
The two parties' details clash a bit as Smith purports a different notion about his knee and how much leeway was given to the Giants for a chance to obtain the free agent's services. One thing is clear: He's taken offense and now calls a former rival home.
This hurts on many levels.
"Last year we got in a bind when we lost Steve, just none of those guys really worked in there," Manning told us gathered in unsuspecting East Rutherford, N.J., a week before the bad news broke. "We said, 'Hey Steve's a slot guy, he's the best at it.' So you work him only and when we went out a lot of guys weren't comfortable being in there.
"We're trying to work a number of different guys and see who can come in and do the best job in the slot."
On the flip side, it's not as if New York lacks talent at receiver or hadn't begun preparing for life without Smith at least in the short term.
Talented young receivers Hakeem Nicks and Mario Manningham provide Big Blue a dangerous 1-2 punch and figure to mainly split out wide.
Third-round pick Jerrel Jernigan, who assumed Steve Smith's No. 12 within 24 hours of the news, played the slot in college at Troy—coincidentally Umenyiora's alma mater—but has the lockout-year-rookie factor working against him.
Ramses Barden is considered a high-ceiling project but will start 2011 on the physically unable to perform list. Victor Cruz hit the New York spotlight with a three-touchdown preseason opener against the Jets last season before landing on IR shortly thereafter, and is now again competing for a spot.
The versatile Domenik Hixon has struggled to say healthy in recent seasons but gave New York one of the league's top return men and a solid target for Eli Manning years ago.
"He can play all four spots at wideout," Giants' wide receiver coach Sean Ryan said. "He's a good route runner on the outside, he understands the slot stuff, he certainly is a strong contender for that three spot…He's 13-14 months out of surgery and I don't think it shows right now.
"His cuts and his breaks are clean and crisp. He's getting out of those things and playing well."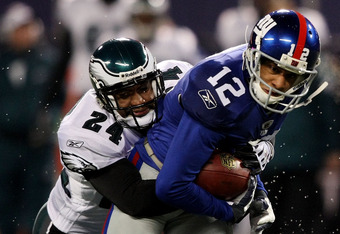 Nick Laham/Getty Images
Next up in the parade are Michael Clayton and Duke Calhoun. Clayton's a physical, committed blocker on the outside who probably won't figure into the slot competition but might assume a vacated opening on the depth chart.
"He's one of the most physical guys you're going to find on the outside and he will get after people in the run game," Ryan said.
Calhoun is now well-known for accidentally stepping on and injuring Prince Amukumara, but brings impressive straight-line speed.
Darius Reynaud at times terrified Giants fans in fielding returns last season, but did look good in scoring on a deep pass up the middle at Giants camp during my last visit. Won't hold my breath on him replacing Smith though.
There's also Redskins and Panthers castaway Devin Thomas, who made an impact in his short time on Giants special teams last season, and Sam Giguere, who's yet to record an NFL catch—but don't rule out either.
"I've been impressed with (Thomas') quickness and his route-running," Ryan said recently. "He had the hamstring last year. He looks faster and quicker to me and he looks better coming out of breaks."
The Star-Ledger's Zach Berman tweeted Thursday afternoon that offensive coordinator Kevin Gilbride mentioned Cruz, Hixon, Thomas and Giguere as potential slot guys. Saturday night's 8 p.m. ET tango with the Carolina Panthers figures to shed much more light on the whole situation.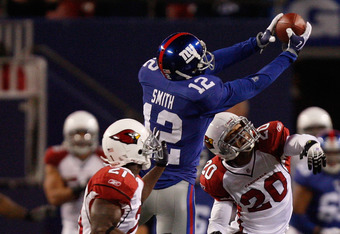 Jared Wickerham/Getty Images
Many will look to free agency and see one of the greatest receivers (and healers) of all time, the Wolverine-like Terrell Owens. I haven't heard even a murmur about him and don't expect to, after how squeamish New York got about their own receiver's health. Not to mention the lack of interest in TO when Plaxico was on his way to jail and WR was a much more dire situation.
They will likely add another low-profile name and then roll with what they have, which includes a receiver with legitimate elite aspirations, an electric No. 2, a 2011 third-rounder who seems an eventual fit at Smith's vacancy, and a bunch of guys with reasons to believe but provide little certainty as to what Big Blue's getting.
In an ideal world, that paragraph ends with a healthy Smith. Bummer.