Ranking the Top 10 NFL Teams Before the 2011-2012 Season
August 11, 2011
Al Bello/Getty Images
This Article was originally featured on New England Sports Online: 2011-2012 NFL Power Rankings 
Yesterday, I posted a piece on teams ranked 17-8. Today, I have posted my top 10 teams.
10. Houston Texans
Offensively, this team is rock solid. Led by Matt Schaub, Andre Johnson and Arian Foster, Houston relied on their offense for their six-win season.
Andre Johnson: 13 games, 1,216 yards, 8 TDs.
Arian Foster: 1,616 yards, 16 TDs.
Matt Schaub: 4,370 yards, 93.0 QB RTG.
Clearly, the offense should not be a problem for Houston.
Defense, however, is an entirely different story. Although strong up front, the Texans had an atrocious pass defense last year, allowing a league-worst 267.5 YPG passing. They will be looking for first-year corner Brandon Harris to support Jonathan Joseph as the second corner, but the Texans made very few improvements in their secondary over the offseason, as they failed to sign  Nnamdi Asomugha.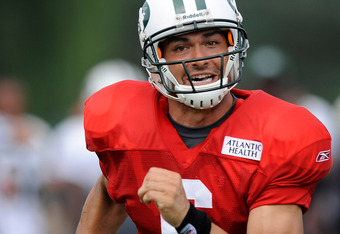 Patrick McDermott/Getty Images
What does bode well for Houston is their front seven, which will be led by Mario Williams, DeMeco Ryans and hopefully steroid-free Brian Cushing (76 tackles in 12 games).
The Texans, by drafting defensive end J.J. Watt, are clearly looking to solve their cornerback deficiencies with a strong pass rush and run defense, forcing offenses to be predictable.
Houston has an exceptionally talented offense but will need their defense to improve to have any legitimate success.
Last year, the Chargers were the epitome of the "stats lie" adage in the NFL. The Chargers ended up a mediocre 9-7 but led the league in both total offense and total defense (395.6 YPG and 271.6 YPG, respectively).
The biggest problem for San Diego came on special teams, as their return defense was one of the worst in the NFL. Yet, they were able to go on a late season run last year as they closed out the campaign with a 7-2 record over their final nine games. They hope the big-hitting rookie corner Shareece Wright can have an immediate impact on special teams.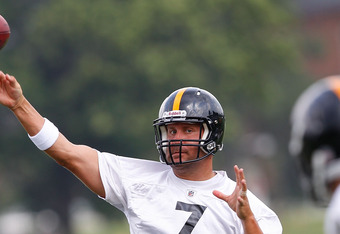 Jared Wickerham/Getty Images
Offensively, San Diego should see an improvement in their running game as Ryan Mathews makes a healthy return. San Diego will have a far more balanced attack with a healthy Mathews if Philip Rivers can continue having success with Vincent Jackson, Malcom Floyd and Antonio Gates.
Defensively, Shaun Phillips leads the front seven (11 sacks), while cornerback Quentin Jammer is a tone-setter in the secondary. He is a big, physical player who lays down punishing hits.
The Chargers will win the AFC West if their special teams can become an even mediocre unit and will be a very threatening playoff team.
The 13-3 Atlanta Falcons have no shortage of talent, especially on the offensive side of the ball. Roddy White had 115 catches for 1,389 yards and 10 touchdowns last season. White is an elite, premier receiver who will no longer be the only receiver on defenses' radar now that rookie playmaker Julio Jones has entered the fold.
Matt Ryan had 28 touchdowns to just nine interceptions last year (91.0 rating) and is developing into an elite quarterback.
While Tony Gonzalez is more of a threat in name than ability in this stage of his career, his leadership/veteran presence is vital in guiding a young offensive core.
With Michael Turner fully healthy after a successful 2010 campaign (1,371 yards, 12 touchdowns), the offense looks poised to shred through defenses once again.
Defensively, the Falcons were very poor against the pass. Playing against the Saints (passing team) twice a year, Atlanta will have to improve their defense, as they were ranked 28th in PPG allowed last season.
The Falcons signed Ray Edwards, a premier defensive lineman, to bolster the front seven and give support to the aging John Abraham.
Atlanta's offense is sensational, but to finally find postseason success the Falcons will need to focus on defense (and they failed to do so in the draft).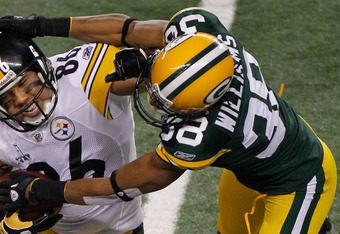 Joe Robbins/Getty Images
The Jets are pretty much the same 11-5 team they were last year. Braylon Edwards' absence was quickly filled by the signing of Plaxico Burress, although Burress needs to stay on the field to help the team.
Santonio Holmes is one of the great NFL receivers, and defensively, the Jets were able to bring back Antonio Cromartie to support Darrelle Revis.
But, New York lost respected veteran Shaun Ellis (to the Patriots, nonetheless), and with the exception of Calvin Pace, have a weak front seven. For them to reach the next level, they need to beat the Patriots. With New England's tight ends being as powerful as they are (Rob Gronkowski, Aaron Hernandez), I'm not sure the Jets have safeties/linebackers who match up.
Also, the Jets can trust Mark Sanchez all they want, but I'm still not ready to put my faith in a 75.3-rated passer who completed just 54.8 percent of his passes in 2010.
The Jets will look for LaDainian Tomlinson to have another successful season (934 yards, six touchdowns), but we've seen old running backs have a year of resurgence before quieting down for good (Corey Dillon).
The Jets do have one thing going for them. That's their passionate, play-with-nothing-to-lose attitude instilled upon them by Rex Ryan.
Ray Rice led this offense with a stellar 2010, as he had 1,220 rushing yards with five touchdowns. Joe Flacco built on his early-career success with a 25-touchdown season in which he amassed 3,622 yards and a 96.3 quarterback rating.
Defensively, the Ravens are rock solid. Ed Reed had eight picks in just 10 games, while Ray Lewis had 139 tackles, two forced fumbles, two interceptions and two sacks. Haloti Ngata is a boulder (quite literally, in fact) down low, as the nose tackle is arguably the best in the game.
Throw Terrell Suggs and Cameron Heyward into the mix, and the Ravens front seven becomes even more deadly. Suggs had 11 sacks last year, and Heyward has the strength to fit right into the physical Baltimore defense.
Although Baltimore is known for defense, they had the 21st-ranked pass defense in the NFL. By drafting cornerback Jimmy Smith, the Ravens found a strong, physical, Ravens-style defensive back who should allow Ed Reed more freedom as a center fielder.
The Ravens will look for Anquan Boldin to replicate the success he had with the Cardinals, after a fairly unsuccessful season last year (just 837 yards). Although he did have seven touchdowns, the Ravens need Boldin to be a capable receiver.
The Ravens will also likely rely on Torrey Smith and Tandon Doss (rookie receivers) to begin making contributions on the field.
The question is: Can Flacco lead this team to the next level? If he can, the Ravens look poised to make a deep run…
The Saints have one of the most versatile offenses in the NFL. With a healthy Pierre Thomas and newly drafted Mark Ingram, they are as dynamic as ever. After going 11-5 last season despite a sub-par year from Drew Brees (despite his 90.9 rating, 4,620 yards and 33 TDs, Brees threw 22 interceptions), New Orleans is improved if by nothing else than health.
Marques Colston is a premier receiver and showcased his talent once again last year, catching seven touchdowns and totaling 1,023 receiving yards.
Fourth in the NFL in total defense and third in the league in passing yards per game (277.6), New Orleans clearly has the talent for a Super Bowl run. After drafting defensive end Cameron Jordan, New Orleans will have an improved pass rush and therefore an inherently better passing defense, already ranked fourth in the league.
It's pretty clear New Orleans needed a healthy running back last season, and they now have two. Strong defense, better offense.
This team has always been a defense-first, pound the rock-kind kind of squad. James Harrison is of course an elite top three linebacker in the NFL. The secondary is led by Troy Polamalu, who, despite missing two games, had seven interceptions and 63 tackles.
James Farrior (109 tackles) and LaMarr Woodley (50 tackles, three forced fumbles) are also elite linebackers, punishing tacklers and smart defensive players.
The Steelers have the best linebackers in the NFL, and having the 330-pound Casey Hampton at the nose helps.
The Steelers do not have a good group of cornerbacks, however, and rely on their run defense to force offenses to become one-dimensional passing teams so Polamalu can take over. Pittsburgh also boasts a strong pass rush, putting pressure on opposing quarterbacks to make consistent throws.
Offensively, the Steelers have a strong core. Hines Ward is not the player he once was, but he has the physicality to power through smaller corners. Ben Roethlisberger had a 97.0 rating as he threw for 3,200 yards with 17 touchdowns last year. The Steelers play run-first offensively, and Big Ben is the perfect QB for their style.
Mike Wallace and Rashard Mendenhall have very bright futures with exceptional seasons last year. Wallace had 60 catches for 1,257 yards and 10 touchdowns, and Mendenhall managed 13 touchdowns on 1,273 yards of rushing. Mendenhall has the speed to burst around the corner on stretch plays and the power to give defensive backs in the second level fits.
A Super Bowl victory last year was all the Steelers lacked, and a great team is returning this year.
The 10-6 Eagles have certainly made noise this offseason. They added Nnamdi Asomugha, Cullen Jenkins, Dominique Rodgers-Cromartie, Jason Babin and Vince Young.
Defensively, the Eagles are vastly improved. They have one of the best corner tandems in the NFL (Asomugha and Asante Samuel) along with the very talented (and fast) Rodgers-Cromartie. Jenkins and Trent Cole anchor a defensive line which will also be bolstered by Babin, whose motor is always at 110 percent.
Offensively, the Eagles have DeSean Jackson, Michael Vick and Jeremy Maclin.
Last year, Vick threw 21 touchdowns to just six interceptions with a 100.2 rating, easily the best rating of his career. Jackson had 1,056 yards and six touchdowns, while Maclin caught 11 touchdowns. A healthy (tight end) Brent Celek will give defenses fits, as he can make catches up the seam, an area that will be opened up by Jackson and Maclin.
Vick, given his fragile frame and reckless playing style, can always be counted on to miss one to two games with a minor injury, and with Vince Young cut from the same mold as Vick, the Eagles should be able to keep pushing forward.
Of course, one of the Eagles' greatest strengths comes in the form of special teams. With electrifying return men such as Jackson and Maclin, the Eagles are always a threat to score.
Philadelphia bolstered a shaky defensive unit through free agency and with an ever-explosive offense, will be tough to beat.
After a 14-2 regular season, the Patriots choked against the Jets and were eliminated in their first playoff game. But this season they hope their free-agent acquisitions provide them with more offensive options and a defensive presence they lacked last year.
They have arguably the most dynamic offense in team history, with tight ends, wide receivers, running backs and a quarterback who are all exceptional playmakers.
With Chad Ochocinco, Wes Welker, Rob Gronkowski, Aaron Hernandez, BenJarvus Green-Ellis, Danny Woodhead and Tom Brady (111.0 QB rating last season), the Patriots know they will be able to score.
The defense was not great statistically, especially on third down. But led by Devin McCourty (seven interceptions) and Jerod Mayo (175 tackles), the Patriots were able to lead the league in turnover differential (mind boggling plus-28).
Vince Wilfork has received help on the defensive line this year, as the Patriots brought in Albert Haynesworth, Shaun Ellis, Mark Anderson, Andre Carter and retained Gerard Warren. All of these guys are mammoths who have the power to push offensive linemen backwards.
The pass-rush issue was not solved with a dynamic, outside linebacker or defensive end. Instead, Bill Belichick solved it with brute force.
The Patriots are once again a Super Bowl contender, and if their offseason acquisitions produce, look out.
It's simple why the Packers are No. 1. They won the Super Bowl last season and have a plethora of returning players who were on the injured reserve list last season, including starting running back Ryan Grant, starting tight end Jermichael Finley and a strong press cornerback in Atari Bigby.
They have two shutdown corners in Tramon Williams (six interceptions in 2010) and Charles Woodson (11 interceptions over the past two years, with 76 tackles last season).
Aaron Rodgers still has Greg Jennings as a No. 1 target, and the Packers drafted a big offensive tackle in Derek Sherrod, who should help keep Rodgers from spending time on the bench.
Basically, the best team in the league has some of its best players returning—hard to beat that.
What do you think? Did I miss any teams you think will do better than expected? Do I have any teams on this list that will end up underachieving? With the season coming up, we'll see…
This article was originally featured on New England Sports Online: NFL 2011 Power Rankings
Liked this? Follow me on twitter @neso17