Is ESPN's QBR Disrespectful to Philip Rivers or Just Overhyping the Mannings?
August 11, 2011
Andy Lyons/Getty Images
Upon glancing at ESPN's new Total Quarterback Rating, or QBR, I was able to discredit the entire system after two seconds.
Of course, Tom Brady with his video game-like season, 36 touchdowns and only four interceptions, was the top-rated quarterback. Jimmy Clausen, who helped the Panthers land the top pick with his poor play, had the lowest spot.
Looking at the Top 10, there's something awfully wrong with any rating system that claims Eli Manning is rated higher than Philip Rivers.  A rating system that allegedly is based on factors toward win probability had the quarterback who led the league in interceptions, with 25, ranked seventh.
Rivers led the NFL in passing yards (4,710), was third in completion percentage (66 percent), first in yards per attempt (8.7), fifth in touchdown passes (30) and second in the 37-year-old quarterback rating (101.8).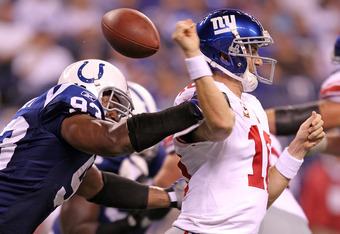 Andy Lyons/Getty Images
ESPN is rolling out a series (over)hyping the quarterback position, going as far as dedicating a web page to the "Year of the Quarterback."  On August 5th, ESPN had an hour-long telecast unveiling the new Quarterback Rating System, which is supposed to replace the rating that was introduced in 1973.
Of course, this is the same network that aired "the Decision" by LeBron James.
The new system is supposed to be perfect because a quarterback cannot have a perfect game, like in the old system. This new rating system divvies more points based on situations and helping a team to victory. Win probability, dividing credit and clutch index are all factors the new system is embracing to determine how Peyton Manning is still the best quarterback.
Primal football minds cannot calculate the new rating system, unlike the way anyone with a calculator could calculate the old system. The new system relies on ESPN to tell you the ratings for every quarterback. They were determined by a value given to each play assigning credit or blame.
Thank you, ESPN for making life easier. Why should anyone take into account any other stat than your make-believe QBR? Yards, touchdowns, completion percentage, yards per attempt, interceptions thrown… all are now deemed worthless.
Here is ESPN's Trent Dilfer's take on ESPN's QBR:
"Forever we've lacked a quantitative way of explaining winning or losing quarterback play. The old passer efficiency rating had nothing to do with winning or losing because it gave every down an equal weight and it credited the quarterback for something that was more influenced by the receiver or offensive line, or punished the quarterback for something he had no say in."
It's funny that Dilfer makes it sound so extreme that quarterback play has everything to do with a team winning or losing. Dilfer is famous for being the worst quarterback to ever win a Super Bowl. Dilfer happened to play for the 2000 Baltimore Ravens, possibly the best defense of all time. The team surrendered only 165 points all season.
Dilfer was 7-1 as a starter in the regular season, but his touchdown-to-interception ratio was 12:11. In the playoffs, Dilfer threw three touchdowns in four games, and despite a 96-yard touchdown to H.O.F. Shannon Sharpe, Dilfer never threw for over 200 yards in a playoff game.
Like that matters. The Ravens surrendered only 23 points in four games.
Dilfer said:
"By filtering it down to critical downs and weighing the importance of each down, the really smart people in ESPN Stats & Information have come up with a number that will best describe how much the quarterback contributed to winning or losing a football game. This is a total game-changer."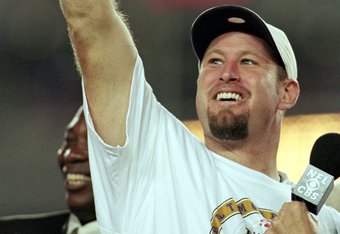 Andy Lyons/Getty Images
Yes, never before has a network attempted to invent stats. The smart people Dilfer is referring to found a way to remind everyone that the Manning brothers are still relevant in today's game.
Peyton Manning had a down year by his standards, but apparently, ESPN does not want history to show that. Stats show Manning's four-highest passing yard games all resulted in losses. The stats show the Colts were a better football team when Manning handed the ball off more.
The Colts had problems with some of their receivers staying healthy. Many Manning supporters will pridefully state that Manning threw the ball to all of these no-names and players off the street. Of course, future Hall of Fame receiver Reggie Wayne played in every game and had 1,355 yards receiving. Pierre Garcon played in 14 games and had 784 yards receiving.
The Chargers best receiver, Antonio Gates, played in only 10 games and had 782 yards, or 16.6 percent of Rivers 4,710 yards. No. 1 wide receiver Malcom Floyd started just nine games and contributed just 717 yards. Rivers actually walked the walk, throwing touchdowns to players who were previously designated to the practice squad.
The new system takes into account overthrows and underthrows by a quarterback. How about death throws? Peyton Manning nearly cost Austin Collie his life…twice, by setting up a throw in front of a safety. I'm sure the geniuses at ESPN thought, "That was a dropped ball, that was a drop! Manning threw it perfect…" Yes, of course he did.
If the stats of Rivers and Manning were reversed, the QBR would remain the same. That is because this flawed system is based on opinion mixed with complicated calculating.
Why invent a rating if you can't put your favorite players near the top?
This system apparently rewards a quarterback on the winning team. (Except Jay Cutler. But as of yet, no system can make Cutler's stats look good.) Matt Ryan was the No. 3-ranked quarterback on ESPN's QBR. The Atlanta Falcons were 13-3.
Rivers threw 30 less passes than Ryan, completed the same amount and threw for over a 1,000 yards more. Rivers threw for two more touchdowns, but four more interceptions as well. Rivers did this without one 1,000-yard running back or one 1,000-yard receiver. Ryan had both.
Apparently, the system doesn't take into account when one receiver accumulates nearly half of your passing yards. Roddy White had 1,389 yards receiving. Ok, 37.4 percent. Ryan had a good year. He quarterbacked the No. 1 team in the NFC during the regular season.
However, much like his victory over the Packers in the regular season, just because Ryan's team won doesn't mean Ryan played or was any better than Rodgers.
Rivers was sacked. A lot. The ratings people for ESPN obviously felt that Rivers being sacked meant he let his entire team down and his win probability dropped. Rivers was certainly affected by McNeil missing the first five games, thanks to a contract dispute. Rivers was sacked 38 times. Ryan 23. Eli Manning only 16. Certainly passer rating misses this stat.
Not QBR.
QBR makes sacks one of their largest stats, I'm guessing. That's the only feasible reason Eli Manning is ranked so high. If every category is based on win probability, Manning's four interceptions against the Packers in the 15th game of the season turned a close, must-win game into a blowout. But he was sacked just one time.
The ancient passer rating system ranked Matt Ryan 11th, with a 91.0, one spot behind Peyton Manning and six spots ahead of Eli.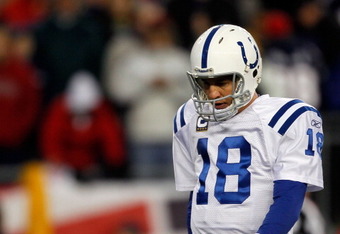 Jim Rogash/Getty Images
Maybe I am missing something. Jon Gruden points out, "When you look at a pitcher's ERA in baseball, you understand how he performs over the course of nine innings. This new quarterback rating is similar to that. It's like a QPA, or a Quarterback Production Average, because it takes everything into account."
Yes, because the ERA in baseball has only been around for 130 years. A hundred years ago, pitchers used to pitch nine innings all the time. I look forward to Harold Reynolds and Peter Gammons examining how to improve an ancient method all pitchers are subjected to.
"Yes, if you give up four runs with a 10-run lead, that's not a big deal. If you give up two runs with a one-run lead, you should be punished worse and are now endangering your team of losing."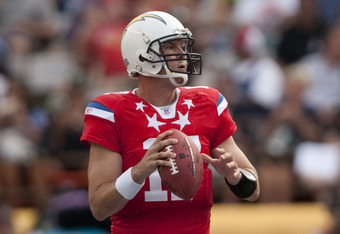 Kent Nishimura/Getty Images
Why stop with quarterbacks? Why not total running back rating? Consider how outdated the average is. All that is is yards divided by attempts. If a back runs for 15 yards on third and 20, it helps his average but fails to continue the drive. If a back gets two yards on third and 1, it probably hurts his average but helps his team.
It's possible that there may be overanalyzing happening here. This rating speaks volumes for a campaign for stupidity. Imagine if Mark Sanchez and Jay Cutler would have won and played for the Super Bowl last season. Year of the Quarterback would have been dismissed.
This would have been painful to watch. A team wins the Super Bowl despite their quarterback.
"Ten years from now, this will be the rating that personnel people will refer to when talking about quarterbacking."—Trent Dilfer
Maybe. The same way personnel people care about Mel Kiper's pre-draft college player ratings.
Neil Tillman is co-host of weekly NFL podcast and blog, the Pigeon Toe.