NFL: With Boss and Patrick Gone, 3 TEs the New York Giants Should Trade for
Jim McIsaac/Getty Images
On Friday, the New York Giants were dealt another blow—in what has been a disastrous free agency period for Big Blue—when Kevin Boss agreed to a four-year, $16 million deal with the Oakland Raiders, according to ESPN's Adam Schefter.
Boss' departure leaves the Giants—who have limited in-house options to replace Boss—with a glaring need at tight end.
As of now, the Giants have four candidates for the team's No. 1 tight end: converted fullback Bear Pascoe, Daniel Coats, Jake Ballard and Travis Beckum.
Yeah, not much potential there.
Don't get me wrong; I really like Beckum as a receiver, but at 6'3", 239 pounds, he doesn't have the size or strength to be a team's No. 1 tight end, and is much more suited to play H-back. Beckum proved that last season when he looked more like a matador than a tight end when going up against defensive lineman or linebackers.
Unlike Beckum, Pascoe is a great blocker. However, he's not much of a receiver, and will likely be the team's starting fullback next season—unless, of course, Henry Hynoski dominates in training camp.
The remaining two options—Coats and Ballard—are solid No. 2 tight ends, but nothing more. Both are much better blockers than receivers, and will not provide much of a threat in passing situations.
Clearly, the Giants will have to look elsewhere to find Boss' replacement.
Here are the three tight ends that they should pursue.
Trade a Second-Round Pick for Seattle's John Carlson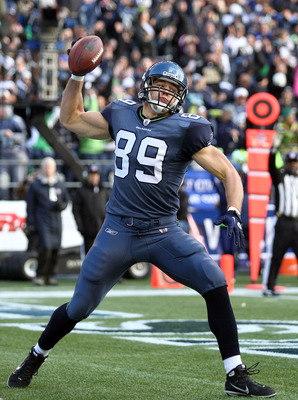 Otto Greule Jr/Getty Images
Two days ago, when New York's Osi Umenyiora was on the block, Seattle reportedly offered John Carlson and a draft pick to the Giants for Umenyiora.
At the time, the offer didn't really interest me because New York still had a chance of re-signing Boss—a much more complete tight end. However, with Boss now in Oakland, this represents the Giants' best chance of landing a No. 1 tight end.
As I said in a previous article, Carlson's game isn't without flaws.
Although he is a solid receiver, the 27-year-old Carlson struggles in the blocking department.
Since entering the league in 2008, Carlson has finished with a negative blocking rate in every season. And in 2010, Carlson posted a pass blocking efficiency (PBE) of 6.76—which is the 14th-worst among all tight ends—allowing 11 pressures in 122 pass blocking snaps, according to Pro Football Focus.
However, with his frame—6'5", 251 pounds—Carlson has the potential to be a solid blocker. He just needs to work on his technique—he is often off balance, or too high when at the point of attack.
If he can improve his blocking, Carlson will emerge as one of the game's most complete tight ends.
Trade Osi Umenyiora to Redskins for Fred Davis and Third-Round Pick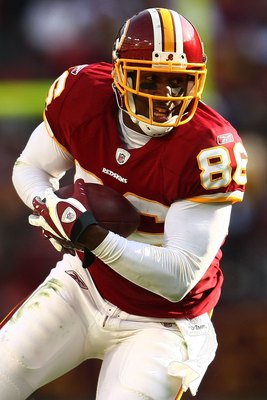 Chris McGrath/Getty Images
The Osi Umenyiora situation is getting worse by the day.
On Friday, Umenyiora reportedly told the Giants that he can't practice because of a sore knee, which he says may require surgery.
But let's be honest; Osi's knee is fine. He's just frustrated by the Giants' unwillingness to re-negotiate his contract, so he's taking a stand by not participating in training camp.
With that said, it's about time that the Giants part ways with Umenyiora.
Yeah, he's one of the most talented pass rushers—not defensive ends—in the league, but this situation is quickly becoming a distraction and it doesn't seem to be ending any time soon.
Of course, sending a prolific pass rusher to a team within your division isn't ideal, but when you can get a player of Fred Davis' caliber in return, it's something you do.
Davis is an absolute beast.
If he was on a team that used him effectively, Davis already would have emerged as one of the game's best tight ends.
At 6'4", 255 pounds, Davis has a rare blend of speed and power—which makes him a matchup nightmare for opponents—and has proven in just three seasons that he can be a team's No. 1 tight end.
In 19 career starts—10 in 2009 and nine in 2010—Davis has 54 receptions for 630 yards and nine touchdowns.
Those numbers converted to a 16-game regular season would translate to—approximately—44 receptions, 512 receiving yards and 7.5 touchdowns (Boss' best statistical season came in 2009 when he caught 42 passes for 567 yards and five touchdowns).
In addition to his receiving skills, Davis is a solid blocker, who was utilized often in the Redskins' run game (according to the blog Hogs Haven, Davis was asked to run block 50 percent of the time he spent on the field).
At just 25 years old, Davis has the potential to be much better than Boss ever was as a Giant.
Trade a Fifth-Round Pick to Denver for Dante Rosario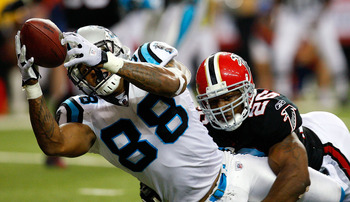 Kevin C. Cox/Getty Images
Dante Rosario has never recorded more than 35 receptions, 350 receiving yards or three touchdowns in a single season since he entered the league in 2007.
So, why should the Giants trade for him?
Well, for one, at just 26 years old, Rosario still has a lot of upside.
Sure, he didn't put up great statistics in Carolina, but when looking at the quarterbacks he played with—Jake Delhomme, Chris Weinke, Vinny Testaverde, David Carr, Matt Moore, Jimmy Clausen and Brian St. Pierre—can you really blame him?
Don't get me wrong; I don't think Rosario will ever reach the level of a Vernon Davis, Antonio Gates, Jason Witten or Dallas Clark. But I do think he has the potential to develop into a player like former Giant Visanthe Shiancoe, who has surpassed the 500-yard receiving mark in each of the past three seasons.
Despite Carolina's quarterback woes in 2010, Rosario posted career-bests in receptions (32) and yards after the catch (133), and emerged as one of the Panthers' main weapons.
The addition of Rosario would not only help Eli Manning—who needs another weapon with Boss gone—but also it would drastically improve the Giants' pass protection—which is crucial with Will Beatty at left tackle.
From 2008 to 2010, Rosario recorded a pass blocking efficiency of 3.65—the fourth-best rate among tight ends during that time period—according to Pro Football Focus.
Rosario's combination of receiving skills and blocking ability would immediately provide the Giants with an upgrade at tight end.
Keep Reading

New York Giants: Like this team?