San Francisco 49ers Free Agency: 5 Reasons They Will Win Offseason Sweepstakes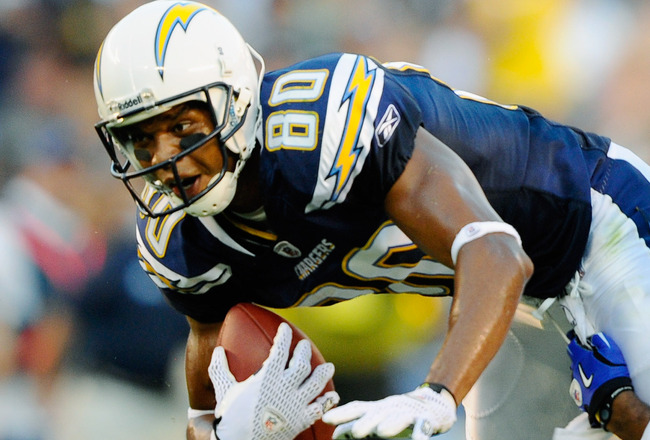 Malcolm Floyd may play a big role in 49er plans in 2011.
Kevork Djansezian/Getty Images
As teams settle into regular training camp routines that include new and old veteran free agents now under contract, it's time to assess. Who was the most daring, the least? Who spent too much? Who could have spent more?
One tenet of the NFL is that teams that have a core of highly paid players surrounded by 30 or 40 "other guys" do not, in general, hold up over the long haul. Income disparity inevitably leads to hurt feelings, and that can only lead to selfishness.
In the NFL, that usually means a first-string player at any position screaming daily at his agent to get a new, bigger contract because he's not paid enough. Well, not paid enough compared to the teammate next to him who has twice the contract.
Granted, the big-name free agents like Nnamdi Asomugha and Santonio Holmes are no longer available, there are players who can have a big impact on teams, the 49ers included. With its current signings as well as more to come, here are five reasons why the San Francisco 49ers will win the offseason free agency sweepstakes.
Balance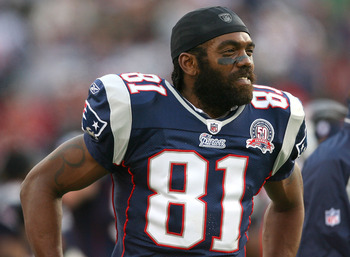 Jim Rogash/Getty Images
Consider the New England Patriots. They have signed big-name free agents Chad Ochocinco and Albert Haynesworth. But they did not sign them to big-dollar contracts. Also, consider the fact that when big-name players like Randy Moss demonstrated less-than-stellar professionalism, the Patriots quickly let Moss and others go.
Granted, Patriot quarterback Tom Brady is the highest paid player in the NFL, deservedly so. But the Patriots do a good job of holding down salaries of other players so as to pay more for those who occupy roster spots 30-55. Maintaining stability and quality at the back end of the roster does more to get you into the playoffs than a $14 million-a-year cornerback. In the same mold: Green Bay.
It is why football is the ultimate team game. A recovered fumble returned for a touchdown by a backup safety on special teams means just much as that 60-yard catch and run from the high-end free-agent receiver.
With that in mind, it's important to remember that several teams are over the salary cap. Those teams include Oakland, Pittsburgh, Detroit, Dallas and Houston. On the other hand, other teams are way under the cap, including San Francisco at a reported $30-plus million.
Cost Benefit Analysis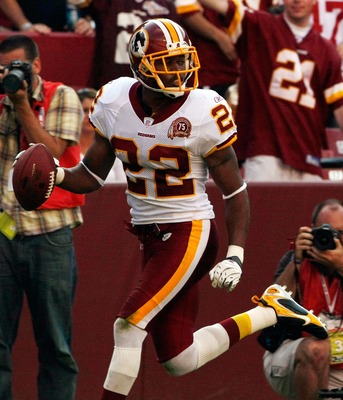 Win McNamee/Getty Images
The Niners sniffed around Asomugha and then realized the price was too steep. In turn, they signed Carlos Rogers from the Redskins. Rogers doesn't have the overall talents as Asomugha (who does?) but he is an immediate upgrade over the departed Nate Clements, and he's much cheaper than either aforementioned player.
That's called value. That's what a general manager who is looking to develop an overall deep roster does – spend well but wisely with an eye for overall balance.
Consider: Aubrayo Franklin wasn't hotly pursued in the belief that Isaac Sopoaga can do reasonably well in his place for considerably cheaper. (Although, that does mean there is less depth in the position.) That means more money for another player.
A better example is the recent signing of Johnathan Goodwin, former center of the Saints, now starting center of the 49ers. Goodwin is in his 30s, but he's also a Pro Bowl-caliber player who came at about the same cost ($10.9 million over three years) as the man he replaces, David Baas. Except Baas never came close to making the Pro Bowl.
With the Niners still having plenty of cash in the wallet, it's not about spending it but spending it wisely. So far, they seem to be getting the most bang for their buck.
2 Potential Game Breakers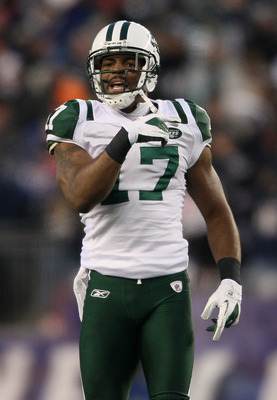 Elsa/Getty Images
As of today, the team's greatest need appears to be wide receiver. The addition of an explosive playmaker no doubt adds to the team's capabilities. And first and foremost among free agents in that domain is Braylon Edwards. It has been said he has met with 49er officials and he's also pursued by the Cardinals.
And he's also considered "overrated" by none other than Pro Football Talk and many others in the game.
Also out there available for the right deal is Malcolm Floyd of the Chargers. Unlike Edwards, who comes with big-time credentials and an ego to match, Floyd has been under the radar considering he played in the shadow of teammate Vincent Jackson, arguably the best receiver in the game.
At the same time, Floyd had Philip Rivers throwing to him. That can make any receiver look much better.
Herein lays the challenge for 49er General Manager Trent Baalke. He has the cash to sign both receivers to rich contracts, and ones certainly higher than the $1 million for one-year deals so popular. The upside is easy: big play capability, constant threat to defense, more depth at receiver, more competition among team's current receivers, and mark of a new era.
But are they worth it? Considering Edwards' legal issues of late, my read is that the Niners will push hard for Floyd and hope that Michael Crabtree comes back from his left foot injury and the development of rookie Ronald Johnson of USC to provide quality as the fourth receiver.
Last Minute Signing
Chris Gardner/Getty Images
Roster cuts to bring teams down to 53 players at the start of the regular season are still a month away. For a relatively young team like the 49ers, there's a chance that other teams may shed established starters at the cut date in hopes of re-signing them to lesser contracts.
That's where Baalke can be ready with more money. A player like Asante Samuel of the Eagles appears to be disgruntled in that Asomugha and Dominique Rodgers Cromartie could be inhabiting his position. At the same time, other teams might be wary of trading for Cromartie in view of how well Eagles coach Andy Reid and the front office seem to extract deals that are considerably one-sided in their favor.
Baalke can wait in the weeds and offer Samuel more of what he wants as well as a chance to start right away. Just like that, the Niner secondary gets an immediate, needed injection of talent improvement.
Summary: Think Long-Term
Kevork Djansezian/Getty Images
One trend that seems cemented around the NFL in terms of free agency is the one-year deal. A new player like Carlos Rogers signs, and if he proves to be a good fit there's nothing that will stop the 49ers from tearing up his contract for a longer, richer deal.
At the same time, it must be hard for Baalke to look at Braylon Edwards and think he's going to be a good fit for three or four years, which no doubt is what Edwards will expect. And that's where Baalke and new coach Jim Harbaugh have to understand the character of this team.
It's a young squad seemingly capable of big things; it's also a team that needs to improve in key areas, such as pass offense and pass defense. No doubt this season will be one of constant change—the coach learning the team and its faults for adjustments while the team adjusts to the coach.
That's where the right selection from Baalke can really help. The right addition such as Malcolm Floyd can settle a team and make it believe in itself. That would give the 49ers that inner energy to match their talent, and that can carry them to the NFC West title.
Keep Reading

San Francisco 49ers: Like this team?