NFL: Antonio Cromartie and Plaxico Burress Key to the Super Bowl for the Jets?
August 1, 2011
Al Bello/Getty Images
The New York Jets have made a few major splashes in free agency so far this offseason.  
The team re-signed WR Santonio Holmes on a five-year, $50-million deal, signed veteran WR Plaxico Burress to a one-year $3-million deal and re-signed CB Antonio Cromartie to a four-year, $32-million deal.  
The team also made smaller moves, such as re-signing kicker Nick Folk, CB Donald Strickland, safety Eric Smith and all of their draft picks.  
However, the team lost some key free agents while they were pursuing superstar CB Nnamdi Asomugha, who signed with the Eagles.  
CB Drew Coleman signed a four-year deal with the Jaguars, and versatile WR Brad Smith signed with the AFC-East-rival Bills.  
Rex Ryan once again predicted that the Jets would win the Super Bowl this season, but does his team have enough talent to make a legit Super Bowl run?
The Jets were forced to choose between WRs Santonio Holmes and Braylon Edwards, both of whom commanded No. 1 receiver money.  
The Jets went with Holmes, then signed Burress, signaling the end of Edwards' stay in New York.  
Burress spent the last 21 months in prison, but players around him have said he's in the best shape of his life.  
It was a gamble on the Jets' part signing a player who hasn't played a game of football in over two seasons, but he is 6'5" and a big target for QB Mark Sanchez to throw at.  
Burress, Holmes and the newly signed Derrick Mason, along with TE Dustin Keller, provide Sanchez with an excellent receiving corps to throw to. The Jets also sport a stellar running game with Ladanian Tomlinson, Shonn Greene and Joe McKnight.  
Antonio Cromartie was third on the Jets priority list this offseason, behind WR Santonio Holmes and CB Nnamdi Asomugha.  
He recently chose to re-sign with the Jets for the next four seasons, enabling the Jets to keep their tandem of CBs.  
Cromartie played well opposite of Pro Bowl CB Darrelle Revis last season and was an excellent replacement for him when he went down with a hamstring injury that sidelined him for two games.
Cromartie has excellent athletic ability and is great in bump-and-run, man-to-man coverage.  He is a great No. 2 CB for the Jets, whose defensive playbook includes a ton of man-to-man coverage and blitz packages.  
Essentially, the Jets re-signed most of their major contributors and swapped Edwards for Burress.  
But is that enough for the Jets to win the Super Bowl?
The Green Bay Packers are the defending champions and are coming back stronger than ever with 16 players returning from IR.  With their core still in place and Aaron Rodgers playing like a superstar, they will be one of the leading Super Bowl contenders throughout the season.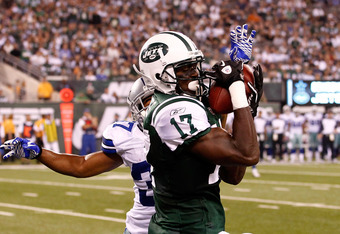 Jeff Zelevansky/Getty Images
The Eagles are considered the front runners for the Super Bowl, with their mega signings of Asomugha, DE Jason Babin and DT Cullen Jenkins as well as acquiring CB Dominique Rodgers-Cromartie from the Cardinals in exchange for QB Kevin Kolb.  
The team also has CB Asante Samuel on the roster, giving them the best CB rotation in the NFL. The Jets play them in Week 15, which could very well be a Super Bowl preview.  
The Patriots are the kings of the division, but the Jets have shown that they can beat them when it matters most.  
The Pats made two bold moves this offseason: trading for troubled DT Albert Haynsworth from the Redskins and entertaining WR Chad Ochocinco from the Bengals.  
These are considered excellent moves by the Patriots, because they have low-risk, high-reward potential. If they can behave themselves next season, they could really improve the team on both offense and defense.
Those two teams are the Jets biggest threats to reaching the Super Bowl, and it will be interesting to see how the Jets match up their offense and defense to them.  
The Jets really want to win their division so they can have home playoff games, but in order to do that, they must beat out the Patriots—which is no easy feat.  
However, they have shown that they can contain Brady and the Pats' potent passing game, and if they can continue to do that, they just might steal the division crown next season.
Should Burress come back strong and Cromartie excel opposite of Revis, the Jets could be Super Bowl bound.