2011 NFL Free Agency: 7 Players the New York Giants Must Still Target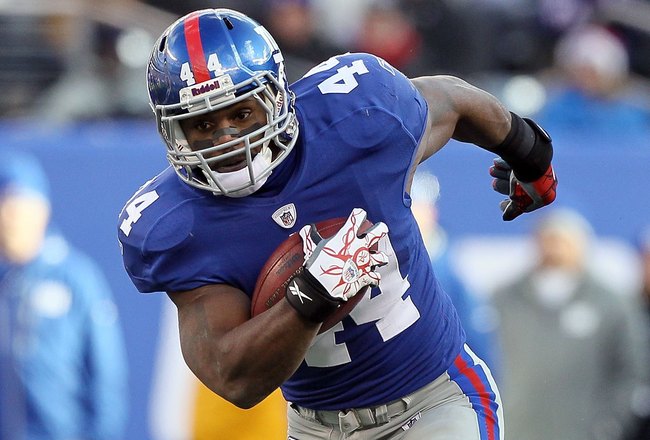 Jim McIsaac/Getty Images
NFL Free Agency has been a fanatic frenzy of moves taking place over the past six days, and no one seemed to help themselves more with the signing of undrafted free agents than the New York Giants.
Unfortunately, that's where the good news stopped.
While the Giants were able to bring back Mathias Kiwanuka and signed David Baas from the 49ers to replace Shaun O'Hara, they still have been unable to make a splash with any other moves.
Meanwhile the Philadlephia Eagles are putting together a Super Bowl contender, and the Redskins have made some underrated moves, including stealing Barry Cofield away from the Giants.
If the Giants hope to contend for the division, the next few days had better be productive, and it starts with re-signing their own players.
There are a couple of names out there that the Giants could go after, but it seems like they will be pretty much standing pat when it comes to the high profile guys.
Many fans were disappointed to hear that Plaxico Burress signed with their cross town rivals, the Jets, but at least he didn't find his way to Philadelphia like everyone thought.
This article is a list of a couple of guys they absolutely have to re-sign, and some others that would put the icing on the cake.
Kevin Boss, TE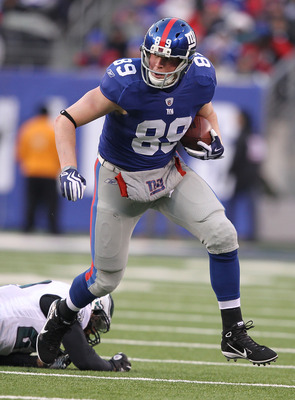 Al Bello/Getty Images
The New York Giants have offers out to all of their key free agents, and that list includes tight end Kevin Boss.
While Boss is not the most spectacular tight end in the league, he's definitely a key piece to the Giants offense and would be devastating if he doesn't return to the team.
Unless.
Zach Miller, TE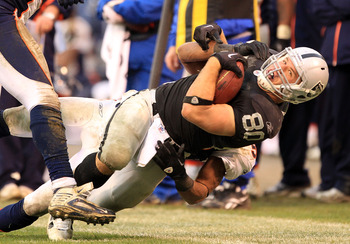 Ezra Shaw/Getty Images
If the Giants sign Zach Miller, Boss would pretty much become an after thought. The longer this free agency period draws on, the cheaper Miller becomes.
Most people expect Miller to return to the Raiders, simply because there have been no teams showing interest. I take that with a grain of salt—no one reported the Eagles were interested in Asomugha, and look how that turned out.
I imagine the Giants have not shown interest because they are waiting for their own players to respond to offers. If Boss doesn't like his offer, Miller becomes a real possibility.
You may be wondering why the Giants didn't offer Miller a contract first, but it seems as if they are attempting to keep as many players from last year as possible without bringing in too many new players.
With how long the lockout dragged on, these teams adding all these new players could get behind the curve.
Rocky McIntosh, OLB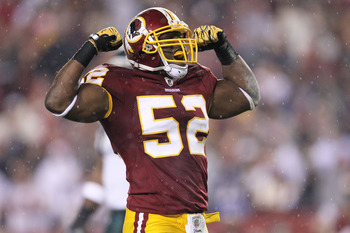 Chris McGrath/Getty Images
The Giants have not signed a linebacker in free agency like many thought they would. Fan favorites Paul Posluzsny and Stephen Tulluch signed deals else where, and Giants free agent Kieth Bulluck has apparently not received an offer from the team.
If they end up not being able to find common ground with Osi Umenyiora, there is no way Mathias Kiwanuka makes the move to linebacker.
One solution could be in the same division. Rocky McIntosh has played well with the Redskins, but they seemingly tried to fit a square peg in a round hole by starting him in a 3-4 in the middle.
Most believe he's better fit for a 4-3 outside spot, and that's exactly what the Giants need. With Tulluch signing a 1 year deal worth only $3.25 million and Barret Ruud only getting $4 million per year, I have to believe the Giants can bring in McIntosh at an incredibly low price.
What I've heard about McIntosh is that he's a terrific teammate and very hard worker. He would fit in well with this defense.
Kawika Mitchell, OLB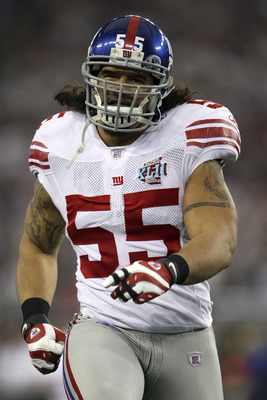 Andy Lyons/Getty Images
I recently asked Kawika Mitchell—the former Giant and 11 year veteran—on Twitter if he would be interested in a return to the Giants, to which he replied with an emphatic "Yes!"
While he is definitely not the most talented or the guy with the most upside, he is a cheap, short term solution for the Giants should they need to bring in someone quick.
Mitchell played with the Giants in 2007 and was a key player in one of the greatest defensive performances in Super Bowl history when the Giants held the 18-0 Patriots to just 14 points (they set the record for total points in a season).
He also has experience in Perry Fewell's system. Fewell was the defensive coordinator for the Bills from 2006-2009, and after that Super Bowl year Mitchell spent two seasons with the Bills.
He had one of his best years under Fewell in 2008 with 82 tackles, four sacks, two interceptions, and two forced fumbles.
However, injuries ended his 2009 season early and he only appeared in one game for the Saints in 2010 after the Bills cut him.
It's unclear whether he has anything left in the tank, but what could it hurt to bring him to camp and give him a shot?
Kirk Morrison, LB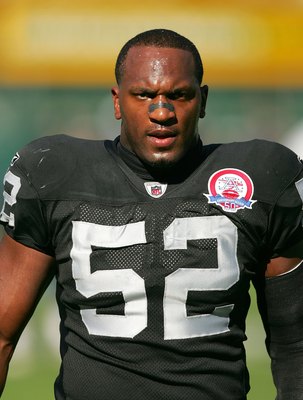 Ezra Shaw/Getty Images
Kirk Morrison signed a deal with the Jacksonville Jaguars, but his year with them was disappointing and the Jaguars have moved on by signing Paul Posluzsny and Clint Session in free agency.
He is not under contract and could be a very cheap solution to the hole at strong outside linebacker. Though he played the middle with Jacksonville last year, he has the type of versatility to play any linebacker position.
Though he underachieved in 2010, I am confident that Perry Fewell could get the most out of him, though I'd rather have McIntosh.
Steve Smith, WR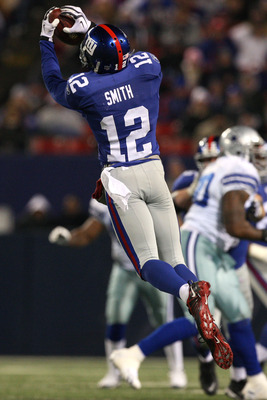 Jim McIsaac/Getty Images
It seems fitting that I have a picture of Smith making a catch against the Cowboys considering he's been a Cowboy killer the past two seasons.
His absence in the second game of 2010 was easily recognizable.
Smith got his offer from the Giants on Friday, so I cannot figure out why he hasn't signed yet. I imagine he is being smart and weighing his options; free agents cannot practice until August 4th anyways because of some idiotic NFL language in the new CBA.
While there is no rush at the moment for Smith, fans are eager to see him come back, and Eli Manning has admitted he needs him back.
Ahmad Bradshaw, RB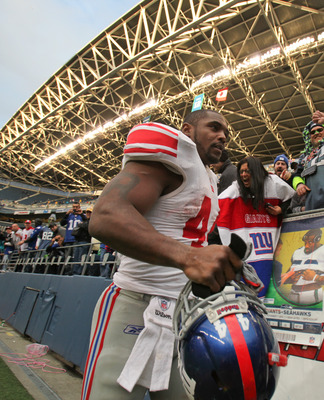 Otto Greule Jr/Getty Images
I have been absolutely surprised to see Bradshaw wait this long to sign with the Giants. He was those who received an offer on Friday, and given how much he says he wants to come back, you would think it would have happened by now.
It appears he cares more about money than he let on.
The Dolphins and Redskins reportedly made offers for Bradshaw, but have since traded for other running backs and apparently backed out of a potential deal.
ESPN's John Clayton reported on Twitter that Bradshaw has a meeting scheduled with Cincinnati, but when they re-signed Cedric Benson I imagine that went out the window.
So all possible suitors for Bradshaw have gone away, but the Giants still apparently are preparing in case Bradshaw does not return.
Multiple reports have surfaced that mention the Giants interested in Falcons free agent RB Jason Snelling. The 5'11'', 235 lbs. RB said a deal is absolutely possible, but nothing is finalized yet as the Giants wait on Bradshaw.
I'll be the first to tell you they need him back, especially since they seemingly got rid of some very talented players (Shaun O'Hara, Rich Seubert, Shawn Andrews) in an effort to make room for him.
Brandon Jacobs won't be happy if Bradshaw leaves either—he took a pay cut so the Giants could bring back his teammate and good friend.
Needless to say there is a lot riding on Bradshaw coming back, so the Giants better be doing everything they can to bring him back.
Keep Reading

New York Giants: Like this team?