Kansas City Chiefs: Todd Haley Must Have a Drama-Free Football Team in 2011
July 31, 2011
Justin Edmonds/Getty Images
What was your first impression of Todd Haley when he was hired as the new head coach of the Kansas City Chiefs?

Many football fans in Kansas City thought of the footage that was played by many media outlets where Haley got into a shouting match with Anquan Boldin. To many people, Haley came off as a bad guy.

Since taking over as the head coach, it seems as if Haley has a hard time staying away from drama.

2009
-February: Waters flew to Kansas City to meet Haley. Reports came out that Haley told Waters that "22 players off the street could win two games," in reference to the two-win season the Chiefs put together in 2008. Waters was upset with Haley's statement and many believe he didn't attend the voluntary OTAs because of Haley's comment.
-Early August: In his first training camp as a head coach, Haley surprised many fans as he placed Derrick Johnson and Dwayne Bowe as backups throughout the preseason. Johnson and Bowe were known as players who were in Haley's "doghouse."

-Late August: Chan Gailey was relieved of his duties as the offensive coordinator for the Chiefs before the regular season kicked off. Despite carrying a lot of responsibilities as a rookie head coach, Haley said he'd take over as the offensive coordinator.

-Mid-October: The start of Haley's head coaching career did not go well as the Chiefs started the season 0-5. Although it was his first year as a head coach and considering the fact that he was taking over a team that won six games in the past two seasons, many still questioned Haley's coaching ability.

-Late October: After picking up the first win of the season against Washington, the Chiefs get blown out by San Diego before the bye week. During the evening of the loss, Larry Johnson went on Twitter and fired at Haley with some comments of his own.

Tweet 1: "My father got more credentials than most of these pro coaches."

Tweet 2: "My father played for the coach from "remember the titans". Our coach played golf. My father played for the redskins briefley. Our coach. Nuthn."

Johnson also sent harsh messages to fans who replied to him.

Johnson's aggressive act on Twitter got him suspended by the team and he eventually got released.

-Dec. 20: The Chiefs and Browns prepared to play a blacked-out game at Arrowhead Stadium on "Fan Appreciation Day" as the Chiefs played the final home game of the season.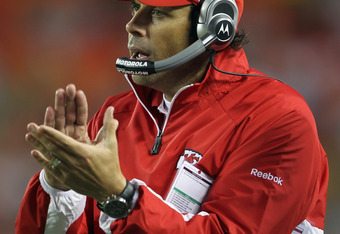 Jamie Squire/Getty Images
Following the game, a fan, who claimed to be a long-time season ticket holder, went out of his way to try to get Haley fired. According to the fan, he leaned over the rail when Haley was heading for the locker room and told him he deserved to be fired. The fan went on to say that Haley looked at him and give him the middle finger for that comment.
The fan emailed KSHB-TV sports director Jack Harry the details and also posted the details on a message board dedicated to the Chiefs.

2010

-Nov. 14: Following a 49-29 loss to the Broncos, Haley and Josh McDaniels met at midfield. McDaniels offered his hand in respect, but Haley denied it.
Throughout the week, Haley was criticized for showing poor sportsmanship by denying McDaniels' handshake and wagging his finger to him. Haley wouldn't provide a reason for his actions.

One month later, the Chiefs defeated the Broncos 10-6 and Haley ended the controversy by giving McDaniels a hug.

-Late December / Early January: With the regular season coming to an end, there were a lot of unconfirmed sources that Charlie Weis accepted a job as the offensive coordinator at the University of Florida. Haley confirmed these rumors were true in a press conference following a 31-10 loss to Oakland.

One week later, the Chiefs hosted the Baltimore Ravens for a post-season match. According to 610 Sports Radio's Bob Fescoe, Weis told an employee at a restaurant that Haley stripped Weis from his play-calling duties at halftime.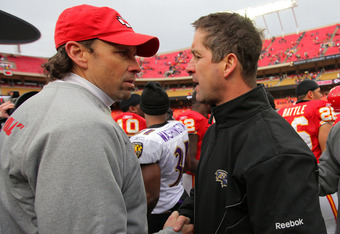 Doug Pensinger/Getty Images
Although Weis says he wants to be with his son in Florida, many believe Weis won't admit that he disliked working with Haley.

Although there was less controversy during the 2010 season, Haley ran into two big issues.
Haley has had a lot of dark moments in his two years as a coach. He was called out by one of his players, he was criticized of giving a fan the middle finger and he was unsuccessful in keeping one of the best offensive coordinators in the game for more than a year.

Despite helping the Chiefs put together the best turnaround in franchise history, he has never been able to avoid the drama.

As Haley begins his third year as a head coach, he knows that the Chiefs need to be a drama-free football team. The Chiefs have bigger things to worry about.
They have an AFC West title to defend, as the Chargers are expected to bounce back while the Raiders could surprise some people now that they have Al Saunders as their offensive coordinator.

Haley is halfway through his four-year contract that he signed with the Chiefs. If he can bring the Chiefs back to the postseason for the second consecutive season with this hectic schedule, fans will put all of the controversial moments behind them and believe in Haley's coaching ability.
Haley will need to focus this season and help this team accomplish their mission in winning another division and end the drought of postseason losses.