Texas Rangers Trade Rumors: 8 Difference Makers They'll Eye at Deadline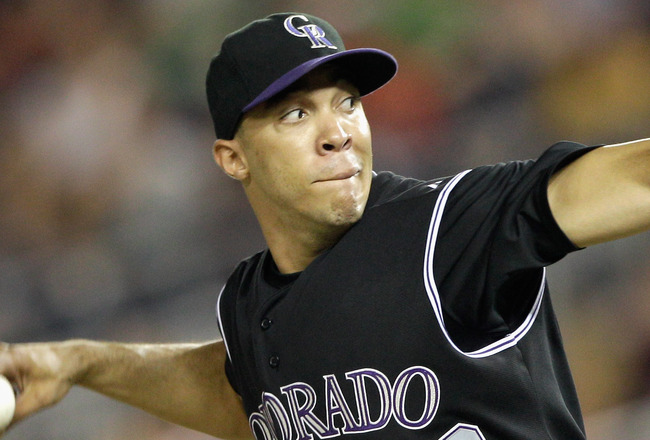 Put him in a Rangers uniform, and watch his uniform sales explode (like his fastball) in Texas.
Rob Carr/Getty Images
Nothing like a winning streak—the major league's longest this year—immediately followed by a losing streak to put things in perspective. Ask the Texas Rangers and they'll tell you the same.
Obviously, while in the throes of a 12-game winning streak, you're team is perfect and has no flaws. But then you blow a five-run lead—losing the game and snapping the streak—and there are more than a few glaring weaknesses that rear their ugly head.
Derek Holland: were his back-to-back complete game shutouts a hint towards sustainable consistency? Or were his gems just fool's gold—thrown against two extremely poor hitting teams in the A's and M's? This raises a question about his fifth spot in the rotation. And Tommy Hunter—who relieved Holland—didn't do much aside from give the Angels the lead for good.
Hunter's struggles are especially alarming since most point to him as Holland's replacement in the rotation should he continue to falter.
In yesterday's loss to the Angels, the Rangers offense looked particularly anemic. Granted, Jered Weaver pitched outstanding—but why couldn't the Rangers do anything with runners on? Especially when they had the bases loaded at one point?
As Ron Washington would say: "That's the way baseball go."
In the grand game of baseball, you could win your first 161 games, lose the last of the season and speculation would run rampant on how to improve the team for the playoffs...that being said, what do the Rangers need to insure not only a playoff birth, but postseason success?
Here's a look at seven players—all difference makers—that could fortify the Rangers for another deep postseason run.
Difference Maker No. 8: Brandon League—Seattle Mariners, Closer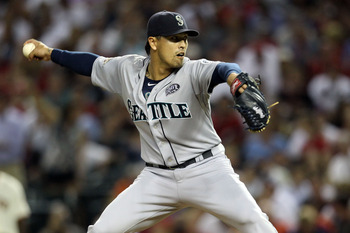 Brandon League would be an excellent addition to the Rangers bullpen.
Christian Petersen/Getty Images
When David Aardsma went down for the season, Brandon League became the closer for the Seattle Mariners. League has been just fine in that role. He has 23 saves and has surrendered just one home run in thirty-seven-and-two-thirds innings pitched.
League is currently in a one-year deal with the Mariner's for $2.25 million. He certainly wouldn't cost too much for the Rangers to reel-in. Perhaps, a David Murphy plus a second-tier starting pitcher from the lower levels of the farm system.
League is tailor-made for a setup role in the eighth inning. What makes him stand out above and beyond other relievers currently being shopped is that he is a proven closer—should Neftali Feliz falter, they'd have a built-in replacement.
TRADE LIKELIHOOD: According to MLBtraderumors.com, Ken Rosenthal stated that the Mariners were open to considering trades for any of their players—any not named Dustin Ackley, Felix Hernandez or Michael Pineda, that is. That means for the right players, League will be moved.
WORTH NOTING: The Texas Rangers (as well as the Mariners) would probably only make a deal as a last resort—no one wants to improve a team that plays in their own division. Plus, until two weeks ago, the Mariners were in the hunt, and a player from the Rangers could put them over the top and back in contention.
Difference Maker No. 7: Doug Fister—Seattle Mariners, SP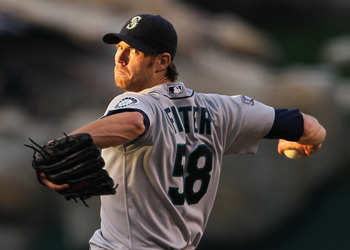 Long and lean Doug Fister would be an excellent addition to the Rangers' rotation.
Jeff Gross/Getty Images
Much like teammate Brandon League (previous slide), Doug Fister is playing-out a one-year deal with the Mariners—and becomes an eligible free agent in 2013. Fister is making considerably less than League, as his 2011 salary is bargain-basement at $437K.
He'll be due a big raise, as the 6'8" right-hander is having a fine season, albeit with a terrible team. A glance at his won-loss record yields somewhat pedestrian numbers: Fister is 3-11. His peripherals suggest an excellent pitcher on a team that scores nary a run. His ERA is a solid 3.18, and he has 80 strikeouts to just 28 walks.
Fister would be a key replacement in the Rangers rotation, as he allows the long-ball just 0.4 times per nine innings pitched. Obviously, that's all-important in the homer-happy confines of Arlington Stadium.
It's not secret in baseball that the Seattle Mariners have excellent pitching—and dreadful hitting. Their needs offensively are vast, and they would improve greatly with the addition of a slugger such as David Murphy or Chris Davis.
Davis is a natural first baseman but is also a fine third baseman. Thus, the much-less athletic Justin Smoak could stay at first while Davis replaces the barely visible Chone Figgins at third base. As a bonus, Davis has been playing some outfield in Triple-A as well.
TRADE LIKELIHOOD/WORTH NOTING: See previous slide—all Mariners aside from the aforementioned three are open game for potential suitors.
Difference Maker No. 6: Carlos Beltran—NY Mets, CF/RF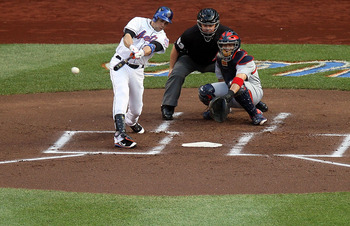 Carlos Beltran—future Ranger? I doubt it.
Jim McIsaac/Getty Images
Carlos Beltran has been one of the names most frequently mentioned during the 2011 trade talks. He's not ranked sixth here because I think he's not a "difference maker"—he most assuredly is.
I just don't think it's very likely he'll be traded to the Rangers. And to be honest, I think if the Rangers were to trade for Beltran's services it would be quite stupid.
Why?
Carlos Beltran is an exemplary parallel to the 2011 NY Mets: They're both having a good, but not great year—and they're both definitely not living up to their hype.
He's an often-injured, highly-paid outfielder who is 34 years old.
If the Rangers have plenty of anything, it's outfielders. The Texas Rangers already have the "poor man's" Beltran in Julio Borbon—and at least he's only 25.
The Texas Rangers should stay far, far away from Carlos Beltran.
TRADE LIKELIHOOD: Very likely. Heck, he could be the next big name gone—maybe tomorrow. Here's hoping he won't be in Arlington.
Difference Maker No. 5: Bruce Chen—Kansas City Royals, SP.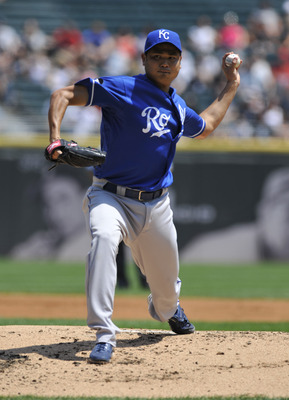 Bruce, leading with his "Chen".
David Banks/Getty Images
Bruce Chen is a salty veteran left-hander. He's bounced around all over the place in his career—10 different teams have called Chen their own at some point.
For whatever reason, Chen has found his niche in Kansas City. He's having another fine season there this year—he's 5-3 with a 3.30 ERA.
Chen is also on a one-year deal with KC, for $2 million. The Royals are a solid team full of youngsters, so in all likelihood, they'd want some youth in return. The stacked KC farm system is being depleted due to recent call-ups, so a couple of low-level pitching pieces would surely suffice to bring Chen (headfirst) to Texas.
Chen would most likely be seen as a bullpen addition for the Rangers. Another lefty for the bullpen is certainly something that the Texas Rangers could use down the stretch.
TRADE LIKELIHOOD: Brother, every time I refresh my browser, the Royals are sinking further out of the AL Central race. On a team stocked with ML-ready talent, Bruce Chen might be the only name available on the Royals.
WORTH NOTING: Chen's music (ahem) has been heard down in Texas before—he had a brief, injury-marred stint with the Rangers back in 2007.
Differnce Maker No. 4: Chad Billingsley—Dodgers, SP.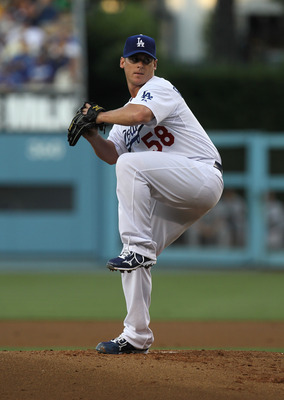 Billingsley would most likely be a no.2 or 3 in the Rangers rotation.
Stephen Dunn/Getty Images
The Los Angeles Dodgers are currently thirteen-and-half games out of the NL West race. Granted, there's over 60 games left, but it's unlikely the Dodgers will scratch back into any semblance of a stretch-run race.
Much more well-known than the Dodgers' struggles is the fact that they are bankrupt. Billingsley will earn $6.28 million this year and is owed $35 million on a three-year deal that runs trough 2014.
Billingley's contract won't break the bank, but if the Dodgers don't deal him, it may bounce a few checks.
Bilingsley would most likely slide into the No. 2 spot in the Rangers' rotation should he come to Texas. His insertion into the rotation would move Derek Holland to the bullpen—perhaps where he belongs.
The downside, of course, is what the asking price would be for Billingsley. He would most assuredly require one of the two "Killer P's"—Jurickson Profar or Martin Perez. That might make this trade dissolve before the notion is even broached.
The Rangers might consider moving Jurickson Profar to seal the deal on this one. Elvis Andrus is going to hold down short stop for quite sometime, and there are other good infield prospects in the Rangers' system. Billingsley is young (he'll be 27 in a week), a proven winner (67-49 in his career) and the club could either renegotiate his contract or stick with it—either way, they'd have control of him for three years.
And should the Rangers fail to re-sign C.J. Wilson at the end of this season (heaven forbid), Billingsley could be the built-in replacement ace.
TRADE LIKELIHOOD: If you were broke, dead-last and had a chance to move one of your higher-priced players, what would you do?
Difference Maker No. 3: Matt Garza—Chicago Cubs, SP.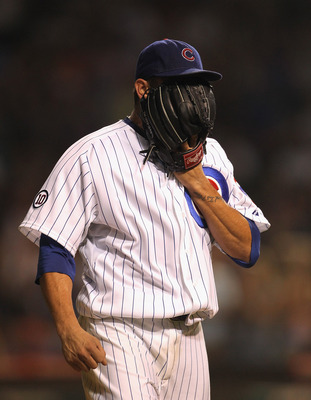 Garza's glove wonders why he's always cussing the s%@t out of it.
Jonathan Daniel/Getty Images
If Matt Garza was a member of the Texas Rangers, he wouldn't be too embarrassed to show his face.
The Rangers expressed interest in acquiring Garza as a free agent last offseason but were too enamored with Cliff Lee to pull the trigger on time. Well, when you're expecting a fillet mignon, and someone offers you a sirloin burger, well, you get the idea.
Matt Garza is an excellent pitcher. He's having a great year with the Cubs, who are, let's face it, a bad team. Currently, he's playing out a one-year deal that pays him $5.9 million.
Garza will want a multi-year deal most assuredly after this season—no matter where he finishes it out.
Garza is a rock-solid No. 2 starter. Only 27 years old, he could easily blossom into an ace—especially if he can limit the amount of homers he surrenders.
Garza would—in terms of prospects—most likely break the bank. However, signing a young, power-arm (he already has a no-hitter on his resume) is rarely a bad idea, especially one as proven as Garza.
TRADE LIKELIHOOD: If the Cubs put him on the market, someone will most assuredly grab him. I certainly hope the Texas Rangers are the ones that do.
Difference Maker No. 2: Heath Bell—San Diego Padres, Closer.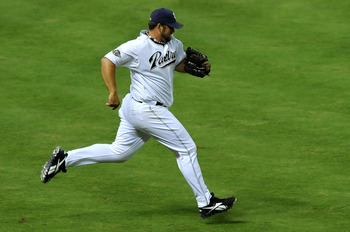 Big man. Run fast.
Norm Hall/Getty Images
Yes, I realize that if the Rangers acquire Heath Bell, they're going to have to invest in some sturdier bullpen chairs to support the likes of him and Tommy Hunter. And yes, I understand that the bullpen snack bar would be big enough to bankrupt the Golden Corral, but still—Heath Bell would look excellent in a 5XL Rangers' uniform.
Truth be told, aside from what it might cost the Rangers in prospects, the only negative I see in the potential addition of Heath Bell, is whether or not Neftali Feliz could handle a possible demotion to eighth inning set-up man.
TRADE LIKELIHOOD: Heath Bell's name has been shopped around more than baked beans during an episode of "Extreme Couponing." He's going to land somewhere else, but who knows where?
Difference Maker No. 1: Jeremy Guthrie—Baltimore Orioles, SP.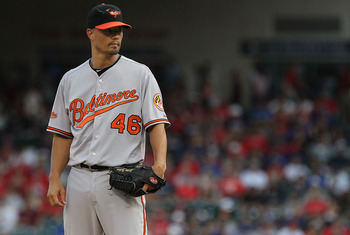 Guthrie's good. He deserves to play for a winner.
Ronald Martinez/Getty Images
Another name that has popped up recently on mlbtraderumors.com, is Jeremy Guthrie. If any player in this article screams of a player that needs a change of scenery, it's Guthrie.
Simply put, he's a good pitcher on a very poor team. Guthrie is currently on a one-year deal that will pay him $5.75 million. This is a very reasonable sum of money for a talented right-hander.
The Rangers would immediately have either a No. or No. 3 starter, which would help the bullpen by adding Derek Holland to it.
I feel that a deal could be worked out without bleeding the Rangers' farm system dry and possibly without parting with one of the two "Killer P's."
TRADE LIKELIHOOD: Guthrie is going to go somewhere. It'll just boil down to which team puts together the package that most appeals to the Orioles.
Difference Maker Bonus: Prince Fielder—Milwaukee Brewers, First Base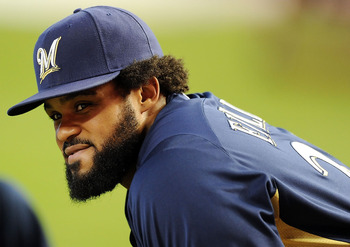 Sure. It could happen. Maybe.
Norm Hall/Getty Images
It's all speculation anyways, so why not? Fielder was a name that popped up last year right around the deadline when the Rangers were looking for some consistency from their first baseman.
Then they got Jorge Cantu. Cantu proved he "could not." Mitch Moreland emerged—and let's face it, were it not for Moreland, the Rangers most likely would have been swept in the World Series.
Mitch Moreland is quite versatile. He can also play a quality right field. We all know Prince Fielder can't do that. But man, can the "Crown Prince of Dong" hit.
This is one of those trades that would be ridiculous in terms of prospects. It also hinges on the belief that the Rangers are just fine in terms of pitching—both in starters and relievers—I'm not so sure I buy into that notion.
One thing I know for certain, however, is that the addition of Prince Fielder to the Texas Rangers would instill even more horror into the opposition's pitchers. It would take the Rangers' offense from intimidating to annihilating.
C.J. Wilson most likely won't lose a game where he two-hits the Angels and surrenders no earned runs, with Prince in the lineup.
TRADE LIKELIHOOD: With the Brewers in the thick of a possible NL Central title, this probably isn't going to happen for the Rangers or anyone else.
Difference Maker Bonus: Ubaldo Jimenez—Colorado Rockies, SP.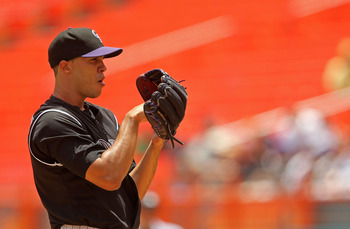 It'd hotter for ya here, Ubaldo, but we'd throw ya some cool cash, for sure.
Mike Ehrmann/Getty Images
Ubaldo Jimenez. This is a name that has been popping-up regularly, and according to mlbtraderumors.com, the Texas Rangers are in the mix for the hard-throwing right-hander.
Sure, everyone knows that Jimenez has lost two or three miles-per-hour on his fastball from last season to this year.
You know what, that might be a problem for guys that threw 91 MPH and are now down to 88. But when your fastball hits 100 MPH and drops to 97. Yeah, that's no big deal.
This is a trade that will take everything imaginable. A laughably ludicrous trade in the heir of the Mark Teixeira deal of 2007—in other words, someone might get irreparably harmed.
That's a risk you always take when you put all your chips on the table. Who knows? The Rangers might be getting a pitcher that'll win the next couple of Cy Young Awards. Or they could be getting the next Francisco Liriano.
You just never know what will happen to a pitcher—especially one that has mysteriously lost some velocity.
TRADE LIKELIHOOD: Jimenez will very likely be traded—I feel that when the heat of the trade is on, and the names needed to make it happen are spoken, the Rangers will say "no go."
For More Texas Rangers and MLB Trade Talk: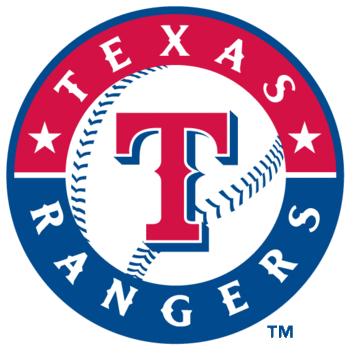 Keep Reading

Texas Rangers: Like this team?