MLB Prospects: 3 Key Minor Leaguers in the Texas Rangers' Organization
June 24, 2011
Christian Petersen/Getty Images
As far as  Texas Rangers prospects are concerned, few farm hands get more local or national attention than Martin Perez and Jurickson Profar.
The high praise for these two youngsters is well deserved.
Profar was ranked as Baseball America's second-best Rangers' prospect with Perez earning the top-seeded nod.
Both are living up to the hype.  
Martin Perez—a 20-year-old Venezuelan—is having his best year in AA Frisco to date.  He's a left-hander that has consistently been compared to Johann Santana. And that is a good thing; that plus his fastball consistently registers at 97 MPH.
He initially debuted in Frisco in 2009 when he was just 18.  He's steadily improved every season and through 14 starts this year he's 4-1 with a 3.30 ERA—with 73 strikeouts over just 76.1 innings pitched.
Jurickson Profar, a short stop, is excelling in his first year at High-A Hickory, batting .268 and flashing some pop, with six home runs in 208 at- bats.  And Profar, born in Willemstad, Curacao, is doing it all at just 18 years of age.
Now Profar may not hit like a Josh Hamilton or a Nelson Cruz, but his natural soft-handedness in the field will keep him on a big league roster. And he'll hit at least as well as a Christian Guzman type.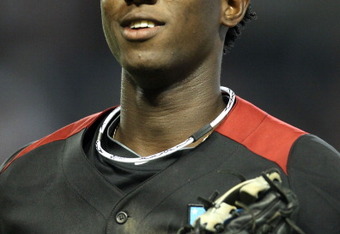 Christian Petersen/Getty Images
For more on the Texas Rangers, including the latest in MLB Trade Speculations, click here to check out Timothy's latest articles.
Both Perez and Profar have bright futures with the Rangers. Some think that Perez could make an Alexi Ogando-type impact in the beleaguered Rangers bullpen right now.  Profar, who as a short stop is well behind Elvis Andrus (his idol) on the depth charts, could crack the big league roster as a second baseman as soon as 2014.
However,one key prospect who is closest to making an impact with the Rangers is a right-hander currently creating quite a buzz for the  Triple-A Round Rock Express.
The Rangers drafted Neil Ramirez in 2007 as a supplemental first-round pick, 44th overall.  Ramirez was given a $1 million signing bonus which persuaded him to turn pro instead of attend Georgia Tech University. He chose wisely and was ranked by Baseball America as the 27th best Rangers' prospect coming into the 2011 season.
The Rangers made quite a splash in the supplemental round in 2007 as Julio Borbon (35th  pick) and Tommy Hunter (54th pick)—as well Ramirez—were all selected at that time. Tommy Hunter, though drafted the lowest of the three, was the first '07 draftee to see action in the big leagues, making his debut in '08.
With Chris Davis (also at Triple-A Round Rock) getting some starts in left field and Endy Chavez platooning with Craig Gentry in centerfield for the parent club, it appears that Ramirez is more likely for promotion to the Rangers this season than Borbon.
Neil Ramirez has certainly earned that right. 
Ramirez started the 2011 season in High-A Myrtle Beach but was given just one start, a dominating effort that saw Ramirez strike out 10 in just 4.2  innings pitched.
He surrendered one walk, and one hit, and the Rangers had seen enough. They promoted him straight to the highest minor league level, Triple-A Round Rock.
Under normal circumstances you'd expect a bit of a learning curve especially for a young pitcher—Ramirez is 22—that has leaped from the lowest full-season level of the minors to the precipice of a Major League debut.
Ramirez, whose 3.65 ERA is the lowest on the team for starting pitchers, has had a more-than-smooth transition. 
Rough outings here and there are going to happen, and Ramirez has the stuff to keep the rough outings to a minimum.
Ramirez's fastball sits at the 92-94 MPH range, and he can occasionally touch 95 on.  He has a 1-to-7 breaking curveball that rates as a plus-plus big league pitch. 
His curveball tends to flatten-out at times, which may be due to a slight tweak in his mechanics he underwent during the 2009 season.
Ramirez can struggle with control on occasion, and this has led to some issues with walks.
His tendency to walk batters may be due to his aforementioned reworked mechanics.  When he debuted in the system, he was a "short-armer" (think Alexi Ogando), since then coaches have taught him to lengthen his arm action. 
He can still be inconsistent with his motion at times, as he has problems repeating his delivery.  Once he masters his delivery—and he's getting close—his walk rate is sure to diminish.
Ramirez's future should be as a starter, but he'll have to master a third pitch if he wants sustainable success on the major league level.
As a middle-reliever, however, his fastball (which could touch 95-plus in shorter outings) and swing-and-miss curveball are plenty to help out the Rangers in a relief role as we speak.
Neil Ramirez is a key prospect in the Rangers organization that few have heard of, but will most likely be a in a position to help out the Rangers before some of the "big-name" prospects do.