2011 MLB All-Star Game: Josh Hamilton and Michael Young Fuel Texas Rangers
Hamilton's the man.
Jamie Squire/Getty Images
No. 5: Josh Hamilton Goes Absolutely Nuts During 2008 HR Derby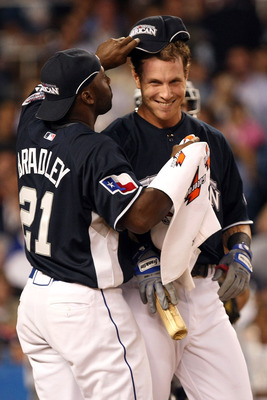 You know you've done something big when Milton Bradley is engaged in lighthearted fun.
Nick Laham/Getty Images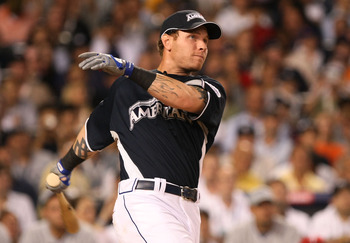 Nick Laham/Getty Images
No. 4: Julio Franco Drives in the AL's Only Runs and Earns All-Star MVP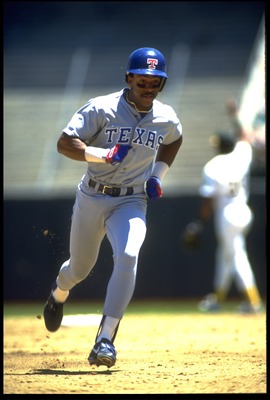 Julio Franco, 1990. He may or may not have already been 50 years-old that season.
Otto Greule Jr/Getty Images
No. 3: Alfonso Soriano Knocks in 3 for MVP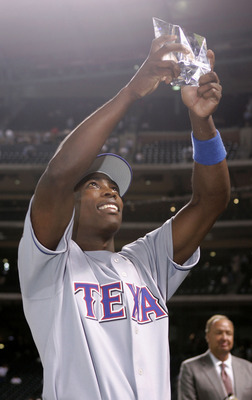 Alfonso Soriano raises the All-Star MVP award, the second by a Ranger, high in front of former Rangers owner Tom Hicks.
Brian Bahr/Getty Images
No. 2 Hank Blalock Beats the Untouchable Eric Gagne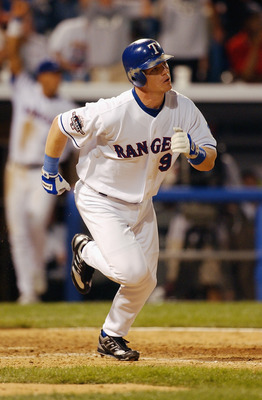 Blalock watches his go-ahead home run leave the park in 2003's MLB All-Star Game.
Jonathan Daniel/Getty Images
No. 1: Michael Young Brings Home the Rangers' Third All-Star MVP Trophy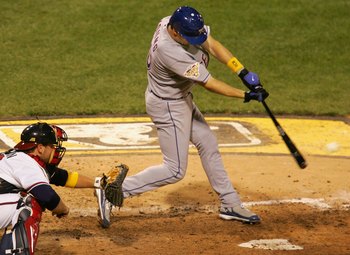 Michael Young connects on what would prove to be the game-winning triple.
Jamie Squire/Getty Images
It's hard to top Hank Blalock's All-Star blast for shear exuberance.
When it comes to Michael Young however, he simply can't be denied the top spot on this list.
He's been a member of the Texas Rangers for his entire career—2000 all the way to 2011, and hopefully, counting.
Young's made six All-Star appearances, earned a Gold Glove, and even a batting title in 2005. He's also shown a selflessness that is rarely seen in professional sports in this era of self-absorption.
Young has seamlessly made the transition from second base to shortstop; from shortstop to third base—and from third base to DH/first base.
Wow.
Sure, he'll routinely ask for a trade during Spring Training. However, as soon as the Cactus League closes, he shuts up and just flat-out rakes.
All that considered, in the 2006 All-Star Game he did something that was truly special.
Top of the ninth inning, two outs, and in the hole with an 0-2 count, Young ripped a two-run triple off of Trevor Hoffman (yet another excellent closer, see the previous slide) to give the American League a 3-2 lead.
The lead was safe in the hands of Mariano Rivera as the AL All-Stars won the Midsummer Classic for the tenth consecutive time (excluding the '02 tie).
And the AL All-Stars, once again, had a member of the Texas Rangers to thank for the victory.
So that's it, that's my list of Top 5 Texas Rangers' moments at the Midsummer Classic. I welcome your own renditions and comments. And as always, thanks for reading.
Keep Reading

Texas Rangers: Like this team?