NFL Running Back Committee Rankings: Who Has the Best Stable Heading into 2011
July 17, 2011
Jamie Squire/Getty Images
In the ever evolving game of football, teams are constantly changing their systems to try and gain an advantage against their opponents in the National Football League. One of the latest trends across the league has been the use of multiple running backs. It's not to say that teams have not used multiple backs in the past, but it has never been so widely used as it is today.

There are many advantages as well as many different ways to utilize a committee of backs. The first major advantage to using multiple backs is that it causes less wear and tear on the players. Running back is one of the toughest positions to play in the NFL, and most players are lucky to get four solid seasons out of their bodies before they start to wear down. By spreading the carries around, each players career is elongated.

A second advantage to this system is the ability to mix different styles of running together. Think about the backfield of the 2008 New York Giants. Sports writers referred to the combination of Derrick Ward, Ahmad Bradshaw and Brandon Jacobs as "Earth, Wind and Fire". Brandon "Earth" Jacobs would pound and bruise the ball through the defense wearing them down as he played, loosening them up for Derrick "Wind" Ward and Ahmad "Fire" Bradshaw.
Different running styles also allow coaches to approach certain defensive fronts with certain backs that may not be effective against one defense, but may be perfect against another.
After analyzing each teams stable of running backs, here are the rankings league wide of the top running back committees:
32. Indianapolis Colts
(Joseph Addai, Donald Brown, Mike Hart, Javarris James)
The last place ranking has more to do with their system than their personnel. With one of the greatest quarterbacks to ever play the game, the Colts never place an emphasis on the running game, having ranked near the bottom of the barrel in rushing over the past three seasons (31st  in 2008, 32nd in 2009 and 29th in 2010). Joseph Addai could leave in free agency, which would leave the cupboard in Indy pretty bare.

31. Chicago Bears
(Matt Forte, Harvey Unga, Chester Taylor)
The Bears also rank close to last because of their system. Mike Martz treats his running backs like an additional wide receiver. Chicago has decent talent in the backfield; they just happen to make more of an impact through the air, not on the ground.
30. Arizona Cardinals
(Ryan Williams, Tim Hightower, Chris "Beanie" Wells)
The Cardinals have tried to get their running game back on track through previous draft picks Tim Hightower and Beanie Wells, but it just hasn't worked out. The Cardinals drafted Virginia Tech running back Ryan Williams in the second round of this year's draft, and he is expected to share the carries equally with Hightower and Wells, if not take over completely.

29. Seattle Seahawks
(Marshawn Lynch, Justin Forsett)
Pete Carroll had an immediate impact on the Seahawks during his first season as their head coach, but he still has some work to do with the running game (Seattle ranked 31st in rushing yards per game last season). Justin Forsett has shown flashes of his potential over the last couple of seasons, and Marshawn Lynch can be great when he enters his "Beat Mode," but both need to show more consistency for Seattle's running game to improve.

 
28. St. Louis Rams
(Steven Jackson)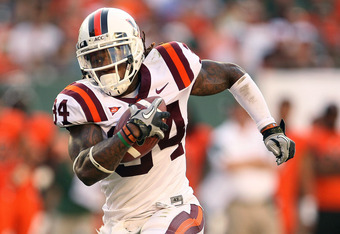 Mike Ehrmann/Getty Images
St. Louis is one of the few teams that still rely on only one back. Steven Jackson has been an all pro running back since he came into the league. He has also had to carry the Rams on his shoulders. The stable is pretty empty behind Jackson, but luckily for the Rams, Jackson still has a few more seasons left in the tank.

 
27. Dallas Cowboys
(Felix Jones, Marion Barber, DeMarco Murray)
Dallas has talent in the backfield, but consistency has been an issue. With a healthy Tony Romo back in the line up, the Cowboys will look to throw the ball more than run the ball this season. If Felix Jones can stay healthy and rookie DeMarco Murray can contribute right away, the backfield will be okay in Dallas.

26. Detroit Lions
(Jahvid Best, Mikel Leshoure, Kevin Smith, Maurice Morris, Ian Johnson)
There is a potentially dangerous one-two punch forming in Detroit with Jahvid Best and Mikel Leshoure. The Lions would be ranked higher on this list if Best's rookie season was hampered with injuries and Leshoure wasn't a rookie. If Kevin Smith bounces back, then there could be a three way split in carries.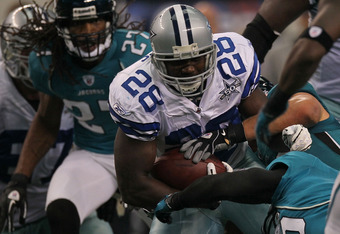 Stephen Dunn/Getty Images
25. San Diego Chargers
(Ryan Matthews, Mike Tolbert)
The LaDainian Tomlinson era hangover is still being felt in San Diego. Darren Sproles will most likely leave during free agency. If Ryan Matthews can bounce back from an injury plagued rookie season and Mike Tolbert continues to provide a nice change of pace, the Charger's backfield could turn into a great tandem.
24. Denver Broncos
(Knowshon Moreno, Lendale White, Correl Buckhalter, Laurence Maroney)
The Denver Broncos used to be known for their running game, but under Josh McDaniels, the team was forced into a pass happy offense. Under new coach John Fox, expect the Broncos to get back to their roots and run the ball, but don't expect too much in the first season. Knowshon Moreno could have a break out year if he stays healthy.
23. Miami Dolphins
(Daniel Thomas, Patrick Cobbs, Kory Sheets)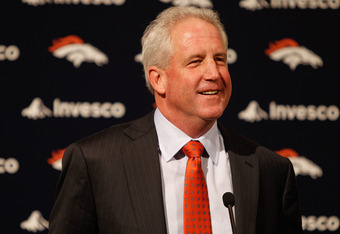 Justin Edmonds/Getty Images
The Miami Dolphins will most likely take a step back with the inevitable departure of both Ricky Williams and Ronnie Brown. Their replacements will be a combination of Rookie Daniel Thomas and veteran backs Patrick Cobbs and Kory Sheets.

22. New England Patriots
(Benjarvus Green-Ellis, Danny Woodhead, Shane Vereen)
New England has a great backfield; they just don't use it enough for it to be higher on this list. With Tom Brady at the helm, the Patriots pass the ball way too often for their backs to be considered one of the best running back committees in the NFL. Look for Shane Vereen to eventually eat into Green-Ellis' and Woodhead's carries.
21. New Orleans Saints
(Pierre Thomas, Mark Ingram, Chris Ivory, Reggie Bush)
Similar story to New England. New Orleans has a good back field, but they are a pass first offense. Wouldn't you be if you had Drew Brees as your quarterback? Pierre Thomas is coming off an injury plagued year, and Reggie Bush has proven that he will never be a primary back. Chris Ivory played well when given the chance last season. Mark Ingram could be the second coming of Duece McAllister for the black and gold.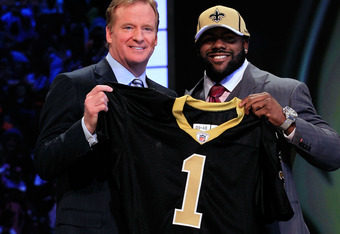 Chris Trotman/Getty Images
20. San Francisco 49ers
(Frank Gore, Anthony Dixon, Kendall Hunter)
Frank Gore was once the most dominant back in the NFL. He has suffered through injuries in recent years, and so has his supporting cast. Gore still has a few more productive seasons left in him; he just needs to stay healthy. New head coach Jim Harbaugh will also try to implement a more balanced offense instead of the run heavy offense under Mike Singletary.
19. Washington Redskins
(Ryan Torain, Roy Helu, Keiland Williams, Evan Royster, Andre Brown, James Davis)
The Redskins have eight running backs on their roster currently. They top the list for biggest running back committee, but are they any good? Ryan Torain lived up to his potential last season, but he needs to stay healthy if he wants to remain the primary back in Washington. Rookie running backs Roy Helu and Evan Royster could put pressure on a plethora of veteran backs left on the roster from last year.
The dark horse on the roster heading into this season is Andre Brown. Heading into his third NFL season, Brown has the balanced set of skills that Mike Shanahan covets. It is anyone's guess how the backfield in Washington will end up this season.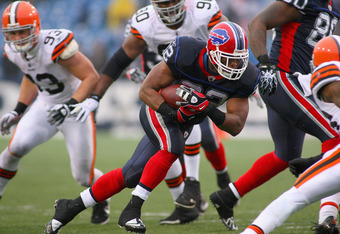 Rick Stewart/Getty Images
18. Buffalo Bills
(Fred Jackson, C.J. Spiller)
The Bills have a nice backfield growing in Buffalo; they just need to get their offensive line on track. Fred Jackson has proven that he can handle a starting role in the NFL, and C.J. Spiller provides a nice change of pace. If blocking is improved, this could eventually be one of the better running back tandems in the league.

 
17. Carolina Panthers
(Jonathan Stewart, Mike Goodson)
Carolina is either going to have Jimmy Clausen or Cam Newton under center at the beginning of this season, so the passing game is going to take a hit. But one area where the Panthers will do well in is the running game. DeAngelo Williams is most likely leaving via free agency, so Jonathan Stewart will no longer be playing second fiddle. Mike Goodson proved he was more than capable of toting the rock in the NFL last season.
16. Cincinnati Bengals
(Cedric Benson, Bernard Scott, Brian Leonard)
Cedric Benson will most likely be resigned by the Bengals, and with a rookie quarterback starting and their two best receivers leaving, he will need to carry this team. With a combination of Bernard Scott, Brian Leonard and himself, I think they'll pull it off. If the Bengals do not re-sign Benson, expect this team to be move toward the bottom of this list.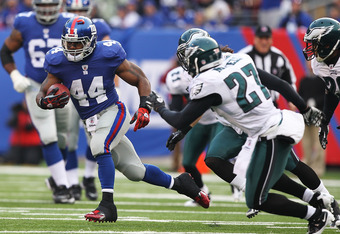 Al Bello/Getty Images
15. New York Giants
(Ahmad Bradshaw, Brandon Jacobs, Danny Ware)
Long gone are the days of "Earth, Wind and Fire," but there is still a good stable of running backs in the big apple. The Giants have started to pass the ball more with the development of Eli Manning and his receivers, but Ahmad Bradshaw and Brandon Jacobs still run the ball with the best of them. Danny Ware provides a nice change of pace.
14. Green Bay Packers
(Ryan Grant, Brandon Jackson, James Starks, Alex Green, John Kuhn)
The Packers are a team similar with the Giants as far as their running backs go. They have good options; they just pass the ball enough for them not to be the focus of the offense. Ryan Grant is coming off a season ending injury, and it will be interesting to see how he bounces back. Brandon Jackson, James Starks and new comer Alex Green will put pressure on Grant, but he will eventually retain the starting position heading into camp. The others will provide a nice compliment. John Kuhn will still provide a nice pass catching option at the fullback/H-back position.
13. Philadelphia Eagles
(LeSean McCoy, Jerome Harrison)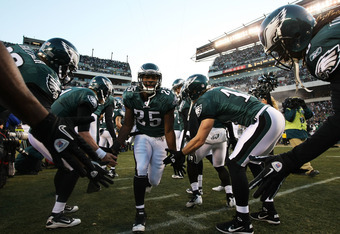 Al Bello/Getty Images
The Eagles could be atop this list if you include Michael Vick in their committee of backs, but even without him, they have one heck of a one-two punch in LeSean McCoy and Jerome Harrison. LeSean McCoy has quietly developed into one of the better backs in the league, and he will break out in 2011. Jerome Harrison had a couple good seasons with the Browns before he got traded to Philadelphia. With another season to get familiar with the Eagles' system, look for him to improve.

 
12. Baltimore Ravens
(Ray Rice, Willis McGahee)
Ray Rice is one of the most versatile backs in the NFL with his ability to both run and catch the ball. Combined with the power of Willis McGahee, these two players make up one of the better tandems in the league right now. With McGahee not getting any younger, there is no telling how long they will be able to keep it up. Look for the Ravens to build upon last season's success in the running game in 2011.
11. Tampa Bay Buccanneers
(LeGarrette Blount, Cadillac Williams, Kareem Huggins)
Watching LeGarrette Blount flourish in Tampa Bay last season was one of the biggest highlights of the 2010 season. Blount went undrafted after punching a player after a game his senior season at Oregon, and many thought he would take a few years to develop at the next level. He proved them wrong by taking the starting role by force towards the end of the season last year. Look for him to break out this season, provided he doesn't have a sophomore slump. Cadilllac Williams and Kareem Huggins both have a more speed style of running, so they are both a nice change of pace to Blount's powerful running style.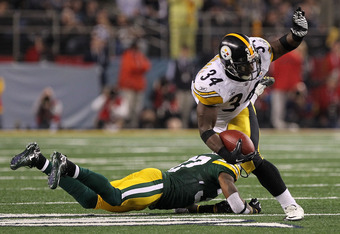 Doug Pensinger/Getty Images
10. Pittsburgh Steelers
(Rashard Mendenhall, Mewelde Moore, Jonathan Dwyer)
The Pittsburgh Steelers have always been a physical team, and the same can be said for their running backs. Rashard Mendenhall is one of the most powerful backs in the game today, and second year back Jonathan Dwyer has the same potential. Mewelde Moore is a nice compliment on third down. The one negative about the Steelers stable is the lack of a speedy home run threat (But that's never been their style, has it?).
9. New York Jets
(Shonn Greene, LaDainian Tomlinson, Joe McKnight)
Rex Ryan has turned his backfield into a powerhouse last season while his Jets made a trip to the AFC championship game. The reason they are not ranked higher this year is due to LaDainian Tomlinson's age. At the end of last season, it was clear that he was wearing down.
This year, the Jets will be forced to rely on Shonn Greene to carry most of the load. Joe McKnight finished 2010 with a big game against the Bills; look for him to improve in 2011.

8. Oakland Raiders
(Darren McFadden, Michael Bush, Rock Cartwright)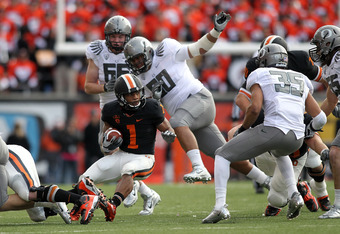 Jonathan Ferrey/Getty Images
Darren McFadden is finally living up to his potential in Oakland. The combination of McFadden and Michael Bush give the Raiders two powerful backs who know how to run the ball. They can both run the ball between the tackles, and they can both run over defenders. The only thing this stable needs is a speed compliment. 
7. Atlanta Falcons
(Michael Turner, Jason Snelling, Jacquizz Rodgers)
The Falcons have a few good options at running back with Michael Turner, Jason Snelling and rookie Jacquizz Rodgers. Michael Turner's wear and tear brings the dirty birds of Atlanta down a few spots on this  list. Jason Snelling and Jacquizz Rodgers will both have to take some of the load off of him this season.
6. Jacksonville Jaguars
(Maurice Jones-Drew, Rashad Jennings, Deji Karim)
Jacksonville would be in first position on this list if Maurice Jones-Drew's knee was not a question mark heading into this season. All three backs on their roster are capable of starting in the NFL, and all three have shined when given the ball in a game situation. If Jones-Drew can stay healthy in 2011, the rest of the league will need to watch out.
5. Cleveland Browns
(Peyton Hillis, Montario Hardesty)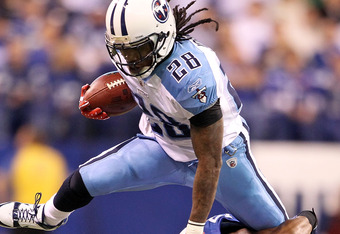 Andy Lyons/Getty Images
Some would argue that Peyton Hillis could put the Browns at this position on the list by himself, but with the return of Montario Hardesty to the field, the Browns will look to improve upon last season. Hillis took the country by storm last year with his amazing running and catching abilities. Hardesty will provide a nice change of pace if he can stay healthy.
4. Tennessee Titans
(Chris Johnson, Javon Ringer, Staffon Johnson, Dominique Lindsay)
Chris Johnson is the most electrifying player in football right now. He is always the fastest person on the field and can make anyone miss. The other backs in Tennessee have the ability to be good too. Javon Ringer and Staffon Johnson have more of a power running style than Chris Johnson. Look for all three to build on the 2010 season and for the Titans to once again rank amongst the best rushing teams in the NFL.
3. Houston Texans
(Arian Foster, Ben Tate, Steve Slaton)
Arian Foster, like Peyton Hillis, came out of no where in 2010 to lead the league in rushing. His counter parts in the backfield aren't too bad, either. Ben Tate's season came to an end early with an injury in training camp, but he has the potential to be a great back in the NFL. Look for him to bounce back in 2011. Steve Slaton is also a capable NFL back. The Texans will look to build on last season with a combination of these three backs instead of relying too much on Foster.

 
2. Minnesota Vikings
(Adrian Peterson, Toby Gerhart)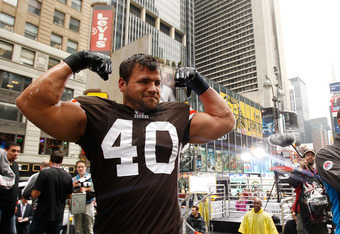 Mike Stobe/Getty Images
Adrian Peterson is the best running back in the NFL, period. He is a well rounded back with both the speed and the power to be an NFL legend. Toby Gerhart is also a good back. He is more of a power back, and eventually, I can see the Vikings using Peterson to loosen the opposing defenses up, and then sending in the wrecking ball in Gerhart. Within the next two seasons, the Minnesota Vikings will have the best running back tandem in the league.

1. Kansas City Chiefs
(Jamaal Charles, Thomas Jones, Dexter McCluster)
The best running back committee heading into the 2011 season resides in Kansas City. They have the perfect combination of speed, power and elusiveness in Jamaal Charles, Thomas Jones and Deter McCluster. Charles is almost as fast as Chris Johnson and just as elusive. Jones has been one of the better power backs in the league over the last decade while playing with various teams. McCluster provides a nice compliment to both and will look to contribute more in 2011. 
How would you rank each team heading into the 2011 season?