Drew Brees: How the New Orleans Saints QB Compares to Other Elite Passers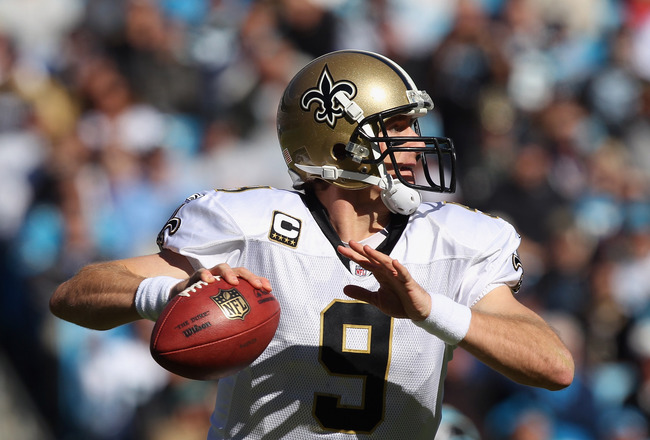 Streeter Lecka/Getty Images
Finally, I get back to what I know best; the Xs and Os of football. Today, I am going to compare Saints quarterback Drew Brees with many of the other elite QBs in the NFL in many of the key phases of playing the position.
Some of these categories will include: arm strength, pocket presence, leadership, athletic ability, instincts, accuracy, reading defenses, big-play ability and passing vs. pressure.
These are the same categories I highlight when I grade a college prospect at the position. It is fun to go back and compare current NFL guys years after they've been graded as prospects.
There will be names such as Manning, Brady, Roethlisberger, Rivers but also guys like Vick and Young. It will be fun to see the comparisons between different types of quarterbacks. I love this stuff.
Arm Strength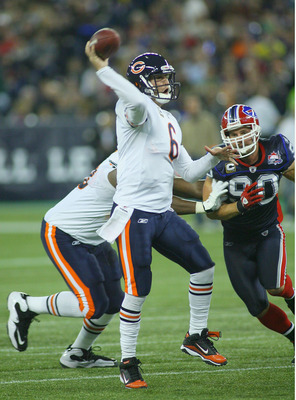 Rick Stewart/Getty Images
No, Brees doesn't have the cannon for an arm of Jay Cutler—able to rifle the ball in a millisecond 20 yards down the field. And his arm may not even compare to that of Peyton or Eli Manning (both elite but not top of the charts in arm strength). But what Brees may lose out on to these guys he makes up for with touch and location on the deep ball.
His career yards per pass attempt is 7.3 which puts him eighth among active quarterbacks. Of course, that doesn't necessarily account for arm strength, though it's a start. Though data could not be found for his throws over 20 yards, I know for a fact that Brees' percentages have held up among the best in the game for several years.
Yes, playing at least nine of his games in a dome helps in this area. But when you put on the film, you see that Brees can literally make every throw and is certainly not afraid to stretch the field with what many consider an inadequate arm. I don't think Brees and play-caller Sean Payton would take so many chances down the field if Brees' arm was so so-so.
Pocket Presence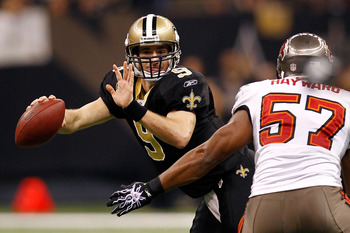 Chris Graythen/Getty Images
I am wholly convinced there is no more important attribute to this player's game than his pocket presence, or what some analysts call pocket mobility.
Brees commonly will get back in his drop, be it three-, five- or seven-step, and when nobody is open, will step up, step back, or occasionally, even to the side to avoid pressure and allow a receiver to come open. He often throws off his back foot, or escapes and throws on the run, and loses no accuracy or decision-making ability.
And when he stays in the pocket, Brees makes good decisions and has a quick release that allow him to avoid sacks and find receivers cutting open.
Few QBs in the league compare to Brees in this department. In my humble opinion, only Aaron Rodgers, Ben Roethlisberger, Tom Brady and Peyton Manning can even pretend to be on the same level as Brees in this category.
Leadership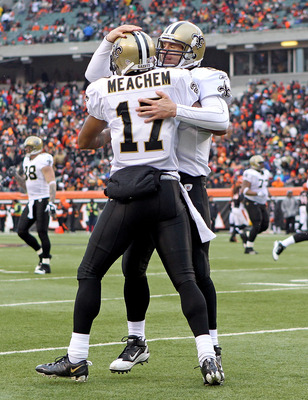 Andy Lyons/Getty Images
As I've stated many times over, I believe Drew Brees is one of the finest leaders in football. Few teams are as captivated by their quarterback. And few follow that guy's lead as willingly as Brees' Saints teammates.
Whether it be in the pregame chant he leads, an in-game adjustment he asks a receiver to make, an encouragement or celebration with a teammate, Brees is always positive and always focused on winning.
Only two men in my opinion hold the same clout with their teammates as Brees—Brady and Manning. I think Brees' understudy in San Diego—Philip Rivers—and rival Matt Ryan may be close, but neither have won a Super Bowl like the other three.
Athletic Ability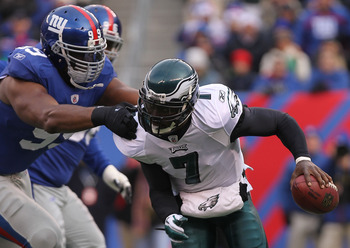 Nick Laham/Getty Images
Even if it's always been a quiet comparison, one has always been noted, between the careers of Mike Vick and Drew Brees. They were the first two QBs taken in the 2001 NFL draft. While Vick had reasonable success in Atlanta, it would be hard to say he's been as successful as Brees, though one could make a case he's been more noteworthy.
Despite his relative lack of success compared to Brees, Vick does possess the edge in at least one category—athleticism. It's not that anybody would ever question this fact. There might be 10 guys in the league more athletic than Brees.
Vince Young, Aaron Rodgers, Vick, Jay Cutler, Tony Romo, Roethlisberger, Colt McCoy, heck Brees' teammate Chase Daniel. While that is all true, one cannot question that Brees in his career has made some very athletic plays.
He often avoids sacks to get away and make an incredible thrown down the field for a completion. While he'll never be confused for a runner, Brees has also managed to make some key conversions with his legs over the course of his career.
Again, he's no Michael Vick in the athleticism category but don't sleep on Brees here either.
Instincts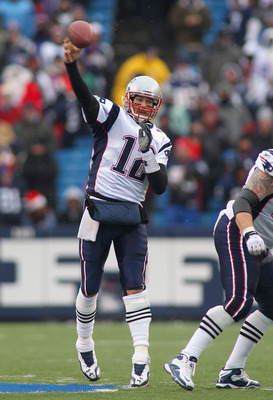 Rick Stewart/Getty Images
Perhaps, the most instinctive quarterback in today's NFL is Tom Brady. He will often "throw open" a receiver. He is as good at reading the defense both pre-snap and post-snap as anyone in the league. But what makes Brady so good is his ability to go through all of his reads and make the right decision.
His league-leading three interceptions a season ago are proof that he trusts his reads and makes wonderful decisions.
One could point to Drew Brees' astounding number of interceptions, 22, and think he isn't even in the same stratosphere with Brady in this category. But, that is an oversimplification.
Brees will often make a smart, accurate throw literally at the top of his drop. Other times, he will wisely wait for the defense to clear. And if all else fails, he will drop the ball down and take a yard on the ground, or worst-case scenario a sack.
Of course, Brees does have to contend with Peyton, Ryan and Rivers in this category. But it seems to me that Brees is in the top five in this category.
Accuracy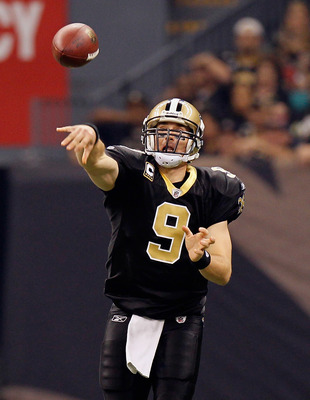 Kevin C. Cox/Getty Images
If I concluded that anyone was more accurate than Brees, I would consider myself a moron. Next to pocket presence, this is Brees' next best category. His 2009 70.3 completion percentage was an all-time high.
But as I can attest with college prospects, true accuracy cannot be deducted from QB's completion percentage. Instead, true accuracy is better deduced from a player's ability to put the ball right where it needs to be on each throw.
When you watch the Saints' offense, rarely does Brees ever put the ball in a spot he doesn't want it to go. For the uneducated fan, seeing Brees throw to the back shoulder on a seam route may seem like poor accuracy, but Brees knows his receivers and has practiced that throw with each literally thousands of times.
Even his poor throws are generally to the man, and the ones that are way off are normally intentional throw-aways.
Others who compare are the elite guys—Brady, Manning, Rivers, and Ryan. I feel that Aaron Rodgers can improve in this area, though I think he is gaining quickly.
Reading Defenses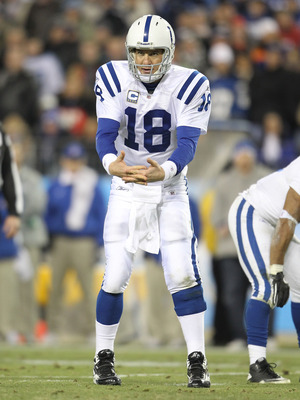 Andy Lyons/Getty Images
Peyton is famous for his pre-snap antics that many have theorized are just that—antics and not even real. Regardless, Peyton uses them to his advantage, and nobody is better in the game at getting his offense into the right play at the right time.
That said, Brady, Brees, Rivers, Rodgers and Ryan all do this very well also. Even Peyton's brother, Eli, has shown a natural ability in this regard. In my opinion this is one of the most important areas a QB can excel in, and the fact these guys all do, proves why they are the game's best QBs.
Big Play Ability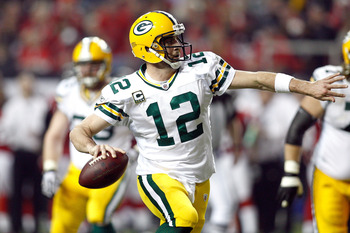 Chris Graythen/Getty Images
No QB made the big play either with his arm or feet as Aaron Rodgers a season ago. It was the season of the multi-dimensional QB, as he, Roethlisberger and Vick were among the most successful QBs in all of football a season ago.
In my opinion, it is those three who highlight this group. But one must include Brees, Brady and Manning as each had over 30 TD tosses and over 4,000 yards passing. Each led one of the top 10 offenses in the league, and each made the playoffs.
In the year of the big play, there's no way a team would reach January football if they couldn't put the ball in the end zone with some big plays. All of these guys do it very well.
Passing vs. Pressure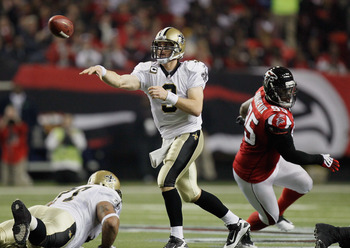 Kevin C. Cox/Getty Images
Much like pocket presence, this skill seems to be one of the key characteristics that makes or breaks a QB. Philip Rivers, Tom Brady, Peyton Manning, Matt Ryan, Aaron Rodgers, Ben Roethlisberger and of course Drew Brees all excel in this area.
Among that group, Brees is the only one of limited stature. All the rest have the advantage of tremendous height to look over a defense. Brees has to rely on instincts, his reads and trust in himself and his teammates.
The pocket presence and ability to move and make people miss certainly adds to his capability in this area, but so does a fearlessness and competitiveness that says "I don't care if I get hurt, I will make this throw and do so accurately and on time."
I love how Ron Jaworski describes throwing vs. pressure. He calls it "looking down the gun barrel." That is exactly what it is for Brees. He looks down the gun barrel and tosses bb after bb.
It is difficult for me to say who is best in this category, but the truth is that it does not matter, as Brees is very good, and no defense looks forward to pressuring Brees because of his ability. They know they must at times for other reasons, but they fear getting burned by a true gunslinger.
Conclusion: Brees Top 3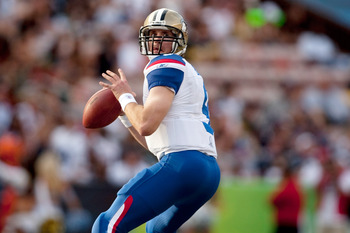 Kent Nishimura/Getty Images
My conclusion is that Brees is still among the top three QBs in the game. Sure Aaron Rodgers had a magical season in 2010, and Ben Roethlisberger is climbing the charts, but Brees has become good 'ole Mr. Reliable.
Because of the 2010 season, I have to rank Brady first, Brees second and Manning third. Truthfully though, I don't even know that it's fair to rank them at all, other than to say those are the top three.
Rodgers, Rivers and Roethlisberger round out my topfive (plus one; again can't justify separating any of these guys). And Matt Ryan would be my seventh overall QB.
That's just one man's semi-educated opinion. I realize my take on Brees or even a few of these other guys may be slightly biased, but whose opinions aren't. Open up the conversation and realize all of these guys are amazing. So please, don't hate on any of them.
Keep Reading

New Orleans Saints: Like this team?