NFL: Jim Mora and 13 Coach Freakouts Caught on Camera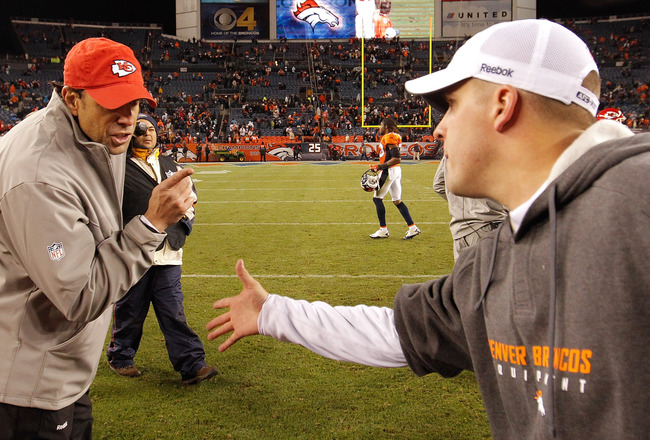 Justin Edmonds/Getty Images
Football can be emotional. (That is, in fact, the very nature of sports in general; just ask Hal McRae.) Those that play at a professional level are passionate to the nth degree—they'd have to be to be anywhere near good enough to be respected.
And, that is not specific to players. Coaches can be caught up in the heat of the drive, the competition, the deficits just like anybody else.
Here are some entertaining examples of "caught up" coaches in the NFL.
Warning: Some of the videos contain NSFW language.
Jim Mora
Jim Mora's professional postgame analysis of a New Orleans Saints game.
Herman Edwards
Coach Edwards, remind me why we play sports?
Mike Ditka
Mike Ditka's media antics are so worth a nine-minute compilation!

"Here have a quarter, make a phone call."

"Get your mouth shut!"
"You gotta make it controversial, and that's why you wore that ugly sweater today."
"You're 100 percent right, but you're a pain in the butt. That's my opinion."
"For those who don't like our people that's tough s***: we like 'em."
"I'll take the luck, I'm tired of the skill."
Jerry Burns
Jerry Burns takes responsibility.
Dennis Green
Dennis Green, who were they?
Jim Mora Again
Jim Mora has huge respect for reporters.
Rex Ryan
Rex Ryan has huge respect for DeAngelo Hall.
Thank you Hard Knocks for this shining example of Rex Ryan's endless class.
Sal Alosi
Speaking of the Jets' sense of classy...
Buddy Ryan
Speaking of class, period.
Todd Haley
Todd Haley, known for being cool and collected, makes—or rather, doesn't make—a shocking gesture.
Josh McDaniels
Perhaps this is why Todd Haley shunned McDaniels' sportsmanship?
Tom Coughlin
Tom Coughlin knows professional punters shouldn't make mistakes—rookie or not.
Bill Belichick
Bill Belichick fulfills his need for human contact by tossing an unsuspecting photographer.
More Jim Mora
I don't think Jim Mora was very happy with the way the Colts' season was going.
Bill Cowher
Jimmy Kimmel takes notice of Bill Cowher's pleasant persona.
Adolf Hitler
Remember that one time Hitler had a vested interest in the Cleveland Browns?
Keep Reading