Jon Gruden: Odds He'll Coach These 8 Teams in 2012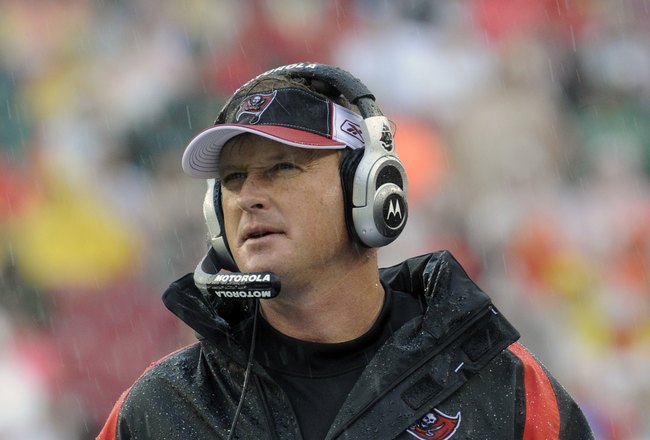 Al Messerschmidt/Getty Images
Jon Gruden is in that category of Bill Cowher and (soon to be) Jeff Fisher where we ponder endlessly about where they may end up coaching in the next league year.
Gruden is an accomplished coach with a fiery attitude and would be a perfect fit in some places, while he'd be a dismantling cancer in other places.
After some time off from the NFL coaching grind, Gruden may have the itch to return to the gridiron and re-assume coaching duties.
Here are eight possible destinations for Gruden upon his return.
Miami Dolphins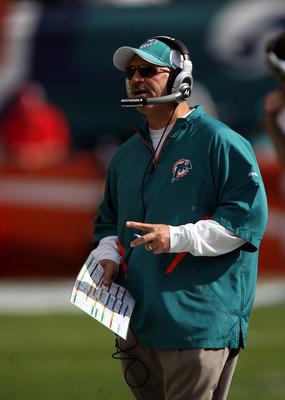 Marc Serota/Getty Images
Tony Sparano bought himself another year in Miami when the Dolphins couldn't find his replacement and had to sheepishly apologize to Sparano after publicly disgracing him with a coaching search.
However, if the Dolphins don't start winning games, Miami has shown that they're not afraid to give Sparano the boot.
Gruden has already coached a team in Florida, so resuming his coaching career a few cities away may not be such an unfathomable thing.
Odds are that Gruden would give the Dolphins some consideration, but I can't see this coming to fruition.
Eli's Advice For Miami: It's not the best fit, but if you're going to pursue him, at least do it privately.
Indianapolis Colts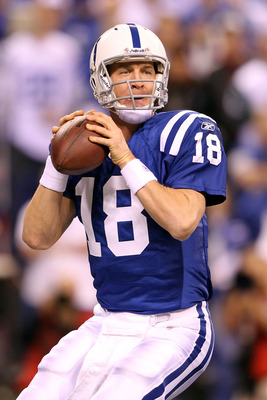 Andy Lyons/Getty Images
The honeymoon period with Jim Caldwell is over, and it's not certain how much more time that Bill Polian will give Caldwell to win a Super Bowl.
After almost losing the division last year, it's conceivable enough that missing the playoffs would be grounds to relieve Caldwell of his duties.
The Colts may hatch a 'brilliant' idea and bring in Gruden to lead the team to a Super Bowl title, but combining a player as passionate about his craft like Peyton Manning with someone as equally passionate as Gruden would make for an all-out locker room war.
Gruden will realize this and be wary of signing with the Colts.
Eli's Advice For Indianapolis: Stay away. FAR away. This is Peyton Manning's team, not Jon Gruden's team.
Houston Texans
Grant Halverson/Getty Images
Gruden and the Texans would be a very interesting fit, considering Gary Kubiak may not be long at the helm for Houston after an embarrassing 2010.
Wade Phillips and Gruden would combine to make one of the best coaching duos in the NFL, and the Texan offense would become a modern day Greatest Show on Turf.
For some reason, this just doesn't seem like it'd work out, considering the team is already going through major defensive changes.
Nothing is wrong on the offensive side of the ball, so my advice to the Texans is a simple adage.
Eli's Advice For Houston: If it ain't broke, don't fix it.
San Diego Chargers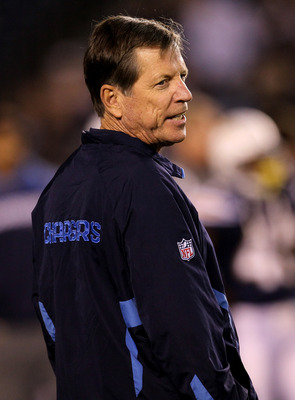 Stephen Dunn/Getty Images
Well, this would make waves, to say the least.
Norv Turner is always on the hot seat, and after missing the playoffs, another down year in San Diego could mean the team would move on from their coach.
San Diego could look to another quarterback guru in Gruden to shake things up in San Diego and win football games in the playoffs.
The Chargers haven't won much in the postseason, and Gruden's playoff acumen would make sense, but Gruden wouldn't want to take over an already built team like the Chargers.
Eli's Advice For San Diego: Take a look at Gruden, but don't set your sights on him
Cincinnati Bengals
Noel Vasquez/Getty Images
I can just see this backfiring in such a beautiful way that it leaves the Bengals in tattered ruin for the next decade.
Marvin Lewis could be out as early as midseason if the Bengals are still a trainwreck, and if Gruden were to take over, it could get ugly...fast.
Cincinnati needs a rookie coach to grow with this young roster, not someone to go mouthing off and putting a target on the team's back—they've already dealt with that problem.
Gruden is smart enough to know to avoid this situation.
Eli's Advice For Cincinnati: Personally, I'd enjoy this Cincinnati, but you wouldn't
Washington Redskins
Larry French/Getty Images
This is another one of those Gruden destinations that could really backfire, and there is not one definitive reason why.
The Redskins need a rookie coach to oversee a rebuild and bring in a young quarterback, and it's certainly possible that the team will move on from the incompetent Mike Shanahan after 2011.
Should Kyle Shanahan take the reins in Washington, the team may be able to conquer its past demons and win games.
However, if the team brings an ego like Gruden's into the fold, the team will disintegrate into burgundy and gold ashes—Gruden knows a disaster when he sees it and will stay far away.
Eli's Advice For Washington: Stop it Dan Snyder. Stop.
New York Giants
Nick Laham/Getty Images
Jon Gruden is known for his ability to whip guys into mental fitness, and the Giants could use some of that after collapsing twice.
The team seems to be tuning out Tom Coughlin's yelling at this point, and ownership could decide to bring in a new coach if Tom Coughlin is ineffective in 2011.
Gruden would have a huge stage to coach on in New York, and the crosstown Jets rivalry would become that much more interesting if Gruden and Rex Ryan were to quarrel.
This seems like it would be a good fit, and Gruden may well pursue this venture.
Eli's Advice For New York: It's time to realize you're the New York Giants, not the Kansas City Giants and hire a coach like Gruden...this would be a good move.
Jacksonville Jaguars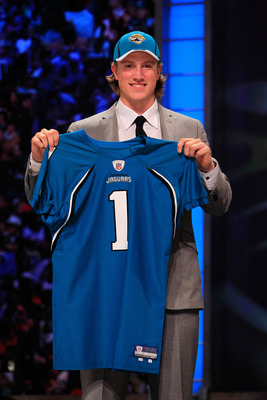 Chris Trotman/Getty Images
Jack Del Rio seems to be on the hot seat after every season, and after failing to add a 2011 starter in the draft for a team that was one game away from the playoffs in 2010, Del Rio could be out after this year.
This would set the stage for a Jon Gruden takeover. Gruden is impressed by young Jaguar Blaine Gabbert, despite his lack of translatable NFL skills, and Gruden would still be able to coach in Florida.
Gruden knows what it would take for the Jaguars to make the playoffs and possibly make a Super Bowl run, and he'd be able to motivate this team down the stretch like Del Rio, last year, couldn't.
This would be a good fit for both sides, and Gruden would be able to impart his quarterback wisdom upon Blaine Gabbert and make him into, possibly, an average starter in the NFL.
Eli's Advice For Jacksonville: Ding ding ding. We have a winner.
Keep Reading