2011 NFL Mock Draft: All Seven Rounds (A New Round Added Each Day)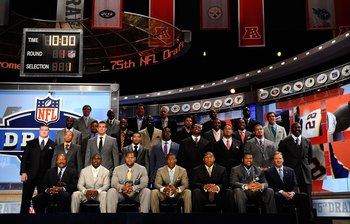 Jeff Zelevansky/Getty Images
As we move closer to the NFL's April 28-30th draft, I'll be unveiling a two-round mock draft starting with Round 1 and building from there.
From Carolina's first selection to the last pick of the second round, this mock draft has you covered!
Starting here with Round 1, check back for regular updates and added picks from all your favorite teams.
1. Carolina Panthers Select... Marcell Dareus, DT Alabama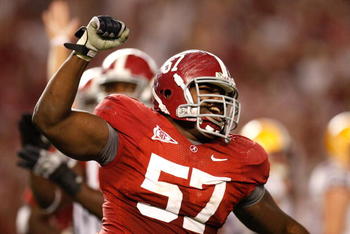 Kevin C. Cox/Getty Images
The Panthers aren't and shouldn't be ready to give up on Jimmy Clausen. At this point last year, he was considered to be a top 15 lock. Not only did he slide down the draft board, he also fell out of favor with the Panthers.
Still, he is deserving of another year. Not every quarterback can be the next Sam Bradford, especially if you consider the offensive system and receivers Clausen had to work with.
It's like driving a new car out of the lot and getting a minor scratch. You live with it and move on. Maybe you polish it.
You don't go back and turn it in for a new model! That's a wasted investment. You end up spending a lot more money for essentially the same product.
Rather than look to QB, the Panthers shore up their defensive line with Marcell Dareus. He is bigger and ran a faster 40 at the combine than his in-state rival Auburn's Nick Fairley.
Coach Ron Rivera may have said he was 'convinced' that Cam Newton is worthy of the top pick, that's because Carolina isn't sold on anybody in particular. The Panthers are hoping someone is desperate enough to trade up for Newton.
Other teams are smart enough not to bite and will call the Panthers' bluff, forcing Carolina to call Dareus' name on draft day.
2. The Denver Broncos Trade: Cleveland Browns Select... A.J. Green, WR Georgia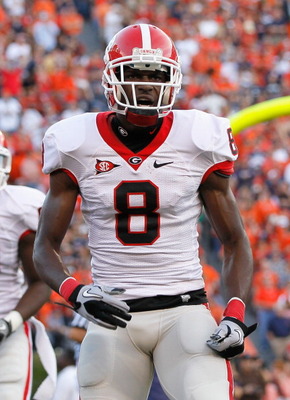 Kevin C. Cox/Getty Images
Unfortunately for the Broncos, who finished dead last in the NFL with just 23 sacks, their man Marcell Dareus went to the Panthers in a somewhat surprising move.
Denver believes that they can take the second-best tackle, Auburn's Nick Fairley a few spots lower and Cleveland is desperate for a top flight wide receiver to help Colt McCoy's progression.
Afraid that A.J. Green will be gone, the Browns are willing to trade up to get their coveted player.
In exchange, the Broncos get Cleveland's fourth-round pick later in the draft and a conditional pick for the following year and the Browns get their man, receiver A.J. Green from Georgia.
It's a perfect match. Both teams come away satisfied, and both fan bases are excited.
3. Buffalo Bills Select... Cameron Newton, QB Auburn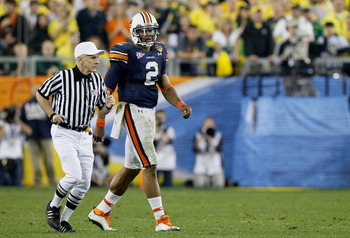 Kevin C. Cox/Getty Images
I don't think the Bills are sold on this pick because selecting Cameron Newton is too high here. In what other profession can one year catapult you to the top of your class?
You don't see Ivy schools (the Bills qualify as an Ivy solely because they get their pick of the cream-of-the crop) selecting students based only on their senior year of high school!
Cam Newton has worlds of talent, but is he more than a one-hit wonder? Do you remember the song Who Let The Dogs Out? Who sang that? Exactly...
If you remembered it was Baha Men, well done. Now for the hard part. Can you name another song of theirs? Didn't think so. That's Buffalo's fear. Is Newton the Next Baha Men?
Still, the Bills need a true franchise quarterback, and it comes down to Newton or Blaine Gabbert. The Missouri QB may be more NFL-ready, but Newton barely beats him out, not only for his skills on the field but for the buzz he will create off it.
A franchise struggling to draw a usually loyal fan base, Newton will add more energy and excitement that Buffalo is sorely lacking.
Hopefully for Buffalo fans, he will bring his winning ways as well.
4. The Cincinnati Bengals Select... Julio Jones, WR Alabama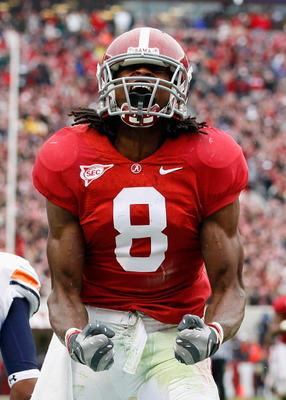 Kevin C. Cox/Getty Images
The Bengals take Alabama wide receiver Julio Jones with the fourth overall pick because they are desperate to please Carson Palmer.
It's like Kobe giving his wife the $4 million ring after his infidelity. Kobe knew that he screwed up and that he was happier/better off with Vanessa.
Same thing for the Bengals because let's be honest, Jordan Palmer isn't quite the same player big brother Carson is.
Jones is a stretch with the fourth pick, but if it keeps Carson happy, then the Bengals' brass has to do it.
Plus it's not like Jones isn't an elite talent. He has incredible speed and size that will help Bengals' fans quickly get over the T.O. experiment.
Think this pick is too high? Try running a 4.39 and jump over 11 feet off a broad jump on a fractured foot...
5. The Arizona Cardinals Select... Von Miller, OLB Texas A&M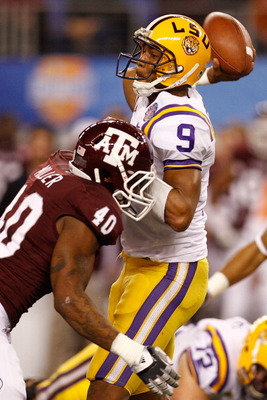 Chris Graythen/Getty Images
Linebacker Von Miller out of Texas A&M is the hottest player in the draft at the moment. He has been soaring up draft boards since his dominant Senior Week, especially his Senior Bowl performance.
Miller's meteoric ascension and unlimited potential is like that of the original iPad. He's the most in-demand player in the draft.
Right now he's all hype but its totally legitimate because if you're the team that gets him you know he is going to play fast and pull off some simply amazing feats.
Getting 10-15 sacks is definitely worth the higher price. You pay for quality and that is what Arizona is going to get.
All Miller needs is a cool commercial with hipsters, lots of color and upbeat music.
Quarterback is a concern yet, but teams with established head coaches don't often go for rookie quarterbacks especially when you have a receiver of Larry Fitzgerald's quality.
Let Fitz work with John Skelton. Don't put him through the pain of developing a new QB (especially if you want to re-sign him after this season).
6. The Denver Broncos Select...Nick Fairley, DT Auburn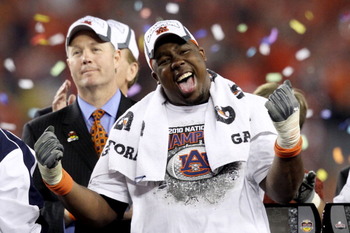 Christian Petersen/Getty Images
Everyone but Mel Kiper will admit that when all is said and done, Combine stats are overrated. That probably won't make Nick Fairley feel any better, though.
The Auburn defensive tackle at one point seemed to be a consensus first pick of the draft.
After Indianapolis, he slid down draft boards faster than the Swiss bobsled team. The free fall stops here.
The Broncos finished last in the NFL with only 23 sacks (The Colts' Freeney and Mathis almost matched that between them).
New coach John Fox recently declared that the Broncos want to upgrade the defensive tackle position and Jamal Williams and Justin Bannan were just released.
As long as the Broncos are willing to look more at what Fairley's done on the field, it seems like a perfect fit.
7. The San Francisco 49ers Select... Blaine Gabbert, QB Missouri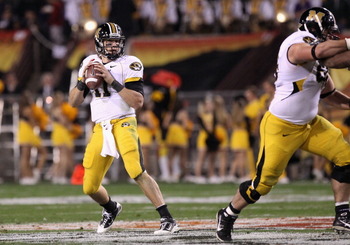 Christian Petersen/Getty Images
Blaine Gabbert is by far the most logical choice here for several reasons. For one, a new coach often means a new direction at quarterback. Most of the time that change comes through the draft.
Two, apparently new head coach Jim Harbaugh attempted to recruit Gabbert in high school, so he is familiar with the Missouri quarterback and three, ESPN analysts are suddenly Gaga for Gabbert.
Trent Dilfer went as far as to call Gabbert "special," which means he's probably going to be a below-average quarterback who spends most of his career barely hanging on to his job only to 'win' the Super Bowl on the backs of one of the most dominant defenses of all time. Maybe San Francisco should be more careful...
Nope. Gabbert is a good fit for San Francisco because he is a smart player who understands the game and has strong leadership qualities. The 49ers need a new quarterback and Gabbert should be their guy.
8. The Tennessee Titans Trade: Dallas Cowboys Select: Patrick Peterson, CB LSU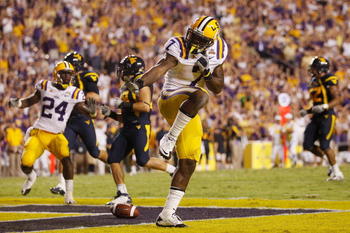 Chris Graythen/Getty Images
The Dallas Cowboys are the Donald Trump of football. They are desperate to get attention and eventually will get what they want, even if it doesn't make that much sense. Oh and it will usually comes at some ungodly expense and be rather massive and ostentatious. (Did I leave anything out?)
Patrick Peterson is without a doubt the best corner in the draft, so at first it might make sense to give up a third-round pick to the Titans to ensure getting Peterson, especially since Terrance Newman is 32 and the Cowboys are desperate for help at cornerback.
Plus, the Cowboys are still one of the deepest teams in the league and can afford to lose a third-round pick.
But then you realize that the Cowboys would only move up one spot and the Titans probably weren't going to draft Peterson to begin with. They just were scaring the Cowboys into thinking so.
In the end, Tennessee's bluff pays off and Jerry Jones gets his man. An overpriced win-win.
9. Tennessee Titans Trade: The Washington Redskins Select Robert Quinn, DE UNC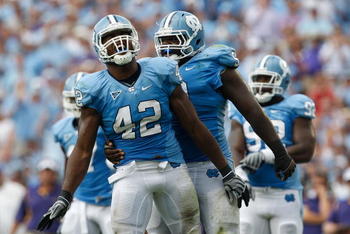 Streeter Lecka/Getty Images
Remember how I called the Cowboys the Donald Trump of football? The Redskins with owner Daniel Snyder are the less successful but equally absurd understudy.
Again, Tennessee is able to convince another team, this time the Redskins, that it will select the player Washington covets. This time, it's UNC's defensive end Robert Quinn.
The Redskins offer to throw in one of their two fifth-round selection in exchange for Robert Quinn and again, like the Dallas deal, it almost makes sense for the Skins.
Considering Brian Orakpo was the only player to record more than 2.5 sacks, defensive end is a desperate need and Quinn is a great defensive end prospect that should really improve the pass rush.
Another good move for Tennessee as well, who needs a DT...
10. The Tennessee Titans Select: Corey Liuget, DT Illinois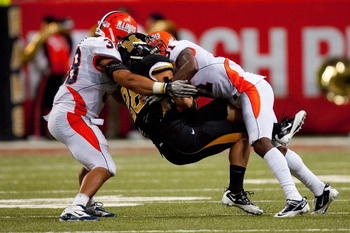 It's not Liuget but at least its Illinois football
Dilip Vishwanat/Getty Images
Tennessee finally selects... Corey Liuget.
Th Illinois defensive tackle is still probably too high here, but the Titans were stuck between a rock and Liuget's massive 300-pound frame. They need a receiver and a cornerback but neither were available with the eighth pick and with too many needs they weren't willing to trade up.
They need a defensive end like Quinn, but tackle is as big, if not a bigger, need and the defensive end position is deeper in this draft. Liuget gives them a versatile player to pair with Jason Jones up front.
They also get two extra picks to compensate their decision to reach on Liuget, making the decision more palpable.
11. The Houston Texans Select: Aldon Smith, DE Missouri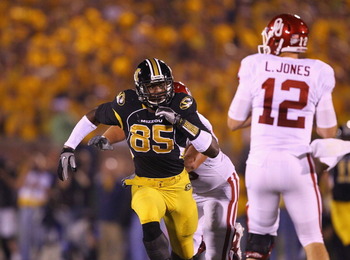 Dilip Vishwanat/Getty Images
Last year, the Texans took Kareem Jackson out of Alabama with the first pick. He played well but the problem was that Houston couldn't get enough pressure up front and so even with Jackson, the Texans secondary was torched.
The temptation is there to chose Prince Amukamara. The guy is a straight stud. However, just like you don't build a house starting with the second floor, you can't build a defense without a strong front seven.
The Texans can spend all the money they want on a fancy shingled roof or Spanish tiles, but its going to blow over the first time Peyton so much as exhales in Reliant Stadium.
The Texans need to address the foundation and make sure that the base is solid. Therefore, Aldon Smith is the pick. The guy is an athletic freak and just the player that Wade Phillips can utilize in his new 3-4 defense. Expect Smith to be a sack machine similar to DeMarcus Ware (also drafted with the 11th pick).
12. The Minnesota Vikings Trade Select: Prince Amukamara, DB Nebraska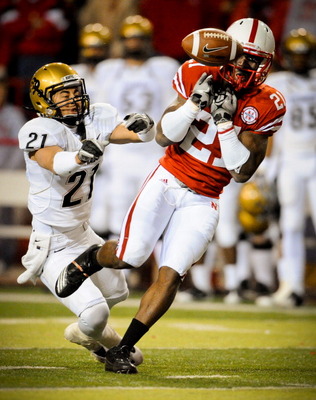 Eric Francis/Getty Images
If Patrick Peterson is the No. 1 corner in the draft, Amukamara isn't far behind. The guy can play.
Unfortunately for the Vikings, cornerback isn't the greatest need. But, its hard to pass on such a talented and high-class individual, and with the best defensive ends and two best quarterbacks already off the board, the Vikings don't have much choice.
It's kind of like having your heart set on a really good steak. Your girlfriend really wants Chinese so there goes Ruth's Chris... You end up going to a phenomenal Chinese place which you admit has fantastic dumplings, but you wanted the steak.
In the greater scheme of things, you're full, generally satisfied but that almost guilt-inspiring let down feeling persists. You could have been eating steak...
Let's hope that Amukamara can at least add some sizzle to the Vikings defense.
13. The Detriot Lions Select: Da'Quan Bowers, DE Clemson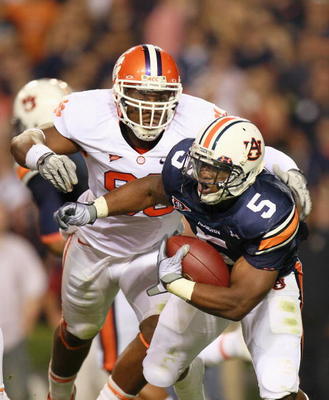 Kevin C. Cox/Getty Images
A few months ago, Da'Quan Bowers was considered the first or second pick in the draft. He was the Bronko Nagurski Award recipient for best defensive player of the year after posting 11.5 sacks, and life was looking good.
Then things went downhill. His knee injury is rumored to be more serious than originally thought and his pro-day work out was terrible. In a period of weeks, Bowers dropped from No. 1 or 2 to outside the top 10.
Still, he's the best talent on draft boards at this point and well worth the risk. Detroit will be tempted by other players (Tyron Smith, for example) but ultimately, Bowers is worth a shot and fills a need at defensive end.
With Kyle Vanden Bosch coming off neck surgery and turning 33 later this year, Bowers will be able to learn and transition slowly and should develop into a star.
The bust/Pro Bowl risk factor is certainly worth the 13th pick (unless, of course, you believe in jinxes).
14. The St. Louis Rams Select Ryan Kerrigan, DE Purdue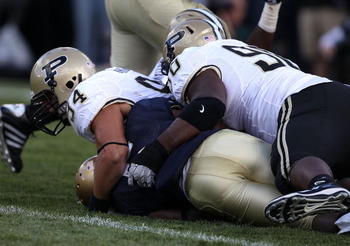 Jonathan Daniel/Getty Images
The Rams are in the same situation as the Lions. A hybrid outside linebacker / defensive lineman is probably not their most pressing need, but Ryan Kerrigan has the chance to be a star, and current starter James Hall just turned 34.
Plus, Steve Spagnuolo has a tendency to collect DE's like Upper Deck cards...
More than anything else, though, unless the Rams work out a trade, they really don't have anywhere else to go with the pick.
Kerrigan is the best player with the most potential at this position. They can address receiver at tight end in later rounds. They shouldn't try and get fancy. Instead, the Rams should just need to make the safe selection.
15. Miami Dolphins Select: Mark Ingram, RB Alabama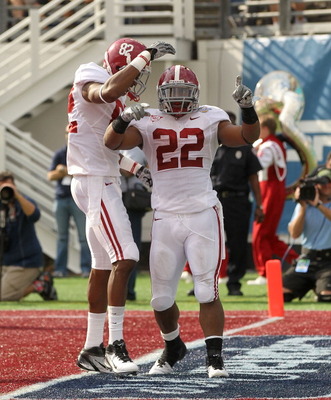 Mike Ehrmann/Getty Images
There was a reason Alabama won the national championship two years ago. Ingram becomes the third Alabama player taken in the first 15 picks.
Does his selection mean Ronnie Brown and Ricky Williams are out in Miami? Probably. Brown more than Williams.
The concern though with Ingram is after Miami had to deal with Brown's various injuries over the years, that they'd be drafting another running back said to have lingering issues, this time cranky arthritis in his knees.
That being said, how can Miami pass on such a hard-nosed and dominant runner like Ingram?
Miami relies on its rushing attack as its main source of offense, so if they don't take Ingram here they need to take a running back soon after. Without a second-round pick, that becomes less feasible. Ingram is the choice.
16. The Jacksonville Jaguars Select: J.J. Watt, DE Wisconsin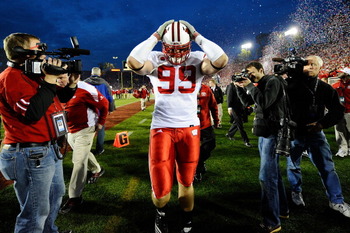 Kevork Djansezian/Getty Images
How many good defensive ends can one round have? They keep coming non stop and we're just half way through. A definite need for the Jags, Watt makes perfect sense here. The only question that remains: is Watt the right choice?
One of the DEs, be it Bowers, Kerrigan, Watt, Houston or Jordan, is bound not to pan out. Which one will it be?
Few think Watt is likely to fail.
The winner of the Ronnie Lott IMPACT award, Watt has everything it takes to be successful at the next level: integrity, maturity, performance, academics, community, and tenacity.
Those are definitely the character and skills to make a true impact right there.
The Jags make a wise choice at pick 16.
17. New England Patriots Select: Anthony Castonzo, OT Boston College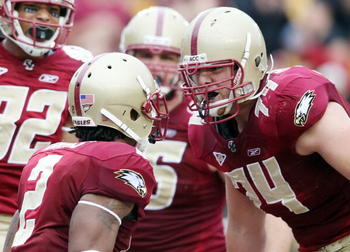 Elsa/Getty Images
Colts' fans hate this pick because:
1. The Colts are also said to be highly interested in arguably the best tackle in the draft.
2. He would go to our arch enemy (Cat is out of the bag - I'm a big Colts fan)
So not only do we not get him, we have to face Castonzo for the next 10 years. Great.
It's like your college nemesis stealing the girl you've been interested in and then moving into your neighborhood.
But I can't blame them; it makes a whole lot of sense. Matt Light is a free agent, so if they can't re-sign him, Castonzo or another tackle has to be the pick.
Otherwise, the Patriots will probably trade down 27 spots and wind up with 48 second-round draft picks and the rights to the Browns' and Bills' first-round pick next year.
I swear, the NFL forces teams to make totally lopsided trades so the Pats continue their pseudo-dynasty which really ended six years ago. I just wish Goodell would share the love with the Colts.
18. San Diego Chargers: Cameron Jordan, DE California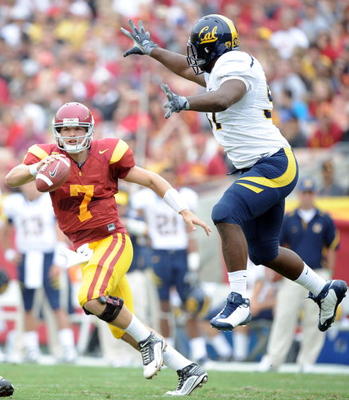 Harry How/Getty Images
Drafting the local fan favorite makes a whole lot of sense and keeps everyone happy. Jordan might be the most talented DE in the draft (which is saying something) posting 12.5 tackles for a loss and 5.5 sacks as well as nailing the Combine and Senior Bowl week.
Plus, he wouldn't have to move far and is a well known commodity in Southern California already.
On top of all that, current starting defensive end Jacques Cesaire is a free agent, and the Chargers probably weren't going to bring him back anyway, so San Diego certainly has a need to fill and makes a solid pick here.
19. The New York Giants Select: Gabe Carimi, OT Wisconsin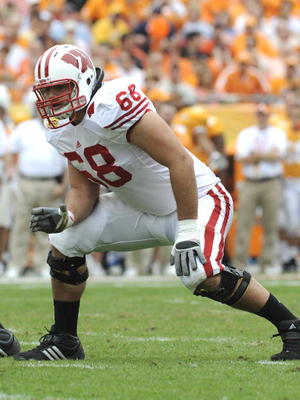 Al Messerschmidt/Getty Images
This is the right pick for the Giants but one that makes Colts' fans super nervous. With Castonzo already off the board, Carimi is said to be the player that makes the most sense for Colts' fans.
Uh oh. Plus, that leaves only a few first-round quality tackles left.
But such is life, right? When you make the playoffs nine straight years, you can't always have your first pick.
For New York, so far the Giants' William Beatty hasn't panned out, and the offensive line really let the Giants down in the home stretch. Carimi had a good Combine and showed solid strength, athleticism and technique.
Like with big brother and the Colts, protecting little Manning is key, so Carimi is the right selection.
Battled tested in the Big Ten, NFL ready and comes with upside, Carimi should give Coughlin plenty of reasons to think this year the Giants can turn it around.
20. The Tampa Bay Buccaneers Select: Justin Houston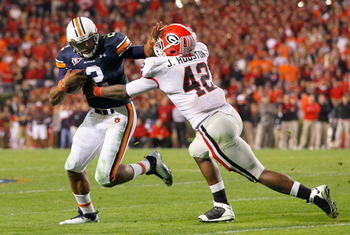 Kevin C. Cox/Getty Images
Defensive end is the Bucs' top need to the point that if they really feel they can get Ryan Kerrigan, J.J. Watt or Cameron Jordan, they might trade up (Ughhh. Here is the first of Belichick's 27 trade downs).
However, Justin Houston is a very quality player in his own right. By hinting at trading up, the Bucs are suggesting they want to contend right away and are willing to do whatever it takes to make that happen.
However, they shouldn't get too overzealous. Houston has a lot of potential to be a Pro Bowl-caliber player, and if it looks like he will still be on the board (which by all indications he will be), they would be wise to be patient and select him.
21. The Kansas City Chiefs Select: Muhammad Wilkerson, DT Temple
Not Wilkerson but still Temple Football!
A. Messerschmidt/Getty Images
It's funny. The Chiefs can pound the run and are the best in the game in terms of a rushing attack, but they haven't figured out have to stop opponents from doing the same.
The Chiefs struggled against the run late in the year, largely because they had no one at the nose tackle position capable of generating even the slightest push.
Wilkerson's selection will go a long ways towards addressing the lack of pressure up the middle. He will also open up space to make Tamba Hali even more effective, making it a win-win for the up-and-coming Chiefs.
22. The Indianapolis Colts Selection: Tyron Smith, OT USC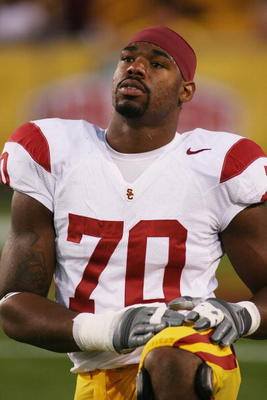 Jeff Golden/Getty Images
In somewhat of a dream scenario, Tyron Smith falls to Indianapolis. On the edge of their seats eager to see the first OT picked in the first round in over 13 years, Colts' fans get punked by Bill Polian, who instead selects Jake Locker to build for the future.
Half the city breaks down in tears while the other half gets drunk and joins punter Pat McAfee in the Broad Ripple River. Just kidding... we hope.
Polian has never taken a left tackle in the first round as the G.M. of the Colts, but if there was ever a year to do it, now would be the one.
Smith is already an athletic freak and has a TON of potential. On top of that, he's recently added 10 pounds to his athletic frame, yet has maintained his quickness and agility.
He needs some refining but the chance to take a potential All-Pro tackle is too much for Polian and the Colts to pass up.
Peyton finally gets the proper blindside coverage he deserves and Charlie Johnson can move over to his more natural position of guard. The pick kills two birds with one stone!
23. Philadelphia Eagles Select: Derek Sherrod, OT Mississippi State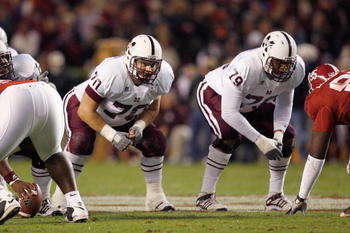 Kevin C. Cox/Getty Images
Philadelphia's biggest glaring weakness was its offensive line last season, which is unusual for an Andy Reid team. The unit gave up a whopping 52 sacks.
Granted, 40 of those were probably caused by Michael Vick holding onto the ball for 45 seconds while he ran to both sidelines and back, but still if the guy is going to risk the Madden cover curse again, its wise to get him some extra protection.
Derek Sherrod is just the player Andy Reid covets and could fill the role perfectly. After Reid benched Winston Justice in the playoffs last year, Sherrod would have a chance to start right away and would be given the difficult task of protecting Vick.
Still if anyone is up to it, the athletic and quick Sherrod is the one.
24. New Orleans Saints Select: Phil Taylor, DT Baylor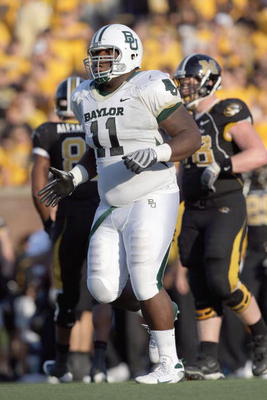 Jamie Squire/Getty Images
Sure the Saints just signed Shaun Rogers, but drafting a long-term project to go along with a short-term fix has been done before.
In fact, it's happened as recently as last season. The Lions drafted Ndamukong Suh even though they added Corey Williams.
The Browns selected cornerback Joe Haden even after trading for Sheldon Brown and the Jets still went after Kyle Wilson even after recently acquiring Antonio Cromartie.
The Saints are going to add to the list. Phil Taylor is a big nose tackle that the Saints desperately need. If the Saints want to return to championship form (I for one wouldn't particularly be devastated if they didn't), then they will have to both run the ball and shut down opposing backs.
Baylor's Taylor could go along way towards helping with the latter.
25. The Seattle Seahawks Select: Jimmy Smith, CB Colorado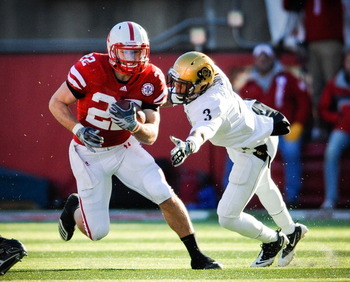 Eric Francis/Getty Images
I haven't fully researched all the dumbest Combine interviews, but Jimmy Smith's has to be at or near the top.
The corner, one of the top players at his position, tested positive for drugs at Colorado (marijuana, I believe) and was arrested twice for underage drinking.
Two arrests are no doubt bad. I get that. But in the scheme of things when comparing his record to that of other players, underage drinking and a recreational drug (that is so common it might as well be legal at University of Colorado) aren't the worst offenses.
Obviously, I am not condoning his actions, I am just applauding the fact he wasn't arrested for battery or assault.
Yet in team interviews, Smith admitted to be arrested only once. I don't know the full story, but most reports have him down being arrested twice and NFL teams know your personal history.
Hell, most of them know your kindergarten girlfriend. So to lie to NFL teams as Smith reportedly did? RED FLAG.
Still, Smith's talent is undeniable and the Seahawks lack of it in the secondary was equally impressive. Pete Carroll has taken shots on guys with character trouble (most recently Mike Williams) and made them a success, so why not Smith?
He's big, fast, physical and fluid in his hip rotations. Sounds like a project worthy of Carroll's time and effort to me.
26. The Baltimore Ravens Select: Brooks Reed, DE Arizona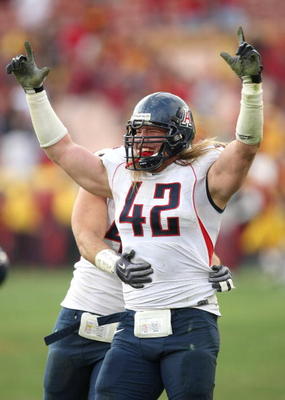 Stephen Dunn/Getty Images
Clay Matthews 2.0 Heard it here first. (Well, hopefully you did, because I am not the first person to say it).
The guy even has the hair.
This pick might indicate to some that the Ravens are giving up on Sergio Kindle. Not the case. For one, I would love to see Kindle recover fully and have a successful career. More importantly, Reed does not play the same position.
While Kindle is Ray Lewis' eventual replacement (you know, when he retires in 64 years) Reed is the roving type perfect opposite Terrell Suggs.
A guy who can wreak havoc on quarterbacks from either the 4-3 DE spot or as a linebacker blitzing off the end, Reed will present mismatch problems all over the field.
Left end Cory Redding had a terrible year, so Reed would be his replacement but certainly would be used in more creative ways.
Just what opposing offenses need to deal with: Ray Lewis, a healthy Ed Reed and now a mini-Clay Matthews. Great....
27. The Atlanta Falcons Select: Torrey Smith, WR Maryland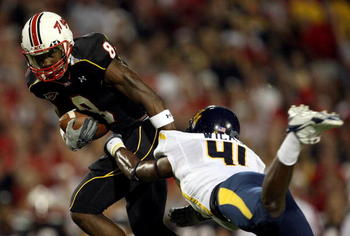 Darrius Heyward-Bey not Torrey Smith
Jamie Squire/Getty Images
The Atlanta Falcons are in the enviable position of picking the best player available as they are one of the deepest and most complete teams in the NFL.
Looking to select a defensive end, offensive tackle or wide receiver, the Atlanta Falcons will settle on the explosive Torrey Smith.
Lining Smith across from Roddy White will be a nightmare for opposing defenses and will only help Matt Ryan take the final steps towards stardom and achieving elite status as a top five quarterback.
Smith, a former teammate of Darrius Heyward-Bey, will probably catch more passes in his first eight weeks than the former first round pick has in his first two seasons (34).
With Ryan, White, Turner, Gonzalez and now Smith, the Falcons offensive will soar to new heights, blowing by quality defenses and again helping the Falcons set the pace in the NFC.
28. The New England Patriots Select: Mike Pouncey, OG Florida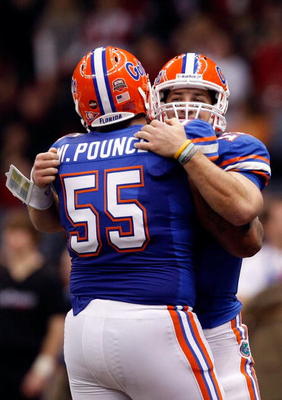 Kevin C. Cox/Getty Images
Roger Goodell should institute a new rule. The Patriots shouldn't be allowed 52 draft picks.
It's not fair. Kudos to the Pats front office for making all the right moves to ensure they can restock the talent of a dying dynasty while Tom 'Bieber' Brady still has a few years. (Now that Bieber has cut his boy-band bangs, can we still compare him to Uncle Brady?)
With their second pick in the first round, the Pats again address the offensive line, this time selecting Mike Pouncey from Florida. Leave it to New England to spoil the Pouncey brothers' reunion in Pittsburgh.
Anyway, Pouncey's selection is a wise pick with the retirement of guard Stephen Neal. Providing Brady with the best possible protection is what the Colts should be doing with Manning.
It's the right move. Or as I prefer to see it, a futile effort to Freeney- and Mathis-proof their offensive line.
29. The Chicago Bears Select: Nate Solder, OT Colorado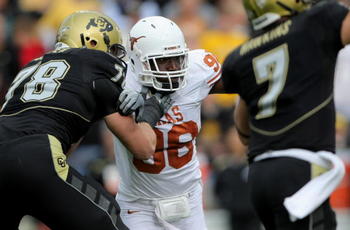 Doug Pensinger/Getty Images
I couldn't believe it last year when people questioned Jay Cutler's toughness. If I were Cutler, I would have never taken the field. No way. Not with my line giving up a league-leading 60 sacks.
That's just embarrassing. I wonder what might have happened in the NFC Championship game if Chicago had addressed the issue earlier. Maybe Cutler doesn't go down. Maybe the Bears win...
We will never know, certainly not if the Bears don't immediately fix the line starting with their first pick. If the draft plays out the way its mocked to at this point, taking Solder out of the University of Colorado is the only sensible pick.
If Jerry Angelo doesn't make the call, he should be banished from the city forever. (Obviously if other players I have going early are still on the board, it's a more difficult decision, but an offensive lineman is the only play here).
Cutler and the Bears' offense will never stand a chance if the line isn't improved, and Solder can and should be a major building block in the process.
30. The New York Jets Select: Akeem Ayers, OLB UCLA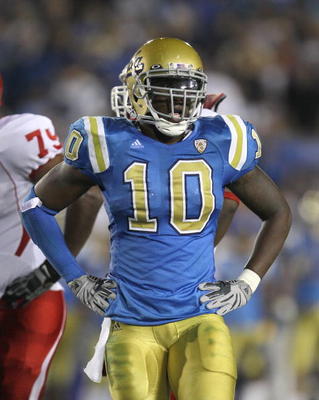 Stephen Dunn/Getty Images
Akeem Ayers might be the most versatile hybrid player in the draft.
His specialty is rushing the passer and when you have to go through the likes of Peyton Manning, Tom Brady and Big Ben to get to the Super Bowl (where you might run into Aaron Rodgers) it never hurts to have a lot of multipurpose, adaptable, smart pass rushing specialists.
This isn't a position of great need for the Jets, but the way they have been spending money on free agents of late, they don't have any huge gaping holes demanding attention. Ayers is a luxury pick that the Jets are lucky to be able to afford.
31. Pittsburgh Steelers Select: Ben Ijalana, OT/OG Villanova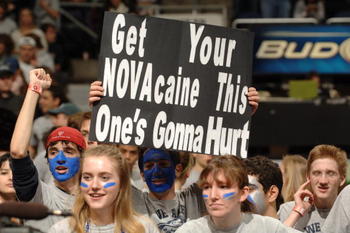 Mitchell Layton/Getty Images
This might be a bit of a reach pick, but when it comes to protecting their Pro Bowl quarterback, I think the Steelers would be prepared to accept the fact and pull the trigger anyway.
Coming from a small football program that plays in the Division I Football Championship Subdivision or more commonly Division I-AA, questions abound surrounding Ijalana's ability to go up against tougher and more battle-tested competition.
That being said, Ijalana had an excellent pro day and would certainly have the local fan favorite underdog status going for him as well.
The Steelers may consider moving up to draft Mike Pouncey, brother of current center Maurkice Pouncey (another cool story in its own right); however, I don't see that happening, as the price might be too steep.
* Explanation of the picture: So apparently Getty Images has no pictures of Ijalana or of Villanova Football. This is quite understandable given that Nova is a I-AA program.
So instead I found a lovely picture of students from my alma matter Georgetown trash talking Nova's basketball team, one of our main rivals.
Hoya Saxa!
32. The Green Bay Packers Select: Aaron Williams, CB/FS Texas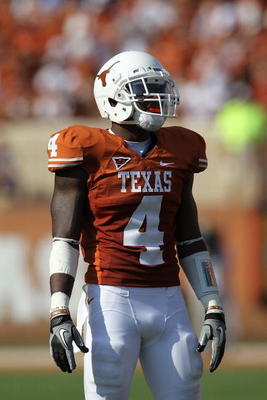 Ronald Martinez/Getty Images
In a shocking move, Brett Favre rejoins the Packers prompting Ted Thompson to package Aaron Rodgers and the 32nd pick for seven of New England's second-round picks... AHHHHHHH
It's only a dream, Packers fans. Had to bring you back to some kind of reality. While adding an explosive receiver such as Kentucky's Randall Cobb may be enticing (it's being mentioned more and more) the Packers should use the pick to focus on defense.
Two areas of concern would be replacing DT Johnny Jolly, who is facing his second drug-related offense and possibly Cullen Jenkins, who is a free agent as well and preparing for life without Charles Woodson.
Defensive tackle is probably the more pressing need, but with Wilkerson and Taylor off the board, the talent isn't there to warrant the selection. Therefore, the Packers will look to Aaron Williams from Texas.
He has the makeup of Charles Woodson and would be well-served to be mentored by one of the game's great corners before eventually taking over for him.
Williams has good experience and is a big, strong, physical corner, which makes him a good pick here.
Keep Reading