Marshawn Lynch Is Key To Seattle Seahawks' Future Success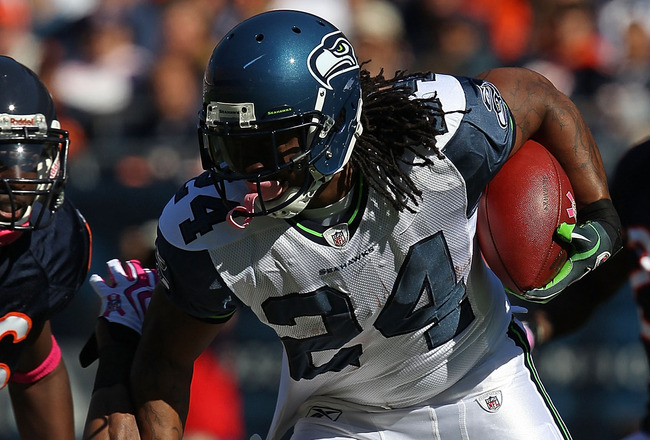 Jonathan Daniel/Getty Images
The Seattle Seahawks opened the season with an exciting, dominant, underdog victory over the San Francisco 49ers.
Pete Carroll's young squad looked like they would take the division by a stranglehold after upsetting many analysts', including my own, preseason NFC West division winner.
Although I held out hope for the 49ers, their abysmal winless start paved the way for Seattle, Arizona and Seattle to all take a commanding lead over the 49ers.
Seattle was terribly inconsistent in its first four games.
Week 1 they looked fantastic, clicking on all three facets of the game.
They then stumbled on the road to the Denver Broncos. Their 31-14 road loss caused many to believe their surprising Week 1 upset was a mere fluke.
In Week 3, they pulled out another upset victory over the San Diego Chargers. The team won 27-20 thanks to two kickoff return touchdowns by Leon Washington. With those two kick return touchdowns, Washington actually became the Seahawks' franchise leader for kick return touchdowns.
As 'fluke-like' as the victory was against the Chargers, a win is still a win. Seattle was 2-1.
Things were looking up for Seattle to take a commanding lead in the division.
Once again, though, Seattle failed to capitalize on a prime opportunity. They fell flat on their faces on the road against the St. Louis Rams. In fact, Seattle was absolutely destroyed by the Rams on both offense and defense.
It appeared Seattle was nothing more than a team winning at home in front of its amazing, raucous fan base. The young team may thrive in front of its fans, but winning on the road was clearly an issue as the team looked lost.
The running game was nearly non-existent in the first four games.
Last year's break out back, Justin Forsett, was not nearly as effective as he was to end the 2009 season. Matt Hasselbeck was not finding him to open the offense, limiting Forsett's potential as well as the offense as a whole. Forsett also wasn't hitting the hole quick enough to break big runs.
The passing attack was widely inconsistent with its young receiving corps and aging quarterback.
The bye week came at an opportune time for the Seahawks.
They sat 2-2 with a great opportunity work out the kinks of the team early in the season. Management reevaluated the team, recognized their identity, and realized that although they are in a rebuilding year, they have a chance to win the division.
The team made two outstanding moves.
They traded away receiver Deion Branch, who was an utter failure for the Seahawks, to the Patriots.
In a season-defining move, Seattle traded for former 1,000 yard rusher Marshawn Lynch of the Buffalo Bills.
Lynch rushed for over 1,000 yards in both his rookie and sophomore seasons. However, he was inconsistent with the Buffalo Bills last season and his reputation within the organization waned due to off field issues.
When the Bills drafted C.J. Spiller in the 2010 draft, everyone knew Lynch's days in Buffalo were numbered.
Two years ago, Lynch was regarded as one of the more talented and versatile running backs in the league. Lynch is a very good receiver with young legs and a bright future but could not get the job done for the Bills last year. Lynch is a powerful running back with break away speed.
Similar to St. Louis' Steven Jackson, Lynch is a perfect fit for the NFC West.
The Seahawks needed a running back they could depend on to move the chains and get tough yards. Forsett is more of a finesse running back and was troubling to prove stability in the running game.
Lynch will be able to wear a defense down and be the focal point for the young offense.
The Seahawks acquired a running back with a chip on his shoulder, a player they haven't had at the position for years. With a fresh start, Lynch is determined to prove he is everything everyone expected him to be when he was drafted in the first round of the 2007 draft.
Lynch was productive in his first start for Seattle.
He carried the rock 17 times for 44 yards and added three receptions for nine yards. Although it wasn't a very impressive debut, he was playing a tough Bears defense and has not seen much game action this year. He helped lead them to a big 23-20 road victory with his one-yard touchdown.
Lynch's style opened the game for Justin Forsett, who rushed 10 times for 67 yards and a touchdown in arguably his best performance of the season.
Lynch will continue to provide instant assistance to Forsett, who will be able to repeatedly come in and exploit tired defenses after Lynch wears them down.
There is no doubt that without the improved rushing attack, Seattle would have lost the important road game.
The improved run game also allowed the Seahawks passing attack to work more efficiently.
The big benefactor in Week 6 was Mike Williams, who caught 10 balls for 123 yards. Deon Butler caught four passes including a touchdown.
Lynch's three receptions are evident that he will be a dual threat for the Seahawks. His versatility is what made him one of the brightest young running backs in his first two seasons.
As Lynch becomes more comfortable in the offense, Pete Carroll will lean on him heavily to shoulder the load as his workhorse back. Lynch will be the focal point for Seattle and keep the team in contention for a division title.
Expect him to improve on his Week 6 performance starting this week against the Arizona Cardinals as Seattle keeps its division lead in the home victory.
Keep an eye on Marshawn Lynch, whose immediate impact will be the key to Seattle's future success.
This article is
What is the duplicate article?
Why is this article offensive?
Where is this article plagiarized from?
Why is this article poorly edited?

Seattle Seahawks: Like this team?