The 2010 NFL Draft in a Perfect World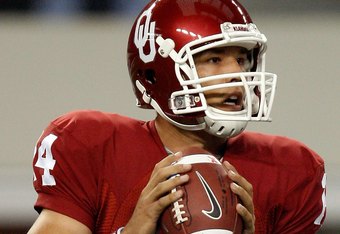 Ronald Martinez/Getty Images
Having seen all the turmoil surrounding the NFL Draft, pro days, combines, and everything else there is to throw at these players, I have been compelled to give my predictions on how the 2010 NFL Draft should go for the betterment of each franchise in the NFL. This draft is deep enough for every team to benefit from their selection and there is a very small difference from the number one player on the board to the 32nd .
St. Louis Rams - So who tops my board, at number one? You probably guessed it. No other than senior QB Sam Bradford from the University of Oklahoma; The 6'4'', 236 lb quarterback led the Sooners to a National Championship appearance his junior season, doing so with an assortment of average receivers and subpar running game.
Bradford (when healthy) has the best arm in this draft outside of Notre Dame standout Jimmy Claussen, but where Bradford edges out Claussen in his experience and resume in terms of competition level and results. Bradford played in a pass happy conference where he participated in many shootouts where he had to make throws to keep OU in the game. Bradford understands defenses and ball placement and is the best overall QB prospect in this draft.
Detroit Lions - Detroit got the anchor of their offense last year in QB Matthew Stafford from the University of Georgia, and as a rookie Stafford showed a lot of promise and emerged as a leader on this team. This year the Lions will want a similar type player on the defensive side of the ball and that is why they should select defensive tackle Ndamukong Suh.
At 6'4'', 300 lbs, and running a sub 4.9 40-yard dash, Suh has the strength and athleticism to be a wrecking force on the defensive side of the ball. Suh reminds a lot of people of Warren Sapp with his quickness and athleticism, but also has the mean streak and edginess that puts him ahead of Oklahoma Sooner DT Gerald McCoy.
In the Dr Pepper Big XII Championship Game, Suh showed how dominant he could be and the impact he could have on a game. Suh hounded Texas QB Colt McCoy the entire game keeping McCoy on the run and affecting the game plan of the Longhorns. Suh was a Heisman Trophy Candidate, Maxwell Award Winner, and was mentioned in just about every defensive player accolade. Suh has an assortment of moves that will keep offensive lineman in a state of confusion, the power to bulrush, and savvy enough to be a force against the running game.
Tampa Bay Buccaneers - The Buccaneers need help on the defensive side of the ball and may have to conduct a coin toss to decide which player to select in this April's Draft. It comes down to either Tennessee S Eric Berry or Oklahoma DT Gerald McCoy and I think the Buccaneers should select McCoy.
The Bucs have virtually no depth on the defensive line and need to bolster their pass rush. McCoy collected 32 total tackles and 6 sacks often facing two defenders.
Washington Redskins - And with the fourth pick in the NFL Draft, the Washington Redskins make plans to exit the Jason Campbell Era and move into the Jimmy Claussen era. Let's face it. Campbell's body of work is not impressive, he has weapons and clearly is just not getting it done.
The Washington Redskins should select Notre Dame QB Jimmy Claussen. Claussen had a tough time staying upright at Notre Dame and given protection I think Claussen can be an asset at the QB position. Though Claussens haven't paned out well in the NFL thus far, THIS Claussen is far more polished than his predecessors.
Kansas City Chiefs - The Kansas Chiefs will find themselves in a perfect position to land Tennessee S Eric Berry . Berry is a ball hawking safety that has a nose for the football. Berry will give the Chiefs a much-needed boost in the secondary and is one of the better-looking athletes in this draft.
Berry has 22 pass deflections and 14 picks in his career at UT, 3 of which returned for VOLS touchdowns. Berry puts a lot of people in the mind of Brian Dawkins or Ed Reed, which to say the least are great names to be in company with.
Seattle Seahawks - With the recent signing of ex-Charger quarterback Charlie Whitehurst the Seahawks made the decision that they were not interested in taking a quarterback in the first draft of this year's NFL Draft. Tackle Russell Okung from Oklahoma State University should be the right pick for the fans in Seattle.
Okung has sound fundamentals and is one of the strongest offensive line prospects in this class. He is one of the more polished having played significant time at OSU and has the meanest streak of all the offensive lineman. Okung will be instrumental in the Seahawks run and pass attack from opening day.
Cleveland Browns - The Cleveland Browns play in the AFC North, and the other teams in this division have been very busy. The Ravens went out and got Pro Bowl receiver Anquain Boldin, the Cincinnati Bengals are playing with the option of adding Terrell Owens to a roster that already boasts having Chad Ochocinco, the Steelers have Hines Ward and Mike Wallace coming on strong, so it only makes sense for the Browns to take Florida CB Joe Haden* .
Haden is rated as the top corner in this class and is physical on the ball responsible for holding some of the premiere receivers in the game to mediocre performances. (See AJ Green/ Julio Jones) Haden's combine raised eyebrows after the Gator clocked a high 4.5 40 yard dash and if can't improve on that at his Pro Day look for Haden to do a Brady Quinn-esque slide down the draft board. If Haden can't run a sub 4.5 40 on his Pro Day, look for the Browns to take a safety like Earl Thomas or Taylor Mays.
*Pending Joe Haden's Pro Day and "official" 40 time*
Oakland Raiders - The Raiders are young on both sides of the ball and may draft the piece that takes them to the next level this year. OT Bruce Campbell seems to be the best offensive lineman prospect in this draft.
Campbell, a 6'7'', 310 pound offensive tackle from Maryland, showed up at the NFL Combine and ran a 4.8 40 yard dash and proved that he is quite the physical specimen. Campbell is technically raw having only started a year and a half as a Terrapin but Campbell has the upside and potential to be a bookend on any side of the offensive line.
Buffalo Bills - The Buffalo Bills are light on defense and with the impending departure of defensive end Aaron Schobel, ex-Georgia Tech coach will look to the team he once coached to take defensive end Derrick Morgan .
Derrick Morgan is a fine looking athlete at 6'3'', 266 lbs, and can play both an outside linebacker and defensive end position in a 3-4 defense. Morgan has a great assortment of moves to get to the passer and good speed on the edge.
Jacksonville Jaguars - The Jacksonville Jaguars NEED a receiver with the departure of Torry Holt. Maurice Jones-Drew has solidified himself as a premiere running back in the league and the Jags need a receiver to make their offense truly two-dimensional. The Jaguars will have an interesting selection to make with Dez Bryant from Oklahoma State and Demaryius Thomas from Georgia Tech on the board.
I think the Jags should select Demaryius "Boo" Thomas from the Yellow Jackets. Thomas has excellent ball skills and at 6'3'', 225 pounds, Thomas has impressive speed. Thomas played in an offensive system where the passing game was not featured but was a big play threat every time he touched the bill averaging nearly 26 yards a catch.
Denver Broncos - The Broncos lost Casey Wiegmann to free agency and the Broncos should address that need with Florida G/C Maurkice Pouncey . He was apart of a National Championship team that featured a potent running attack.
Pouncey is an athletic offensive line prospect with the ability to make blocks at the second level. However, look for the Broncos to trade out of this pick to possibly get more pieces to the puzzle.
Miami Dolphins - The apparent need for the Miami Dolphins is to improve their defensive line in the 3-4 schemes. The second Tennessee Volunteer off the board features DT Dan Williams. Williams can play in both a 3-4 and 4-3 defense and is a disruptive force in both the passing and running game. Williams seems to be just what Parcells likes at this pick at 6 foot 3 and tipping the scales near 320 lbs.
San Francisco 49ers - Mike Singletary is a defensive minded coach and looks to make a defensive minded pick with the 13th pick in the draft. I see the Niners taking S Earl Thomas , the red-shirted junior from Texas to help shore up this Niner D.
Thomas is a ball hawking safety, collecting eight picks this past season for this Texas D and can play at a slot corner position if necessary. What Thomas was able to do in two years of college football was impressive and by playing for a national championship contending defense among other things prove he is a winner.
Seattle Seahawks - Cue the music, we have a reunion. It only seems inevitable that Pete Carroll selects his college safety to get the starting job at his NFL job. The Seahawks cut S Deion Grant with this pick in mind, and USC STaylor Mays comes back home to play NFL football.
New York Giants - The recent acquisition of S Antrel Rolle has shown that emphasis will be placed on the defense moving forward into the 2010 season. The weakness of this Giants d comes at the linebacker position, and the Giants have landed upon a gold mine in Alabama linebacker Rolando McClain .
At 6'3'', 258 lbs, McClain runs a 4.6 40 and has great instincts. McClain is described as "Nick Saban on the field" and is a sideline-to-sideline tackler. He will be a force for the New York football Giants.
Tennessee Titans - The Titans have many holes to fill on the defensive side of the ball and look to make some moves in the front eight. The Titans are reeling from the losses of Albert Haynesworth to Washington last season and Kyle Vanden Bosch to Detroit this season.
Though they took Auburn DT Sen'derrick Marks in the first round in 2009's Draft, defensive end Jean Pierre-Paul from the University of South Florida. Pierre-Paul is raw and a freak athlete and many teams like his motor.
San Francisco 49ers - the 49ers are looking for a big play, homerun guy and this is where we see CJ Spiller come off the board. The 49ers can use Spiller to return kicks, be a slot receiver or be a mismatch for linebackers coming out of the backfield. Spiller may be the fastest guy in this draft clocking two 4.3 40 times at the NFL Combine.
Pittsburgh Steelers- The Steelers had a tough season last year, but they should acquire Dez Bryant from Oklahoma State in this year's draft. The obvious comparison to Dez Bryant is Michael Crabtree from a year ago and the only reason Bryant is not in the top 10 is because of the lack of play in 2009.
Bryant has been out of the game of football for a year, but his tape speaks wonders for his abilities. He is probably the best run after catch receiver in this class and has incredible hands. At 6'2'', 215 Bryant can be a possession receiver as well as one that makes big plays down the field for Roethlisberger and company. The Steelers receiving corps is aging outside of that of Mike Wallace and could use an extra boost from Bryant.
Atlanta Falcons - Our second Texas Longhorn comes off the board for Atlanta with drafting DE/OLB Sergio Kindle. Kindle played most of his career at Texas standing up as an outside linebacker and has very good instincts for diagnosing plays and getting to the football.
At 6'4'', 255 lbs, Kindle exhibits good speed and can play both end and linebacker for the Falcons. This pick is a perfect fit for the Falcons with both John Abraham and Jamal Anderson's careers with Atlanta questionable.
Houston Texans - The Texans lost Dunt'a Robinson to free agency and look to improve their secondary. For the Texans it comes down to Alabama CB Kareem Jackson or CB Kyle Wilson.
The Texans should select CB Kyle Wilson because he's a proven four-year starter at Boise in a pass happy conference. Wilson probably one of the better defensive players in all of the WAC will be an asset to the Texans D. He creates turnovers and is very physical at the point of attack.
Cincinnati Bengals - Florida tight end Aaron Hernandez will find a new home in Cincinnati from his humble abode in Gainesville, FL. Hernandez is probably one of the top pass catching tight ends in the nation and played for one of the more prolific offenses in the nation.
Hernandez is a proven downfield threat with good speed. He is a poor man's Jeremy Shockey. Hernandez can line up as a slot receiver and will cause mismatch problems for a lot of NFL linebackers.
New England Patriots- In recent history, the New England Patriots have been struggling to keep Tom Brady off injured reserve, which is why they should draft G Mike Iupati from Idaho. Iupati is a physical interior lineman that will not only open holes for Laurence Maroney, but also keep Tom Brady delivering passes to Moss, Welker, and company.
Green Bay Packers - Bryan Bulaga , the offensive tackle from Iowa, should be a perfect fit for the Green Bay Packers. The Packers offensive line is aging and the insertion of 6'6'', 320 lb, Bulaga could be a much-needed lift in protection for Aaron Rodgers.
Philadelphia Eagles - With Brian Westbrook departing from the Eagles backfield, Ryan Matthews has emerged himself as a first round running back talent in this NFL Draft. Matthews provides a great one-two punch for the Eagles and at 5-11, 218 lbs, Matthews can be a powerful back that shows some glimpses of breakaway speed.
Baltimore Ravens- With the Ravens D aging and with CB Kareem Jackson still on the board the Ravens will find help covering the likes of Chad Ochocinco and Hines Ward. Jackson is a rangy corner and physical at the line of scrimmage. He fits the style of the Ravens' defense.
Arizona Cardinals - The Arizona Cardinals lose Chiki Okeafor and Karlos Dansby to free agency so the Cardinals should select linebacker Sean Witherspoon from Missouri. Witherspoon has the speed to cover swift tight ends and can also play inside the box as a run stop linebacker.
Dallas Cowboys - The "power pig" aka Terrance Cody will be just the 3-4-nose guard Jerry Jones and the Cowboys organization are looking for. Cody has weight issues (sometimes weighing in at 380) but has gotten those weight issues under control (weighing in at 338 at the Combine).
Cody is a strong inside presence and a space eater. He can control gaps and get penetration. The Cowboys can run away from this draft with a steal or a bust in Terrance Cody depending on if Cody can manage his weight.
San Diego Chargers - The Chargers lost one of the greatest players to ever dawn a Charger uniform in LaDainian Tomlinson and traded away star corner Antonio Cromartie.
They will have to decipher which is of more importance, running back or cornerback and will probably select to upgrade their defensive front to help take pressure off the secondary. Cam Thomas from UNC is 6'4'', 330 lbs and the heir apparent to Terrance Cody in this draft.
New York Jets - The Jets signed LaDainian Tomlinson to bolster their running attack and Coach Rex Ryan will have to improve their defense if they want to improve another collapse to the Indianapolis Colts in the playoffs.
The Jets lost Kherry Rhodes to the Arizona Cardinals so look for the Jets to take S Chad Jones from LSU at this spot. Jones is a headhunter and can really strike fear into opposing receivers.
Minnesota Vikings - The Vikings have to play the juggling game with Brett Favre's return (or lack thereof), and the loss of Chester Taylor highlights the need for the Vikings to take a running back in this draft. Jahvid Best , the 6-0, 198 lb running back for Cal is a speed demon that can add another dimension to the Vikings offense.
Indianapolis Colts - The Colts should select Penn State defensive tackle Jared Odrick , at 6'5'' and 304 lbs. The Saints controlled the Super Bowl against Indianapolis by keeping Peyton Manning off the field with their running game. Odrick provides a run stopper than can increase the Colts chances of getting back to the Super Bowl.
New Orleans Saints - The Saints won the Super Bowl with a prolific offensive attack and a stout defense. The Saints' main concern comes up front with their defensive line.
They fell late in the season to both the Cowboys and the Buccaneers who exposed their inability to stop an effective run game. To remedy that, the Saints should take UCLA defensive tackle Brian Price to round out the first round of the draft.
This article is
What is the duplicate article?
Why is this article offensive?
Where is this article plagiarized from?
Why is this article poorly edited?