The NFL has much to compete with considering madness has now officially swept the month of March.
Fortunately for those in the NFL, Robert Griffin III, Russell Okung and a stockpile of other notable names continue to make the rounds in free agency and threaten to change the landscape of the league.
That isn't a bad thing. Change is good. Change got Peyton Manning in Denver and won a Super Bowl last month before the legend hung up his cleats.
The draft might have a bigger deciding factor in a franchise's fate, but the market isn't anything to ignore. Here's the latest on some of its biggest names.
Lance Dunbar's Visits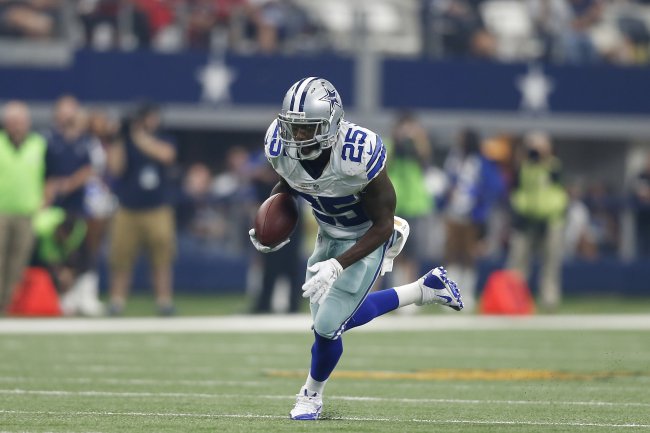 Brandon Wade/Associated Press
It's not easy being a guy like Lance Dunbar, who at his position alone had to compete for attention with Doug Martin, Matt Forte, Lamar Miller and other big names.
Now the North Texas product is one of the last names standing, though. Dunbar is an underrated get for a team willing to work him into things. He's just 26 years old and a strong committee back if used well.
Dunbar didn't manage gaudy numbers last year because he only suited up for four games, but 2013 is a good example of what he can do, as he averaged five yards per carry with 150 yards on 30 attempts. Last year, he caught 21 of 23 targets.
The league knows about the versatility, which is why a team like the Seattle Seahawks had him in for a visit, according to Brandon George of the Dallas Morning News:
Dallas Cowboys unrestricted free agent RB Lance Dunbar visiting the Seattle Seahawks today. He visited the San Francisco 49ers on Thursday.

— Brandon George (@DMN_George) March 13, 2016
The San Francisco 49ers also get a mention there, but it's the Seahawks who deserve the most attention.
With Marshawn Lynch apparently out of the picture, the Seahawks don't have anything other than Thomas Rawls and Christine Michael in the backfield. The former enters the season off an injury, and the latter continues to boast more alleged upside than actual production.
This is a marriage that needs to happen for both parties. Dunbar likely wants to win while actually contributing. He would in Seattle as a back who can rush if asked and secure plenty of targets as a safety valve.
If it's committee-approach time in Seattle, the team could do much worse than grabbing a veteran like Dunbar at a reasonable price.
Prediction: Dunbar signs with the Seahawks
Ryan Fitzpatrick's Asking Price
In a world where Brock Osweiler gets more than $70 million with a new team after seven starts, quarterbacks will do whatever it takes to get the money they feel they deserve.
This seems like the dilemma facing Ryan Fitzpatrick, who so far hasn't been content to just ink an extension with the New York Jets after one season with the team.
Instead, the former Harvard standout has made the rounds on the market in search of the best deal and situation. One of those locales includes Denver thanks to the void left by the aforementioned Manning.
One problem persists in what sounds like the perfect marriage—Denver doesn't agree with what Fitzpatrick believes he's worth. ESPN.com provided the note: "The Broncos have reached out to free agent Ryan Fitzpatrick's representatives, sources told ESPN NFL Insider Adam Schefter, though Denver currently is unwilling to pay the salary that the quarterback is seeking."
Call it quite the interesting development. Fitzpatrick completed 59.6 percent of his passes last season with 3,905 yards and 31 touchdowns to 15 interceptions, so he's a viable game manager who could undoubtedly run the show most anywhere, but especially in Denver with such a strong supporting cast.
Denver, though, clearly won't pay top dollar for a quarterback not named Manning. In all likelihood, he's going to wind back up with the Jets after a failed leverage play.
The Jets have attempted the same thing. As the ESPN.com writeup notes, the team brought in RG3 for a visit. Real interest or not, if the places willing to take a starting job continue to shrink, Fitzpatrick won't get close to the money he wants, nor might he even get to act as a starter.
Look for Fitzpatrick to see the writing on the proverbial wall and ink an extension. If the Broncos won't come close, getting back into the same offense for a second round and leaning on a supporting cast led by Brandon Marshall and Eric Decker isn't such a bad result.
Prediction: Fitzpatrick re-signs with the Jets
Steelers Offer Russell Okung?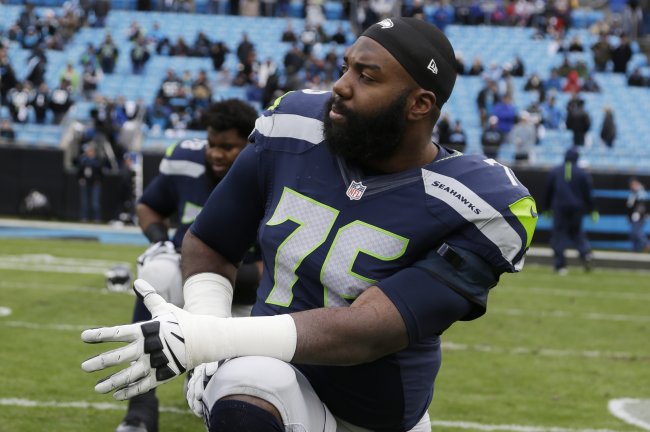 Bob Leverone/Associated Press
The Seahawks might have some extra dough to spend on running backs now with starting tackle Russell Okung out on the market perusing options.
Okung, just 28 years old and coming off a season in which he ranked as the No. 26 offensive tackle in the league at Pro Football Focus, continues to make the rounds and garner obvious interest with strong pass protectors standing as such a must-have commodity in the league these days.
One of the teams that has already pulled the trigger on trying to make it official with Okung? The Pittsburgh Steelers, according to ESPN.com's Jeremy Fowler.
While Okung seems like he will take more visits and make the rounds, he did take to social media for an interesting reveal about his visit:
No decisions yet but this is beautiful. pic.twitter.com/cP1b82aK8L

— Russell Okung (@RussellOkung) March 13, 2016
Fowler added another reason why Okung should favor Pittsburgh over most in the process:
One allure of a free agent signing with Pittsburgh -- offensive line coach Mike Munchak is known as one of the league's best. The Steelers remained a top-10 line last season despite season-ending injuries to Pro Bowl center Maurkice Pouncey and Beachum, who tore his anterior cruciate ligament in Week 7.
The Steelers coughed up 33 sacks last year while dealing with injuries. That's not a terrible figure, but if Okung can come in and act as a stabilizing force, the Steelers get a huge win, especially if the front office can get other free agents to return.
The list of suitors for Okung will remain high. Locales such as Detroit, San Francisco and many others have potential interest, but few can offer what Pittsburgh does—similar cash and a serious shot at a division title and more.
Already clearly liking what he sees, look for Okung to eventually put ink to paper with Pittsburgh after a few more visits.
Prediction: Okung signs with the Steelers
Stats courtesy of NFL.com and are accurate as of Monday. All advanced metrics courtesy of Pro Football Focus.