The 2013 NFL MVP race is currently led by Denver Broncos quarterback Peyton Manning with Week 16 on the horizon.
But fans who want to see a close race to end the season should look to last year for inspiration. Minnesota Vikings running back Adrian Peterson literally ran away with the award in Week 17 via his 199 yards to put him over the 2,000-yard mark and gave him the second-highest rushing total in NFL history.
That sort of performance from a superstar is not out of the question and may be able to make this a close race again, but it needs to happen now.
Here is a look at the race as it currently stands.
The Criteria
Brace Hemmelgarn-USA TODAY Sport
This is rather simple and widely accepted, but a brief breakdown to act as a refresher is necessary.
An MVP must be a leader on a team in playoff contention. Simple. Minnesota finished 10-6 last year (yes, that actually happened) when Peterson won. As great of a year as say, Josh Gordon in Cleveland is having, he is an outlier with the Browns out of the race.
Outside of flashy stats, the MVP must elevate the play of those around him, and his team must be completely crippled were he to miss time for one reason or another.
Easy. Let's begin.
The Pretenders
Tom Brady, QB, New England Patriots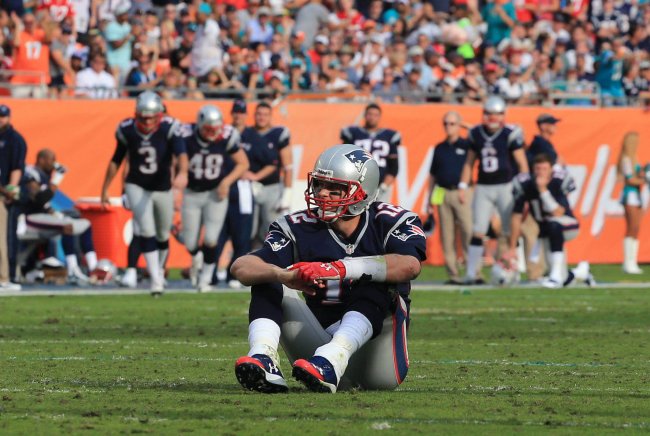 Robert Mayer-USA TODAY Sports
Tom Brady's MVP stock has wildly fluctuated all season with highs worthy of the award, and lows that can single-handedly eliminate him from contention.
Brady has completed 60.9 percent of his passes this year for 4,049 yards with 23 touchdowns and 10 interceptions. He is on pace for his lowest touchdown total since 2009.
While there is something to be said about injuries to tight end Rob Gronkowski and others, not to mention the presence of rookies at wideout, Yahoo! Sports' Frank Schwab puts this logic to the test in a sly manner:
I know people are saying Tom Brady should be MVP but I'm picking Chad Henne because his teammates are FAR WORSE than Brady's #MVPlogic

— Frank Schwab (@YahooSchwab) December 13, 2013
For every good moment Brady has had, such as upending Denver in overtime back in Week 12, he has put together questionable performances such as needing a late rally to help beat four-win Cleveland in Week 14 (he pulled it off, but should have never been in the situation to begin with) and threw a game-ending interception with four attempts in the red zone in Week 15 against Miami.
Brady simply has not been consistent enough in all areas to win the award.
Nick Foles, QB, Philadelphia Eagles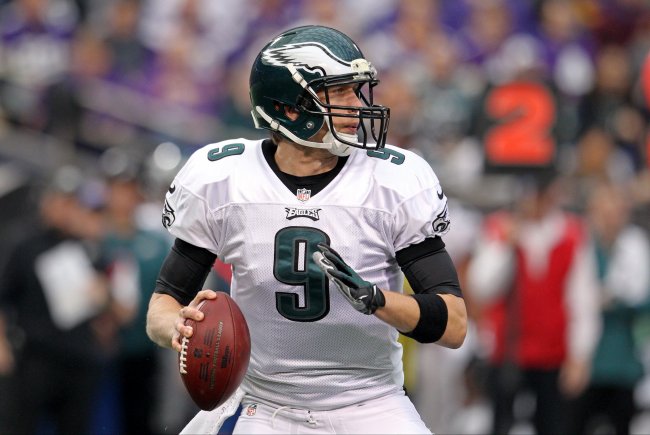 Brace Hemmelgarn-USA TODAY Sport
Nick Foles firmly planted himself on the MVP radar for a few weeks after taking over the starting job in Chip Kelly's attack.
The highlight was his 406 yards and seven touchdowns in Week 9 against Oakland, but in recent weeks the bad has begun to outshine the good.
In fact, if anyone deserves MVP credit in Philadelphia, it is running back LeSean McCoy (who would be mentioned here had he received more than eight carries in Week 15). McCoy has rushed for 1,343 yards and seven scores, with 507 more yards and a score coming through the air.
Foles has done well for himself—but his body of work is too small and he is not the main star on his team.
Drew Brees, QB, New Orleans Saints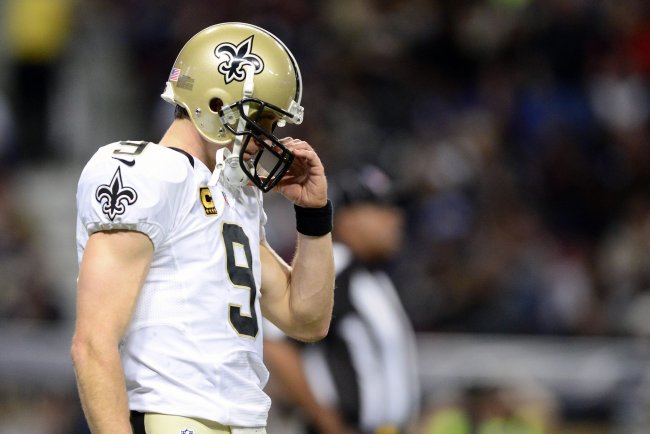 Jeff Curry-USA TODAY Sports
Drew Brees may be the only quarterback within 18 touchdown passes of Peyton Manning, but he continues to struggle away from home and his production has taken a nosedive in recent weeks.
In fact, the offense in New Orleans has scored more than 23 points once since Week 11. Brees has thrown for more than two touchdowns once in that span and the team has won three of five.
It is important to point out that Brees can get back into contention for the award in a hurry. Going to Carolina and winning the NFC South crown, cementing a playoff berth and proving he can win on the road will put Brees back in the race for good.
The Contenders
Russell Wilson, QB, Seattle Seahawks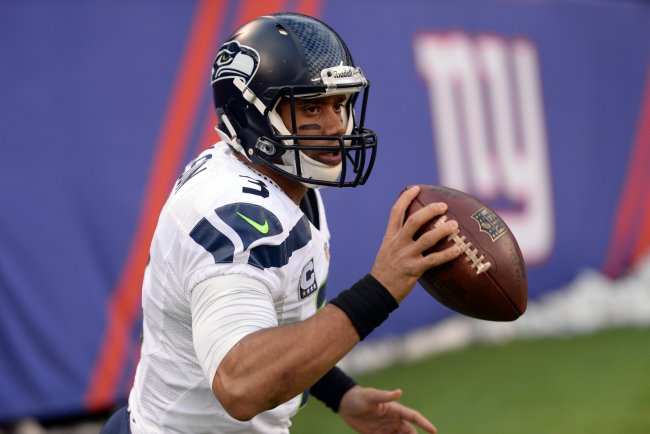 Joe Camporeale-USA TODAY Sports
As silly as it is to include wins in MVP talk, it is what it is.
Russell Wilson has led Seattle to the NFL's best record, and he has mostly done it without receiver Percy Harvin. He has managed to make Golden Tate look good and even put guys such as Doug Baldwin and Jermaine Kearse on the map.
Wilson has completed 64.7 percent of his passes for 3,077 yards with 24 touchdowns and eight interceptions, all while playing behind a makeshift offensive line that ranks seventh-worst in pass blocking and ninth-worst in run blocking, per Pro Football Focus (subscription required).
Not a bad year under center for Wilson, who has overcome a wealth of ineptitude and injuries around him at critical spots.
Jamaal Charles, RB, Kansas City Chiefs
If a running back is going to steal the MVP this year, it will have to be Jamaal Charles out of Kansas City.
Charles has been doing his best to steal it in recent weeks with his impressive numbers in his last four games:
Jamaal Charles Last Four Games

| | | | | | | | |
| --- | --- | --- | --- | --- | --- | --- | --- |
| OPP | ATT | YDS | AVG | TD | REC | YDS | TD |
| at OAK | 8 | 20 | 2.5 | 1 | 8 | 195 | 4 |
| at WAS | 19 | 150 | 7.9 | 1 | 2 | 8 | 1 |
| vs. DEN | 19 | 93 | 4.9 | 1 | 2 | 27 | 0 |
| vs. SD | 14 | 115 | 8.2 | 2 | 4 | 42 | 0 |
NFL.com
But Bleacher Report's Alessandro Miglio and Football Outsiders' Scott Kacsmar put it best:
The only reason we're talking about Tom Brady or Jamaal Charles as the potential MVP is because we've known it's Peyton Manning for so long.

— Alessandro Miglio (@AlexMiglio) December 17, 2013
Don't understand Peter King's logic. If "no one saw Jamaal Charles in MVP race a month ago", why should he win the award?

— Scott Kacsmar (@FO_ScottKacsmar) December 17, 2013
Charles averages 4.8 yards per carry and has 1,181 rushing yards with 11 scores, but it is going to take a titanic effort in the final weeks in order to pull a Peterson.
Philip Rivers, QB, San Diego Chargers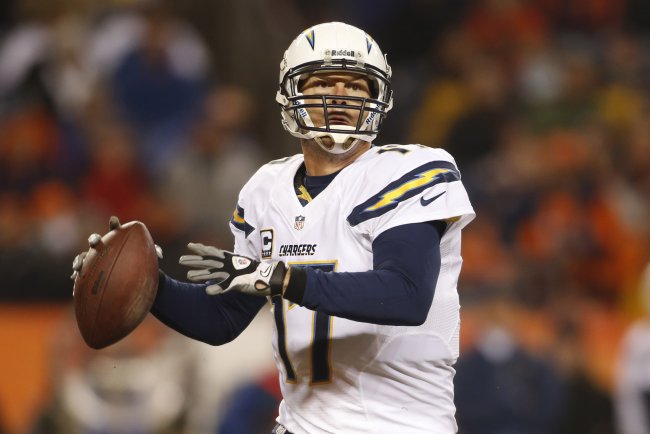 Chris Humphreys-USA TODAY Sports
This may be out of left field for some fans, but Philip Rivers is surely having an MVP year in large part thanks to new coach Mike McCoy.
Contender with best chance of stealing award?
Rivers has completed 69.9 percent of his passes this year for 4,048 yards and 28 touchdowns to nine interceptions. He has San Diego at 7-7 in the thick of the playoff race.
This is quite the impressive feat considering Rivers' defense ranks No. 29 against the pass and allows 376.2 total yards per game. His leading receivers? Rookie Keenan Allen and a 33-year-old Antonio Gates.
Heck, Rivers' offensive line ranks sixth-worst in pass blocking, again per Pro Football Focus.
Despite the wealth of injuries, Rivers has made a star out of a rookie receiver, squeezed the last bit of production from a Hall-of-Fame bound tight end and thrived behind a woeful offensive line.
The Frontrunner: Peyton Manning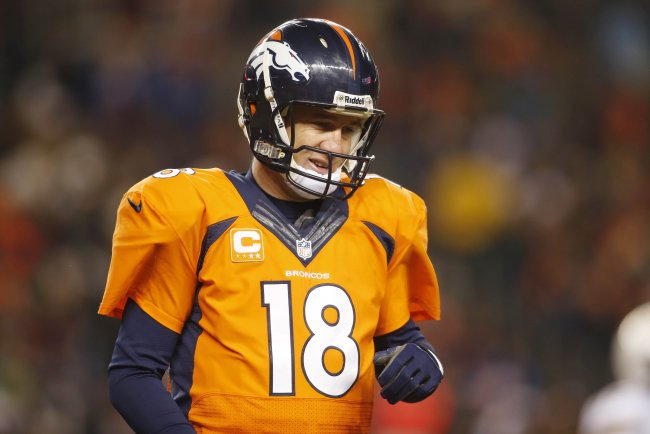 Chris Humphreys-USA TODAY Sports
In the end, the award belongs to Peyton Manning.
Will Peyton Manning win MVP?
Manning has simply statistically overwhelmed any and all opposition with his 4,811 passing yards and 47 touchdowns to 10 interceptions with two games to go.
While there is an argument to be made about the impressive talent surrounding him, meaning the Broncos would still be competitive without Manning, the fact remains no player would be capable of this sort of production.
Rotoworld's Patrick Daugherty perhaps brings up the best point of all:
People who declared Peyton Manning MVP in October are bored now that he's still MVP.

— Patrick Daugherty (@RotoPat) December 17, 2013
Are we simply so bored with Manning leading the race all season that we have started to make up potential threats?
Probably. But that is simply an affirmation of the epic year Manning has put together. Barring a shocking collapse, Manning wins by a mile.