Heading into Week 10, the NFL's playoff picture is beginning to sharpen into focus, but anyone who says they know what will happen the rest of the way is lying.
The Kansas City Chiefs are still undefeated through nine games, but many think the Denver Broncos would wipe the floor with their divisional rivals. Denver will have to first get by San Diego in Week 10, but a pivotal matchup between these two top teams is upcoming in Week 11 that will at least temporarily settle the argument.
While Kansas City stands alone as the only undefeated team in the league, there are still two winless teams.
But where do these teams stand in the grand scheme of things? Here's a look at where every team in the NFL ranks heading into the final push toward the playoffs.
1. Kansas City Chiefs
Week 11's contest against Denver will determine whether or not Kansas City belongs at the top of these rankings. Winning games in the NFL isn't easy, however, and it doesn't matter how ugly the Chiefs have won their games; undefeated records deserve the highest place of honor.
2. Denver Broncos
The lowest number of points scored by Denver this year was 33 points in Week 7 against the Indianapolis Colts. The Broncos' high-powered offense is averaging 42.9 points per game this year, which is 12.9 points more than the next-best team.
Which team should be No. 1?
Shutting down Peyton Manning and his dynamic corps of receivers is nearly impossible, and this team has the pieces in place to hoist the Lombardi Trophy in February.
3. Seattle Seahawks
The Seattle Seahawks barely fended off the winless Tampa Bay Buccaneers at home in Week 9, and it was the second week in a row this team narrowly escaped a loss to a losing team.
However, rather than excoriate the Seahawks for almost losing, it would be better to praise the team for finding ways to win. After all, Seattle is far from healthy right now. Both starting offensive tackles are out, which has been extremely detrimental to the team's offense.
But rather than let adverse circumstances derail this team's momentum, the coaches and players have rallied and found ways to get the job done.
4. San Francisco 49ers
As long as Frank Gore remains the focal point for the San Francisco 49ers on offense, this team has a chance to win every single game the rest of the way. Colin Kaepernick is undoubtedly one of the NFL's premier young quarterbacks, but he's not ready to carry this team on his back—nor should he.
Featuring the NFL's best offensive line and one of its best running backs, the 49ers have a winning formula with Gore and the play-action game with Vernon Davis—not to mention one of the league's top defenses.
5. New England Patriots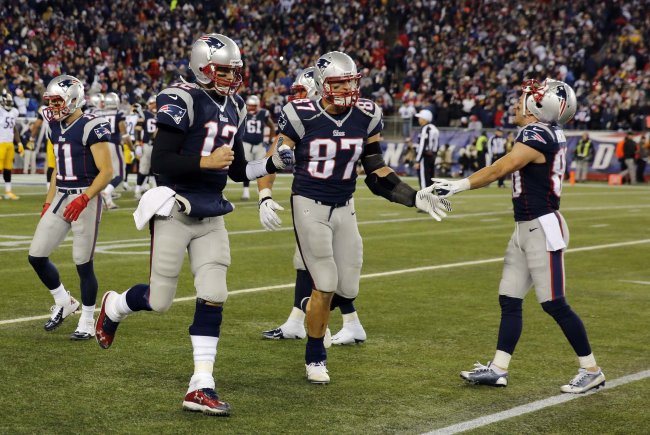 David Butler II-USA TODAY Sports
After Tom Brady shredded Pittsburgh's defense to the tune of 432 yards and four touchdowns in Week 9, it may be time to shelve any talk about how New England's offense is suffering. Danny Amendola and Rob Gronkowski combined to catch 13 passes for 265 yards and two touchdowns, helping the Patriots put up 55 points to blow out the Steelers.
6. New Orleans Saints
Jimmy Graham is clearly not healthy. With his limitations and the loss of Darren Sproles, who left Sunday's game against the New York Jets early with a left ankle injury, New Orleans' offense wasn't able to create the mismatches that usually make it so dynamic.
When healthy, the Saints have an offense that can score points on any team, however, and there is still time for this team to gear up and get strong for the playoff push.
7. Indianapolis Colts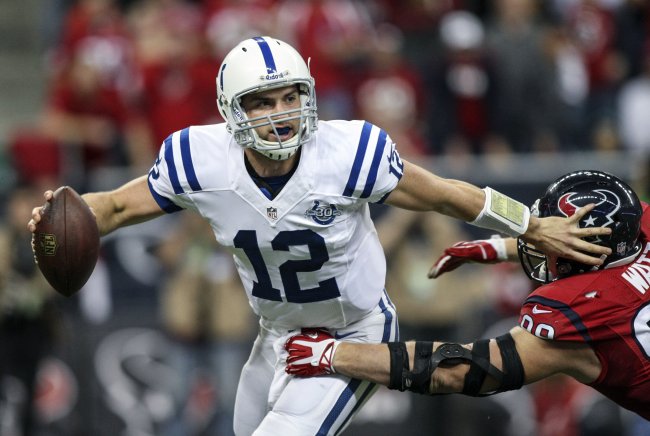 Troy Taormina-USA TODAY Sports
Andrew Luck may as well walk straight into Canton. Through 25 career starts, he's brought his team back to win the game with a fourth-quarter comeback 10 times. His latest masterpiece against the Houston Texans was especially impressive, considering it was his first comeback without Reggie Wayne.
The Colts are 6-2 now, heading into the second half of the season with a two-game lead over the Tennessee Titans in the AFC South. Likely, this team will host at least one game in the playoffs.
8. Cincinnati Bengals
Losing by way of safety in overtime on Thursday Night Football to a Miami Dolphins team that hadn't won in three straight games typifies why so many analysts are scared of putting too much trust in the Cincinnati Bengals.
Andy Dalton clearly has the skills to pay the bills, but he struggles to master the mental aspect of playing quarterback in the NFL, as we saw from his four-turnover display against Miami.
Combine that with the loss of Geno Atkins for the season, and the Bengals need to turn things around quickly to avoid a second-half disaster.
9. Detroit Lions
Suddenly, in light of Aaron Rodgers' injured shoulder, Detroit is looking good as the team to beat in the NFC North.
Calvin Johnson and Matthew Stafford are playing on another level, Reggie Bush brings an added dimension of explosiveness on offense and the Lions feature a dominating defensive front that is capable of taking games over.
10. Chicago Bears
Whether or not Jay Cutler can return from his groin injury for Week 10's clash against the Lions, Chicago has to feel good about its chances. Josh McCown has impressively filled in for Cutler the past two games, throwing three touchdowns and zero interceptions, and the Bears have scored 68 points in those contests.
11. Carolina Panthers
After winning four straight games against losing teams, the Carolina Panthers will finally be tested against a winner in Week 10 when the team heads into Candlestick Park for a game against the 49ers on Sunday.
The Panthers will be hard-pressed to beat a 49ers team that has won five in a row—especially after San Francisco's bye, in front of its home crowd.
12. Green Bay Packers
Aaron Rodgers has a fractured collarbone, and the team isn't talking about a timetable for his return, as noted by Rob Demovsky of ESPN.com:
Rodgers: I have a fractured collarbone, and we haven't talked at all about timetable.

— Rob Demovsky (@RobDemovsky) November 5, 2013
The Packers have endured a bevy of injuries this year, but this one could prove too difficult to overcome. Rodgers is the heart and soul of his team—not to mention one of the best players at any position in the NFL.
Seneca Wallace was atrocious in his stead (114 yards on 19 attempts with one interception) on Monday Night Football against Chicago, and the Packers are in trouble if Rodgers has to miss extended time.
13. New York Jets
Up and down. Down and up. This team can't seem to stay consistent, but a 5-4 record has New York in the thick of things for a playoff berth in the AFC. Geno Smith's rookie mistakes will likely keep this squad from doing any damage if it gets in, but the Jets are clearly a team on the rise.
14. Dallas Cowboys
It's impossible to trust Dallas as a playoff contender. As usual, this team has plenty of talent on both sides of the ball, but injuries and poor decisions have plagued Dallas in the past, and it appears to be poised for another disappointing finish.
15. Tennessee Titans
Jake Locker has surprisingly turned into a competent starter this year after two years of inconsistent play. He took a step backward in Week 9, however, throwing two interceptions, but Chris Johnson came to the rescue with a monster game, totaling 170 yards and two touchdowns.
If Johnson can continue having games like he did on Sunday against the St. Louis Rams—the same team that shut down Marshawn Lynch the week before—then the Titans will continue winning ball games.
16. Arizona Cardinals
Arizona's defense is formidable, but the Cardinals won't be any better than a mediocre team as long as Carson Palmer is the man in charge of pulling the trigger on offense.
If Palmer can't stop throwing interceptions (he has 14 in eight games), then Arizona will likely finish the season with a record of 7-9 or worse.
17. San Diego Chargers
Philip Rivers is having perhaps the finest year of his entire career, but he can't help his team's atrocious defense. After losing a heartbreaker to the Washington Redskins, the Chargers fell back to 4-4 on the season, and a matchup against the Broncos will likely drop this team out of the playoffs for good.
18. Philadelphia Eagles
If Nick Foles could just throw seven touchdowns per game, then the Philadelphia Eagles might have a winning record. The word "might" applies here, because Philly's defense is the worst in the league in terms of yardage allowed per game.
But neither Foles, nor Michael Vick, nor any other quarterback on the Eagles roster is capable of keeping up such a torrid pace, which is why the Eagles are sitting at 4-5.
19. Miami Dolphins
The Dolphins opened the season with three straight wins, but since then this team has been in a free-fall. Cameron Wake's overtime safety against Andy Dalton may have saved the season, however, as Miami is still in the playoff chase at 4-4.
20. Cleveland Browns
Jason Campbell led the Browns to their first victory over the Baltimore Ravens in 11 seasons in Week 9. Cleveland is now right back in the hunt for the AFC North divisional crown at 4-5—just two games behind the Bengals—and the team's defense remains one of the best in the league.
21. Baltimore Ravens
Since opening the season winning two of three games, Baltimore has gone cold. The Ravens have now lost three straight games, and four of the last five. Ray Rice is banged up and can't find any running room, and Baltimore's offense has gone from bad to worse as the season has worn on.
22. Oakland Raiders
Oakland's defense has been surprisingly competitive this season, but Week 9 proved to be a breaking point for the Raiders. Nick Foles shredded this team for seven touchdowns, and the game was over before halftime.
Now at 3-5, Oakland is where everyone thought it would be at the beginning of the season—at the bottom of the AFC West.
23. Buffalo Bills
A team without a quarterback is lost, which is what we've witnessed while watching Buffalo this year.
Jeff Tuel was horribly unprepared for the Chiefs in Week 9, and the Bills lost at home despite the fact that Kansas City didn't score an offensive touchdown. Instead, the Chiefs scored two defensive touchdowns to win the game by 10 points.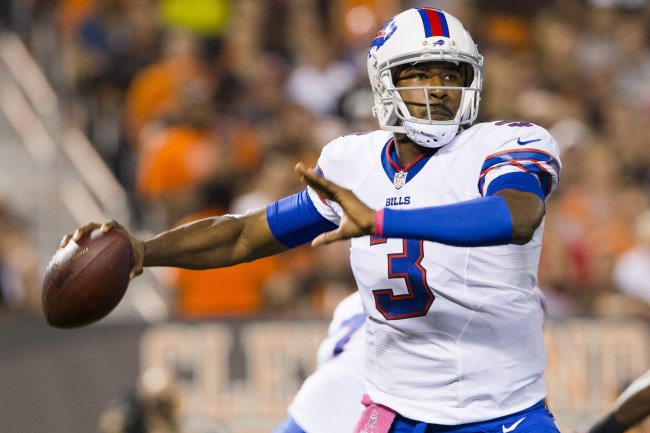 Jason Miller/Getty Images
Thankfully, rookie EJ Manuel has been cleared to return to practice, as noted by the Bills on Twitter:
#Bills QB EJ Manuel has been cleared to return.

— Buffalo Bills (@buffalobills) November 4, 2013
24. Washington Redskins
Washington's defense doesn't stop anyone, ranking No. 30 in the NFL in total yards allowed.
Combined with the continued struggles of second-year quarterback Robert Griffin III (nine interceptions and nine fumbles), Washington is lucky to have three wins right now. Incredibly, this team is just one game out of first place in the loss column to the Cowboys in the NFC East, and this division will be fun to watch.
25. St. Louis Rams
Rookie running back Zac Stacy is the lone offensive highlight for St. Louis this year. Fellow rookie Tavon Austin barely sees the ball anymore. He wasn't a hot target even when Sam Bradford was available, and since Bradford's season-ending knee injury, the Rams seem content to ride Stacy for all he's worth the rest of the way.
26. New York Giants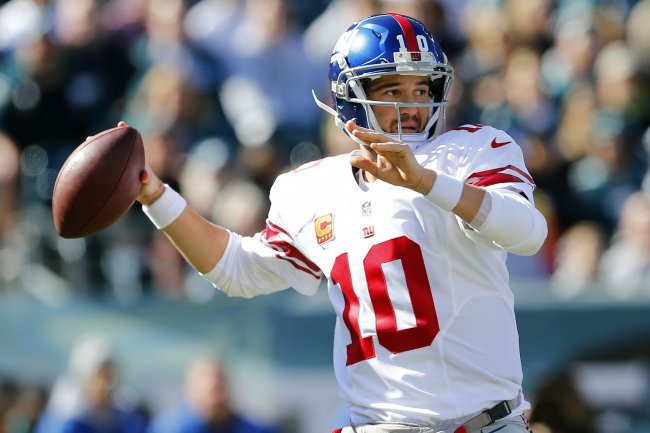 Rich Schultz/Getty Images
At 2-6, the New York Giants are just two games behind the Cowboys in the loss column for the NFC East divisional lead. As bad as it's been for the Giants this year, a strong second half could send this team into the playoffs. Two wins in a row makes for a good start, but the Giants have a tough road ahead of them in the second half of the season.
27. Pittsburgh Steelers
Pittsburgh's defense is toothless these days, having logged just 13 sacks and forced just six turnovers so far this year. Combine this with the fact that Ben Roethlisberger plays behind a paper mache offensive line, and it's no surprise that the Steelers are 2-6 heading into the second half of the season.
28. Atlanta Falcons
The way Atlanta has played thus far in 2013, nobody should be surprised if the Falcons end up with a top-five pick in the 2014 NFL draft.
Featuring the league's worst rushing offense, the Falcons have languished without Roddy White and Julio Jones in the starting lineup. Making matters worse, this team features one of the league's worst defenses, allowing 27.3 points per game.
29. Houston Texans
At 2-6, the Houston Texans could easily be among the winless teams this season if not for two heroic late-game plays by DeAndre Hopkins and Brian Cushing, who is now out for the season. Despite the fact that Houston features the league's top-ranked defense, the Texans will almost surely finish the season among the worst teams in the league.
30. Minnesota Vikings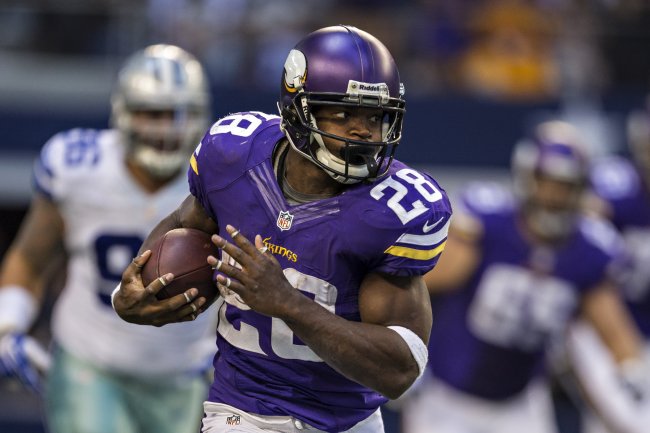 Wesley Hitt/Getty Images
The Vikings put up a good fight and nearly won in Week 9 against the Cowboys in Dallas, but a poor defensive effort at the end of the game allowed Dallas to come away with a thrilling come-from-behind win.
Minnesota has consistently found ways to lose this year, rather than what we saw last year, when this team shocked the league by making it into the playoffs with a record of 10-6. A quarterback is desperately needed, as is a revamped defensive front.
31. Tampa Bay Buccaneers
Which team is the worst in the NFL?
After going up 24-7 in the third quarter over the Seahawks in Seattle, there was no way the Tampa Bay Buccaneers should have lost the game. But as we've seen all year from this team, when it came time to make plays that mattered, the Bucs fell short.
Now, at 0-8, it's getting harder and harder to envision a scenario in which head coach Greg Schiano gets to keep his job at the end of the season.
32. Jacksonville Jaguars
To nobody's surprise, the Jacksonville Jaguars are winless this season.
Without a competent offense and a serviceable defense, the Jags are getting blown out on a weekly basis, losing every game by an average score of 33-11.
Making matters worse, the team's top offensive weapon, Justin Blackmon, is suspended indefinitely after violating the NFL's substance-abuse policy, as noted by Ryan O'Halloran of the Florida Times-Union:
Blackmon suspended indefinitely without pay for violating the NFL Policy and Program for Substances of Abuse.

— Ryan O'Halloran (@ryanohalloran) November 1, 2013
It will be utterly shocking if Jacksonville conjures up a single win this year.
Follow me on Twitter @JesseReed78