NFL Power Rankings: Analyzing League Landscape Heading into Week 4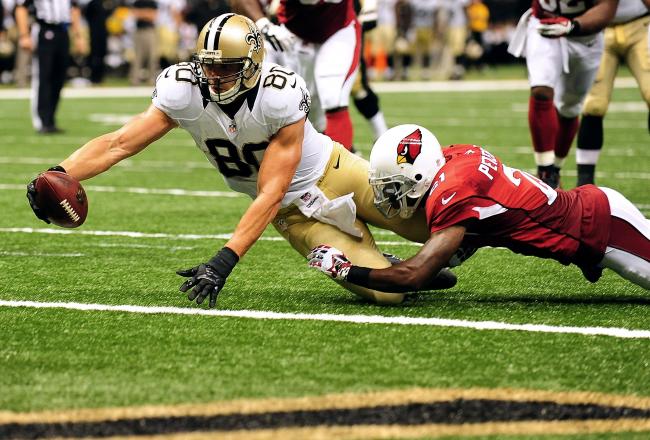 Stacy Revere/Getty Images
Week 4 of the 2013 NFL season will commence with a Thursday night showdown between two NFC West rivals, but the San Francisco-St. Louis clash is hardly the pinnacle of what the weekend will offer football fans.
Which team is the best in the NFL right now?
Several expected playoffs teams will battle each other on Sunday, others looking to avoid disaster have something prove, and the New Orleans-Miami Monday night game that once looked like a dud suddenly features two teams undefeated at 3-0.
It also features two teams in the top 10 of my latest power rankings below.
A few familiar faces linger at the top of the list, while those who left Week 3 unscathed continue to climb the ladder. Elsewhere, a number of expected contenders are winless and near the league basement because of it.
The rankings can change in an instant, but here's a fresh look at the league landscape before Week 4 begins.
1. Seattle Seahawks (3-0)
What the Seahawks are doing on defense is quite impressive. The most points Pete Carroll's defense has allowed through three weeks is 17 to the Jacksonville Jaguars, and the Seattle resume also includes Carolina (seven points allowed) and San Francisco (three points allowed).
Defense wins championships, which is why Seattle gets the nod at No. 1 over Denver, a well-deserving bunch in its own right.
2. Denver Broncos (3-0)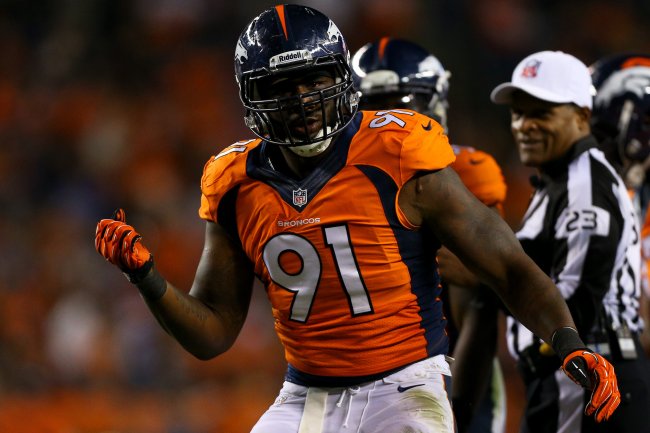 Justin Edmonds/Getty Images
The number of options Peyton Manning can throw the ball to is downright scary. Eric Decker (eight receptions, 133 yards, one touchdown) was the go-to guy on Monday night, but Wes Welker, Demaryius Thomas and Julius Thomas have all made an impact through three weeks.
We'll find out more about the Broncos as the season progresses, but there's a good chance they enter the Week 11 tilt with AFC West rival Kansas City undefeated.
3. Chicago Bears (3-0)
So far, so good in the Marc Trestman era.
Chicago has beaten two 2012 playoff teams (Cincinnati and Minnesota) in the first two weeks of the season and dropped 40 points on Pittsburgh in Week 3.
ESPN First Take asked a question on Twitter that is surely circulating in NFL circles:
Are the @ChicagoBears for real?

— ESPN First Take (@ESPN_FirstTake) September 23, 2013
With divisional matchups against Green Bay and Detroit looming in the next five weeks, the answer to that question could be swift. For now, the Bears are continually improving on offense and have done enough to earn a top-three spot.
4. New Orleans Saints (3-0)
With "Bountygate" in the rearview and Sean Payton back in the head coach's chair, these Saints wasted no time in reasserting themselves as the class of the NFC South.
Jimmy Graham and Drew Brees continue to defy logic as a receiver-quarterback tandem. The defense, one of the worst in the league in 2012, has turned itself around under the leadership of defensive coordinator Rob Ryan. As expected, the offense continues to shine.
The upcoming matchup with Miami should be one of the most intriguing of the young season, as well as a gauge for New Orleans' overall progress.
5. New England Patriots (3-0)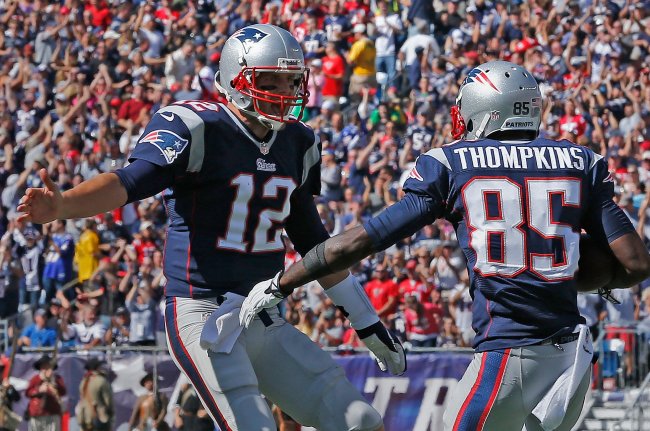 Jim Rogash/Getty Images
Despite the offseason turmoil surrounding the offense, the Patriots are once again undefeated.
It hasn't always been pretty, but Tom Brady and Bill Belichick have navigated New England to a strong early start. With wins over Tampa Bay and two different division rivals (Buffalo and New York), the Pats have very little to complain about when checking the loss column.
Inexperience at key positions will cost New England at some point this year, but the Patriots will continue to improve as the season progresses.
6. Cincinnati Bengals (2-1)
The Bengals have bounced back strong from their Week 1 loss. In addition to a wild win over the Green Bay Packers over the weekend, Cincinnati recorded a victory over Pittsburgh.
While the offense and defense don't pose problems to the future of the team, off-the-field issues might. Adam "Pacman" Jones was cited on Monday, per ESPN.com, the latest in a long line of disciplinary problems for the star cornerback.
Cincinnati can make a deep run in the playoffs this year, but distractions are the last thing Marvin Lewis' team needs.
7. Miami Dolphins (3-0)
The Dolphins made a statement to the rest of the NFL with a big win over Indianapolis in Week 2. They followed that up with a close victory over the Atlanta Falcons, another playoff team from the 2012 season expected to duplicate that success.
Miami hasn't done anything particularly well on the stat sheet, but it has avoided game-changing turnovers (plus-two so far on the year) and shown mental fortitude in close games against tough opponents.
No. 7 might seem high to some, but Miami has earned this spot in the ranking.
8. Kansas City Chiefs (3-0)
Speaking of earning a spot, Kansas City has more wins in three weeks than it did in the entire 2012 season. Andy Reid was scooped up quickly for a reason, and his trade for Alex Smith is an early candidate for best offseason move.
With a balanced offensive attack that has not given the ball to an opposing defense and a turnover ratio of plus-nine, the Chiefs have a blueprint capable of giving the teams ranked above a run for their money later this season.
9. Indianapolis Colts (2-1)
There's been nothing flashy about Indy's first three games, but there's a presence about this team that really stands out. A dominating second-half performance against San Francisco showed just how far this team has come in just over a year.
As running back Trent Richardson is integrated into the offense, the Colts will continue to improve.
10. Baltimore Ravens (2-1)
Two weeks after the Ravens were demolished by the Broncos to open the season, all is not lost in title town.
The defense continues to work through growing pains as a unit but has shown improvement, while Joe Flacco has manufactured two wins while key pieces of his offense (Jacoby Jones, Ray Rice) have been banged up.
Don't sleep on the defending Super Bowl champions just yet.
11. San Francisco 49ers (1-2)
Faced with a mountain of uncertainty after consecutive losses for the first time in the Jim Harbaugh era, the 49ers will not have the normal amount of preparation to atone for their woes.
The future of Aldon Smith is uncertain, the offense is sputtering and 1-3 is a real possibility. If the Rams play to their potential and San Francisco's disturbing trend on both sides of the ball continues, a free fall in the rankings could be in order.
12. Atlanta Falcons (1-2)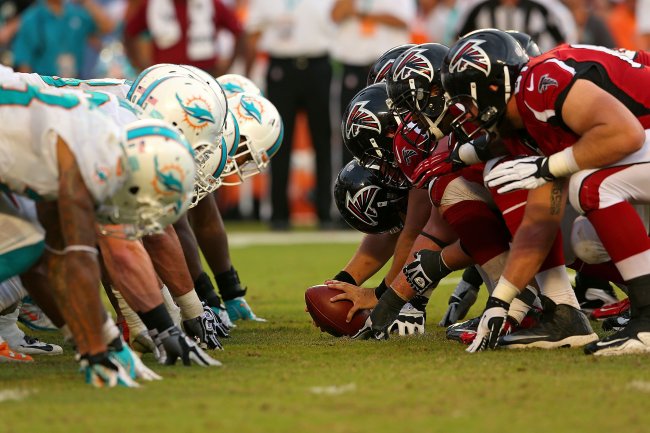 Mike Ehrmann/Getty Images
Like their 2012 NFC Championship Game counterparts, the Falcons are a bit lost heading into Week 4.
Injuries have decimated any chance for the offense to click on a regular basis, but there's no excuse for yielding 27 points to the Dolphins or giving up 375.0 yards of total offense per game.
Atlanta has time to turn it around, but a tough matchup awaits this week with New England, and Mike Smith's team can't afford to keep losing ground to New Orleans by starting 1-3.
13. Houston Texans (2-1)
The Texans have looked like an average team through three games but are still on the right side of .500.
After allowing 30 points to Baltimore in a crushing defeat, there are questions to be answered on both sides of the ball. Four of Houston's next five games will be against teams ranked higher on this list, lending to the idea that a 4-4 start might be all this group can muster.
14. Green Bay Packers (1-2)
A Johnathan Franklin fumble cost the Packers against the Bengals, but there were some definite positives to take away from Green Bay's second loss of the 2013 season.
Relying on a rookie running back is never an easy thing to do, but at least some of the hiccups with the offense are occurring early in the season. Divisional games are where the Packers need to do their damage, and one with Detroit is on the schedule for Week 4.
15. Dallas Cowboys (2-1)
It would be foolish to rank the Cowboys much higher than No. 15 despite an impressive victory over St. Louis, simply because the Cowboys have fooled us before.
One week, Jason Garrett's offense looks balanced and tough to stop. The next week, he and the offensive minds decide to lean on the pass when the running game gets off to an unfavorable start, a trend that is evident in Tony Romo's 42 passing attempts against Kansas City.
For once, it looks like the offense will dictate how far the Cowboys travel this year. As noted by ESPN's Calvin Watkins, the defense is doing its part early on:
Watkins: The Cowboys are piling up the sacks: After three weeks, the Cowboys have 13 sacks, second in the NFL ... http://t.co/lyo6mo2o4A

— Calvin Watkins (@calvinwatkins) September 24, 2013
Before vaulting Dallas any higher, we'll need to see it string some wins together.
16. Tennessee Titans (2-1)
Though they haven't done so with the same prowess as the Chiefs or Dolphins, the Titans have quietly surprised more than a few folks during the course of their 2-1 start.
After losing a close game to division rival Houston, Tennessee responded by scoring 10 unanswered points in the fourth quarter to beat San Diego.
Jake Locker, there might be hope for you yet.
17. Detroit Lions (2-1)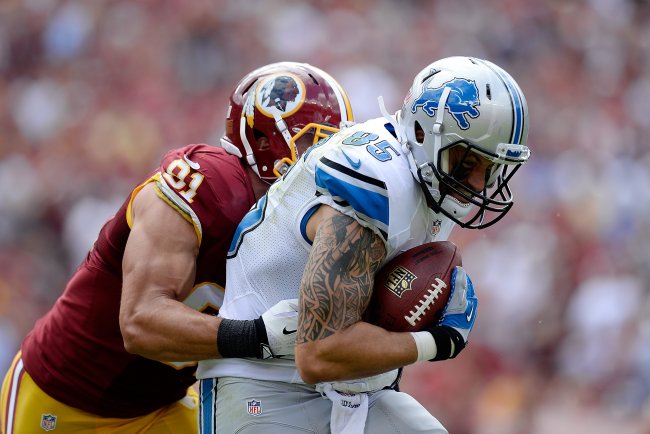 Patrick McDermott/Getty Images
Detroit handed Washington an 0-3 start with a late defensive stand, but a much stiffer test awaits this week in Green Bay.
The Lions are by no means big underdogs against the Packers, but the return of Reggie Bush would be a huge lift to their chances on Sunday. According to Dave Birkett of USA Today, Bush is planning on playing after missing the win over Washington.
He adds a special dynamic to an offense that is already fourth in the league in total yards per game at 410.7. Third on that list? Green Bay, with 454.7 per contest. Get ready for a shootout at Lambeau Field.
18. St. Louis Rams (1-2)
St. Louis was dominated by Dallas over the weekend, mustering just 232 yards of total offense while surrendering nearly 400 to its opponent.
Things won't get any easier against San Francisco on Thursday night, as the Niners will come in hungry and motivated to face a divisional opponent and get back on track after two blowout losses.
19. New York Jets (2-1)
Rex Ryan has been a hot seat candidate since the 2012 season ended, but the defense is once again keeping the enigmatic coach off the chopping block in 2013.
Smart Football had high praise for the unit on Twitter:
Is it just me or do the 2013 Jets look (so far) a lot like the 2009-2010 Jets? The defense has been legitimately excellent so far

— Smart Football (@smartfootball) September 24, 2013
The stats agree—New York is allowing just 270.0 yards per game, good for third in the league. If Geno Smith can cut back on his early turnover woes, the Jets might make some noise for a wild-card spot in the AFC.
20. Carolina Panthers (1-2)
The Panthers made the New York Giants look like a junior varsity team on Sunday, but I have a feeling that says more about the state of the Giants than it does the progress of the Panthers.
That being said, the two previous Carolina losses were by a combined six points. One was on a last-second touchdown pass by EJ Manuel. The Panthers deserve credit for pouncing on the Giants when all signs pointed to Carolina as the likely victim of an 0-3 start.
Carolina has three road games in its next four outings and needs to go at least 2-2 in those four games to have any realistic shot of making the playoffs this season.
21. San Diego Chargers (1-2)
San Diego couldn't close out Tennessee in Week 3, but you can't say this isn't a different Chargers football team than Norv Turner put on the field in 2012.
As noted by NFL on ESPN, the way in which San Diego has been in position to win games late in the fourth quarter is a trend that hasn't happened in over 40 years:
The Chargers are the 1st team since 1970 to have the winning pts scored in the final 30 secs of the 4th quarter in each of its first 3 games

— NFL on ESPN (@ESPNNFL) September 23, 2013
Concern about the running game and overall depth is warranted, but San Diego is no longer looking like a guaranteed victory when glancing at various schedules.
22. Buffalo Bills (1-2)
Speaking of keeping it close, the Bills have had chances to win in each of their first three games, too.
Manuel has looked every bit worthy of a first-round pick, but the Bills can't continue to stay with opponents if the defense is going to allow over 417 yards per game on a weekly basis.
23. Philadelphia Eagles (1-2)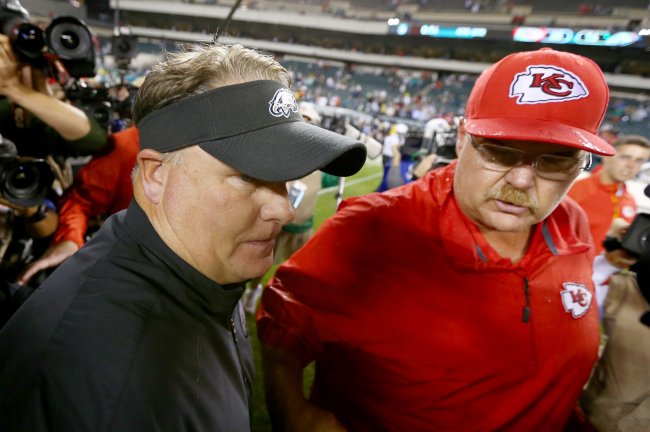 Elsa/Getty Images
The paint on Chip Kelly's Week 1 genius has dried, and the Eagles lost their grip on a winning record rather quickly with a loss to the upstart Chiefs.
The offense continues to look strong, but the defense has been equally atrocious, surrendering 438.3 yards per game. Only San Diego (470.7) and Washington (488.0) allow more heading into Week 4.
24. Arizona Cardinals (1-2)
Arizona will face Tampa Bay and Carolina before its toughest stretch of the 2013 season, a four-week nightmare that will include San Francisco, Seattle, Houston and Atlanta.
Bruce Arians has made strides through the infancy of his coaching stay, but the Cardinals have a long way to go to compete in the NFC West.
25. Cleveland Browns (1-2)
No 2012 first-round picks, no problem.
Richardson and Brandon Weeden were nowhere to be found, but Cleveland picked up its first win of the 2013 season behind Brian Hoyer, Jordan Cameron and Josh Gordon.
It's clear the Browns are keeping their eyes on the future after examining the Richardson trade, but a few more victories like the one over Minnesota might keep the wolves away enough for this franchise to establish a firm direction and follow it while keeping fans happy.
26. Washington Redskins (0-3)
Which team will have the first pick in the 2014 NFL draft?
It's far too early to write off the Redskins after what they did to reach the playoffs last year, but Washington is lost through three weeks this season.
Robert Griffin III does not look like himself, and the defense is statistically the worst bunch in the NFL. A Week 4 tilt with the Oakland Raiders awaits, but I'm not so sure RG3 will be the standout QB we heap praises toward on Monday morning.
27. Pittsburgh Steelers (0-3)
The Steelers are reeling once again, and the offensive line is one of the main culprits. Ben Roethlisberger has very little time to throw, and the running game isn't what it used to be.
All things considered, the defense has held up quite nicely when you factor in that Pittsburgh is a whopping minus-nine in the turnover department.
28. Minnesota Vikings (0-3)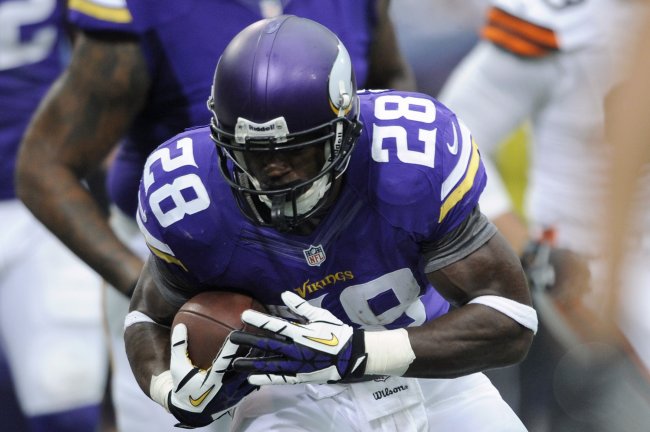 Hannah Foslien/Getty Images
Christian Ponder is limiting what the Vikings can do on offense, which is astounding considering the best running back on the planet lines up in his backfield. The defense hasn't been much better, and the Vikings are clearly one of the biggest disappointments of the new year so far.
29. Oakland Raiders (0-3)
There's an optimism surrounding the Raiders that doesn't match their 0-3 start, and it begins with QB Terrelle Pryor's inspired dual-threat play. Unfortunately, an injury scare has turned some of that excitement into worry.
According to ESPN's Paul Gutierrez, Pryor suffered a concussion late in Oakland's loss to Denver on Monday night. If he can't play, Matt Flynn would likely get the call against the Redskins in hopes of picking up the franchise's first 2013 victory.
30. New York Giants (0-3)
Injuries, turnovers and mental mistakes continue to kill the Giants. If those areas of weakness persist, you have to wonder how long New York will allow Tom Coughlin to keep his post just two seasons removed from winning a Super Bowl.
31. Tampa Bay Buccaneers (0-3)
A promising start to the Greg Schiano era in 2012 has taken an ugly turn for the worse. When watching Tampa Bay play, you get the feeling that the Buccaneers are having a hard time finding motivation to play for their coach. That usually means it's time for a change, in some form or fashion.
32. Jacksonville Jaguars (0-3)
What you see is what you get in Jacksonville, and neither is very appetizing. No team is more excited about the 2014 NFL draft than the Jags.
*All stats courtesy NFL.com.
Follow B/R's Ethan Grant on Twitter.
This article is
What is the duplicate article?
Why is this article offensive?
Where is this article plagiarized from?
Why is this article poorly edited?