Week 1 NFL Predictions: Stat Projections for Most Anticipated Performances
Cary Edmondson-USA TODAY Sports
Speculation, hype and buzz regarding the 2013 NFL season have reached their tipping points, but with Week 1 here, players finally get their chance to live up to expectations.
Which players will underperform? Who will start the year off with a bang?
Here are stat predictions for the most anticipated performances.
Quarterback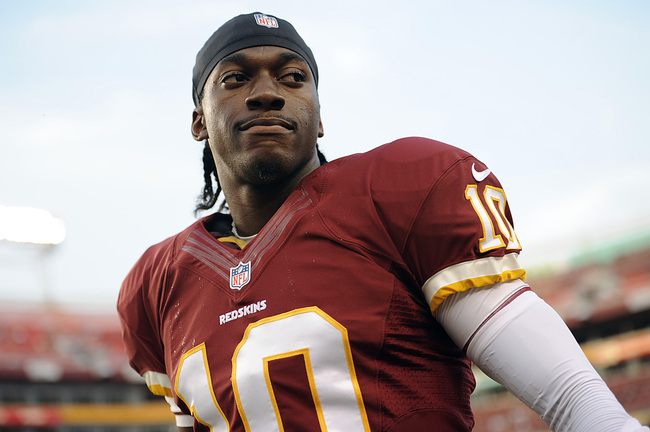 Geoff Burke-USA TODAY Sports
Tom Brady: 28-of-40, 270 yards, 3 TDs, 1 INT
Brady is always a headliner, but starting the 2013 season without his top five pass-catching targets from a year ago make this particular debut more intriguing than usual.
He'll face a much more complex and aggressive Bills defense in Buffalo, a group led by former defensive coordinator Mike Pettine that'll be without top cornerback Stephon Gilmore.
Brady will have an impressive but not absolutely spectacular afternoon.
Colin Kaepernick: 18-of-30, 215 passing yards, 2 TDs, 1 INT, 70 rushing yards
Kaepernick accounted for 444 total yards and four touchdowns in the playoff victory over the Green Bay Packers in January, but he won't be nearly as productive this time around. He'll be able to pick up yards with his legs, but without Michael Crabtree, the rocket-armed quarterback will struggle to be as efficient through the air.
Robert Griffin III: 23-of-34, 265 yards, 3 TDs, 40 rushing yards
All eyes will be on RG3 on Monday Night Football, as the 2012 Offensive Rookie of the Year returns from an ACL tear he suffered in the playoff loss to the Seattle Seahawks.
Last year, Griffin went 30-of-39 for 389 yards and six total touchdowns in two games against the Philadelphia Eagles.
While Chip Kelly's presence should bolster Philadelphia's offense, its secondary is still relatively thin.
Michael Vick: 19-of-29, 250 yards, 2 TDs, 1 INT, 60 rushing yards
Vick won the Eagles quarterback job, and really, he seems to be the ideal signal-caller to run Kelly's up-tempo offense.
The supremely athletic Vick was impressive in the preseason, and it'll be interesting to see how that carries over against a susceptible Washington defensive backfield.
Like Griffin, Vick should have a big evening an NFC East shootout.
Running Back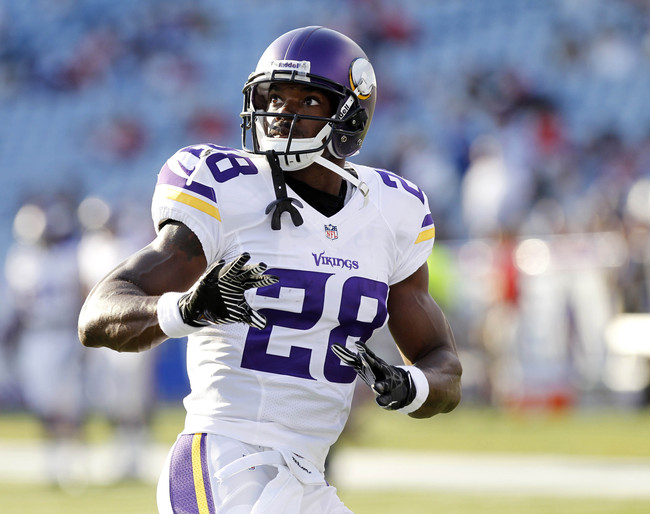 Kevin Hoffman-USA TODAY Sports
Adrian Peterson: 25 rushes, 105 yards, 1 TD
Peterson narrowly missed setting the all-time single-season rushing yard record in 2012 and believes he "will definitely" break the record in 2013, he told Bob Holtzman of ESPN.
His season won't get off to a tremendous start by his standards, as the Detroit Lions defensive front is one of the nastiest in the NFL.
C.J. Spiller: 16 rushes, 75 yards, 1 TD; 5 receptions, 60 yards
Spiller averaged as many yards per carry as Peterson did last year but didn't get the ball as much as he should have. New Buffalo Bills offensive coordinator Nate Hackett won't neglect his electric runner and will look to get him the ball in a variety of ways.
The New England Patriots have a stout run defense; however, Spiller will catch a few screens and en route to a big afternoon in Buffalo.
Lamar Miller: 20 rushes, 115 yards, 1 TD
Miller won the starting running back job for the Miami Dolphins after a solid training camp and preseason. He runs decisively and possesses desired speed and lateral agility.
The Cleveland Browns defense will be better than it was in 2012 now that Ray Horton is calling the shots, and for the most part, they'll keep Miller under wraps. But a few big-gainers will lead to a nice final stat line for the sophomore runner.
David Wilson: 17 carries, 125 yards, 2 TDs
Like Miller, Wilson is a second-year running back with explosive ability. He was electric down the stretch last season and had a few splash plays in the preseason.
With Andre Brown out, Wilson is the undisputed feature back for the New York Giants. The Dallas Cowboys have a fine linebacker duo in Sean Lee and Bruce Carter, but the former Virginia Tech star will have a breakout performance.
Wide Receiver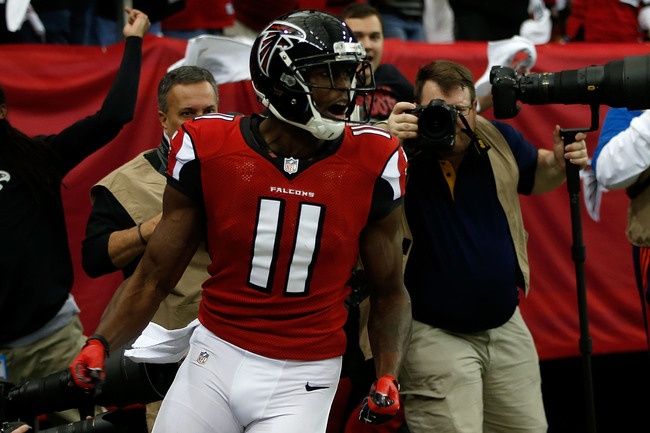 Chris Graythen/Getty Images
Calvin Johnson: 7 receptions, 115 yards, 1 TD
Johnson's 2012 season was epic, as he reeled in 122 passes for 1,964 yards. Shockingly though, he snagged only five touchdowns.
The guy simply can't be covered.
Dez Bryant: 9 receptions, 150 yards, 2 TDs
Bryant isn't exactly on Johnson's level in terms of size/speed combo, but he's a sure-handed No. 1 receiver who's improved his statistics across the board in each of his first three NFL seasons.
The New York Giants secondary is a weak point of the defense, and because of that, Bryant will have a huge game.
Julio Jones: 6 receptions, 95 yards, 1 TD
Jones pairs with Roddy White to formulate one of the most reliable and dynamic receiving tandems in the league. While White has comfortably become the chain-mover, Jones is more of a downfield threat. The New Orleans Saints defense is ravaged with injuries, so Jones will have a strong afternoon.
Larry Fitzgerald: 5 receptions, 115 yards, 1 TD
Many want to see how Fitzgerald contributes with Carson Palmer under center in 2013. The St. Louis Rams have an underrated defense, and Cortland Finnegan is one of the more physical cornerbacks in the league.
In an interesting NFC West matchup, Fitzgerald looks like the Fitzgerald of old to start the season.
Tight End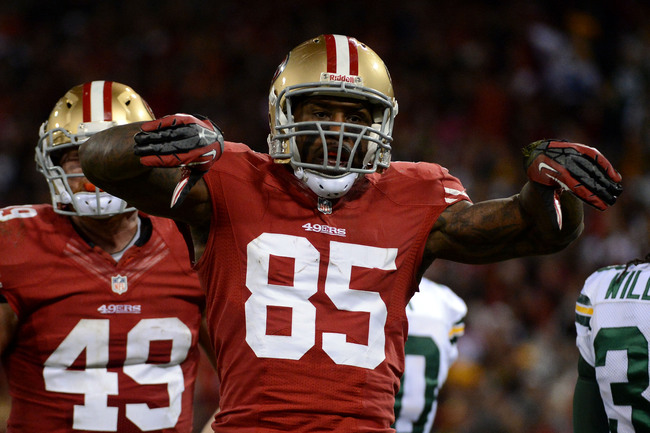 Harry How/Getty Images
Tony Gonzalez: 6 receptions, 75 yards, 1 TD
Gonzo's final season starts on the road in New Orleans against the Saints. Although Steven Jackson's presence will increase the amount of running plays called, the future Hall of Fame tight end is a lock for at least five receptions and a touchdown.
Vernon Davis: 5 receptions, 80 yards, 1 TD
It'll be interesting to see how Davis performs without Michael Crabtree in the San Francisco 49ers lineup. Anquan Boldin will take away some of the tight end's targets, but against the Green Bay Packers, Davis will have a good afternoon.
Zach Sudfeld: 4 receptions, 70 yards
Rob Gronkowski is probably at least a week away from returning to the field, so for the time being, "Baby Gronk" will play his role in the New England Patriots offense. He should make a handful of plays in Buffalo against the Bills.
Jared Cook: 3 receptions, 50 yards
Cook was a huge free-agent signing for the St. Louis Rams and MMMQ editor-in-chief Peter King wrote he didn't see a "a better offensive weapon" during his training camp tour this summer. Against the Arizona Cardinals, Cook will make some plays, but he won't change the game.
Defensive Line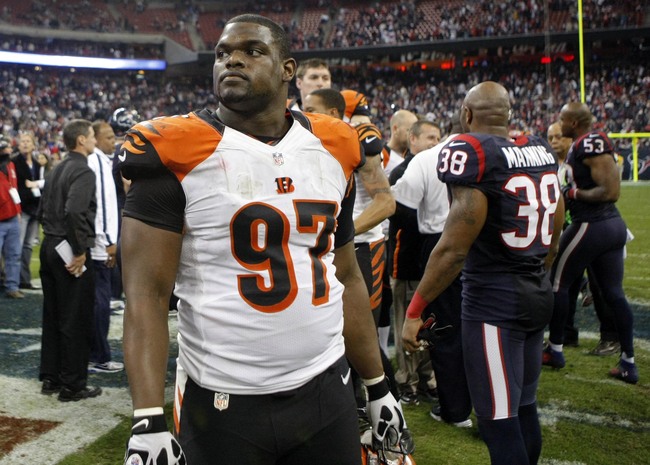 USA TODAY Sports
J.J. Watt: 7 tackles, 2 sacks, 1 pass deflection
Watt's the reigning Defensive Player of the Year, and his 2012 campaign was downright legendary. Against a susceptible San Diego Chargers offensive line, he'll get off to a hot start this season.
Geno Atkins: 5 tackles, 1 sack
If it weren't for Watt, Atkins would have won the Defensive Player of the Year award last year. He's the best defensive tackle in the league—equally dominant as a pass-rusher as he is against the run. Playing a Bears offensive line than has some question marks, the Cincinnati Bengals defensive stud starts fast.
Linebacker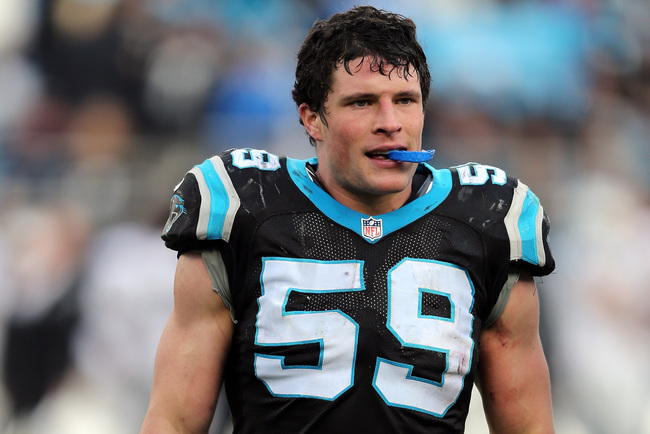 Streeter Lecka/Getty Images
Patrick Willis: 10 tackles, 2 TFLs
Willis is the most complete inside linebacker in football, and he'll look to make his seventh-straight All-Pro team this year.
He's dealing with a hand injury, but even against Aaron Rodgers' spread attack, he'll have a typical Willis-type game.
Luke Kuechly: 12 tackles, 1 INT
The 2012 Defensive Rookie of the Year played out of his mind in the preseason at his middle linebacker spot, and many see an extremely bright future for Kuechly in Carolina.
Russell Wilson and run-heavy Seahawks aren't easy to stop, but the former Boston College stud will be all over the field.
Brian Cushing: 8 tackles, 1 FF, 1 sack
Cushing was lost for the season in October when he tore his ACL. He was the Defensive Rookie of the Year in 2009 and was an All-Pro in 2011. Playing behind Watt for the Texans, this intimidating inside linebacker will wreak havoc against the Chargers.
Defensive Back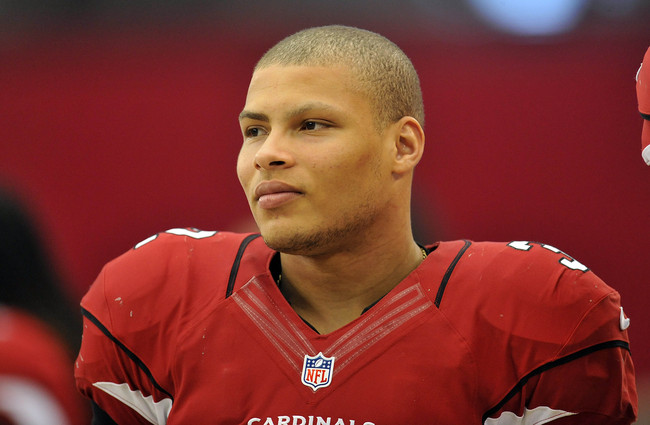 Gary A. Vasquez-USA TODAY Sports
Darrelle Revis: 6 tackles, 3 passes defended
Revis makes his Tampa Bay Buccaneers debut against, of all teams, the New York Jets. Geno Smith will get the start and doesn't have many offensive weapons to help him. The Buccaneers will stymie Gang Green all afternoon, and Revis Island will resurface.
Richard Sherman: 3 tackles, 2 passes defended, INT
Is he the best cornerback in the league? He was last year when Revis was sidelined. Against the Carolina Panthers, the Seattle Seahawks secondary will be tested, but the lanky and aggressive Sherman will play well against Steve Smith.
Tyrann Mathieu 2 tackles, 1 FR, 1 pass defended
Mathieu created plenty of buzz after being drafted by the Arizona Cardinals in April, and there's no doubting he's a play-maker in the secondary.
Sam Bradford has a better offensive line and more weapons, and although Mathieu's performance won't light up the stat sheet, he'll show he belongs.
Keep Reading