Fantasy Football 2013: Buy, Sell Stock Report After Preseason Week 3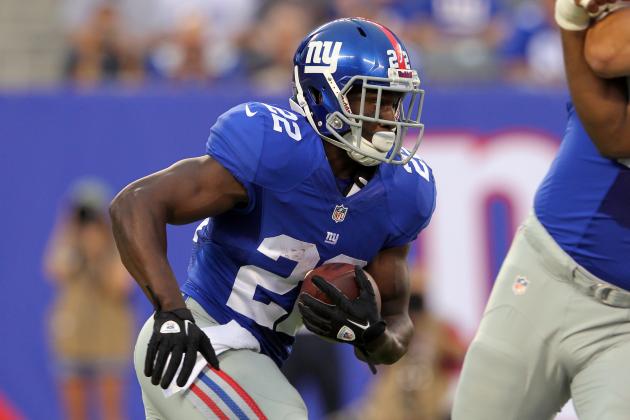 Brad Penner-USA TODAY Sports

The third week of the NFL preseason brings us the "dress rehearsal" games. These are the games when the starters tend to play through halftime and sometimes beyond, giving us the best preseason information we can glean for fantasy football purposes.
Who looked good, and who tanked their fantasy value last week? Click through to find out.
Begin Slideshow

»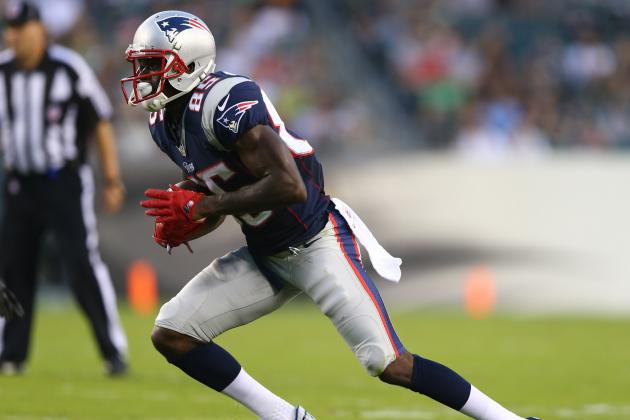 Elsa/Getty Images

At this point, it will be a surprise if anyone but receiver Kenbrell Thompkins is the No. 2 receiver for the New England Patriots come Week 1.
Thompkins has simply been fantastic this preseason, and last week was no different. The rookie caught eight passes for 116 yards against the Detroit Lions. He looked every bit the part, creating separation on many routes where fellow rookie Aaron Dobson couldn't.
Of course, that No. 2 receiver role seems cursed, as is the No. 85. Chad Johnson and Brandon Lloyd were not exactly the fantasy studs we expected when they wore the shoes Thompkins now fills, but the latter possesses the youthful upside the others didn't.
Cary Edmondson-USA TODAY Sports

It's tough to be high on a player when he doesn't seem to be able to climb the depth chart.
Cordarrelle Patterson has loads of talent, but he is the No. 3 receiver on the Minnesota Vikings at best. On a run-heavy team featuring Christian Ponder—a lower-middle-class person's Matt Cassel—it's hard to get excited about his fantasy value.
Patterson was barely running with the starters against the San Francisco 49ers last week, to boot. He caught just two passes for 11 yards and ran for four more. There are simply too many good options at receiver for you to take a chance on Patterson this season.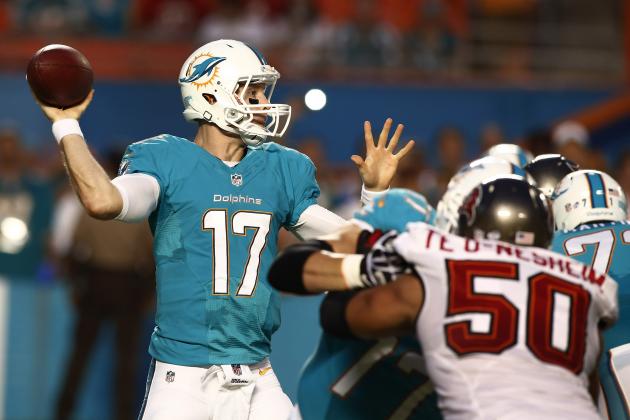 Robert Mayer-USA TODAY Sports

If only quarterback Ryan Tannehill's receivers could catch more consistently. Receiver Brian Hartline couldn't hang on to a tough catch in the back of the end zone, and Brandon Gibson dropped a sure touchdown before finally redeeming himself at the end of the first half.
Were it not for the drops, Tannehill might have had three touchdowns and 200 yards passing in the first half against the Tampa Bay Buccaneers, though they were admittedly without cornerback Darrelle Revis.
The pinpoint accuracy Tannehill displayed was encouraging, despite the drops. He showed enough confidence in his receivers to try to get them the ball in tight spaces.
Dustin Keller is gone, and Miami will need to find a suitable replacement (Charles Clay isn't Tannehill's huckleberry here). Even so, Tannehill looks every bit like a second-year player poised to make a big leap. With an upgraded arsenal, he could have a sneaky good season.
Of course, he is still nothing more than a backup quarterback in standard leagues. If you play in a two-quarterback league, however, you could do far worse with your second starter.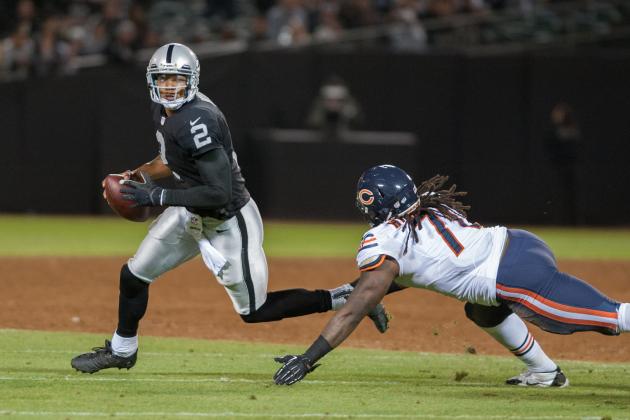 Ed Szczepanski-USA TODAY Sports

Yes, Terrelle Pryor actually had a good game against the Chicago Bears. So why is he a "sell" in this column?
To put it bluntly, the Oakland Raiders stink.
In fairness, Pryor's mobility helped him escape the pressure when his putrid offensive line caved. He made a couple of nice throws on the move, and he scored on a nice 25-yard touchdown scamper.
But we need a little perspective here. Pryor did all that against the Bears' second-team defense. Even if he was playing with the second-team offense, this paints a misleading picture.
Consider this: Pryor looked nearly as bad as Matt Flynn did when he went in against Chicago's first-team defense. He should have thrown an interception on his first drive, but the gift was dropped by Chris Canty.
This is all not to mention Pryor hasn't actually been named the starter yet. It's obvious the Raiders should just roll with the high-upside youngster, but let it happen before you even think about drafting him.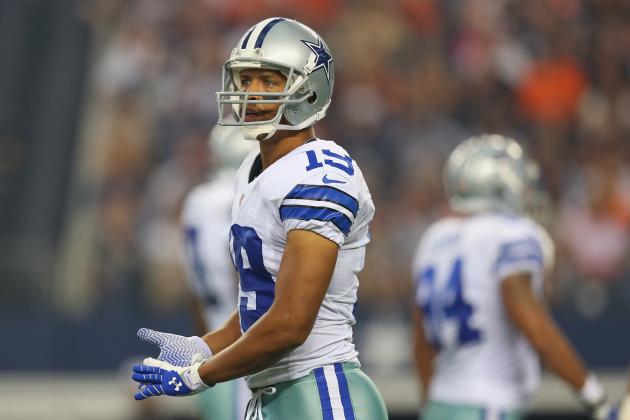 Ronald Martinez/Getty Images

How quickly we forget about a receiver who was once considered a top option.
All right, it's been a few years since Miles Austin last lived up to that distinction, hence why he is being undervalued in fantasy drafts. But he has the potential to put up big scoring lines across from Dez Bryant, and it showed last week.
Austin caught four passes for 59 yards and a score against the Cincinnati Bengals. A line like that every other week is certainly feasible, and it would likely put him in the top 20 in fantasy scoring on the year.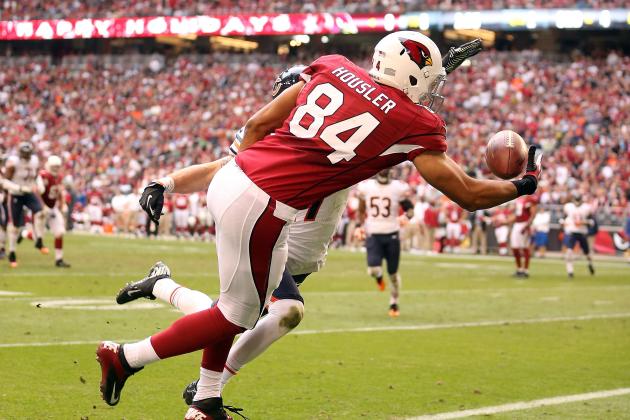 Christian Petersen/Getty Images

The offseason saw plenty of buzz created around third-year tight end Rob Housler, but his preseason has been anything but successful.
He has one catch for eight yards on three targets the entire preseason, and he left last week's game with a high ankle sprain. That is no small injury. Though he's expected to be ready for Week 1 against the St. Louis Rams, per Darren Urban of AZCardinals.com, high ankle sprains can take several weeks to heal.
With the rising rankings of other tight ends around him—guys like Jordan Cameron and Ed Dickson—it seems a waste to draft Housler unless you desperately need a backup.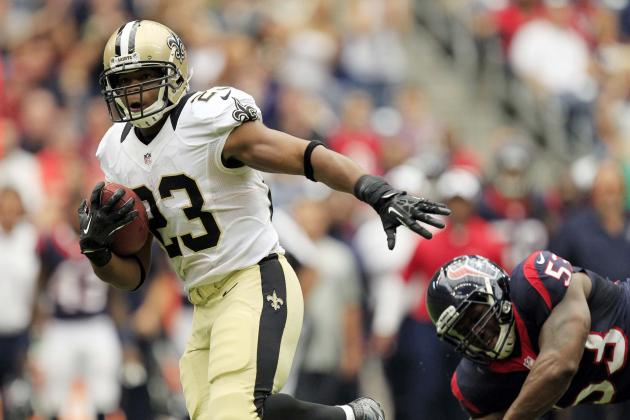 Thomas Campbell-USA TODAY Sports

Everyone is sleeping on Pierre Thomas.
Well, not quite sleeping, considering he is being drafted before the 10th round on average in most leagues, but there is certainly some drowsiness going on.
Thomas is the best all-around back in the New Orleans Saints offense. He is what you might get if you combined Darren Sproles and Mark Ingram. Last week against the Houston Texans, Thomas caught a pass in the middle of the field and rumbled through the defense like a scythe for a 51-yard score.
Ingram, meanwhile, has 75 receiving yards in his career.
As for where he stands in the depth chart, in Week 3, Thomas got the start and the majority of the playing time out of the backfield before the Saints put in their backups.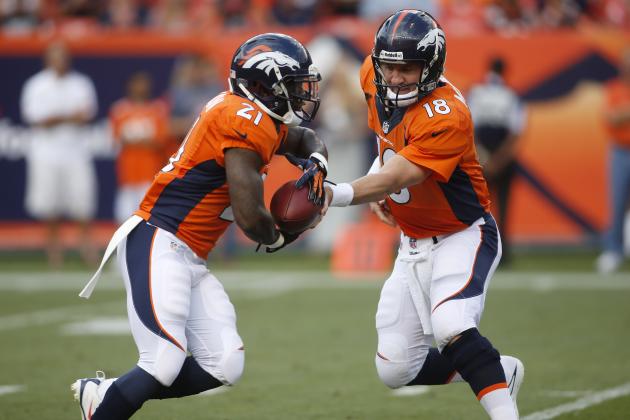 Chris Humphreys-USA TODAY Sports

He was in here last week, but Ronnie Hillman screwed the pooch once more.
His fumble was the third in two weeks, all but sealing his fate. The Denver Broncos have given Montee Ball first-team reps this week, and Hillman might have played his way down to the No. 3 spot on the depth chart. This shouldn't be terribly surprising considering Hillman couldn't make any noise as a rookie.
At this point, you probably shouldn't even bother with Hillman. Snag him off the waiver wire if he gets another shot.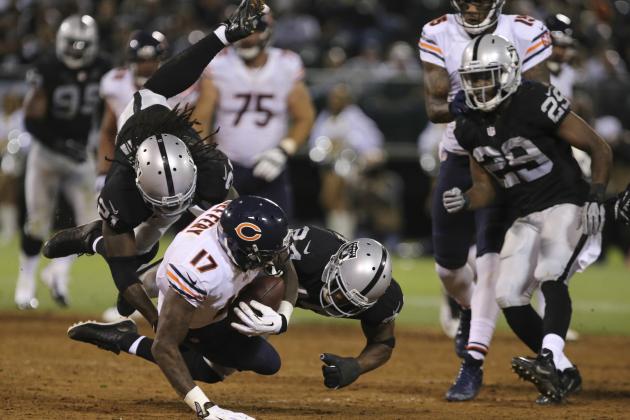 Kelley L Cox-USA TODAY Sports

The only Bears receiver worth a draft pick is Brandon Marshall, right?
Second-year man Alshon Jeffery looks like he is going to give Jay Cutler a bona fide second option at the position, at least if last week was any indication. On a night when Marshall seemed disinterested, Jeffery shined.
He caught seven passes for 77 yards, providing a spark for the Bears offense against the Raiders. His fantasy value will always be lessened by the fact that he isn't the first or second option in that offense, but he could be a solid bench player with upside for your team.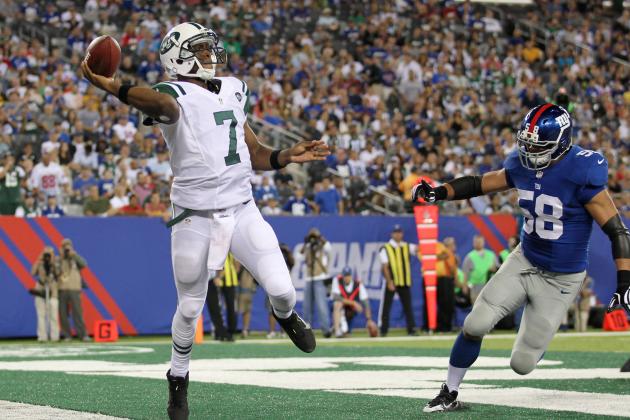 The Star-Ledger-USA TODAY Sports

Poor Rex Ryan.
The embattled New York Jets head coach might have sealed his fate by leaving presumed starting quarterback Mark Sanchez in the game behind a third-string offensive line and thereby getting him injured. He has to roll with Geno Smith now, right?
If it goes anything like last week for the Jets, they are in for a long season. Sure, Smith threw for 199 yards and a score, but he threw three interceptions and pulled a Dan Orlovsky, running out of the back of the end zone for a safety.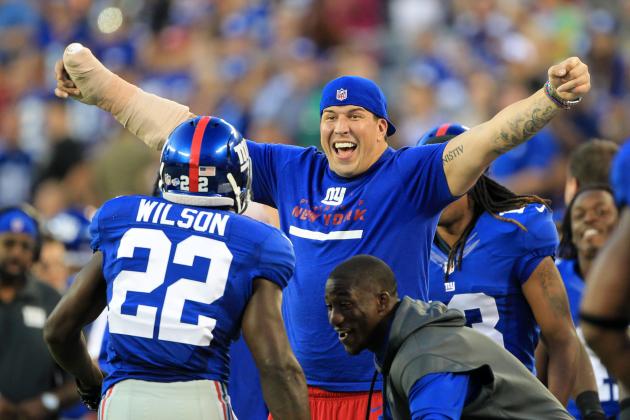 The Star-Ledger-USA TODAY Sports

The resistance to rank running back David Wilson highly exists inside yours truly, but the walls are being broken down.
Wilson is still going to share time with Andre Brown in that backfield, but it's getting harder to deny the upside the former possesses. Just look at his 84-yard touchdown run in the first quarter against the New York Jets.
He might not be a workhorse, but Wilson will make for a solid second running back and fantastic flex in the fantasy realm this season.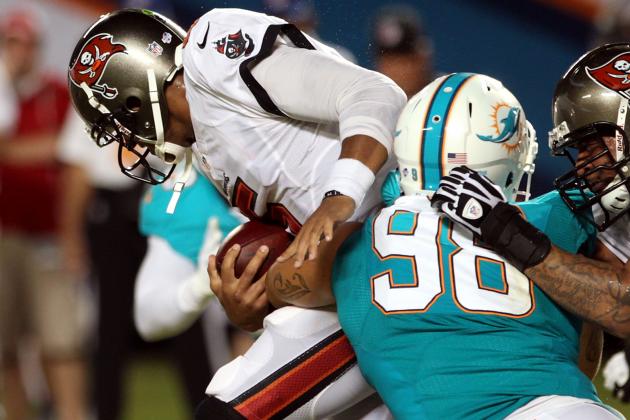 Marc Serota/Getty Images

Josh Freeman is a fantasy enigma.
At times, it seems the fourth-year quarterback has all the potential and weaponry in the world to be a top-flight fantasy option. At others, he seems replaceable on his own team.
Last week was more of the latter.
The Miami Dolphins sacked Freeman five times in Week 3, and their overall pressure forced him to miss on 10 of his 16 pass attempts. He accumulated just 59 passing yards, perhaps signaling what might come this season when Freeman faces good defenses.