NFL Power Rankings 2013: Where Each Team Stands Heading into Week 3 of Preseason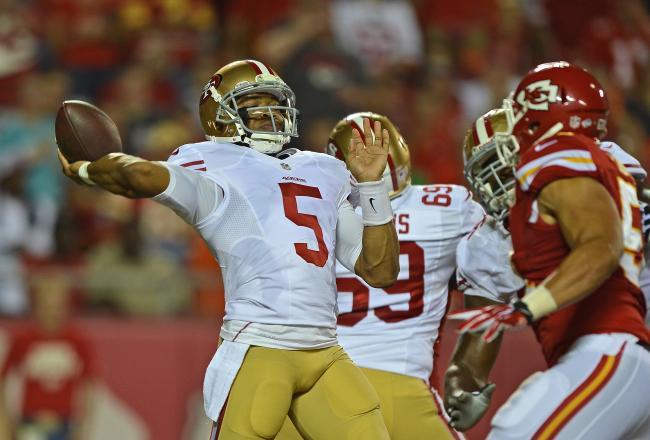 Peter Aiken/Getty Images
The 2013 NFL season is nearly here, with Week 3 of the preseason on the horizon and ready to herald in yet another exciting weekend of football.
Although the preseason isn't useful in determining how the regular season will shake out, some stock has to be put in the performances of key players.
After two weeks of exhibition games, I've adjusted my power rankings accordingly and factored in some notable showings into this list.
Keep reading to find out where your favorite team ranks.
32. Jacksonville Jaguars
No matter how you cut it, the Jags are still going to be one of the worst teams in football this year.
Blaine Gabbert simply isn't a good quarterback and isn't the right answer for this down-in-the-dumps franchise. Expect the organization to finally realize it and make the proper adjustments after the season.
31. Oakland Raiders
The Raiders made a promising acquisition to end their quarterback carousel in Matt Flynn but are still going to have some issues in the passing game and other areas this year.
Darren McFadden will need to stay healthy—a goal that has been nearly impossible during his short career—in order for Oakland to have a chance, although a lack of quality receivers and a lackluster defense will likely sink this team regardless.
30. New York Jets
The Jets are an absolute mess and nothing is going to change that this year.
Quarterback Mark Sanchez has yet to prove he deserves the starting job and continues to commit costly turnovers—the kind that has been the ugly hallmark of this club for over two seasons.
There's also a rebuilding effort underway inside the Gang Green locker room, a movement that should cost head coach Rex Ryan and much of his staff a job barring a winning season.
29. Buffalo Bills
The Bills want to get EJ Manuel on the field as fast as possible and allow the young signal-caller a chance to earn valuable reps.
Unfortunately he's out for a few weeks, giving Kevin Kolb a chance to prove himself under center for this downtrodden franchise. Don't be surprised if that turns out bad for Buffalo, as you must look no further than Kolb's tenures in Philly and Arizona to see that he's not a quality player.
28. Tennessee Titans
Chris Johnson looks like he may be back to his old self, busting some big preseason runs and showing that he's not washed up at the age of 27.
Although CJ2k may never be a 2,000-yard rusher again, he should regain his form as a dangerous weapon out of the Titans backfield. That will help Jake Locker's development, although this team doesn't have the experience or weapons to muster a winning season in 2013.
27. Philadelphia Eagles
The quarterback battle in the City of Brotherly Love has taken center stage, with Nick Foles and Michael Vick battling it out for the rights to start in Week 1.
Regardless of who wins, it's going to be a tough gig—especially with top wideout Jeremy Maclin out of the picture. Don't be surprised if the Eagles fail to soar under new coach Chip Kelly.
26. Kansas City Chiefs
The Chiefs are a solid pick to have a bounce-back season in 2013, especially after upgrading the quarterback position, adding a new coach and retaining all their key weapons on offense and defense.
It'll be interesting to see if this young franchise has the right stuff for a complete overhaul or if it remains mired in the league's basement for another year.
25. Arizona Cardinals
The Cardinals finally have a starting-quality quarterback in Carson Palmer, which should pay dividends with elite wide receiver Larry Fitzgerald and a new head coach who isn't afraid to attack via the passing game.
Unfortunately, the defense didn't improve enough over last year's atrocious group, and this team will be hard pressed to win games in 2013.
24. Carolina Panthers
The Panthers finished 2012 on a strong note but still need to show that it was the right decision to keep head coach Ron Rivera on for another year.
Hopefully the players can overcome his less-than-stellar decision-making and build on their late-season run from last year.
If Cam Newton continues to play at that level, he surely will be considered one of the top young quarterbacks in the game and a big reason why the Panthers have a bright future—even with a lackluster coach currently under contract.
23. Cleveland Browns
Brandon Weeden has been lighting it up during preseason and showing that he has made major strides since his rookie year in 2012.
Give new offensive coordinator Norv Turner some credit, as he is utilizing Cleveland's weapons perfectly and putting the signal-caller in position to succeed.
22. Detroit Lions
The Lions are going to be one of the most interesting teams in the NFL this year, as their defensive line should be impressive and their offense more explosive and balanced than it has been recently.
Rookie first-round pick Ziggy Ansah looked like an absolute beast during preseason and continues to show that this is one of the more dangerous front lines in football, capable of blowing up opponents in the trenches and winning games there.
21. San Diego Chargers
The Bolts look ready to challenge for the AFC West crown, even if no one is truly considering them in the running for a playoff push.
As long as Philip Rivers is under center and the young defense is making plays, you can never count out this exciting, youthful squad.
20. Tampa Bay Buccaneers
The Bucs are in a make-or-break situation, with coach Greg Schiano and quarterback Josh Freeman under the gun and needing to step up this year.
If the coach and signal-caller fail to perform up to standards, team brass may elect to let both go after the season. Fans are expecting nothing less than playoffs, and these two will need to stand and deliver after years of promises and false hope.
19. Pittsburgh Steelers
The Steelers are hard to get a read on, as they are coming off an ugly 2012 campaign and lost a star player in Mike Wallace during the offseason.
While the offense rebuilt a bit with the selection of rookie running back Le'Veon Bell, he's going to need to truly be great in order to keep the heat off QB Ben Roethlisberger.
18. St. Louis Rams
The Rams are another fringe playoff team that is tough to get a read on, as they seem poised for a playoff run with Sam Bradford making strides and a solid head coach in Jeff Fisher back for a second season.
However, the running game lost Steven Jackson—a rock for almost a decade—and isn't getting any notable performances from Isaiah Pead. It'll be interesting to see if the offense has what it takes to get it done.
17. New Orleans Saints
The Saints defense will need to step up after a historically awful outing in 2012.
Even if Drew Brees is playing at an MVP level and head coach Sean Payton is brilliant in his return to the sideline, it will be for naught if the "D" doesn't step up and do its job.
16. Dallas Cowboys
The Cowboys are still struggling to fill holes in their offensive line, which isn't a great position to be in after the midpoint of August.
It's going to be quite tough to protect the major investment made in Tony Romo—plus get the running game jump-started—without a starting-caliber guard on the roster.
15. Miami Dolphins
The Phins re-tooled more than any other team this offseason, drawing much publicity for their decision to rebuild around second-year quarterback Ryan Tannehill.
We'll find out if that gamble pays off soon enough, but it's looking more and more like the Miami brass made the right decision to go all in for the 2013 campaign.
14. New York Giants
The G-Men are trying to sort through running back issues with David Wilson and Andrew Brown, but that may not even be their biggest challenge for the upcoming campaign.
It's Big Blue's defense that could be the squad's eventual downfall in 2013, as the team lost a number of solid pieces on a unit that was anything but great last year.
13. Indianapolis Colts
The Colts offense promises to be a well-oiled machine run by Andrew Luck for the foreseeable future, but defense is a different story.
Unless Indianapolis gets some much-needed production from its promising young players, the club is going to have trouble repeating its playoff success from last year.
12. Minnesota Vikings
The Vikings have a world-class running back, but Adrian Peterson is going to suffer from another season of wear and tear, even more stacked boxes and game plans solely designed around stopping him.
That is, unless young quarterback Christian Ponder steps up and proves he is a franchise-caliber signal-caller.
It will be key for the Vikings thrower to make significant strides this season, as it will be the difference between a postseason appearance and a middle-of-the-pack campaign.
11. Washington Redskins
The Redskins are hoping that Robert Griffin III is ready to go at the start of the season, as his health is going to determine the club's success.
If he's 100-percent ready to go, the 'Skins are going to easily capture the NFC East title for a second straight season.
10. Chicago Bears
Quarterback Jay Cutler is in a contract year and will need to prove to the world that he can step up, play with consistency and stop making bone-headed mistakes.
He needs to stop locking on to top wideout Brandon Marshall and spread the ball around, while reducing the sheer number of stupid turnovers that have cost the Bears plenty of games over the past few seasons.
9. Cincinnati Bengals
The Bengals have to capitalize on the strides they have made the past two seasons and make a serious run for home-field advantage in the AFC this season.
They certainly have the talent, with an explosive offense led by wide receiver A.J. Green and a complete cast of veteran stars and promising youngsters on the defensive side of the ball.
8. Houston Texans
The Texans definitely found a No. 2 receiver to help take the heat off Andre Johnson in DeAndre Hopkins, which should help a great offensive become even better this year.
No one doubts that this team will waltz to the playoffs, but it remains to be seen if it is disciplined and experienced enough to make a run once it is win-or-go-home time.
7. Seattle Seahawks
The Seahawks are coming off an impressive season and have every reason to believe they can build on it.
They added some more offensive firepower and should be even more explosive behind second-year quarterback Russell Wilson.
The defense has some question marks, especially at defensive end, but the personnel issues are nothing this up-and-coming squad can't overcome.
6. Baltimore Ravens
The defending Super Bowl champs lost a number of key players via trade, retirement, free agency and injury—including No. 2 receiver Anquan Boldin, tight end Dennis Pitta and a handful of familiar faces on defense—with the notable loss of longtime superstar linebacker Ray Lewis.
However, with Joe Flacco, Ray Rice and John Harbaugh back for another run, there's no telling just how good this re-tooled Ravens squad can be.
5. Green Bay Packers
The Packers took a huge hit when they lost Bryan Bulaga for the season, which will impact their ability to run the ball—something that was already projected to be a weakness going into the 2013 campaign.
Regardless, Aaron Rodgers will be able to make due from under center and should once again carve up the league for huge stats and plenty of wins.
It's tough to imagine a scenario in which the Pack do not finish atop the NFC North.
4. New England Patriots
How will the Patriots fare in 2013?
Despite losing almost all the top receivers from last year, the Patriots are still one of the best teams in the NFL.
Tom Brady can throw to a handful of junior-varsity wideouts and still slice through an NFL-caliber defense.
Don't forget the running backs either, as New England isn't afraid to hand it off in the backfield and allow Stevan Ridley, Shane Vereen and LeGarrette Blount to pound the rock.
3. Atlanta Falcons
The Falcons are trying to build on their NFC Championship appearance and have all the tools in place to get it done.
Matt Ryan, Roddy White, Julio Jones and the rest of the offensive superstars are ready to give it another run, and the timing couldn't be better to run through a downtrodden NFC.
2. Denver Broncos
Peyton Manning is under center again in 2013, which means the Broncos are once again in line for a 10-plus-win season—even if they completely collapse on defense.
Fortunately for fans in the Mile High, the "D" in Denver is one of the best units in the league and will help the Broncos push towards a 14- or 15-win season with ease—once again capturing the AFC West crown and home-field advantage.
1. San Francisco 49ers
The 'Niners are favorites to return to the Super Bowl, as the Colin Kaepernick-led squad re-tooled this offseason and appears poised for a big outing in 2013.
There are certainly questions on the defensive side of the ball—where the squad replaced a handful of starters from last year's runner-up unit—but overall there isn't a team in the league with fewer questions and more consistency than the San Francisco 49ers.
This article is
What is the duplicate article?
Why is this article offensive?
Where is this article plagiarized from?
Why is this article poorly edited?