Which NFL Players Face Highest Risk for Sophomore Slumps in 2013?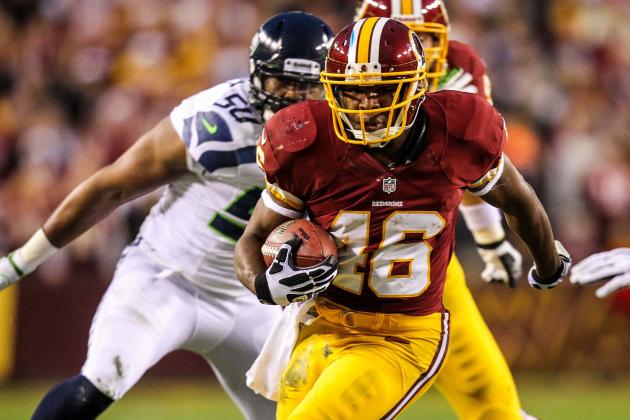 USA TODAY Sports

What makes the phenomenon of the "sophomore slump" so intriguing is that it is nearly impossible to predict. After all, all of these players are coming off solid rookie campaigns, and at their young age, they should only improve with experience.
There are a lot of factors that can go into a substandard second season. Perhaps opponents will find a way to game-plan for these players now that they have an entire summer to study a year's worth of tape. A year's worth of personnel changes may have made their supporting cast less effective.
Of course, there is always the possibility that complacency has set in for an immature player after tasting early success.
Here are the sophomore players who have a good chance to experience slumps in their second NFL campaign.
Advanced stats provided by ProFootballFocus.com (subscription required).
Begin Slideshow

»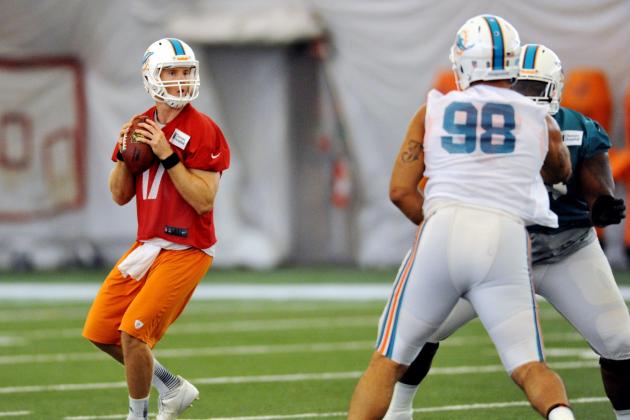 Steve Mitchell-USA TODAY Sports

Ryan Tannehill has plenty of raw ability that will allow him to improve in his second season as the Dolphins' starter. With a new big-time target in Mike Wallace to throw to, one would expect Tannehill and the Dolphins to explode into an offensive powerhouse next season, right?
Not so fast.
As much talent as the Dolphins have added since free agency, there is a major chink in the armor at offensive tackle. Set to go into the season with Tyson Clabo and Jonathan Martin as the two starting tackles, Tannehill is going to be under a ton of pressure next season, no matter how many new weapons the Dolphins have added.
According to PFF, Martin was the 76th-best tackle in 2012. Clabo graded out much better at 14th, but he took every snap at right tackle—which means Martin will likely protect Tannehill's blind side.
Mike Wallace will help stretch the field, but he is not an ideal go-to guy underneath when things break down in the mold of Wes Welker. Wallace is a big-play machine who is at his best making plays downfield—the types of plays that require a lot of time.
Perhaps Jonathan Martin makes a big leap in his second season at tackle, but the Dolphins' current offensive plan has a glaring weakness that may hold Tannehill and the rest of the offense from reaching their full potential.
USA TODAY Sports

Washington picked Alfred Morris 170 spots later than Trent Richardson in the 2013 draft, but he still managed to out-rush Richardson by over 600 yards to turn in one of the best rookie seasons for a running back in NFL history.
It's all downhill from here.
Morris is a talented runner, but he was a huge beneficiary of playing with Robert Griffin III in Mike Shanahan's innovative pistol-driven offense. The Redskins were able take opponents by surprise last year with their innovative schemes and uniquely talented quarterback.
With an entire summer to pore through a year's worth of film, opponents are going to be much more prepared for the zone reads, and the giant running lanes created by innovative schemes are no longer going to be there.
Morris will still be an effective player, but to match his rookie season by putting up over 1,500 yards with the entire league working to stop him is unrealistic. Rather, Morris' "slump" will be a product of his outrageous success from his rookie season rather than a steep decline in performance.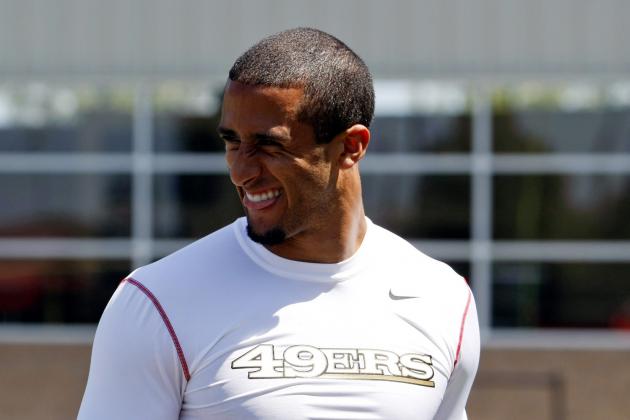 Kelley L Cox-USA TODAY Sports

There are few quarterbacks in NFL history who have had anything near the kind of success Colin Kaepernick had as a first-year starter, taking the 49ers to the Super Bowl league with the innovative use of the read-option.
However, as physically gifted as Kaepernick is as both a runner and a thrower, he benefited from opposing defensive coordinators not yet having a solution to the read-option offense.
With a full offseason to study film on Kaepernick, you can bet that defensive coordinators will have a much more sound plan to stop the vaunted read-option and deal with his mobility.
Not only will Kaepernick have the attention of the entire league, he will also be without the team's top wide receiver, Michael Crabtree, for at least the vast majority of the regular season. The team did add Anquan Boldin in a trade earlier in the offseason, but Kaepernick and Crabtree had developed a special chemistry that will be impossible for Boldin to replicate.
Kaepernick has the ability and work ethic to work through these challenges, but don't be surprised if there are bumps in the road for the Nevada product in his second season as the starter.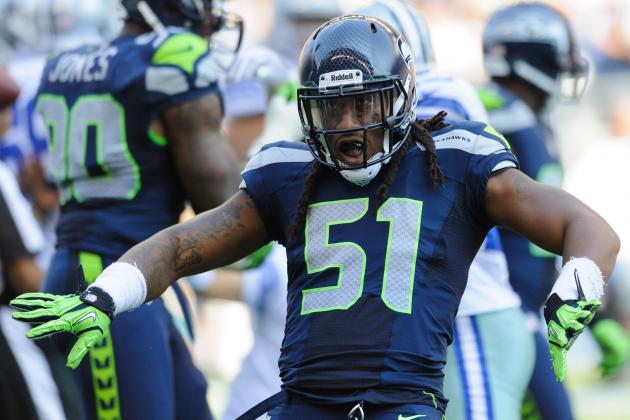 Steven Bisig-USA TODAY Sports

The Seahawks raised a lot of eyebrows when they took Bruce Irvin in the first round of the 2012 draft, but he was able to justify the pick by posting a solid eight-sack season.
As an undersized speed rusher (only 245 pounds), Irvin was used mostly as a situational rusher on obvious passing situations. When he was forced to play in more of a full-time role in the playoffs because of an injury to Chris Clemons, Irvin struggled to set the edge in the run game because of his lack of size.
Now, Seattle had its evidence that Irvin was nothing more than a part-time player.
The Seahawks responded by bringing in two big-time free-agent defensive ends in Michael Bennett and Cliff Avril. With Red Bryant already in the mix, Irvin is going to have a tough time getting on the field, especially once Chris Clemons returns.
Irvin will still be a useful asset for Seattle in his situational role, but the added competition will only deflate his sack totals, as will his four-game suspension for violating the NFL's policy on performance-enhancing drugs.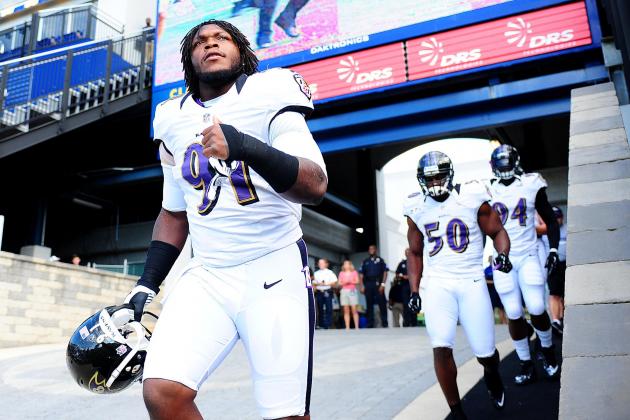 Evan Habeeb-USA TODAY Sports

This is a very important training camp for Alabama product Courtney Upshaw, who will be fighting newly-acquired Elvis Dumervil for playing time opposite Terrell Suggs.
However, it appears as if complacency has gotten the best of Upshaw, as he has had trouble keeping his weight down this summer. His weight has become a big enough issue to draw public criticism from coach John Harbaugh, as noted by the team website:
Courtney's weight issue...is that he doesn't eat right. Courtney eats too much and he doesn't eat all the right foods.
The good news is that Upshaw has some time to get into shape before training camp starts, but he is already facing an uphill battle with Dumervil in the mix.
If he can't get back into shape, Upshaw could be an afterthought in the Ravens' rotation.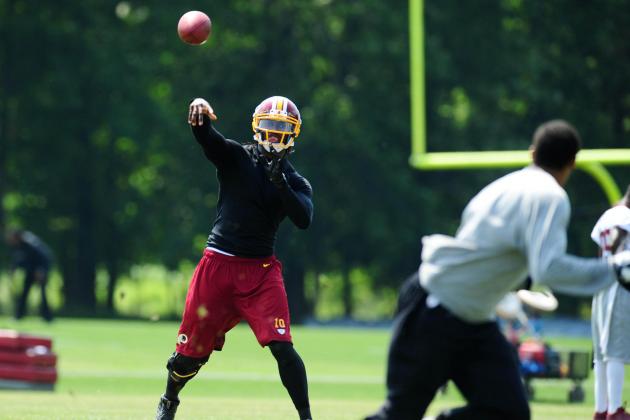 Evan Habeeb-USA TODAY Sports

It is generally bad business to bet against Robert Griffin III, but whenever an ACL tear is involved, it is impossible to predict how a player will respond to such a complicated injury.
While quarterbacks do not need their legs as much as skill position players and defensive backs, Griffin's mobility is an enormous aspect of his game that opens up the offense, as defenses are forced to take his running ability into account. If teams know he cannot run, they can disperse more resources toward stopping him as a pocket passer.
Plus, Griffin's injury is to his right leg—the leg he uses to plant before stepping into his throw.
While there are certainly examples of successful campaigns just months after an ACL tear, not everyone is built like Adrian Peterson. Many players, such as Wes Welker, need an entire season to get used to running on their surgically repaired knee. Welker recovered to be even more effective than he was before the injury, but it took a trial season to get his body running at full capacity.
RGIII may still have a long, fulfilling career, but his sophomore year may be a necessary small step back before he takes two big steps forward.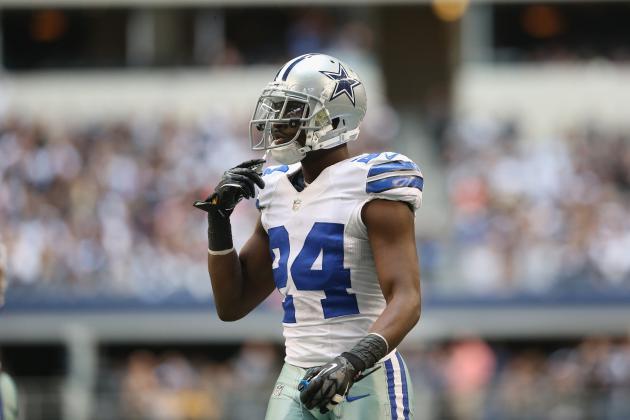 Ronald Martinez/Getty Images

Like most cornerbacks, Morris Claiborne's rookie campaign hardly produced great results. While Claiborne has tremendous athleticism and movement skills, he struggled to adjust to the NFL game, ranking 83rd among all cornerbacks in PFF's rankings.
Now, Claiborne will make the transition into a Tampa 2 system, despite having a skill set that is much more suited to a man-to-man scheme.
While he has the raw ability to play both coverage schemes, a young player like Claiborne needs to stay in one system and hone his skills.
Now, just like a quarterback who works with a new offensive coordinator, Claiborne's growth may be stunted with the radical change in defensive philosophy so early in his career.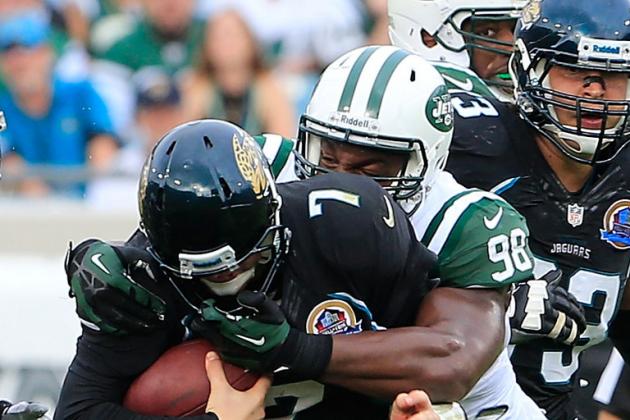 Sam Greenwood/Getty Images

On the heels of a solid rookie season in which he totaled 5.5 sacks as a rotational interior pass-rusher, Quinton Coples should be poised to make huge strides in his second season in New York.
However, a lot of unknowns surround Coples as he enters his second training camp.
First, he will be making the transition to outside linebacker. This will help fill a need for the Jets at linebacker, but it will require Coples to learn a brand-new position on the fly.
Additionally, it appears as if the work ethic issues that surrounded Coples as a prospect coming out of North Carolina have reemerged. According to Seth Walder of the New York Daily News, head coach Rex Ryan blasted Coples' production in the weight room in a press conference:
If Quinton doesn't do a better job in the weight room he might have to...he's got to compete like anybody else for a job. So I'm a little disappointed in Q in the weight room in the last day.
It is still early in the process, and Coples has plenty of time to change his attitude, but another slip-up could cost him a starting job.