10 Reasons We Can't Wait for the 2013 NFL Season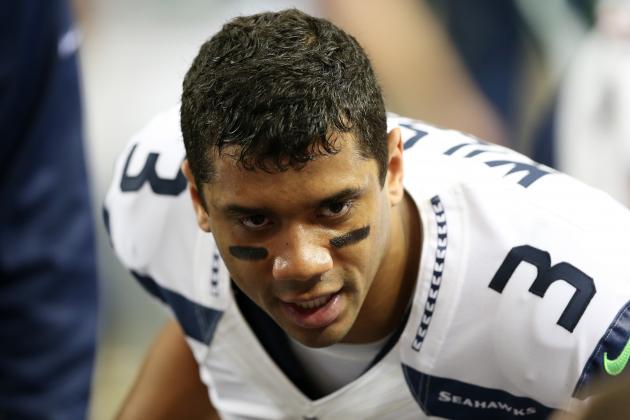 Streeter Lecka/Getty Images

The 2013 NFL season is quickly approaching. Before we know it, all 32 teams around the league will be preparing for training camp and a meaningless slate of preseason games will begin.
The news will (hopefully) change from a continuing stream of Tim Tebow talk in New England, to what players will make 53-man rosters and what teams will be favored to hoist the Lombardi Trophy.
Before you know it, the regular season will be upon us. Fantasy football drafts will have concluded, the fat will have been cut from rosters and all the preparation for a new season will give in to the excitement of seeing players take the field for real.
The stories for this upcoming season are aplenty. We have a plethora of young quarterbacks ready to take the next step towards elite status. Some aging teams may be looking at falling back to the pack; while other up-and-coming teams will likely join the ranks of the best the NFL has to offer.
Running backs will look to break records; quarterbacks will throw more passes than at any point in the history of the league, and teams will look to replace stalwarts on the defensive side of the ball with unproven youngsters.
Today's article is going to focus on 10 reasons we simply can't wait for the regular season to start. In addition, I will throw in a couple of one-liners at the end of the article.
It should be fun...
Begin Slideshow

»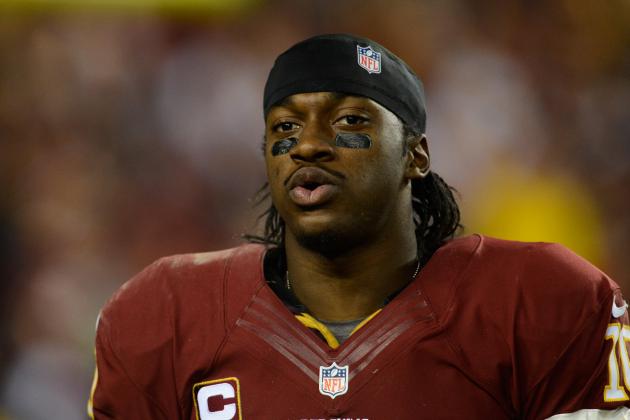 Patrick McDermott/Getty Images
RGII, Wilson and Luck look to expand on great seasons
What Russell Wilson, Robert Griffin III and Andrew Luck did respectively as rookies last season was ridiculous. Add them together and you have one of the best, if not the best, rookie class' at the quarterback position in the history of the NFL.
All three led their teams to the playoffs, two doing so after finishing in last place the previous season.
For the first time in history the two teams with the initial two picks (Indianapolis Colts and Washington Redskins) earned postseason berths. Their improvement from the prior season had a direct correlation with quarterback play.
RGIII finished with the third-best quarterback rating (102.4) of qualified starters in the NFL, while helping to improve Washington from the 26th-best scoring offense in 2011 to No. 4 overall this past season (via Pro Football Reference).
Meanwhile, Luck led the Colts to a nine win improvement from the previous season. His 4,374 passing yards were good enough for seventh in the NFL, right behind the guy he replaced in Indianapolis, Peyton Manning.
Wilson took over a struggling Seattle offense that had hit rock bottom under the "leadership" of Tarvaris Jackson the previous season. Even as a third-round pick, Wilson was able to beat out Matt Flynn for the starting job in camp.
While Wilson threw less passes than any regular quarterback in the league, his impact was felt towards the latter part of the season and the in the postseason. In two playoff games, Wilson combined for 699 total yards and five touchdowns. He also defeated RGIII and the 'Skins on the road in his first career postseason start.
Now these three second-year phenoms look to build off of their trendsetting rookie campaigns. Indianapolis and Seattle look to overtake reigning division winners, while Washington attempts to remain on top of the pack in the NFC East.
This should get real interesting.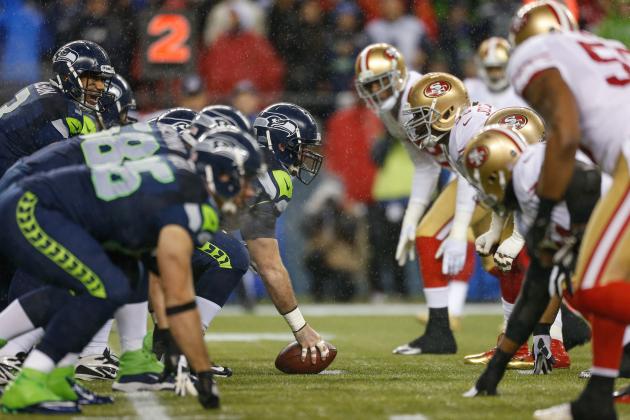 Otto Greule Jr/Getty Images
Best rivalry in the NFL today?
Is this the new biggest rivalry in the NFL? Some may disagree with that notion, but it's hard to oppose the idea that the rivalry between the San Francisco 49ers and Seattle Seahawks is not the fastest-growing in the league.
The head coaches, Pete Carroll for Seattle and Jim Harbaugh for San Francisco, aren't going to be featured in any bromance flicks any time soon. Meanwhile, Seattle and San Francisco are simply two of the best teams in the NFL.
In addition, they're success is likely to be sustained throughout the longer term. Both possess young quarterbacks, relatively new coaching staffs, strong young foundations on defense and deep backfields. Both have the foundation in place to be successful for quite a long time.
Expect Seattle and San Francisco to be contending for the NFC crown for the next five years or so. This means a minimum of two battles per season that will make the "Black and Blue Division" of yesteryear look more like a high school production of Pollyanna.
On that note, this rivalry isn't just about the quarterbacks and head coaches. San Francisco and Seattle go at it in the trenches. Noses are bloodied on a consistent basis,skirmishes occur after nearly every play and defenses tend to dominate with physicality.
It's football in its purest form.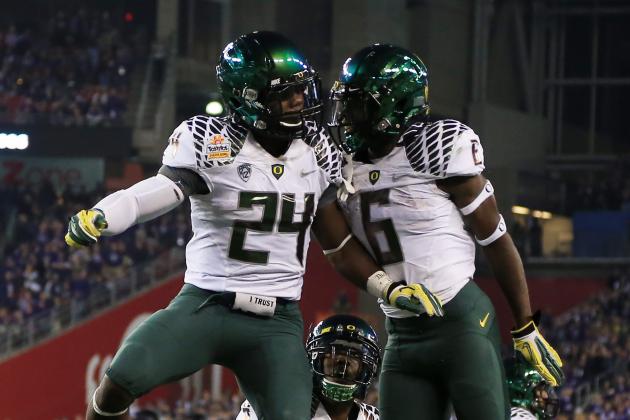 Doug Pensinger/Getty Images
Will high-octane Oregon' attack work in Philly?
Will new Eagles head coach Chip Kelly have success bringing Oregon's high-powered, up-tempo attack with him to Philadelphia? Will he redefine NFL offenses as we know them?
These are two important questions that are sure to be answered at some point in the not-so-distant future.
The larger picture in Philadelphia will focus on the quarterback situation. Kelly will look to revive the fledgling career of one Michael Vick, while having backup plans in the form of Nick Foles and Matt Barkley.
Coming off of two horrible seasons, Vick now has the offensive scheme and talent around him to elevate his play. A return to form by Vick and the Eagles could set up a ridiculous late-season playoff race between at least three teams in the NFC East.
Either way, we can't help but be intrigued by Kelly attempting to revolutionize how offense is played in the NFL. We will see an up-tempo attack like we have never seen before. The days of taking a quick restroom break in between plays are surely over..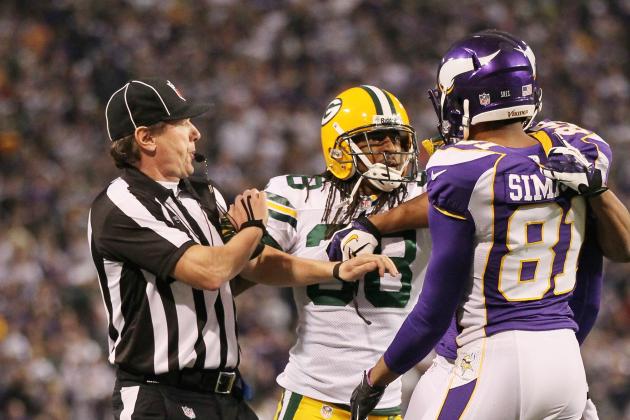 Andy King/Getty Images
Division battles dominate final week of regular season
The NFL made a great decision to feature division matchups in all of its Week 17 games. This has led to renewed drama in the final week of the season.
In 2012, there were a multitude of different games which possessed a great deal of playoff intrigue.
The Green Bay Packers traveled to Minnesota to take on a Vikings team that needed to win in order to make the playoffs. Running back Adrian Peterson broke off 199 yards on the ground and helped the Vikings force a rematch with the Packers the following week. A game Green Bay would take with Joe Webb starting in place of Christian Ponder for Minnesota.
The Dallas Cowboys traveled to D.C. to take on the Washington Redskins in a do-or-die one-game playoff for the division title. Quarterback Tony Romo threw three interceptions in the Cowboys 28-18 loss to the Robert Griffin III-led 'Skins, who earned the division title at the last possible moment.
This season promises to bring an equal amount of playoff intrigue. Let's just take a look at a few different games that could decide who makes the playoffs and who earns important top seeds.
Potential Big Week 17 Games (via NFL.com)

| | |
| --- | --- |
| Away | Home |
| Green Bay Packers | Chicago Bears |
| Baltimore Ravens | Cincinnati Bengals |
| Tampa Bay Buccaneers | New Orleans Saints |
| Washington Redskins | New York Giants |
| Kansas City Chiefs | San Diego Chargers |
| St. Louis Rams | Seattle Seahawks |
There you have it. A total of six games to be played in the final week of the season that could impact seeding, division winners and wild-card slots.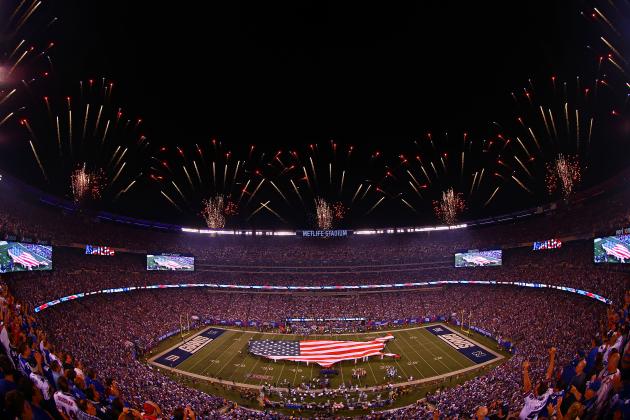 Michael Heiman/Getty Images
It might not rival the pageantry of MLB Opening Day, but the NFL puts on a show
After five full months without football and five weeks of meaningless preseason action, fans couldn't be more excited to get the regular season going in September.
While Super Bowl Sunday represents a national holiday for many of us, it's the opening to the NFL's regular season that starts a process in which we become infatuated with the most popular sport in the United States.
A total of 16 games are played, starting Thursday and ending with a doubleheader on Monday Night Football.
It spells the "end" of the hot summer months, and the start of a fall calendar filled with football, hot wings, beer and fantasy football.
This season promises to feature some real gems on opening week.
The Green Bay Packers take on the San Francisco 49ers at Candlestick Park. Not only is this a rematch of San Francisco's convincing playoff win against the Packers last January, it is also the beginning of the end for Candlestick. The 49ers will be moving to Santa Clara following the 2013 season. In reality, this is the final season opener in the city of San Francisco.
The Baltimore Ravens take on Peyton Manning and the Broncos in a rematch of the classic game from last year's AFC Divisional Playoffs. Baltimore goes into this one without the likes of three important veterans, including two future Hall of Famers, but it is also the defending Super Bowl Champions. Meanwhile, Manning looks to exact revenge on a team that prematurely knocked him out last season's playoffs.
Opening week wraps up on Monday Night Football with the division rival Eagles and Redskins hooking up in D.C. This will be a matchup of one of the best young players in the NFL, Robert Griffin III, and the newest hot young head coach, Chip Kelly.
Above all else, Week 1 of the 2013 regular season brings all of us the start of our favorite time of the year.
It's REAL football, people.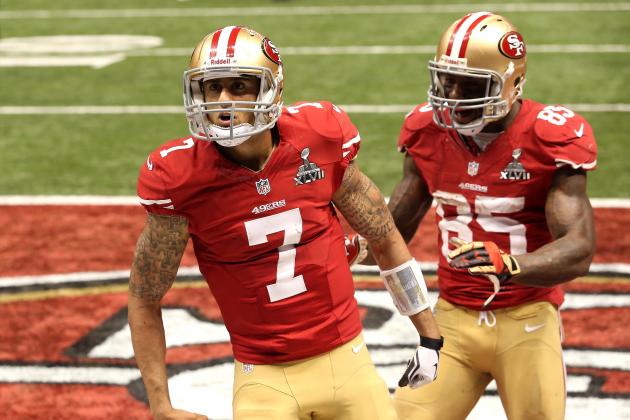 Ronald Martinez/Getty Images
What does Colin Kaepernick have in store for an encore
What Colin Kaepernick did as a second-year player in the NFL last season was nothing short of amazing. Taking over for an "injured" Alex Smith in Week 10 against St. Louis, the young quarterback showed everyone how a strong-armed gunslinger and athletic runner can take over the league.
It might have taken Kaepernick a couple of weeks to get accustomed to being a starter in the NFL, but when he did the league was put on notice.
Not only did No. 7 lead San Francisco to the Super Bowl after just nine NFL starts, he was a primary reason why it made the ultimate game in New Orleans. There is absolutely no way you can make a strong argument that Smith would have led San Francisco back against Atlanta in the NFC Championship game, or back into the game against Baltimore in the Super Bowl. While still a good quarterback, that's not what Smith does.
Oh, and Kaepernick broke the NFL's single-game rushing record for a quarterback in his initial postseason start against Aaron Rodgers and the Green Bay Packers (via ESPN).
Now the face of the franchise in its last season in San Francisco, Kaepernick will be looking to build on what was a stellar sophomore campaign.
Some critics will indicate that the sample size isn't there; others will conclude that "running quarterbacks" don't win in the NFL on a consistent basis.
Both arguments hold zero ground.
Sample size is just that; it's a subjective term made up by individuals who refuse to look past the indicators of success. What other quarterback with so few stars under his belt in the recent history of the league was the reason his team made the Super Bowl? Please give me an answer.
As for the haters of this"running quarterback," I guess some of those critics didn't watch the NFC Championship game. Kaepernick ran just two times, opting instead to pick apart the Falcons defense from the pocket.
Expect continued progress from this young quarterback. The indicators for success are right there in front of all of our faces. It's high time we recognize that he wasn't just a flash in the pan.
Besides, who doesn't want to see Russell Wilson and Kaepernick go at it twice this season?
Andy Lyons/Getty Images
Can CJ2K live up to his nickname in '13?
Could this be the year that Chris Johnson finally lives up to his nickname? The Tennessee Titans made a point of building a great run-blocking offense in front of Johnson this offseason.
The additions of guards Andy Levitre and Chance Warmack will help bolster the interior of an offensive line that that has to be considered one of the worst in the NFL over the past two seasons.
Levitre, a free-agent signing from Buffalo, was one of the best guards in the entire league last season. Meanwhile, many scouts had Warmack slated as the No. 1 guard in the 2013 NFL draft.
This doesn't even take into account the signing of Delanie Walker from San Francisco in free agency. He is one of the better blocking tight ends in the game, and will help Johnson out too.
For his part, Johnson isn't holding back expectations. According to Pro Football Talk, he wants to gain 2,500 yards on the ground this season.
While that is a drastically unrealistic overreach, there is no reason to believe that Johnson cannot challenge Adrian Peterson for the rushing title this season.
It's important to note, that while Johnson struggled over the past two seasons, he didn't have many open lanes to run through. As a whole, Tennessee's offensive line ranked in the middle of the pack in run blocking this past season, and 31st in that category in 2011 (via Pro Football Focus, subscription required).
That won't be the case in 2013.
Andy Lyons/Getty Images
Can Adrian Peterson expand on a near record breaking '13 campaign?
What can be written about Adrian Peterson that has not already been written over and over again since the end of the 2012 season?
The future Hall of Fame running back put up one of the best single-season performances at this position in the history of the NFL.
He is now being mentioned with the likes of Eric Dickerson, Jim Brown and Emmitt Smith.
Way to put yourself in great company, Mr. Peterson.
After coming up just a few yards short of breaking Dickerson's single-season rushing record, Peterson now has even more to work with in 2013. He'll have a quarterback in Christian Ponder with two full seasons of experience under his belt, a veteran wide receiver in Greg Jennings and a offensive line that seems to fit his running style the best.
If defenses are unable to stack the box against Peterson like they did last season, there is no reason to believe that he can't break Dickerson's rushing record in 2013.
It's all about getting some type of balance going on offense. This puts all the pressure on Ponder and the passing game.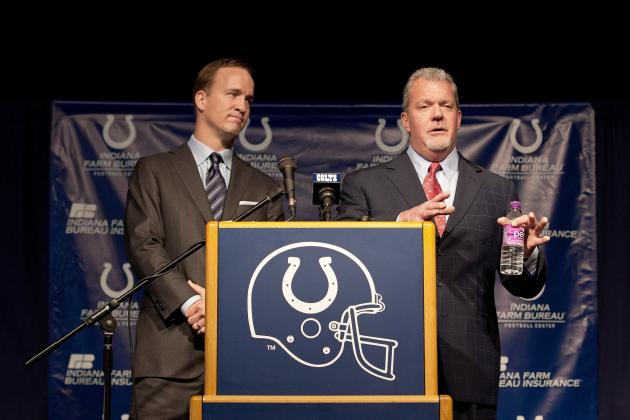 Joey Foley/Getty Images
Let's all wonder now whether Jim Irsay plans on drunk tweeting this game
Peyton Manning's relationship with the Indianapolis Colts ended about as well as either side could have hoped.
By virtue of Manning missing the entire 2011 season with a neck injury, Indianapolis was able to acquire the No. 1 overall pick in the 2012 NFL draft. This enabled it to pick up Andrew Luck, who many considered a once-in a-generation type of quarterback. Indianapolis then went on to win 11 games and earn a postseason spot.
Meanwhile, Manning set up residence in Colorado after flirting with San Francisco and a couple of other destinations.
The future Hall of Fame quarterback took over a team that had won the AFC West and upset the Pittsburgh Steelers in the postseason the prior year. He went on to lead Denver to 13 wins, including 11 in a row to conclude the regular season.
Both teams are now looking to take the next step.
For Denver, it is all about getting over the heartbreaking loss to the Baltimore Ravens in the playoffs and capturing the conference crown.
For Luck and the Colts, it's all about overtaking the Houston Texans in the AFC South and taking the next step towards elite status.
This Week 7 clash in Indy promises to be quite the media spectacular. Manning will be returning to his original NFL city where he played his first 14 seasons. He will be going up against the Colts new franchise quarterback; a fresh source of optimism for an organization that once anointed Manning king.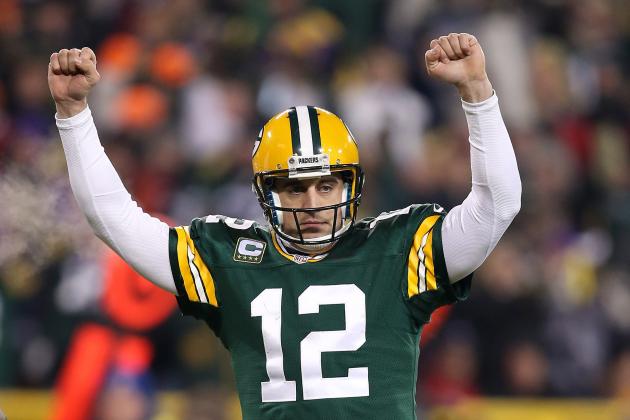 Andy Lyons/Getty Images
Is Aaron Rodgers the best?
Aaron Rodgers is coming off the best two-year stretch for a quarterback in the history of the NFL. In 31 starts since the beginning of the 2011 regular season, Rodgers has thrown for nearly 9,000 yards with 89 total touchdowns and 14 interceptions (via Pro Football Reference).
To put that into perspective, Joe Montana's best two-year stretch (1984 and 1985) saw him throw for just over 7,200 yards with 55 touchdowns compared to 23 interceptions (via Pro Football Reference).
I fully understand that the NFL is now a pass-first league, but that's just plain ridiculous.
At just 29 years old, and with five full seasons as a starter under his belt, Rodgers is barely entering his prime. In reality, his best years are still in front of him.
If you look at some of the best quarterbacks in the history of the NFL, their best seasons were between the ages of 29 and 31.
This is what Rodgers has to look forward to in 2013 and beyond.
You also have to take into account the vast amount of weapons that Rodgers has at his disposal. The additions of running backs Johnathan Franklin and Eddie Lacy in April's draft will add yet another dimension to Green Bay's offensive attack.
Randall Cobb, Jordy Nelson and James Jones will also begin their first full season as Rodgers' primary targets at wide receiver. The three combined for 29 touchdowns last season, and were instrumental in helping Rodgers cope with Greg Jennings' health issues. Now that Jennings has bid adieu, Rodgers will be able to focus on these three talented individuals on the outside.
In short, expect another huge season from Rodgers. It's now up to his offensive line to hold up in front of him. If that happens, Green Bay could restate its claim as the best team in the NFC.
At the very least, Rodgers has already proven himself to be the best overall player in the NFL over the past two seasons.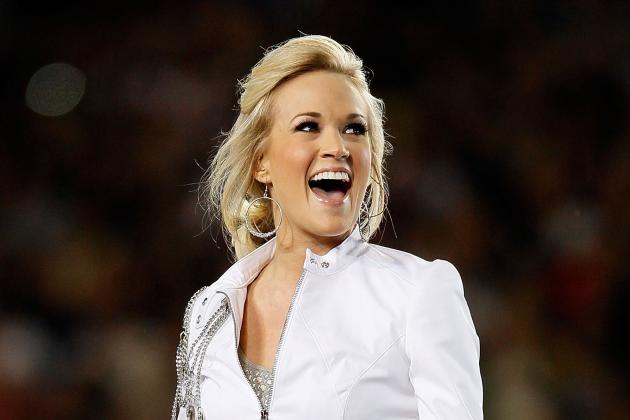 Andy Lyons/Getty Images
Does she even need a caption?
Carrie Underwood Joins Sunday Night Football
In what has to be the best of both worlds for those of us who love the NFL and Carrie Underwood, the country diva will be replacing Faith Hill in performing Sunday Night Football's theme song on a weekly basis (via USA Today).
The beautiful blond isn't only an ex-girlfriend of Tony Romo; she has been a fixture around the football world since winning American Idol back in 2005. She sang the national anthem at two recent Super Bowls, and performed that song at both the MLB All-Star Game and the World Series. She's about as American as apple pie—just as sweet, too.
The New York Jets
The national media and most fans outside of New Jersey love to hate the New York Jets—it's easy to see why.
First of all, Rex Ryan's personality tends to throw some people off. Secondly, the decision to bring in Tim Tebow last season played more like a PR ploy than anything else. Finally, we already know that the media in general loves to build up success stories before tearing them down.
Remember, the Jets are just a few short years removed from an AFC Championship game appearance. They now possess what has to be considered one of the weakest rosters in the entire NFL. It will definitely be interesting and/or entertaining to see what becomes of the 2013 Jets. Will Mark Sanchez one-up his butt-fumble performance from last Thanksgiving? After all, comedy is part of the game.
Andy Reid Returns to Philadelphia
In what will be just his third regular season game as the head coach of the Kansas City Chiefs, Andy Reid will travel back to Philadelphia to take on an Eagles team that he previously coached for 14 seasons.
Do you expect him to receive a warm welcome home from fans in The City of Brotherly Love?
No, I am not really banking on it either.
What happens if Reid and his new quarterback "pet" Alex Smith go into Philly and win? That would be a story in and of itself. Either way, we just can't wait to see what happens here.
Young Running Backs
While there was a lot made about rookie quarterbacks last season, another trio of first-year players dominated. Running backs Trent Richardson, Doug Martin and Alfred Morris combined for nearly 5,000 total yards and 37 scores (via ESPN).
Morris and Martin finished among the league leaders in rushing yards. We are not only expecting all three to duplicate their rookie campaigns, we are also looking for a progression from each one. That might mean one of them comes close to eclipsing 2,000 yards on the ground. We are surely entering exciting times for young running backs in the NFL.
Vincent Frank is an NFL featured columnist here at Bleacher Report. Vincent is the head sports editor over at eDraft, co-host of Draft Sports Radio, which airs every Monday and Wednesday from 3 to 6 p.m. ET, and a fantasy writer for Pro Football Focus.
Go ahead and give him a follow on Twitter @VincentFrankNFL.