Power Ranking the NFL's Top 25 Trench Players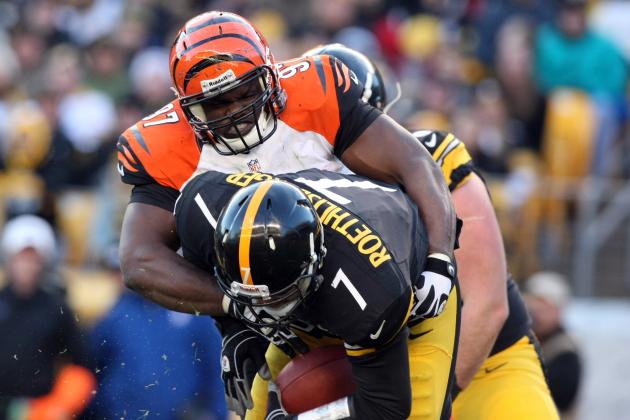 USA TODAY Sports

Quarterbacks might get all the glory, but NFL games are won and lost in the trenches. It might be a passing league, but that only underscores the importance of getting to the quarterback—or keeping your quarterback upright, if you are on offense.
Jake Long versus DeMarcus Ware can be the difference in the game. If Ware gets to the quarterback just once and forces a key turnover leading to a loss, it won't matter if the team threw for 350 yards.
Who are the greats among these trench players today? These are any players along the offensive and defensive line, including outside linebackers in 3-4 schemes and one special 4-3 outside linebacker.
Begin Slideshow

»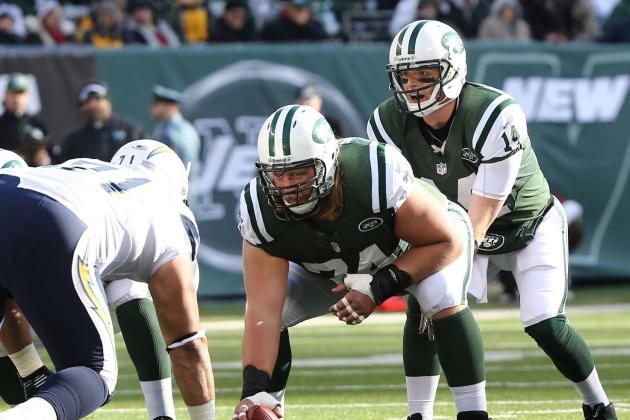 USA TODAY Sports

The Jets have become a bit of a laughingstock after the Tim Tebow circus came to town and wreaked havoc, but that doesn't mean they do not have some fine players.
Case in point, Nick Mangold, one of the league's best centers for years.
The veteran center has been a point of consistency for a Jets team battered by off-field drama and a descent into the depths of the AFC East. Mark Sanchez has had to deal with a patchwork offensive line over the years, but Mangold has been a rock for him under center.
Ronald Martinez/Getty Images

It might come as a surprise to see Anthony Spencer on this list, but it might be even more surprising given DeMarcus Ware's exclusion.
Spencer has gone from good to great with the Cowboys, which is likely why they chose to slap him with the franchise tag for a second consecutive year. The truth hurts, however; Spencer is a better all-around player than Ware at this stage in the game.
That is not to say Ware is a poor player. On the contrary, the longtime Cowboys outside linebacker is still a fantastic pass-rusher. But that was it last season.
Dallas is so confident in Spencer that they were willing to commit 120 percent of his 2012 salary to him despite switching to a 4-3 defense, for which the big defensive lineman is worse-suited.
Spencer was Pro Football Focus' (PFF) top-rated 3-4 outside linebacker last season. His strength comes against the run, but Spencer also tallied double-digit sacks for the first time in his career last year.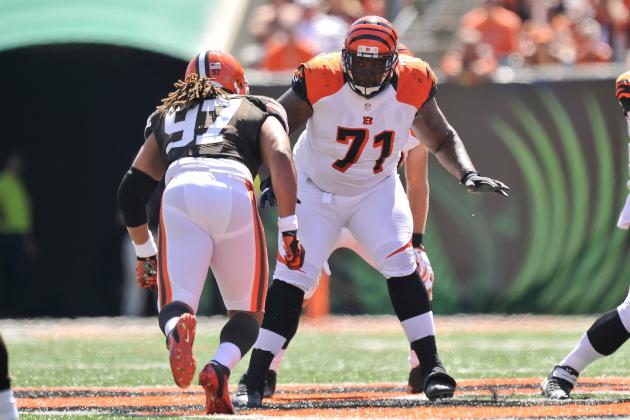 Jamie Sabau/Getty Images

It is a wonder Andre Smith did not get more action in free agency. After all, he is arguably the league's best right tackle, and it's not as if that position was filled on every team.
Perhaps attempting to bring a weapon onto an airplane carries more weight in free agency than anticipated, but Smith wound up back in Cincinnati on a relatively meager three-year, $18 million deal.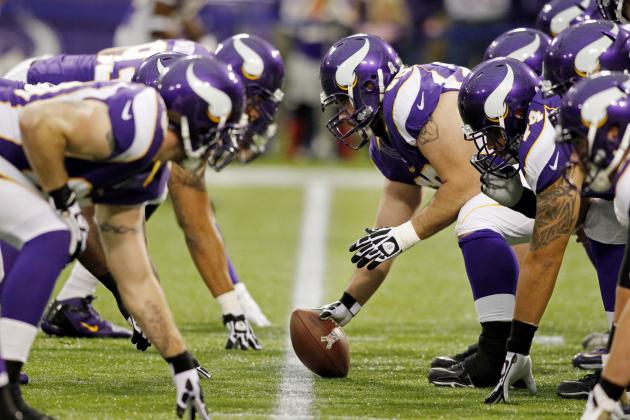 Bruce Kluckhohn-USA TODAY Sports

The league's best center also happens to help pave the way for the MVP.
John Sullivan has been consistently great for the Vikings in recent years. He anchors the middle of a good offensive line that helped Adrian Peterson crack the 2,000-yard barrier last year.
Centers don't get any love, but they are people too.
Tim Heitman-USA TODAY Sports

Carl Nicks has been one of the best offensive guards in the league over the past several years, the main reason why he scored a huge contract with the Buccaneers last offseason.
He did not disappoint, but it was a bit of a down year for him as he played through injury before ultimately shutting things down in the middle of the year.
Nicks should come back stronger, solidifying the middle of that offensive line that suffered a bit without him.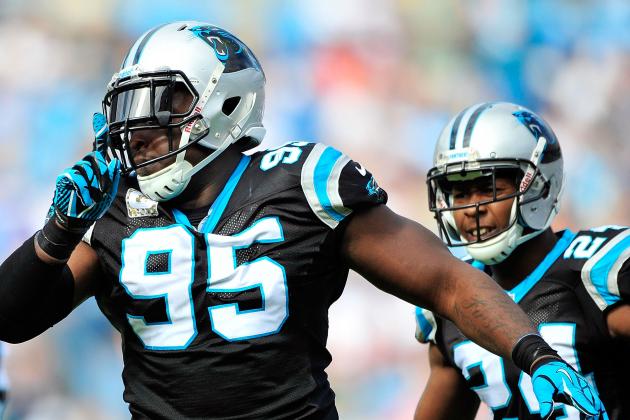 Grant Halverson/Getty Images

The Panthers have not exactly had a lights out defense over the years, but they have quietly assembled some fantastic pieces on that unit.
Charles Johnson might be the best one of them all.
A fearsome pass-rusher, Johnson notched the second-most total quarterback pressures at 4-3 defensive end last season. The only one to surpass him? None other than Cameron Wake.
Johnson needs to work on his game against the run to move up on this list, but he rates among the best in the league in the trenches nonetheless.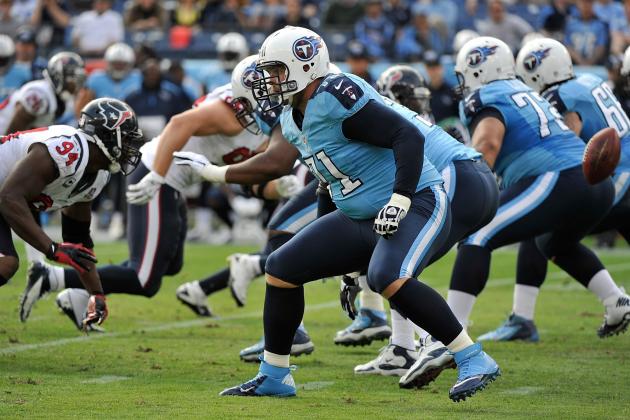 Frederick Breedon/Getty Images

When it comes to ranking the left tackles in the NFL, Michael Roos is not the first name you might hear but it should come among the top five.
Roos has allowed just five sacks over the past two seasons as an important part of the Titans offensive line. He might not be a household name, but that comes with the territory along the offensive line.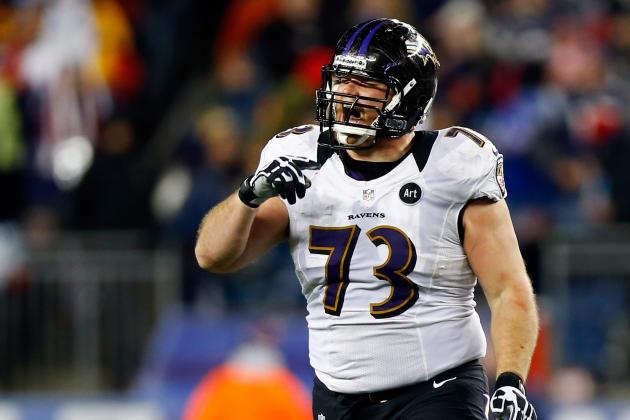 Jared Wickerham/Getty Images

Simply put, Marshal Yanda has been one of the best offensive guards in the league for years now.
The Ravens—namely Ray Rice—have benefited from his presence in the middle. Yanda is a well-rounded blocker, which has been a boon for Rice and the rest of the offense.
Jonathan Daniel/Getty Images

The Bears weren't just throwing money away when they slapped the franchise tag onto Henry Melton's back. They know what makes that defense tick: the pass rush.
Melton is one of the league's best pass-rushing defensive tackles in the league. He has the second-most sacks at the position over the past two seasons, behind the mammoth Geno Atkins.
His pass-rushing prowess is a big reason why others along that offensive line can get pressure, and it helps that secondary do its turnover thing.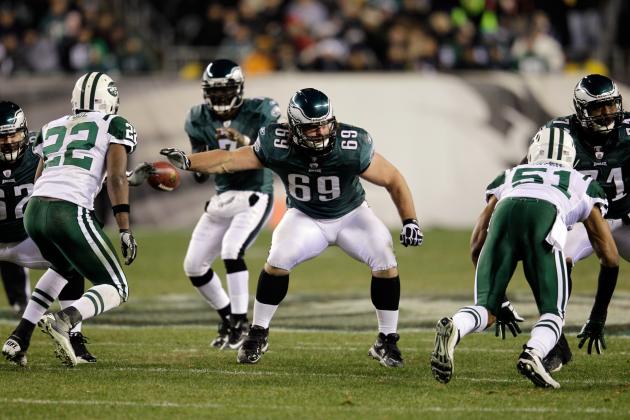 Rob Carr/Getty Images

There has been one name atop the Pro Football Focus rankings at offensive guard over the past two seasons, and it's not Marshal Yanda, Carl Nicks or Andy Levitre.
Evan Mathis bears that name, and he wears it proudly. He made it there by being a fantastic run blocker, but he's no slouch in the passing game either.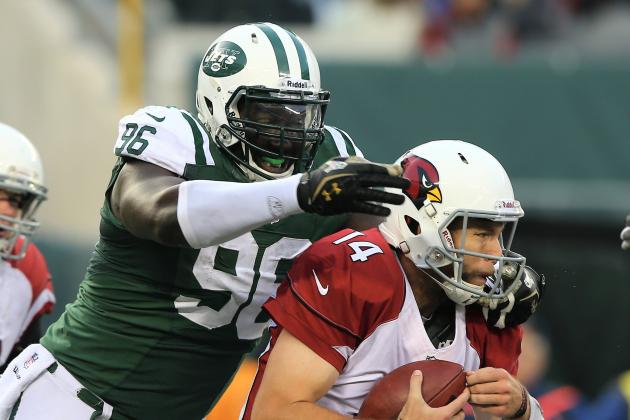 Elsa/Getty Images

The Jets have a pretty good defense, which will be the reason they will be better than many think this season. A big reason for that is third-year defensive end Muhammad Wilkerson, who has blossomed into one of the best in the league.
Wilkerson's emergence allowed the Jets to let Mike DeVito go and move Quinton Coples to outside linebacker, at least after they drafted Sheldon Richardson.
New York's big defensive end was second only to J.J. Watt in PFF rating and total tackles on the year. He might not be a dominant force just yet, but he is on that track.
A dominant front line will keep this defense strong as its New York's best hope to surprise this year. It starts with Wilkerson.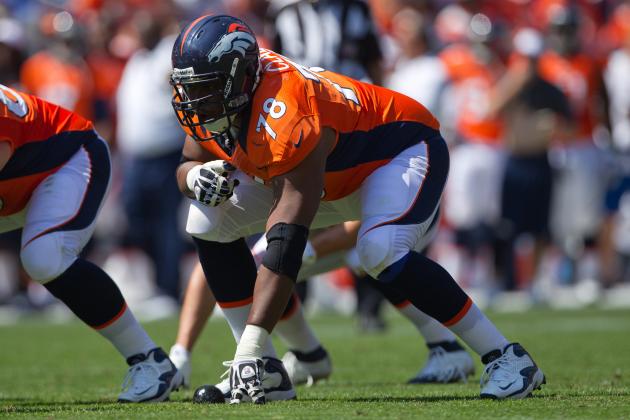 Justin Edmonds/Getty Images

Ryan Clady's career got off to a bit of a slow start after the Broncos took him in the first round in 2008, but it has taken off in recent seasons.
The big offensive lineman has blossomed into one of the league's best offensive linemen. He protected Peyton Manning's blind side with aplomb last year and earning himself the franchise tag in the process.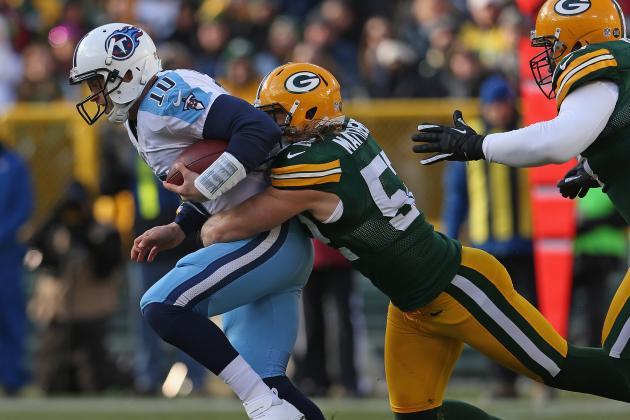 Jonathan Daniel/Getty Images

If consistency is the name of the game, Clay Matthews is your man. The Packers stalwart has been a model of dependability since he arrived in Green Bay, which seems like much longer than four seasons ago.
Don't believe me? Just ask Pro Football Focus:
There may not be a more consistent pass rusher who has been so heavily leaned upon to be his team's lead source of pressure. In each of his four seasons in Green Bay, Clay Matthews has recorded at least 50 total pressures, and at least 25 of those have been hits or sacks. His pass rush grade has gone up every year and his Pass Rushing Productivity score has been around or above 10.0 in each of his four seasons.
He might not put up gaudy sack numbers, but Matthews has been fantastic all-around for the Packers.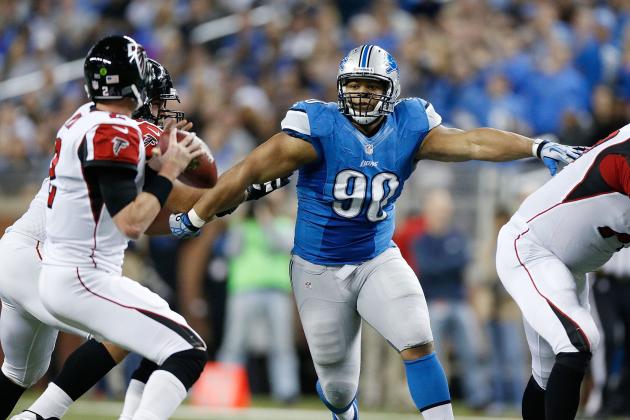 Gregory Shamus/Getty Images

To evaluate Ndamukong Suh, you must look past his transgressions or at least take them with a grain of salt.
Suh has been labeled the dirtiest player in the NFL by some thanks to some dubious decisions on the field. His issues have spilled off the field, where he feels the need for speed.
Problems aside, however, there are few more dominant defensive tackles in the league than the former Cornhusker. Suh is a disruptive force in the middle of that Lions defense, one that would be sorely missed should he get into deeper trouble and force a suspension.
Rob Carr/Getty Images

For a few weeks there, it looked as though Aldon Smith would challenge the regular season sack record held by Michael Strahan.
A dominant run that saw him notch 15 sacks during a seven-game stretch from Weeks 7 through 14—including a 5.5-sack explosion against the hapless Chicago offensive line. That stretch had him within three of that record, but he was shutout during the final three weeks.
He did break the record for the most sacks through the first two seasons of a career, though. So why isn't a third-year player who came that close to breaking the sack record ranked higher?
Well, his biggest issue is reliance on others. Smith's cold streak coincided with Justin Smith's torn triceps, which was no coincidence. The latter Smith is a beast in his own right, commanding plenty of attention and disrupting things on his own.
Aldon Smith is also not as well rounded as some of his peers.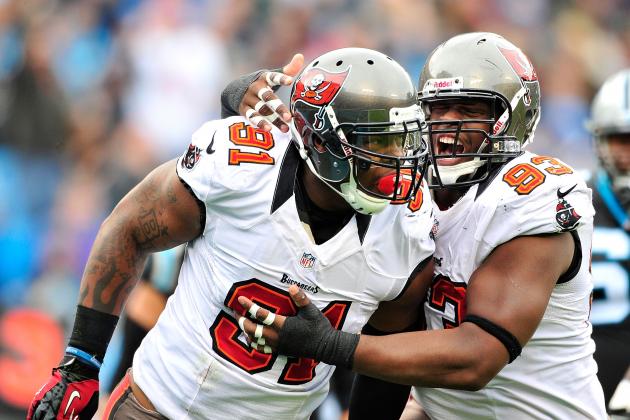 Grant Halverson/Getty Images

There might not have been a more underrated season at defensive tackle as Gerald McCoy's last year
McCoy had the second-most total quarterback pressures at the position to the mighty Geno Atkins, and he was solid against the run.
He is an anchor in the middle of that Buccanneer defense.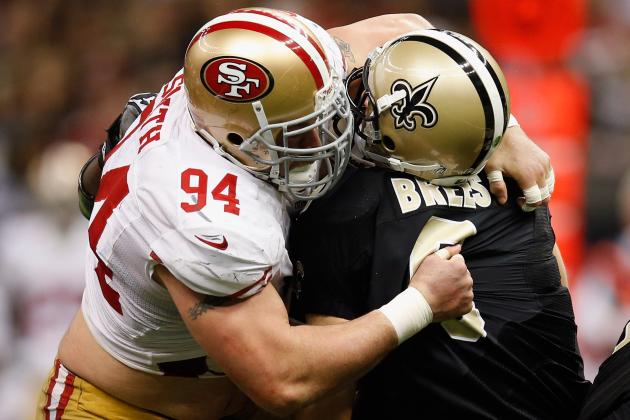 Chris Graythen/Getty Images

The man behind Aldon Smith—or in front of him, on most plays—also happens to be one of the most dominant 5-technique defensive ends in the NFL.
Before J.J. Watt, there was Justin Smith. That is to say, Smith was the most dominant 5-technique defensive end in recent years.
He had a bit of a down year last season, mainly because of a torn triceps later in the year that really sapped his Hulk-like abilities. However, he is still great, and will be a key component on that 49ers defense.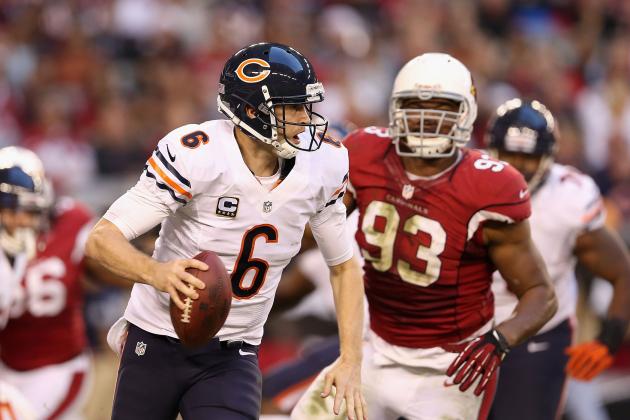 Christian Petersen/Getty Images

Speaking of dominant 5-technique defensive ends, Calais Campbell has become the man at the position.
Well, almost, were it not for our No. 1 player. He is darn good nonetheless. Campbell is a good pass-rusher, but his all-around quality of play is the reason why he is ranked this highly.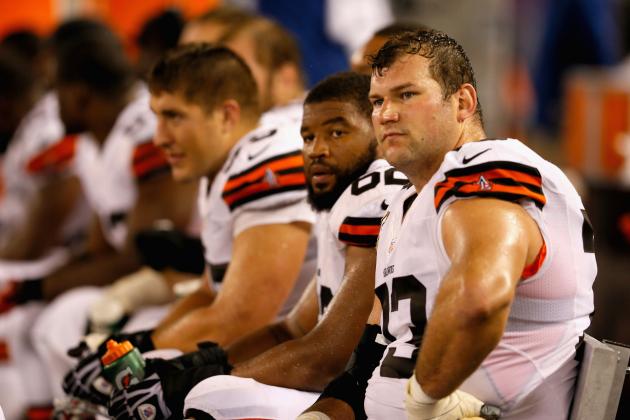 Rob Carr/Getty Images

There is a reason Joe Thomas has an eight-year, $80 million deal. It's not because he is a super model.
That is not to say Thomas isn't good looking—I'll leave that to my readers—but he is a beautiful pass protector. He's not bad in the running game either.
Though he has been overtaken by one other yet-to-be-named offensive tackle, Thomas remains one of the league's best trench players.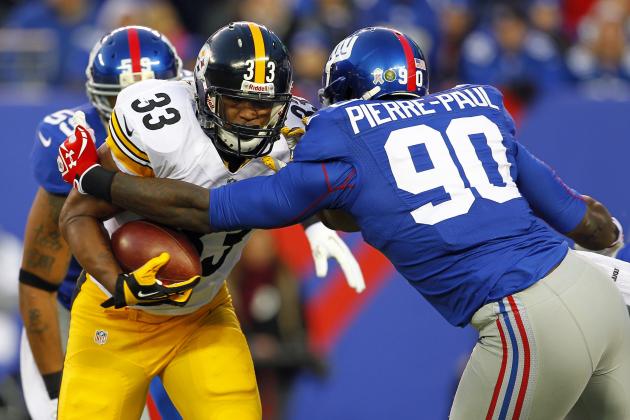 Rich Schultz/Getty Images

Jason Pierre-Paul had a relatively down year after his fantastic 2011 campaign. That hasn't dinged him much in these rankings, however.
The decline in numbers came largely in sack totals, but that doesn't mean he didn't get to the quarterback. Pierre-Paul had 44 quarterback hurries on the year and was also pretty good against the run.
For all the talk of a down year, Pierre-Paul was still the third-best 4-3 defensive end in 2012 according to Pro Football Focus. He is only 24 years old as well.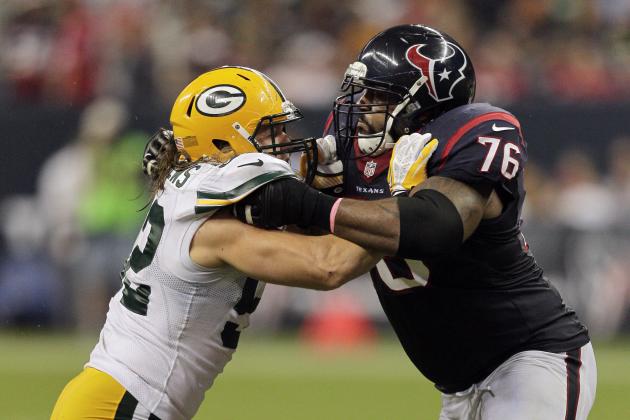 Bob Levey/Getty Images

The award for best offensive lineman in the league goes to...Duane Brown?
That might be unexpected, but it is also true. Brown does not get nearly as much publicity as Joe Thomas or Jake Long, but he has quietly risen to the top of the left tackle heap. The best left tackle is, by nature of the position, the best offensive linemen in the league.
How did he get there?
Well, for starters, Brown has been one of the most efficient pass blockers in the NFL over the past couple of seasons. He has allowed just four sacks and 48 total quarterback pressures over the past two seasons, among the lowest in the league.
More so than that, the big offensive lineman has become one of the better blocking tackles in the league to go with it.
Brown is just entering his prime, which means he could be sitting atop the list at his position for years to come.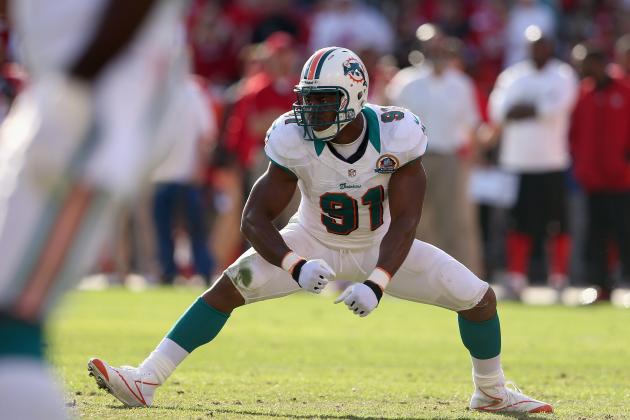 Ezra Shaw/Getty Images

There has been no better pass-rusher in the league the past few years than Cameron Wake. The only problem is he does not have the massive sack totals to show for it.
Wake puts pressure on opposing quarterbacks, obliterating the league with 167 total quarterback pressures over the past two seasons. He only has 23.5 sacks in that span, but some of that is a matter of luck.
He might not be as well rounded as a guy like Von Miller, but Wake is the best pure pass rusher in the NFL today, which is why he wound up No. 3 on this list.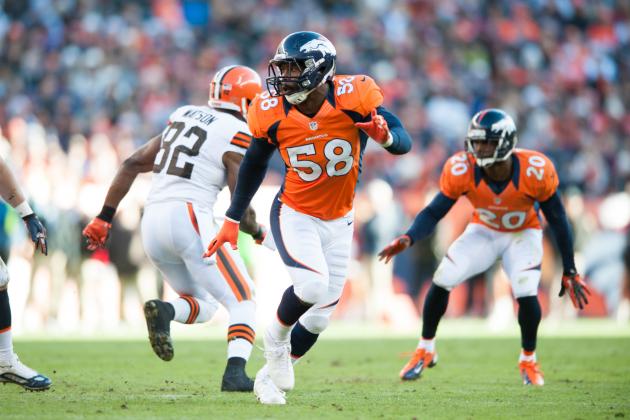 Dustin Bradford/Getty Images

This is cheating, but there is no reason to exclude Von Miller because he is technically a 4-3 outside linebacker. The third-year pro is simply amazing.
Miller is the third-highest rated player on all of Pro Football Focus, over 50 points ahead of his nearest competitor at outside linebacker, Jerod Mayo. Miller was a small part of the MVP discussion at the end of the year thanks to his fantastic play.
There are few trench players with brighter futures right now. Miller has a Hall of Fame trajectory if he can stay healthy. Only two players are ahead of him right now.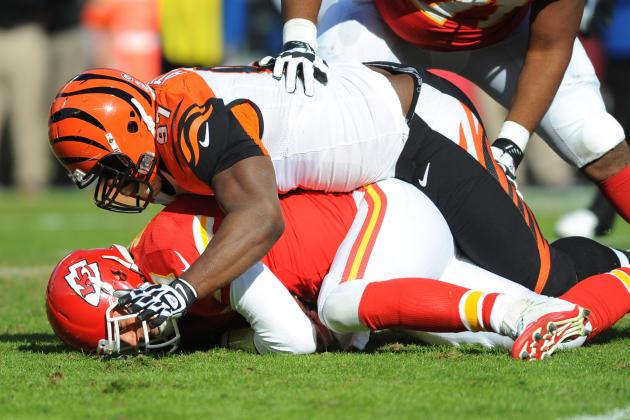 Denny Medley-USA TODAY Sports

It is difficult to choose between Geno Atkins and J.J. Watt. It's like picking between Superman and Spider-Man—they're both incredible.
Atkins is 1b to Watt's 1a in this case. Both are another planet, but Atkins is on Mars while Watt is all the way on Neptune.
Even so, it is difficult to understand just how amazing Atkins was as a defensive tackle has been in the past two years. He has led the league with 20 sacks at the position during that span. Only eight players have more.
More than just sacks, however, Atkins is simply a planet-class weapon in the middle of that Bengals defense. He is incredibly disruptive, an incredible asset for Cincinnati.
It was difficult to rank him second, but it would have been even more so for the other guy.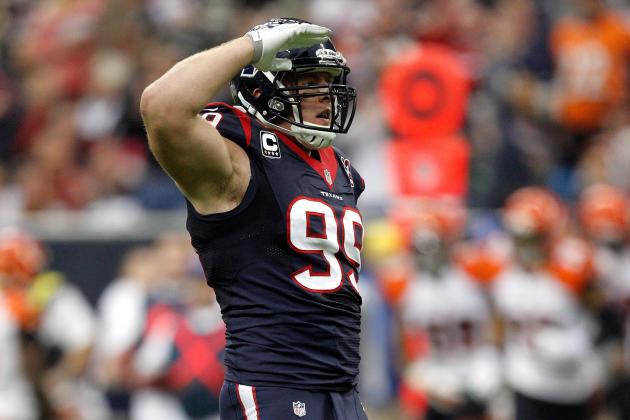 Bob Levey/Getty Images

We have rarely seen dominance from a player like J.J. Watt put on display last season.
The Texans defensive lineman annihilated a record last season and you probably don't even realize it.
According to Football Outsiders, Watt recorded 56 defeats—a combination of turnovers, batted balls that led to turnovers, tackles for loss, and prevented third- or fourth-down conversions— in 2012. The next-best number is 45, by Ray Lewis back in 1999.
This might not be an official statistic, that has only been kept for a couple of decades, but it confirms what we all saw last year—Watt was a monster. It was also just his second year in the league.