2014 NFL Mock Draft: Early Projections for All 32 Teams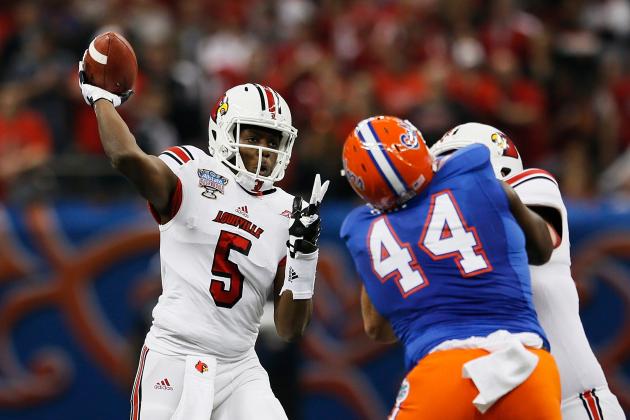 Kevin C. Cox/Getty Images

The 2013 NFL draft isn't even in the books completely, but after three rounds we have a good feeling for which team needs were filled and which were not. And it's never too early to start speculating about next year.
The 2014 draft class has more talent, top-to-bottom, than the 2013 class offered. There is an elite quarterback—or two—and more top-line big uglies at offensive line and defensive line. If the 2013 class lacked elite talent, the 2014 class has plenty of it.
Where will Jadeveon Clowney, Marqise Lee and Teddy Bridgewater be projected to start their NFL careers? We're taking this year's draft order—before trades—and looking ahead one year to the 2014 first round.
Begin Slideshow

»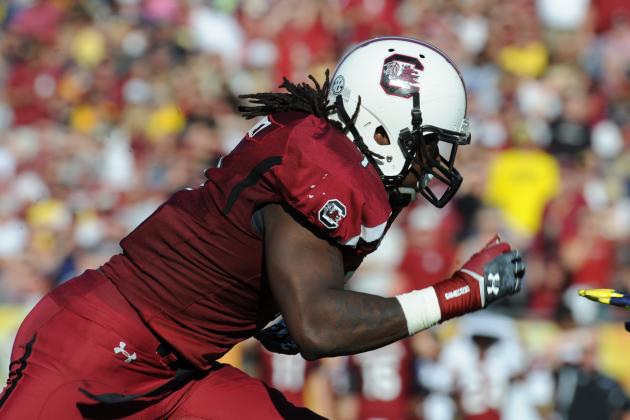 Al Messerschmidt/Getty Images

The Pick: DE Jadeveon Clowney, South Carolina
The Kansas City Chiefs won't be my pick to have the No. 1 overall selection next year at this time, but no matter who holds the pick, defensive lineman Jadeveon Clowney should be the selection.
It's easy to over-think this in April and wonder what will happen if a team that needs a quarterback holds the No. 1 overall selection. If they do, a trade out of that spot is highly likely. Or they could do what the Houston Texans did when they held the No. 1 overall pick in 2006 and needed a quarterback—they drafted Mario Williams, the best player on their draft board.
If this is the Chiefs drafting, they would be in love with Clowney's quickness and size in their 3-4 Under scheme. Clowney playing in a one-gap alignment would wreak havoc on NFL offensive lines.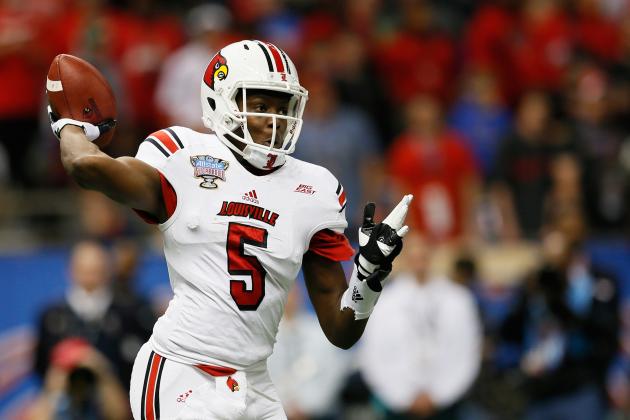 Kevin C. Cox/Getty Images

The Pick: QB Teddy Bridgewater, Louisville
The Jaguars made a surprising pick when they added left tackle Luke Joeckel with the No. 2 overall pick, but it was a pick made with exceptional value. Looking ahead to where this team will go in the 2014 draft, it's easy to see them going for value again.
This is a team that drafted for value in the first, second and third round, but left their need at quarterback on the board. With Blaine Gabbert and Chad Henne going into 2013, expect the team to be in place to select a top-ranked quarterback in 2014.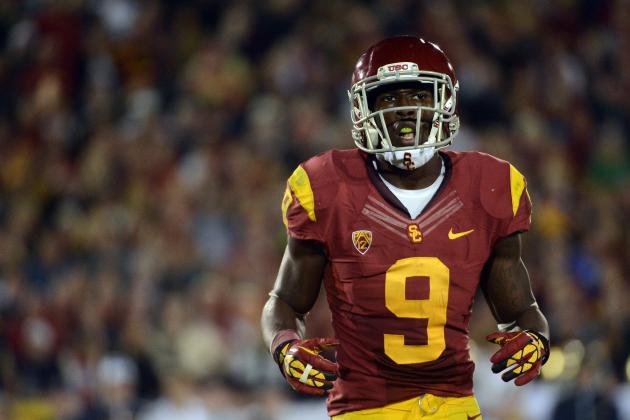 Harry How/Getty Images

The Pick: WR Marqise Lee, USC
The Oakland Raiders didn't get a great grade from our team when they traded down to get cornerback D.J. Hayden, but at least they traded back first. That showed general manager Reggie McKenzie is ready to re-make this roster through the draft.
No matter what Oakland does on Day Three of the draft, a marquee wide receiver is a major need for this franchise. They have some talented young players, but no one on the team has the talent of Marqise Lee. The USC wideout would give the Raiders a true No. 1 to work with on the outside.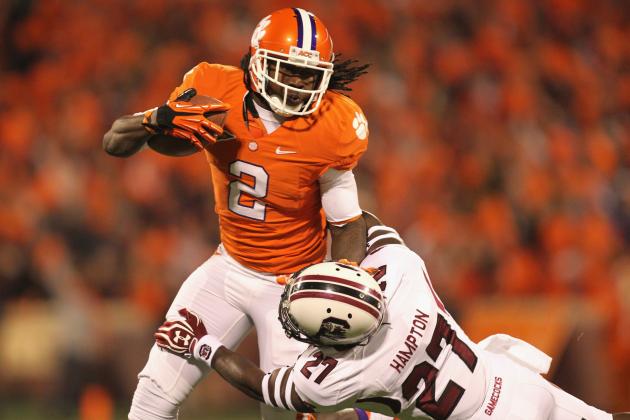 Streeter Lecka/Getty Images

The Pick: WR Sammy Watkins, Clemson
The Eagles fortified their offensive line in the 2013 draft by adding Lane Johnson, and looking at the roster from the outside, there are not many holes on paper. That puts Philadelphia in a great position to add the best player available.
The Eagles may not seem like a team that needs a wide receiver, but Jeremy Maclin does have just one year left on his deal and you can never have too much speed on the outside. Picturing Sammy Watkins unleashed in Chip Kelly's offense is too good to pass up.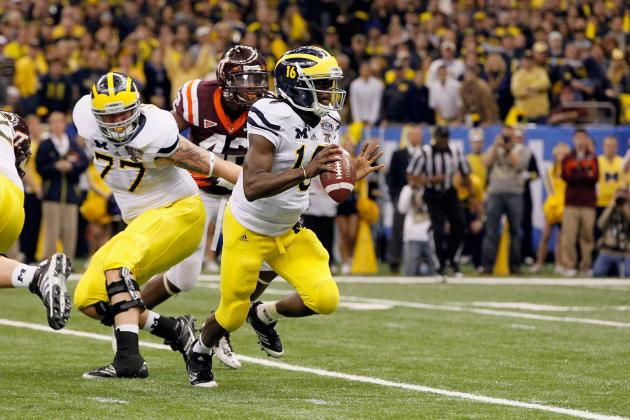 Kevin C. Cox/Getty Images

The Pick: LT Taylor Lewan, Michigan
The Detroit Lions didn't have a chance to consider drafting a left tackle in the first round thanks to the three tackles that went in the first four picks, but in 2014 they'll have a chance to make that right after a full season to evaluate Riley Reiff.
Taylor Lewan is close to Luke Joeckel in terms of potential as a left tackle, and he can be that Jake Long-type of protector on the edge. If Reiff struggles in a full-time role, the Lions would love to find a local product like Lewan available for them. With Riley Reiff and Larry Warford already in place, Lewan would solidify the offensive line in Detroit.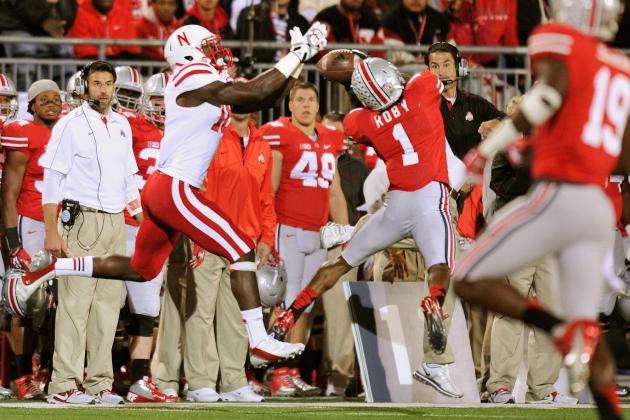 Jamie Sabau/Getty Images

The Pick: CB Bradley Roby, Ohio State
The Cleveland Browns were long rumored to be interested in cornerbacks in the 2013 NFL draft, but by selecting Barkevious Mingo they became destined to put that need off until 2014. That's OK.
Bradley Roby would have been the top ranked cornerback in the 2013 draft, and moving forward another year he has the talent to become a truly elite prospect at the position. We're talking Joe Haden-level.
The Browns would love to have Roby opposite Haden, giving their already stout defense another weapon. Even with Leon McFadden on the roster, the Browns can't afford to pass up Bradley Roby here.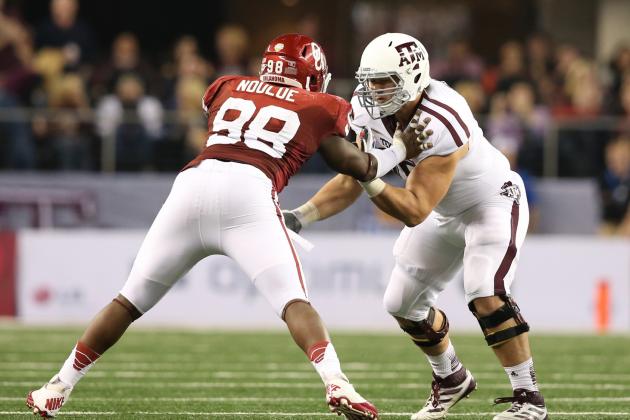 USA TODAY Sports

The Pick: LT Jake Matthews, Texas A&M
The Arizona Cardinals went offensive guard early in the first round, and then grabbed Kevin Minter and Tyrann Mathieu to round out Day Two of the draft. That leaves them with a considerable hole at left tackle.
Jake Matthews will be making the move from right tackle to left tackle in 2013, and if he plays like he did in 2012 the Cardinals would love to have him as the cornerstone of their offensive line. Matthews has elite potential as an edge protector, and coming out of a spread offense he has the skill set to protect the quarterback out on the corner.
Matthews comes from a football family, and has the pedigree and talent to be a high pick in 2014.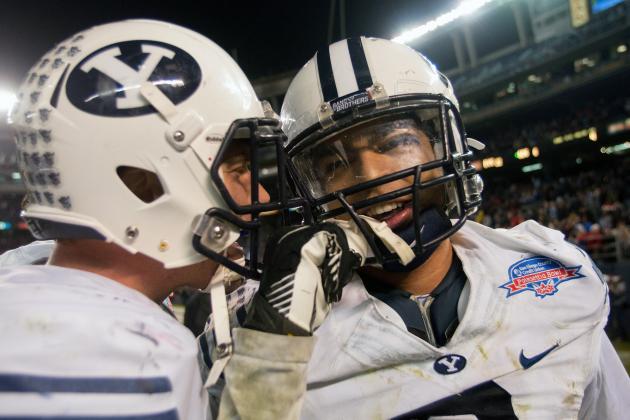 Kent Horner/Getty Images

The Pick: OLB Kyle Van Noy, BYU
The Bills added a top-tier inside linebacker in Kiko Alonso to go along with E.J. Manuel at quarterback and two stud receivers in Marquise Goodwin and Robert Woods. Moving on to 2014, the outside linebacker position remains a need.
The Bills would love a dynamic outside linebacker who can rush the quarterback and stop the run. BYU's Kyle Van Noy consistently showed up on film as a versatile defender that can do those things. You couldn't watch Ezekiel Ansah this season without falling in love with Van Noy's playmaking skills.
The Bills would love to upgrade from Manny Lawson at some point, and Van Noy is a natural in that spot.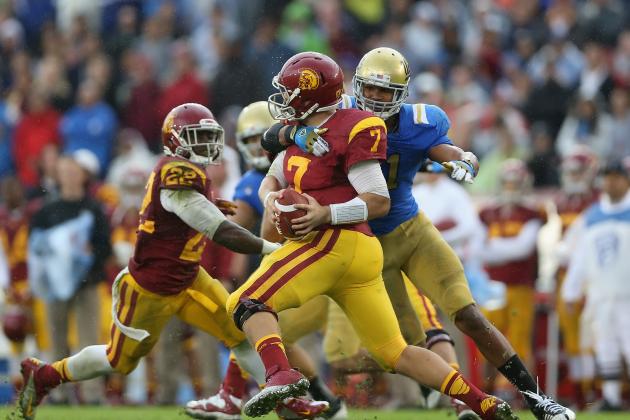 Jeff Gross/Getty Images

The Pick: OLB Anthony Barr, UCLA
The New York Jets addressed a number of needs in the first three rounds—cornerback, defensive line and quarterback. That leaves them with a gigantic hole at outside linebacker.
Anthony Barry was one of college football's most electric playmakers on defense during the 2012 season, and his ability to play the run, pass and go after the quarterback makes him a nice fit in the Jets' versatile defense. Assuming Rex Ryan saves his job heading into the 2014 season, Barr would be an excellent fit as an edge defender in the team's 4-3, 3-4 and 4-6 looks.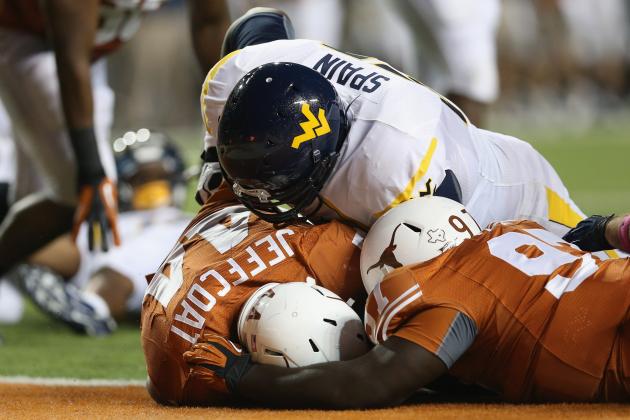 Ronald Martinez/Getty Images

The Pick: DE Jackson Jeffcoat, Texas
The Tennessee Titans have two good defensive ends in Kamerion Wimbley and Derrick Harvey, but adding another piece and potentially improving their rotation at the position would be tough to pass on without other clearly defined needs.
Jackson Jeffcoat, if he can stay healthy, has top-10 potential. He has football bloodlines and brings that hard-nosed mentality to the game that scouts and coaches love. He's also versatile and athletic enough to play as a defensive end on the right or left side of the line.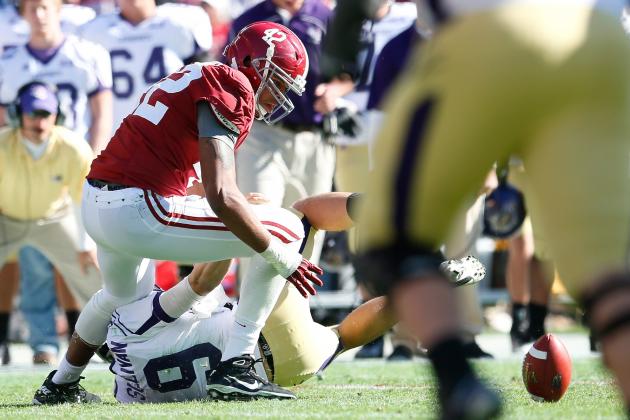 Kevin C. Cox/Getty Images

The Pick: OLB Adrian Hubbard, Alabama
The San Diego Chargers went after offensive linemen and a new inside linebacker in the early rounds of the 2013 draft, but the departure of Shaun Phillips and Antwan Barnes still leaves a hole at outside linebacker.
Adrian Hubbard has true potential as a solid 3-4 outside linebacker. Looking at the 2013 draft, I felt like Hubbard could have been a first-rounder based on potential, had he entered as a redshirt sophomore. He has the strength and athleticism to come alive in the Alabama defense and move himself up into the top 15 in 2014.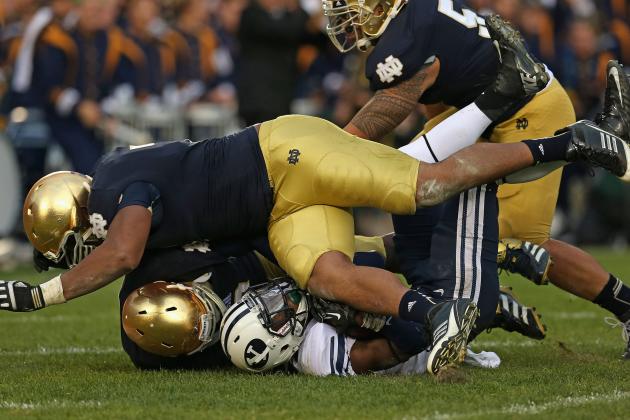 Jonathan Daniel/Getty Images

The Pick: DT Louis Nix, Notre Dame
Jeff Ireland has been aggressive in rebuilding the Miami Dolphins in the 2013 offseason, enough so that he may keep his job after the season ends. If the talent he has assembled can play together, the Dolphins will be for real in 2013. That would be enough to secure Ireland and Joe Philbin heading into 2014.
The team does still have needs at defensive tackle, with Randy Starks entering a free-agency offseason and a need for a three-technique pass-rusher still on the board. Louis Nix was more of a one-technique run-stuffer at Notre Dame, but go back and watch Alabama play and you see his quickness and strength in driving back offensive linemen. Nix wasn't asked to rush the quarterback in gaps, but he has the skills to become that guy once in the NFL.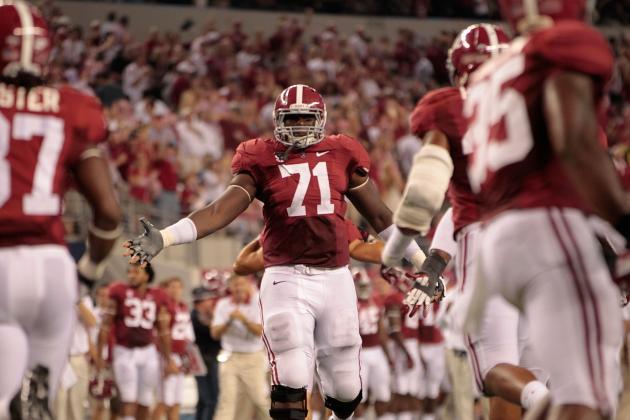 Leon Halip/Getty Images

The Pick: OT Cyrus Kouandjio, Alabama
The Tampa Bay Buccaneers have a good offensive line, but it's more so because of the chemistry of the players and less due to the talent of the individual parts. That could change in 2014 as the team looks to make a big upgrade at tackle.
Cyrus Kouandjio will be one of the more noticed players in all of college football in 2013 as the main-man on the Alabama offensive line. If he plays again like he did in 2012, Kouandjio will find himself in place with D.J. Fluker and Chance Warmack as a potential top-15 pick in next year's draft.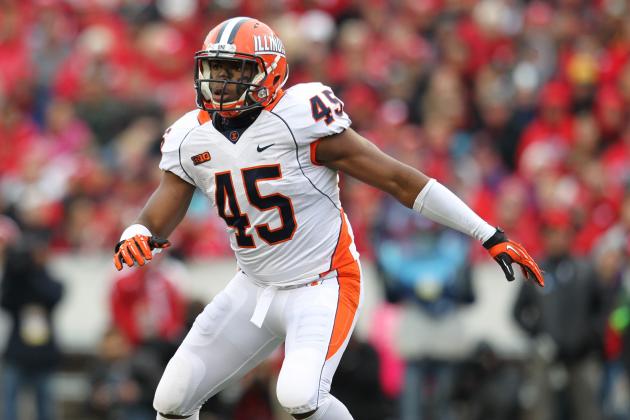 Brace Hemmelgarn-USA TODAY Sports

The Pick: OLB Jonathan Brown, Illinois
The health of Jon Beason and Thomas Davis are always up in the air, and with Davis aging it could be time for this team to look at his replacement. That decision may be easier to make if Jonathan Brown is on the board.
Brown has quickness in space, and with his instincts and vision he's a perfect fit on the edge of an attacking 4-3 defense. And with the players the Panthers now have on defense—Charles Johnson, Star Lotulelei, Kawann Short, Greg Hardy, Beason and Luke Kuechly—Brown would round out an amazing front seven.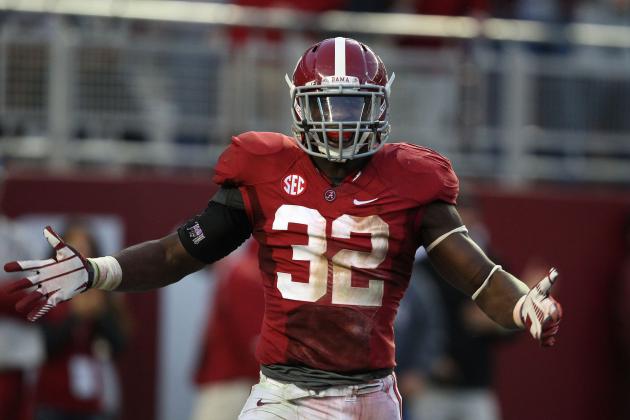 Mike Zarrilli/Getty Images

The Pick: OLB C.J. Mosley, Alabama
One of the game's best outside pass-rushers from the 3-4 defense, C.J. Mosley is a potential top-five player for the 2014 draft. The lack of needs from 3-4 teams could push him down the board, though.
Mosley in New Orleans would give the team a stout edge-rusher to pair with new defenders Kenny Vaccaro and John Jenkins. In two year's time the Saints' defense would have a new look with tail-kicking, hard-hitting defenders across the board.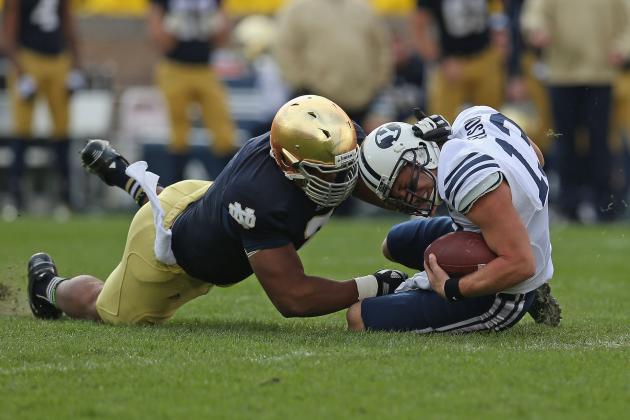 Jonathan Daniel/Getty Images

The Pick: DT Stephon Tuitt, Notre Dame
The St. Louis Rams have few needs left on their roster after two amazing drafts from general manager Les Snead. Looking ahead and anticipating where they may look to go in 2014, there is still a spot here for a pass-rushing defensive tackle.
Stephon Tuitt plays in a traditional five-technique often at Notre Dame, but he shows the athleticism and quickness to come inside and play in a three-technique as a pass-rusher. Much like a sped-up Michael Brockers, Tuitt has the ability to step outside of his college scheme and make plays in the NFL in a different situation.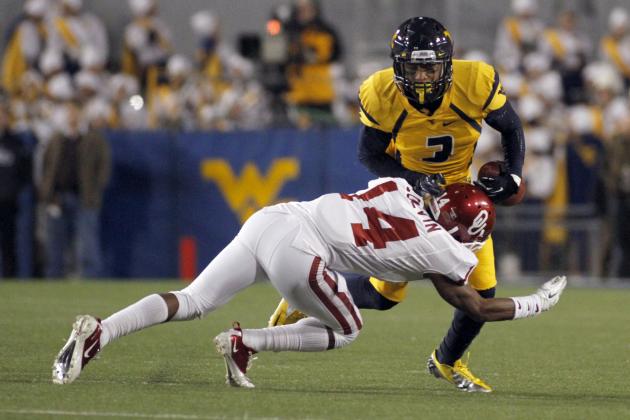 Justin K. Aller/Getty Images

The Pick: CB Aaron Colvin, Oklahoma
The Pittsburgh Steelers have remained competitive through smart drafting, and in 2014 that will include looking at a No. 1 cornerback to eventually step in for Ike Taylor. Aaron Colvin could be that guy.
Colvin has the size of a No. 1 and the hips you want from a starting man-coverage cornerback. He's fluid enough in space and can run in the hip pocket of receivers down the field all day. In a scheme like Pittsburgh's, where so much blitzing is going on up front, Colvin's zero-coverage mentality and technique make him a perfect fit.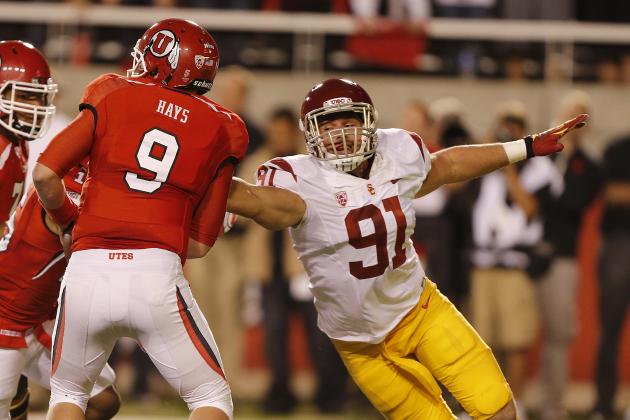 George Frey/Getty Images

The Pick: DE Morgan Breslin, USC
A shift to a 4-3 defense will bring out the best in DeMarcus Ware and Anthony Spencer, but the Cowboys may not be able to keep that terrifying duo together forever. Spencer is due major money in free agency and could out-price the Dallas salary cap quickly.
If the team cannot retain Spencer, a nice replacement could come by way of USC. Morgan Breslin has production and potential, and if kept in a 4-3 pass-rushing scenario he could come in and make an impact in the NFL early.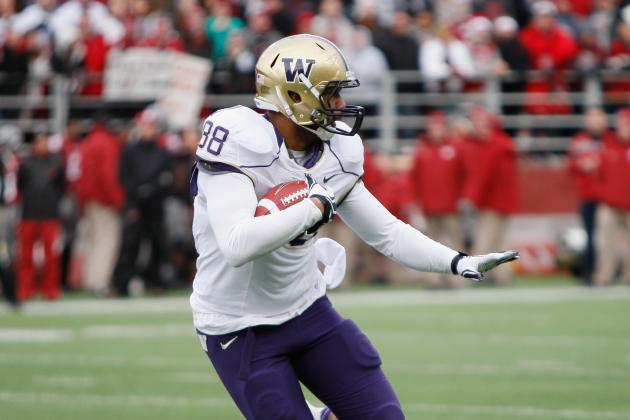 William Mancebo/Getty Images

The Pick: TE Austin Seferian-Jenkins, Washington
The New York Giants' signing of Brandon Myers may temporarily fill the team's hole at tight end, but he's not a long-term upgrade at the position. Austin Seferian-Jenkins would be. Easily.
The Washington tight end has elite athleticism, but has some questionable off-field issues that could push him well down the board. With a full year to rehabilitate his image, Seferian-Jenkins has a chance to redeem himself, but to keep his first-round hopes alive, he has to keep himself out of trouble moving forward. If he does, the Husky could be a high first-rounder.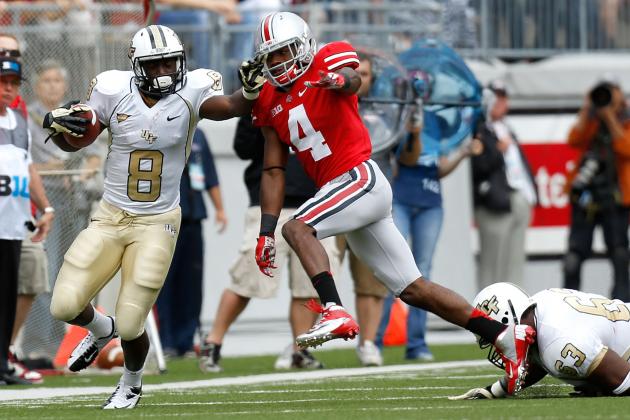 Kirk Irwin/Getty Images

The Pick: FS C.J. Barnett, Ohio State
We saw the Chicago Bears patch holes on both sides of the ball in the 2013 draft—notably with Jon Bostic at middle linebacker—but they haven't addressed their two weak spots at safety. That could be a major point of emphasis in 2014.
C.J. Barnett is a fluid center fielder with the range to make plays all over the field. If the Bears continue to run high levels of Cover 2, a safety like Barnett with quickness and vision to play the ball is a major need on this depth chart.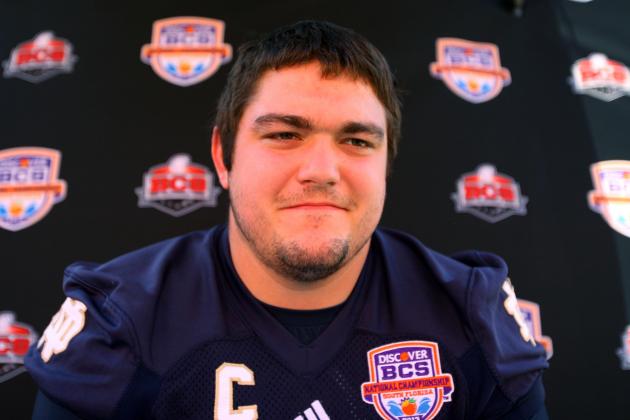 Brian Spurlock-USA TODAY Sports

The Pick: OT Zach Martin, Notre Dame
The Cincinnati Bengals have re-signed Andre Smith and drafted very well to get Andrew Whitworth and Kevin Zeitler as cornerstones on the offensive line. That doesn't mean they feel good about the left guard situation.
Zach Martin has played left tackle at Notre Dame, but has shorter arms and may lack the speed to play out on the edge once in the NFL. If the Bengals are able to grab Martin—or a player like him—to step in at left guard, Andy Dalton has to feel very good about the amount of time he'll have to get the ball to A.J. Green and Tyler Eifert.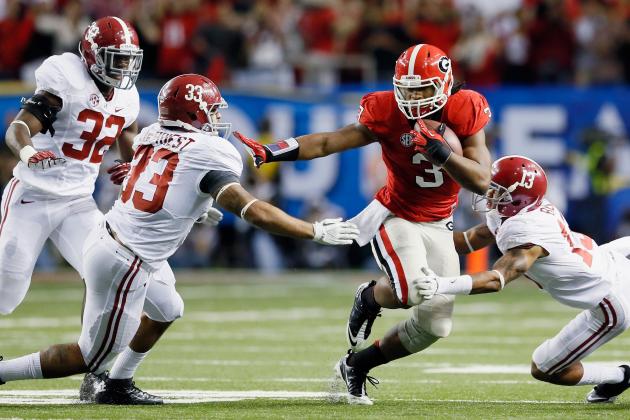 Kevin C. Cox/Getty Images

The Pick: ILB Trey DePriest, Alabama
The Washington Redskins do not have a first-round pick in 2014 thanks to the Robert Griffin trade, but where are their needs heading into the offseason?
There are times when a prospect perfectly matches what an NFL team does. Rarely does that player fall into the team's lap, but in a 2014 early mock draft it's easy to see Alabama's Trey DePriest lasting long enough to be a Washington Redskin next year.
DePriest is your classic Alabama linebacker. Tough, instinctive and well-coached, he comes into the NFL as a more athletic version of Dont'a Hightower. NFL teams could easily fall in love with that type of ability and push DePriest up in the first round.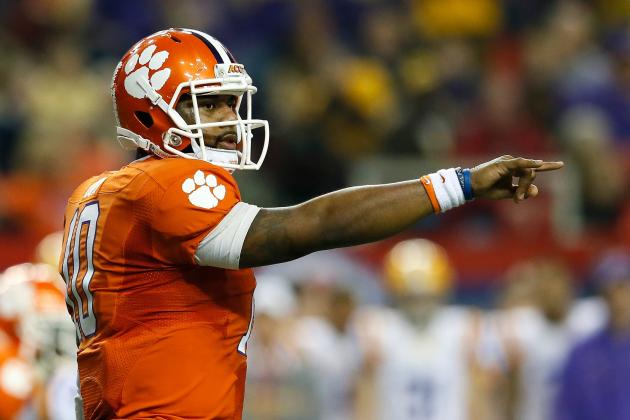 Kevin C. Cox/Getty Images

The Pick: QB Tajh Boyd, Clemson
Yes, the Minnesota Vikings have Christian Ponder, and Matt Cassel, but do their fans really trust either quarterback to turn the corner in 2013?
If Ponder and Cassel play like they did in 2012, the Vikings will be looking for a quarterback in the 2014 draft. Their hope has to be that a player like Tajh Boyd would fall through the cracks of the first round and land in their laps.
Boyd is dynamic, and versatile, and with his run and pass skills may not find himself on the board for Minnesota if they make another playoff run.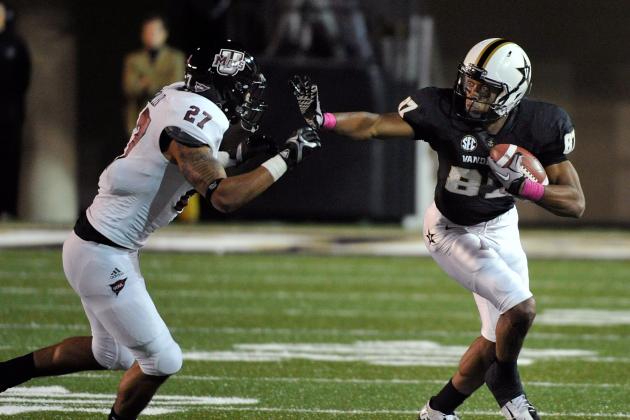 Frederick Breedon/Getty Images

The Pick: WR Jordan Matthews, Vanderbilt
You can never have too many good wide receivers, and with Andrew Luck at quarterback and Reggie Wayne as your best receiver, the Colts have to make sure they stay on top of the talent available to one of the NFL's best quarterbacks.
The Colts patched a hole in the depth chart when they added Darrius Heyward-Bey, but that's a short-term fix. Adding a young player to eventually replace Wayne is a must, and Vanderbilt's Jordan Matthews has the strong hands and up-field quickness needed to become Luck's go-to guy on the edge.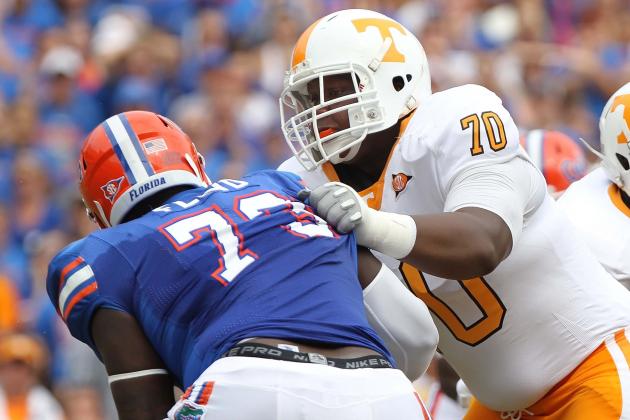 Kim Klement-USA TODAY Sports

The Pick: OT Ja'Wuan James, Tennessee
The right side of the Seattle offensive line needs major help, unless you feel good about Breno Giacomini as your right tackle. I don't, and with the team's first-round pick in 2014 they have to fix the line.
Ja'Wuan James could emerge as one of the best tackles in college football, as he was close to that spot last year, and might push himself out of the Seahawks' range. Whether it's James—who is a straight-up mauler off the line—or another big tackle, this is a need spot for the team.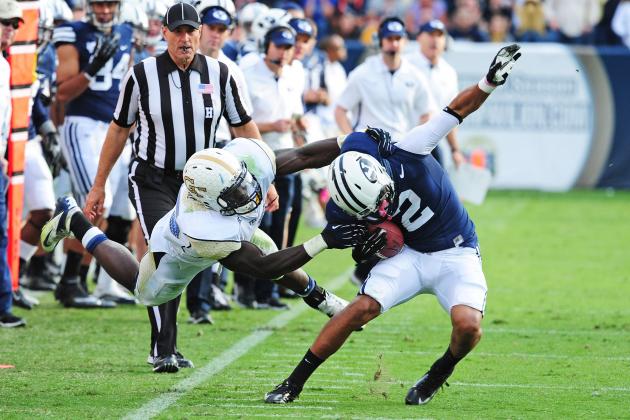 Scott Cunningham/Getty Images

The Pick: WR Cody Hoffman, BYU
The Green Bay Packers do their own thing, which in the 2013 draft meant trading out of the second and third rounds for extra picks on Day Three. That could leave the team loaded with low-cost development players, but lacking big impacts.
Looking ahead to the 2014 offseason, the Packers have a need at wide receiver. Yes, they have three very good receivers in James Jones, Jordy Nelson and Randall Cobb, but they run more four-wide sets than any team in the NFL. To keep up the level of play they've had around Aaron Rodgers, and to keep up their quick-strike offense, a receiver with size is needed on the edge.
Cody Hoffman has size, and coming out of BYU is a smart route runner. He's a perfect fit in Green Bay and has early impact ability.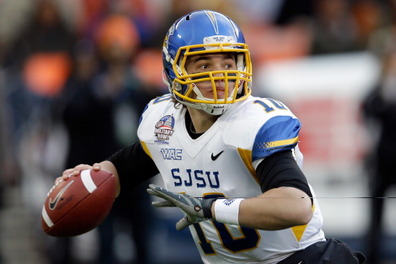 Rob Carr/Getty Images

The Pick: QB David Fales, San Jose State
Quarterback David Fales could contend to be the first overall pick in the 2014 draft, but sitting here one year out he falls to the end of Round 1 due to a lack of perceived needs at the top of the order. That will likely change in the next year, but for now, Fales falls.
The Houston Texans have a need for a young quarterback. Taking nothing away from Matt Schaub, there is a need for a young player at the position—and no, T.J. Yates doesn't count. Fales would give Gary Kubiak his next star at the position, and would give the Texans time to ease Schaub out as he ages and as the realization that he's not a Super Bowl quarterback sets in.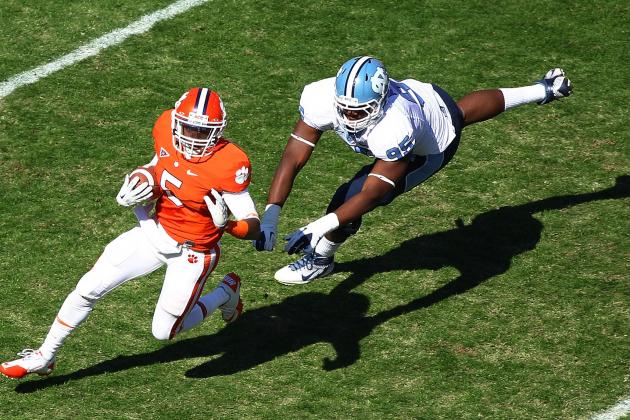 Scott Halleran/Getty Images

The Pick: DE Kareem Martin, North Carolina
The loss of Elvis Dumervil has put Denver in a situation where a pass-rusher is a major need heading into the 2014 season. The good news is that the 2014 draft class figures to be loaded at the position.
A player to keep an eye on is North Carolina's Kareem Martin. Anytime you stopped to watch Sylvester Williams this season, Martin showed up making plays off the edge. He has speed to run down players from behind and make plays in the backfield, and opposite Von Miller that's what Denver needs.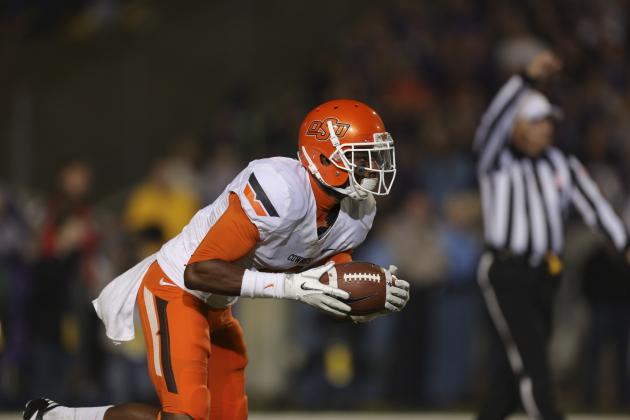 Ed Zurga/Getty Images

The Pick: CB Justin Gilbert, Oklahoma State
It would be easy to go ahead and predict a trade out of this spot for the New England Patriots. If they do keep the pick, you can bet on it being a cornerback or a wide receiver. Pick your poison.
Bill Belichick has proven that he can, and will, continue drafting cornerbacks and wide receivers until he gets it right. And once he does get a star player, he'll ride him until he's no longer valuable (see Samuel, Asante) and then ship him off to the highest bidder. That's smart football management, but it also creates constant needs in the secondary.
Justin Gilbert has the size and speed to be an NFL starter in his first season. The only knock on him heading to New England is that he's not from Rutgers.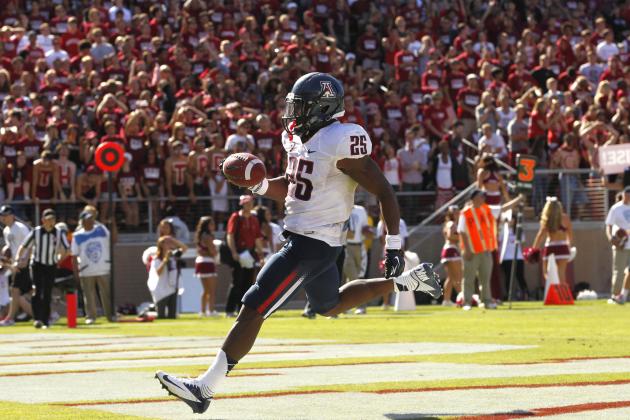 Cary Edmondson-USA TODAY Sports

The Pick: RB Ka'Deem Cary, Arizona
The Atlanta Falcons have Steven Jackson, for at least a few years, but they still need to keep getting younger at the running back position and potentially find a starter while doing so.
Ka'Deem Carey has All-American written all over his game film. He's quick in space and has the speed to accelerate away from defenders once he has the ball in his hands. If the Falcons want a game-changing running back, Carey is their man.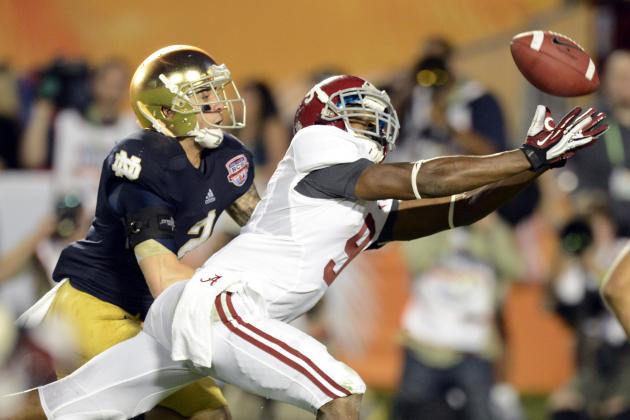 John David Mercer-USA TODAY Sports

The Pick: CB Bennett Jackson, Notre Dame
The 49ers do a great job of drafting ahead of their needs, but one area that needs work in 2014 is at cornerback. Of course, Nnamdi Asomugha could become a superstar again at cornerback and erase this need, but there's also a chance that Chris Culliver's off-field antics put him in the team's doghouse. That could open up a spot opposite Tarell Brown.
Adding cornerbacks is never a bad play, especially when you can afford to let them develop, and Bennett Jackson has great instincts coming out of Notre Dame. He can be a little stiff, but does a good job at the line of scrimmage and would be a natural fit in San Francisco's 3-4 defense.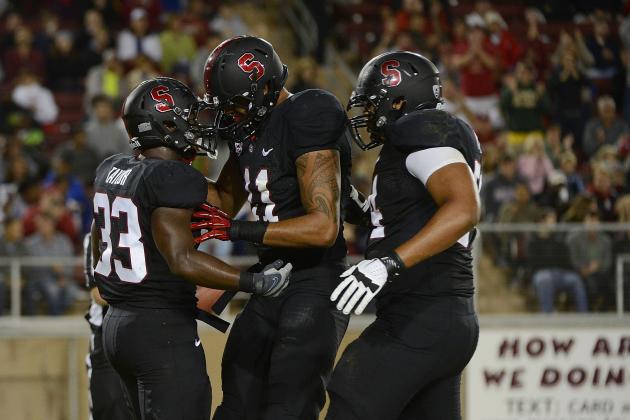 Thearon W. Henderson/Getty Images

The Pick: LT David Yankey, Stanford
Bryant McKinnie cannot be counted on for long on the left side of the Baltimore offense, and while Kelechi Osemele has some potential in space, he's better off long term at guard. The Ravens have to look at the left tackle position and go after an upgrade.
David Yankey has NFL-level pass protection coming out of Stanford, but he needs some work as a run blocker. Those are coachable points, but Yankey's upside makes him worthwhile at the end of Round 1.