The 10 Best Under-the-Radar Games on the 2013 NFL Schedule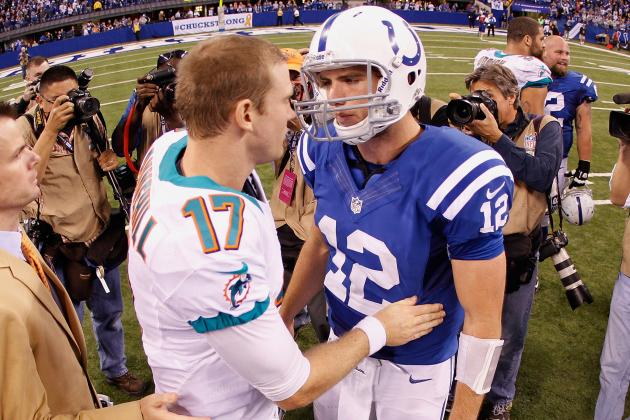 Gregory Shamus/Getty Images

With the release of the 2013 NFL schedule this past Thursday, it was like Christmas came early.
I sat glued to the television, and followed along on B/R and Twitter for the latest news and analysis, basking in the glory that is the upcoming season.
It's been easy for everyone to pick out the tastiest storyline-driven games on the NFL schedule, whether it's Manning Bowl III (Week 2), Steelers/Ravens on Thanksgiving (Week 13) or Seahawks/Falcons (Week 10).
However, there are a significant number of games that are flying under the radar that I foresee being juicy and delicious contests.
Here are the 10 best under-the-radar games on the 2013 NFL schedule:
Begin Slideshow

»
Remember last year's game between the Dolphins and Colts in Indianapolis?
Both teams entered that contest with surprising 4-3 records, as most pundits thought both would be terrible. The winner would move to 5-3 and be in the thick of the AFC playoff race.
Indianapolis ended up prevailing in the fourth quarter thanks to some late-game magic from Andrew Luck, 23-20. The game was the first-ever meeting between rookie quarterbacks Luck and Ryan Tannehill, and the neophytes didn't disappoint, combining for 723 passing yards and three touchdowns.
After the game, Colts coach Chuck Pagano, then in treatment for his leukemia, delivered an emotional speech that had this writer choking back tears. It was one of the finest moments of the 2012 season.
The two teams meet again in Week 2, and there's significant sizzle attached to this one.
Tannehill/Luck II? Sign me up.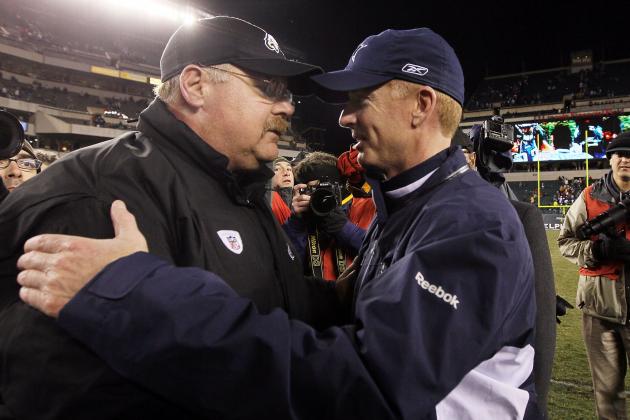 Jim McIsaac/Getty Images

The teams in the NFC East might have thought they escaped Andy Reid when the Eagles fired him following the conclusion of last season, but they were wrong.
Reid, who became coach of the Kansas City Chiefs, will face all four NFC East teams this year, as the AFC West meets the NFC East in the NFL's schedule rotation.
The Week 2 matchup with the Cowboys and Chiefs at Arrowhead is definitely under the radar, and it will show early on which of these two teams, if either, can contend in 2013.
If the Cowboys are to qualify for the postseason, then an early road victory in a hostile setting could go a long way toward getting them there. For Reid, will his familiarity with Dallas prove to be the advantage?
I can't wait for this game.
Joe Robbins/Getty Images

Even though both teams are coming off back-to-back playoff appearances, I haven't heard much hype surrounding this one. I think that's a shame.
Make no mistake—this is a huge year for Andy Dalton, Marvin Lewis and the Cincinnati Bengals. After two straight one-and-done performances in the postseason, they're looking for more in 2013.
As for the Packers, they'll be looking to get off to a better start than they did a year ago when they started 2-3.
This game could prove an early indicator to both team's eventual fortunes. If the Bengals could manage a victory, it'd be a major boost to their prospects moving forward.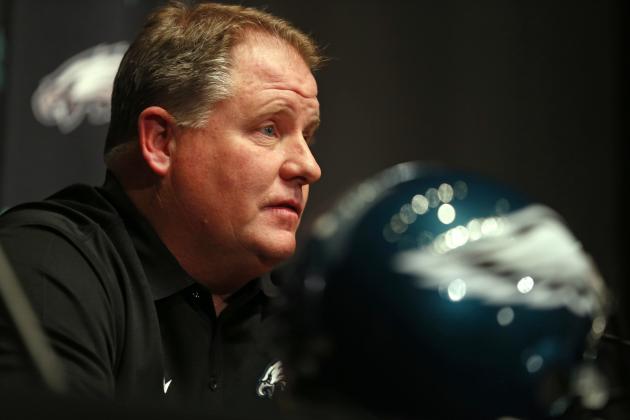 Rich Schultz/Getty Images

The Eagles have a brutal stretch to begin the 2013 season, playing three games in the first 14 days of the campaign.
By Week 5, things will normalize a bit for Philadelphia and new coach Chip Kelly will get his first taste of the Eagles/Giants rivalry, one of the very nastiest in the NFL (I can speak from personal experience on that one).
It seems like there are almost always fireworks when these two teams get together and this will be the first time Kelly's high-octane offense meets Eli Manning and the Giants.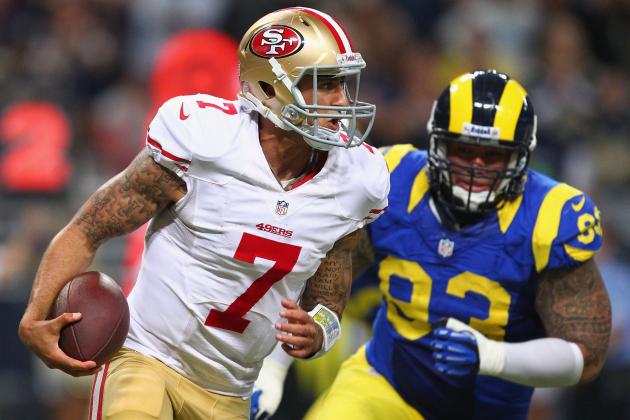 Dilip Vishwanat/Getty Images

The 49ers and Seahawks might be everyone's darlings in the NFC West, but remember—the Rams had the best record in that division last season, going 4-1-1, including a win and tie in two games against San Francisco.
This game will provide the Rams with the opportunity to make an early statement—on prime time and at home—that they're for real and can contend with the big boys out west.
Al Messerschmidt/Getty Images

When people talk about potential playoff teams in the NFC South, they're almost always referring to the Atlanta Falcons and the New Orleans Saints.
This Week 8 contest between the Panthers and Buccaneers in Tampa could go a long way in determining if either of these teams is playoff bound.
The outcome will likely rest on the right arms of the two quarterbacks, both of whom need to win big seasons in 2013—Cam Newton and Josh Freeman.
Don't be surprised if one of these teams moves into playoff position with the victory.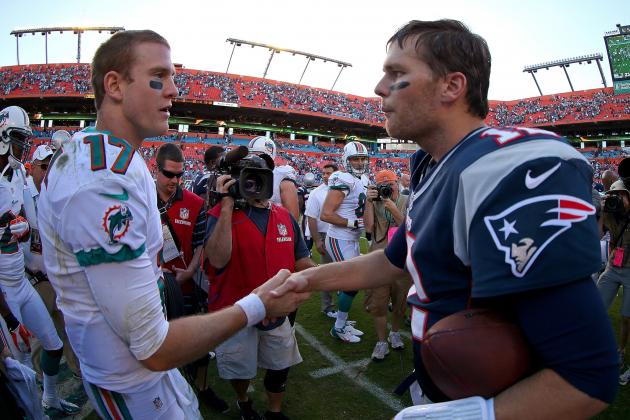 Mike Ehrmann/Getty Images

Dolphins general manager Jeff Ireland, likely "GM'ing" for his job in 2013, opened up owner Stephen Ross' checkbook this offseason to splurge on key free agents Mike Wallace and Dannell Ellerbe, among others, in an attempt to close the gap with the Patriots in the AFC East.
This Week 8 contest will provide a strong barometer for Ireland and coach Joe Philbin's team, as they travel to Foxborough, a veritable house of horrors for the rest of the AFC East in the Tom Brady/Bill Belichick era.
If Ryan Tannehill and company can pull off the upset on the road, the Dolphins will be for real.
Problem is, Brady and Belichick will have something to do with the result.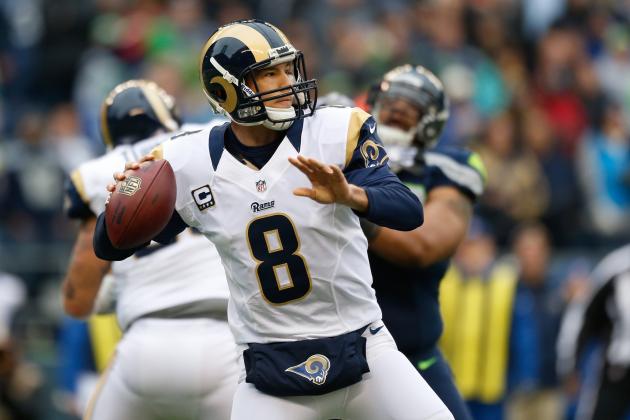 Otto Greule Jr/Getty Images

Because his team hasn't achieved the success of other squads with young signal-callers thus far in his career, Rams quarterback Sam Bradford doesn't have the credit he deserves.
I believe he's poised for a big season in 2013.
This Week 10 matchup in Indianapolis against Andrew Luck and the Colts is the perfect environment for Bradford to announce to the world that he's on the same level as Luck, Robert Griffin III, Russell Wilson, Colin Kaepernick and the rest of the NFL's young gunslingers.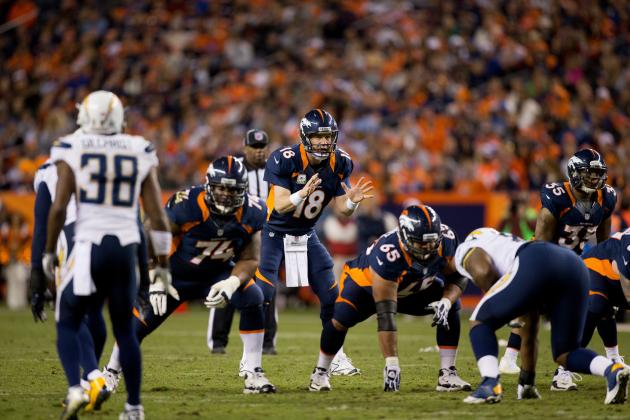 Justin Edmonds/Getty Images

Last year's Week 6 Monday night showdown between the Broncos and Chargers in San Diego proved to be one of the most riveting games of the season.
The Broncos trailed 24-0 at intermission, but they'd go on to complete the fourth-largest regular-season comeback in NFL history, by scoring 35 unanswered points after halftime to win, 35-24.
For San Diego, its 2013, Week 10 matchup at home against the Broncos will show the progress made by first-year coach Mike McCoy. Teams judge themselves against the NFL's best, and Peyton Manning has Denver firmly in that tier.
Can Philip Rivers have a bounce-back season and go toe-to-toe with Manning? Can McCoy match wits with Broncos head coach John Fox?
I'm pumped for this one.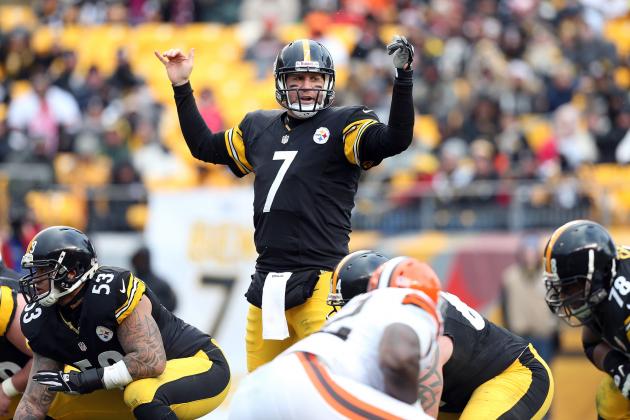 Karl Walter/Getty Images

Before you scoff at this one, think about it—the Steelers aren't the Steelers right now.
Many are projecting Pittsburgh to have a down season in 2013, with quarterback Ben Roethlisberge recently acknowledging and embracing the critics.
The Browns have long been Pittsburgh's whipping boys, but there's a renewed sense of optimism in Cleveland with new coach Rob Chudzinski having built an all-star coaching staff (Norv Turner as offensive coordinator, Ray Horton as defensive coordinator).
This Week 17 contest is a chance for Cleveland to exorcise some of its demons against its AFC North rival, and potentially knock Pittsburgh out of the postseason as well.
Browns fans should be excited by that prospect.