2013 NFL Mock Draft with Player Highlights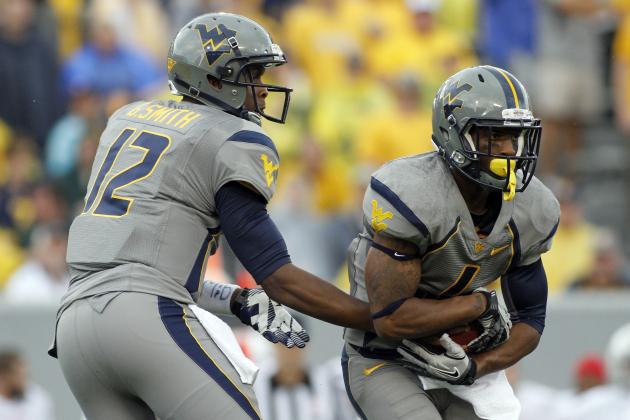 Justin K. Aller/Getty Images

The 2013 NFL draft is nigh and the lives of 256-plus players are about to change, beginning on the evening of April 25 with the first round.
With the NFL combine long gone, free agency slowed to a trickle and pro days winding down, there is little else for teams to do other than finish meeting with prospects and double-check hotel reservations.
That leaves the rest of us sitting on our hands and concocting draft-day scenarios. Here is mine, at least for the first round of the draft.
Note: Draft day trades will invariably go down, but they are so difficult to predict that I have left them out of this mock, however plausible they might be.
Begin Slideshow

»
Pick: Luke Joeckel, OT, Texas A&M
In the antithesis to last year, when everyone save a few rabble-rousers knew the Colts would be taking Andrew Luck, the top pick in the 2013 draft is a mystery.
The Chiefs muddied the waters when they traded for Alex Smith and slapped Branden Albert—who doesn't want to move to the right side—with the franchise tag.
So what should they do?
Well, Albert might not be around forever, and Kansas City has a hole on the right side after cutting Eric Winston.
And what of the alternatives? Unless the Chiefs can find a trade partner, Dion Jordan and Geno Smith are the best non-tackle alternatives, and those would be somewhat luxury picks.
Pick: Geno Smith, QB, West Virginia
A new regime has taken hold in the front offices of Jacksonville headquarters. Gone are Gene Smith and Mike Mularkey, replaced by David Caldwell and Gus Bradley.
Will they be bringing in their own quarterback to boot?
Blaine Gabbert has been a bust thus far for Jacksonville, but the new regime might be willing to give him one last shot before cutting bait.
Then again, the opportunity to take the best quarterback in a draft doesn't come around often unless the team is a perennial cellar-dweller. Franchise quarterbacks don't grow on trees, and having a contingency plan—or hedging your bets, or whatever you want to call it—seems prudent here.
Pick: Star Lotulelei, DT, Utah
The Raiders' defensive line has been ravaged by free agency and salary cap woes. Desmond Bryant, Tommy Kelly and Richard Seymour are all gone, though Seymour could eventually re-sign with the team.
As such, there is a void in the middle of that defensive line. Star Lotulelei can help fill that void.
The big defensive tackle had a medical red flag raised when a heart condition was discovered prior to the combine, but he has since been cleared. That makes his top-five status a bit murky, but he is certainly talented enough if teams can get past the risk.
Pick: Dion Jordan, OLB/DE, Oregon
Philadelphia needs to bolster its pass rush, among other things, and Dion Jordan is just too good to pass up here. The Oregon product would be reunited with his college coach Chip Kelly who knows him better than anyone else in the NFL.
It would be the biggest catalyst for a switch to a 3-4 defense, where Jordan would fit better as an outside linebacker than a defensive end in a 4-3 scheme.
Pick: Eric Fisher, OT, Central Michigan
The Lions took Riley Reiff last year, but Gosder Cherilus is gone by way of free agency and Jeff Backus has departed via retirement.
They might have a need at defensive back, but Eric Fisher is 1B to Luke Joeckel's 1A in terms of the draft's top offensive tackles. The pick would bookend the position for years.
Pick: Dee Milliner, CB, Alabama
The Browns are in prime position to move down in the draft. With few exceptions, the players likely available to them at the No. 6 spot will not be elite.
Given no alternative but to take a player in this draft, however, Dee Milliner is a solid choice. The Alabama product is the best cornerback in the draft and would be paired with one of the best cornerbacks in the league.
Sheldon Brown was actually pretty good for Cleveland, playing opposite Joe Haden, but Father Time has the veteran in his sights. Milliner would be a nice, young upgrade to pair with Haden, further bolstering a quietly solid Cleveland defense.
Pick: Lane Johnson, OT, Oklahoma
Last season was ugly for Arizona fans and horrendous offensive line-play was a huge reason.
The Cardinals may as well have put a tackling dummy out there instead of D'Anthony Baptiste, who was a human turnstile at left tackle. Bobby Massie was equally bad for the first half of the season before turning things around as a rookie.
Trading for Carson Palmer alleviated the need to draft a quarterback early for Arizona. Now they need to keep him upright.
Pick: Ryan Nassib, QB, Syracuse
Buffalo is another team in a prime position to trade down, given draft needs not matching up with value at No. 8.
The Bills also happen to be one of the more difficult teams to project, given their needs at key areas. They recently moved Aaron Williams over to safety, creating a need at cornerback in the process.
Of course, their biggest issue for years has been at quarterback. Kevin Kolb is in town, but does anyone think he is the quarterback of the future?
It is a bit lazy to connect Ryan Nassib to his former coach, Doug Marrone, because they have worked together in the past. That is not a real reason to take someone.
Nassib has become an increasingly hot name in the draft, topping quarterback rankings for Greg Cosell, Jon Gruden and Russ Lande. He might be a polarizing quarterback, but the Bills need to do something substantial at the position.
Pick: Barkevious Mingo, DE/OLB, LSU
Despite ultimately re-signing Calvin Pace, the Jets are in need of addressing their pass rush. There may not be a better fit this side of Dion Jordan than Jarvis Jones.
Mingo is a perfect fit for head coach Rex Ryan's defense, someone he can mold in DeMarcus Ware's image.
Pick: Bjoern Werner, DE, FSU
The Titans need to pair Kamerion Wimbley with someone who can contribute right away on the outside. Bjoern Werner fits that mold rather nicely.
Werner's draft buzz has turned into a whisper in recent weeks, especially with teammate Tank Carradine's recent rise. Werner is a big, strong defensive lineman with good college experience. He might not scream "elite pass-rusher," but "most well-rounded" isn't a bad thing.
Pick: Ezekiel Ansah, DE, BYU
One of the more polarizing prospects of the draft hails from BYU, and he falls here to the Chargers.
Ezekiel Ansah is a magnificent athlete, but inexperience will be his relative downfall during the draft. He has only been playing football for three years.
His upside is too tantalizing to pass up much longer.
Pick: Cornellius Carradine, DE, FSU
This pick is a bit out of left field given Tank Carradine's torn ACL, his relative lack of experience and Miami's need along the offensive line.
The Dolphins are a good candidate to move up in the draft. With extra second- and third-round picks, Miami could pull the trigger to hop in front of Arizona for one of the top three offensive tackles.
That is far from a guarantee, though, and we aren't looking at draft-day trades here.
Carradine's draft stock has picked up steam throughout the draft process as word continues to filter through that he is rehabbing well from his injury. If he shows well at his pro day this week, he will solidify a spot in the top 15.
The former Seminole is a great, if inexperienced, pass-rusher who fits in nicely at right defensive end opposite Cameron Wake.
Pick: Sheldon Richardson, DT, Missouri
The Buccaneers need help along their defensive line. They lost Roy Miller and replaced him with Derek Landri, not exactly a big impact player.
Pairing Sheldon Richardson with Gerald McCoy could be devastating to opposing offensive lines. He is good against the run and has the potential to be an elite pass-rushing defensive tackle.
Pick: Xavier Rhodes, CB, FSU
Cornerback was already a need for Carolina before they cut Chris Gamble.
There is some dissent about who the second-best cornerback in the draft is in the draft, but Rhodes' combination of size and speed wins out.
The Panthers are still a work in progress on defense. Rhodes will be a good start in the 2013 draft.
Pick: Kenny Vaccaro, S, Texas
New Orleans sported a woeful secondary last year, particularly at the safety position.
Kenny Vaccaro is the top safety in the class—though Jonathan Cyprien might have something to say about that down the line—and the Crescent City might be the perfect landing spot for the former Longhorn.
Pick: Tavon Austin, WR, West Virginia
If lightning in a bottle had a name, it would be Tavon Austin. The electric receiver out of West Virginia is quite probably the draft's hottest name.
Unfortunately, teams simply do not draft players his size in the top half of the first round. History is against the 5'8, 174-pound receiver.
Even so, the Rams might not have a choice but to take him here if he falls to them. Indeed, they might even try moving up to ensure they get their man.
Austin would be an excellent fit with most teams, and the Rams are not exempt from that notion.
Pick: Arthur Brown, LB, Kansas State
The Steelers need help on defense, and Arthur Brown could be one of those quintessential Pittsburgh picks that terrorizes opposing offenses for years.
Brown's biggest knock is his relatively small size. Ray Lewis had similar concerns coming out of college, and look how that worked out for the Ravens. That may be hyperbole—expecting any prospect to turn into Ray Lewis is wishful thinking—but Brown is the best middle linebacker in this draft class.
Pittsburgh, meanwhile, bolsters a position of need by nabbing a guy to play alongside last year's pick, Lawrence Timmons. If Sean Spence can come back from injury, the Steelers would be set for years at the position.
Pick: Jonathan Cooper, OG, North Carolina
The Cowboys have had some bad luck drafting offensive linemen in recent years. Tyron Smith is their only good selection, and the interior of the Dallas line is a mess.
Jonathan Cooper would go a long way toward rectifying issues. He is the draft's best guard, someone who can help the Cowboys improve on their average of 2.1 yards per rush before contact.
Pick: Sharrif Floyd, DT, Florida
The Giants let veteran Chris Canty go, adding Cullen Jenkins and Mike Patterson to bolster their depth on the line. This is one of those "best player available" moments. Chances are New York will find a trade partner if Floyd falls this far on draft day.
Sharrif Floyd has his detractors, but he is widely viewed as one of the top defensive tackles in the draft. New York could use an offensive tackle or tight end, but the relative value here for the guys available makes Floyd the choice.
Pick: Chance Warmack, OG, Alabama
The Bears have needed offensive line help for decades it seems. The guard position has been a blight on Chicago in particular.
Chance Warmack would go a long way toward remedying that for the Bears. The big guard out of Alabama is hot on Jonathan Cooper's heels at guard.
He would be ready to start out of the gate as a good all-around offensive lineman the Bears have sorely missed.
Pick: Jonathan Cyprien, S, FIU
The hype train is chugging along at full steam for Jonathan Cyprien, to the point where he has challenged Kenny Vaccaro as the consensus top safety in the class.
One of the biggest draft needs out of Cincinnati is safety. Taylor Mays leads a weak group at strong safety opposite Reggie Nelson. With Vaccaro gone—not to mention Arthur Brown at linebacker, another position of need—Cyprien becomes the best choice.
Pick: D.J. Fluker, OT, Alabama
The Rams got busy upgrading their offensive line this offseason by wining and dining their way into Jake Long's heart.
The move means Rodger Saffold will likely be moved to the right side, but will it pan out?
D.J. Fluker is a natural right tackle and a natural fit in the Rams' offense. They could even kick him inside, where they could also use help, while Saffold is still on the team.
Pick: Cordarrelle Patterson, WR, Tennessee
Watching Cordarrelle Patterson film is like chugging an energy drink. The receiver out of Tennessee is balefire with the ball in his hands.
Greg Jennings might have signed with the Vikings, but the position is far from fully addressed. Here, Minnesota finds Percy Harvin's true replacement.
The Tennessee product is the next-best Harvin clone after Tavon Austin, who was taken out from underneath the Vikings with the previous pick.
While he might lack FBS experience—Patterson went to Hutchinson Community College for two years before going to the SEC for just one year—there is no doubt Patterson is electric with the ball in his hands.
Pick: Damontre Moore, OLB/DE, Texas A&M
Last year, the Colts spent much of the draft addressing their offense. The natural conclusion would be they will do the same for the defense this year.
Having let Dwight Freeney go without a real replacement, the Colts could be looking to upgrade their pass rush early. Damontre Moore is a natural fit.
Pick: Manti Te'o, LB, Notre Dame
While Manti Te'o was never a top-10 pick on tape, he is also not going to fall nearly as far as some might think because of a catfishing scandal.
The fact remains that Te'o is a good inside linebacker. He has his limitations, but Te'o has worked hard to improve his game over the years, particularly in coverage.
This is too big of a need for the Vikings to pass up with one of their first-round picks, and Te'o brings a lot to the table despite the negativity surrounding him throughout the draft process.
Pick: Datone Jones, DE, UCLA
The Packers have fallen a long way defensively since their Super Bowl run of 2010. They spent a lot of draft picks trying to improve the defense last year, which worked out in some areas.
Datone Jones is a nice fit at 5-technique defensive end. Ryan Pickett isn't getting any younger at 34 and nobody else stands out at the position for the Packers.
This is a match made in Wisconsin.
Pick: Tyler Wilson, QB, Arkansa
Yes, Houston has Matt Schaub. Yes, the Texans have holes elsewhere. No, I did not imbibe anything before making this pick.
But how far can Schaub really take the Texans? He has as many playoff victories as T.J. Yates—though skeptics could say the same about Matt Ryan—and he will be 32 this summer. Why not start taking shots at drafting the quarterback of the future?
This may or may not be in line with what Rick Smith and Gary Kubiak are thinking, but if they indeed want to look ahead, this might be a good draft for that. It is perceived as a weak draft class—something we can't really know without a few years of hindsight—which only means Wilson and other quality quarterbacks could fall.
There are, of course, other positions to fill for Houston. Namely, Andre Johnson could use help at wide receiver, not to mention he is no spring chicken either. Go bold or go home as they say.
Pick: Eddie Lacy, RB, Alabama
While not as wild as Tyler Wilson to the Texans, this would be a bit of a surprise from Denver.
Consider that Willis McGahee was an important piece to Denver's offense last season before going down. Knowshon Moreno performed admirably in his stead, but he is not a long-term solution.
Denver also drafted Ronnie Hillman with a high pick last year, but he struggled to get playing time and he is not an every-down back.
Lacy could do some real damage in this offense as a real threat out of the backfield to take the pressure off Manning.
Pick: Johnathan Hankins, DT, Ohio State
Vince Wilfork is still playing at a high level, but he is no spring chicken at 31. Kyle Love and Brandon Deardrick aren't exactly monsters next to him.
Johnathan Hankins would make a nice pairing with Wilfork. The big defensive lineman played in different interior positions in college. His versatility is a trait Bill Belichick will likely covet in the draft.
With Alfonzo Dennard escaping a major sentence—his 30-day jail sentence could earn him a suspension, but it could have been far worse—and Aqib Talib back on a one-year deal, the pressure is off for New England to take a cornerback in the first round.
Pick: Jamar Taylor, DB, Boise State
The Falcons have a need at cornerback with Brent Grimes gone in free agency.
Desmond Trufant has widely been viewed as Xavier Rhodes' biggest competition for the second cornerback spot, but there is a dark horse in the race—Jamar Taylor out of Boise State.
The former Bronco is a great fit for the Falcon defense. He is instinctual and makes big plays at the position, even if he is a bit raw in man coverage.
Pick: Jesse Williams, NT, Alabama
Jesse Williams has been mocked to the 49ers so much that it would almost be stunning to see anything else happen.
Of course, San Francisco has so many draft picks they may well decide to move up for a guy like Tavon Austin, but Williams is a great fit if Trent Baalke decides to stay put.
Pick: Kevin Minter, LB, LSU
The Ravens signed Joe Flacco to the richest contract in NFL history, but they paid for it by losing key players elsewhere.
Specifically, the linebacker corps has been decimated. Not in the literal sense of the word, but worse—three of four starters are gone.
It seems readily apparent they will need to address the position, particularly on the inside after Ray Lewis retired and Dannell Ellerbe left for greener pastures.
With Arthur brown and Manti Te'o out of the picture, Minter slides in nicely.