Every NFL Team's Biggest Draft Fail
Al Bello/Getty Images
Winning on draft day won't necessarily guarantee an NFL team success. There are many other components to a Super Bowl run. But losing every April will certainly set your franchise back.
Win on draft day and you pick Peyton Manning. Lose on draft day and you're saddled with Ryan Leaf.
Of course, no team is ever going to win with every draft pick, and the losers are usually more easily recognized than the winners.
That said, here are the worst draft picks of all time for each franchise.
New England Patriots: Kenneth Sims, No. 1 Overall, 1982
courtesy Boston.com
Kenneth Sims was the first pick out of a draft class that produced Marcus Allen, Jim McMahon, Mike Munchak and Gerald Riggs, among a few other notable names. He didn't come close to matching the production of any of those players.
A monster at the University of Texas, Sims won the Lombardi Award, given to the nation's top defensive lineman or linebacker, in 1981. There was no doubt he'd be drafted No. 1 overall. His pro career was nothing like his college days, as Sims only played one full season in eight years in the NFL.
Sims finished his career with just 17 sacks. It's too bad Bill Belichick wasn't drafting players back in those days.
Miami Dolphins: Eric Kumerow, No. 16 Overall, 1988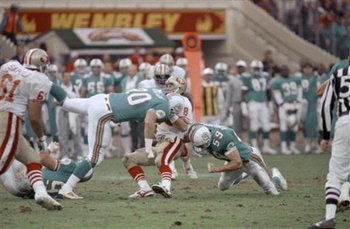 courtesy of the Associated Press
The Miami Herald posted a headline after Eric Kumerow was drafted. It read, "Who???"
The Miami Dolphins might have reached a bit with the linebacker out of Ohio State, as he wasn't expected to even be a first-round pick.
In three years with Miami, Kumerow didn't start a single game. He managed to play in all 16 games in 1990, but that would be the end of his pro career. He finished with five sacks in three seasons.
New York Jets: Blair Thomas, No. 2 Overall, 1990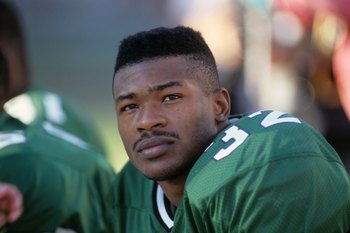 George Rose/Getty Images
Some New York Jets fans will clamor for Vernon Gholston to receive the honor of worst pick in franchise history, but Blair Thomas wins this battle. He was the second overall pick and played just four seasons in New York.
Ouch!
To make matters worse, the next running back drafted in 1990 would become a Hall of Famer. Emmitt Smith was taken by the Dallas Cowboys just 15 picks after Thomas. We won't even start to compare the stats between the two.
Thomas missed 13 games and scored just four touchdowns while playing with the Jets. He played with four other teams after his release by the Jets and ended his playing days in 1995.
Buffalo Bills: Mike Williams, No. 4 Overall, 2002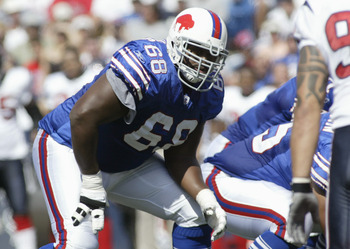 Rick Stewart/Getty Images
At 6'7", 337 pounds, Mike Williams certainly played the part well enough to anchor the left side of the Buffalo Bills' ffensive line for years to come. After starting out at right tackle, he proved to be incapable of playing either position.
He struggled with weight problems and general work ethic, and never turned out to be anything close to what Buffalo envisioned. Drafting a tackle that high is supposed to be a safe decision.
The Bills missed, badly.
Williams was cut after four years. He landed with the Jacksonville Jaguars briefly before signing with the Washington Redskins in 2009. They attempted to work him in as a guard, but Williams just wasn't cutting it. He missed the 2010 season due to a blood clot and hasn't played since.
Baltimore Ravens: Travis Taylor, No. 10 Overall, 2000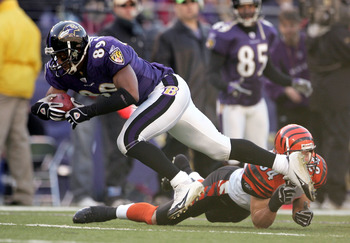 Doug Pensinger/Getty Images
Ozzie Newsome doesn't miss often with his draft picks. But there's no doubt he made a mistake drafting Travis Taylor with his second pick in the first round of the 2000 NFL draft.
A standout at the University of Florida, Taylor put in one relatively impressive season in five years with the Baltimore Ravens, making a career-high 61 receptions for 869 yards and six touchdowns in 2002.
Baltimore released him after he played just 10 games in 2004.
Taylor recorded a catch in 2007 and hasn't caught anything since. He finished his career with 312 receptions.
Quarterback Kyle Boller could be considered as well, but Taylor wins as a top-10 pick.
Cincinnati Bengals: Akili Smith, No. 3 Overall, 1999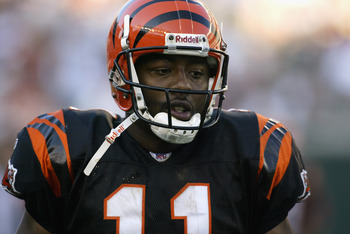 Tom Pidgeon/Getty Images
Unfortunately for the Cincinnati Bengals, this decision was difficult to make.
Some consider Ki-Jana Carter the worst pick in Bengals history. Carter suffered an ACL injury that changed his career. But Smith was just bad.
In 22 games over four seasons with Cincinnati, he threw for 2,212 yards, five touchdowns and 13 interceptions. His 46.6 completion percentage is hard to match for its futility. The end of his football career came in 2007 when he was released by the Calgary Stampeders.
What makes his situation worse is that the Bengals passed on a huge trade with the Saints. Mike Dikta wanted Ricky Williams. New Orleans was offering nine selections to move up. Cincinnati refused, and so began the awe-inspiring era of Akili.
Pittsburgh Steelers: Huey Richardson, No. 15 Overall, 1991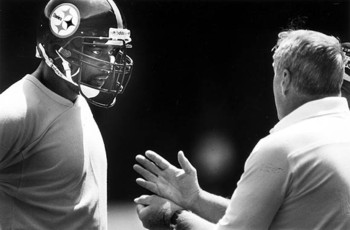 courtesy Pittsburgh Post-Gazette
Huey Richardson played two years in the NFL with three teams. He never recorded a single stat. It's hard to top those numbers when looking for draft busts.
He didn't fit the Pittsburgh Steelers' 3-4 defensive scheme upon entering the league. They gave him chances at defensive end and outside linebacker, but Richardson never caught on.
Pittsburgh traded Richardson in his second season. but he quickly fizzled out after brief stints with the Washington Redskins and New York Jets.
Cleveland Browns: Tim Couch, No. 1 Overall, 1999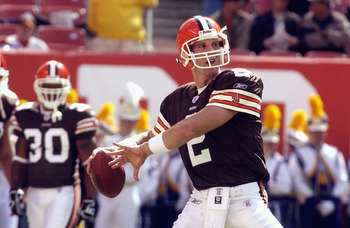 Phil Long/Getty Images
When the Cleveland Browns returned in 1999, they were looking for a quarterback.
Tim Couch, unfortunately, was not the answer.
In 62 games with Cleveland, Couch threw for 11,131 yards, 64 touchdowns and 67 interceptions. He was mediocre throughout his entire tenure. The Browns cut him after the 2003 season.
Keeping in mind that they passed on Donovan McNabb, Couch's career is even more frustrating to recall for folks in Cleveland. Couch was last on an NFL roster in 2007.
Houston Texans: David Carr, No. 1 Overall, 2002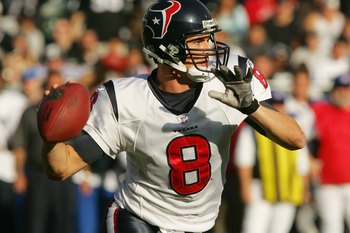 Stephen Dunn/Getty Images
The Houston Texans' first draft pick in history was their worst.
David Carr was the top-rated quarterback coming out of college in 2002, so Houston was basically stuck with him as it was attempting to get its franchise running.
Carr spent five seasons with the Texans and took quite a beating. His offensive line never gave him a chance to let plays develop. However, he was still a letdown, regardless of the talent around him.
Since leaving the Texans after the 2006 season, Carr has served mainly as a backup, spending one season in Carolina and San Francisco, and four of the last five seasons as Eli Manning's backup with the the New York Giants.
Indianapolis Colts: Jeff George, No. 1 Overall, 1990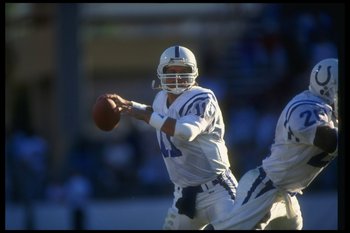 Stephen Dunn/Getty Images
The Indianapolis Colts traded up for Jeff George and then handed him what was then he largest rookie contract in NFL history.
His poor play and selfish attitude at times, documented by Michael Silver of Sports Illustrated in 1997, brought about his downfall.
George didn't show up for training camp in 1993. It caused a distraction among the team and forced the fans to turn on him. After a 4-12 season and plenty of booing along the way, George demanded a trade. The Colts shipped him off to the Atlanta Falcons in March of 1994.
He saw some success later in his career, but he was never performed close to the level expected of a No. 1 pick. George threw 41 touchdowns and 46 interceptions in his four years with Indy.
Any time a quarterback is said to have a rocket arm without much quarterback IQ, he's inevitably compared to George.
Tennessee Titans: Adam "Pacman" Jones, No. 6 Overall, 2005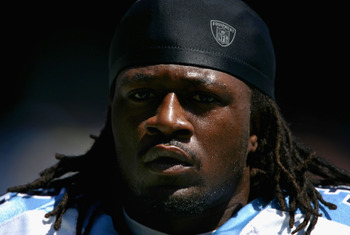 Donald Miralle/Getty Images
Adam Jones was trouble from the start.
He missed training camp while holding out, resulting in the Tennessee Titans' initial concern about his off-field incidents. He was already on probation for a fight dating back to his West Virginia days. How much worse could it get?
Plenty worse. After several more run-ins with the law, Roger Goodell suspended Jones for the 2007 season. The Titans finally traded him in 2008, and that was the end result of their first-round pick. He looks like he's actually getting on track these days as a situational defensive back with the Cincinnati Bengals.
That doesn't do Tennessee much good, though.
Jacksonville Jaguars: Derrick Harvey, No. 8 Overall, 2008
Matt Sullivan/Getty Images
After being named the BCS Championship Game MVP while a member of the Florida Gators, Derrick Harvey was selected by the Jacksonville Jaguars, who traded a first-round pick, two third-round picks and a fourth-round pick to get him. In desperate need of an elite pass-rusher, Harvey didn't come close to living up to expectations.
In three years with the Jaguars, he recorded eight sacks. The franchise waived him in the summer of 2011, and after he signed with the Denver Broncos. Harvey was soon looking for a job again.
He's currently a free agent.
The Baltimore Ravens, the team that made the trade with Jacksonville, selected Joe Flacco with the No. 18 pick it received.
Anyone know how he's doing these days?
Denver Broncos: Maurice Clarett, Round 3, 2005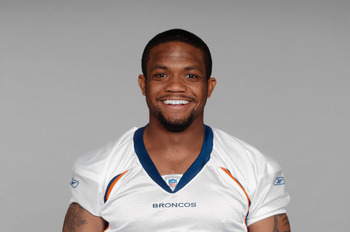 NFL Photos/Getty Images /Getty Images
The term "red flag" could have a picture of Maurice Clarett next to it.
He filed a false police report, according to ESPN.com, which resulted in his dismissal for the entire 2003 season at Ohio State. Then he sued the NFL, challenging its rule that that a player must be out of high school three years to be eligible for the draft. That didn't work out either.
For some reason, the Denver Broncos decided a player with multiple character issues and a two-year offseason was a suitable choice in Round 3. Shockingly, he didn't last long with the Broncos.
Clarett struggled with injuries during his first preseason and failed to receive a single carry. The Broncos parted ways with him at the end of August. The following year he ended up in prison. So much talent wasted.
A third-round pick is hard to justify as the worst in franchise history, but the Broncos literally threw this one away. Mike Shanahan might have thought he was getting a steal. Unfortunately, he was sorely mistaken.
San Diego Chargers: Ryan Leaf, No. 2 Overall, 1998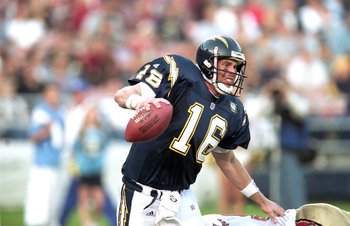 Stephen Dunn/Getty Images
The San Diego Chargers traded two first-round picks, a second-round pick and three-time Pro Bowl wideout Eric Metcalf to move into No. 2 position in the first round of the 1998 NFL draft. They were set to choose between Leaf and Peyton Manning, whomever the Colts didn't select first.
You know the story from there.
Leaf's lofty expectations made his poor play an even worse situation. He threw for two touchdowns and 15 interceptions in 10 games in his rookie season, foreshadowed his demise. He suffered a torn labrum in his second season, causing him to miss all of 1999. The following year, the Chargers went 1-15 and the team decided to release him.
He signed with the Cowboys in 2001, but that tenure was short-lived as well. In 25 games, Leaf completed 48.4 percent of his passes for 14 touchdowns and 36 interceptions. Some critics consider him the worst pick of any franchise in any sport in history.
Oakland Raiders: JaMarcus Russell, 1st Overall, 2007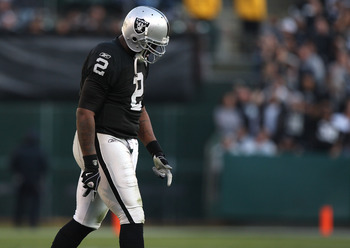 Jed Jacobsohn/Getty Images
JaMarcus Russell was the first overall selection in 2007. This offseason we heard the first reports of him making a comeback in the NFL. That should tell you a little about how well his career progressed.
Remember those clips of him launching the ball down the field from his knees in practice? Too bad that talent didn't translate well when other players were defending him.
His rookie holdout extended into Week 1 of his first season, and it was all downhill from there. Weight problems and questions regarding his work ethic plagued his short stint in Oakland. In three seasons, he posted a 65.2 passer rating.
Can he revive his career at this point? The Raiders probably don't care.
Kansas City Chiefs: Todd Blackledge, No. 7 Overall, 1983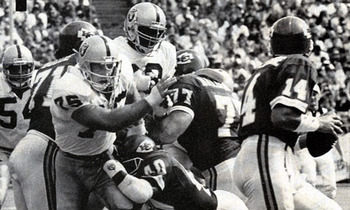 courtesy Oakland Raiders
The Kansas City Chiefs were wise to take a quarterback in the 1983 NFL draft. The only problem was they took the wrong one. Blackledge went No. 7 after John Elway was the first passer off the board.
After Blackledge? Just two Pro Bowlers by the name of Jim Kelly and Dan Marino. Tony Eason and Ken O'Brien were also taken later on and would ultimately have more successful careers than Kansas City's selection.
Blackledge started 29 games in five seasons with the Chiefs and two with the Steelers, throwing for 5,286 yards, with 29 touchdowns and 38 interceptions. His career 48.1 completion percentage might be one of the reasons his pro career didn't quite pan out.
Ask any Chiefs fan to identify the work pick in franchise history, and surely the majority will stick with Blackledge.
Washington Redskins: Desmond Howard, No. 4 Overall, 1992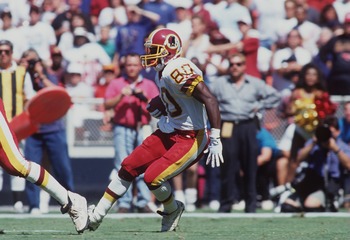 Jed Jacobsohn/Getty Images
Is it possible to call a Super Bowl MVP a bust?
Well, Desmond Howard is on the list, so it must be. He was drafted No. 4 overall by the Washington Redskins and made it just three years in Washington.
Howard's 99-yard kick return for a touchdown in the third quarter of Green Bay's 35-21 win over New England in Super Bowl XXXI in January 1997 was the final score of the game for either team. The Packers were already up a touchdown, but this was his brightest moment in the NFL.
Howard left the Redskins after 1994, having made only 66 receptions for 1,033 yards and no touchdowns in his three seasons with the team. And he was not even that productive as a kickoff returner, averaging 21.0 and 19.3 yards per return his first two seasons.
All of which was not exactly what the Redskins expected from a No. 4 overall pick?
New York Giants: Cedric Jones, No. 5 Overall, 1996
Ezra Shaw/Getty Images
Cedric Jones was blind in one eye, so his talents were only suited for the right side of the line. The Giants didn't know about his condition prior to drafting him No. 5 overall, though.
A hamstring injury limited his production as a rookie. The following year was a failure as well. Jones didn't become a starter until his fourth season with the Giants. By that point, his remaining time was limited.
Jones managed to record 15 sacks in his last three years, but he never played another snap after 2000.
The Giants passed up on players like Eddie George, Marvin Harrison and Ray Lewis to draft Jones. After Simeon Rice went off the board at No. 3, New York seemed bent on still finding a pass-rusher.
They should have passed.
Philadelphia Eagles: Kevin Allen, No. 9 Overall, 1985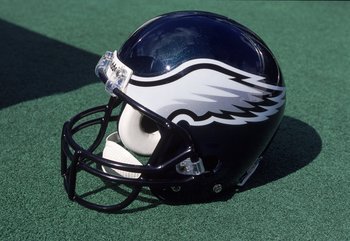 The Philadelphia Eagles reached for offensive tackle Kevin Allen in the Top 10, and they were regretting the move shortly afterward.
A contract dispute kept Allen out of a significant amount of training camp. When he finally played his first game, Lawrence Taylor made him wish he was still playing for the Indiana Hoosiers.
Allen made it through roughly half the season before being demoted to special teams. The Eagles ended up cutting him the following season, and shortly afterward Allen found himself facing charges of rape. He was convicted, according to the Philadelphia Inquirer, and spent three years in prison. Allen never played another snap in the league.
Former Eagles head coach Buddy Ryan is often quoted as saying that Allen was useful "if you want someone to stand around and kill the grass."
That is an accurate depiction of how badly Philadelphia missed here.
Dallas Cowboys: Billy Cannon Jr., No. 25 Overall, 1985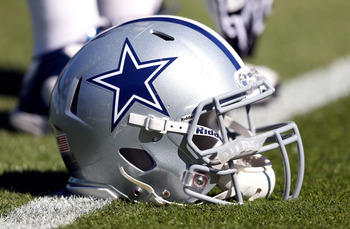 Streeter Lecka/Getty Images
The Dallas Cowboys have made some bad picks in the past, but deciding which was the worst was a tough call. Billy Cannon's career was about as brief as the run of Crystal Pepsi.
After suffering a spinal injury while making a tackle his first season, Cannon, who was a linebacker, would quickly walk away from football. His two damaged vertebrae paired with a case of spinal stenosis created the potential risk of paralysis.
Cannon was done after just one season.
David LaFluer also experienced a brief run with the Cowboys due to injury. Cannon, though, barely had enough time to see his name go on trading cards.
Green Bay Packers: Tony Mandarich, No. 2 Overall, 1989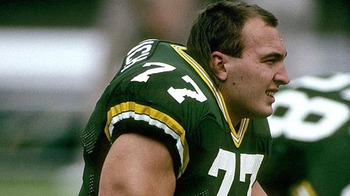 Sports Illustrated once published a cover that read "Tony Mandarich—The Best Offensive Line Prospect Ever." Let's hope Mandarich saved that magazine, because it was likely the last time anyone praised his play.
He was the first offensive lineman to make seven figures per season after holding out his rookie year. His career then spiraled out of control. He was cut by the Green Bay Packers after three years, and soon after faced issues with steroids, painkillers and alcohol. Mandarich went to rehab in 1995.
An attempted comeback with the Colts ultimately failed when he retired in 1998 due to a shoulder injury.
Minnesota Vikings: Dimitrius Underwood, No. 29 Overall, 1999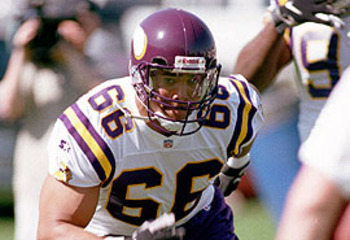 When a player doesn't return after the first day of training camp, it's nearly impossible to unseat him as a franchise's worst draft pick.
Dimitrius Underwood left Minnesota after one practice and never returned.
As he debated what to do with his life, Underwood considered entering Christian ministry. He was not cut out for football. Nick Saban, his coach at Michigan State, even expressed concern about Underwood's mental state heading into the NFL. The Vikings should have heeded his words.
Underwood ended up playing for the Cowboys for a few seasons , but psychological issues followed. His pro career ended in 2001.
Chicago Bears: Curtis Enis, No. 5 Overall, 1998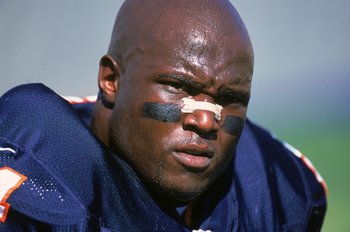 Jonathan Daniel/Getty Images
Curtis Enis was another running back plagued by injuries.
The No. 5 overall pick for the Chicago Bears in 1998, Enis' career spanned only three seasons.
An ACL injury cut his rookie year short, and he chose to retire in 2001 due to a degenerative knee condition.
Enis finished with 1,497 rushing yards and four touchdowns. The Bears simply had to stand by and watch their top pick walk away from the game.
Detroit Lions: Charles Rogers, No. 2 Overall, 2003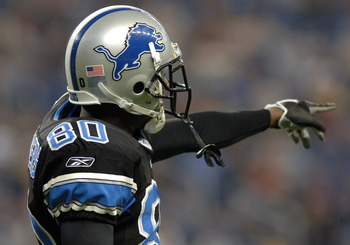 A. Messerschmidt/Getty Images
It's hard to believe Charles Rogers made so many headlines in such a brief period with the Detroit Lions. Drafted second overall in 2003, he lasted just three years in the Motor City.
Rogers caught 22 passes his rookie season before breaking his collarbone. After returning in 2004, he broke his clavicle again, sidelining him for another year.
Drug issues followed in 2005 and have persisted. He was suspended four games for a third violation of the league's substance abuse policy. The Lions released him in September of 2006.
With so much promise coming out of Michigan State, Rogers wasted his career and Detroit's No. 2 selection.
Atlanta Falcons: Aundray Bruce, No. 1 Overall, 1988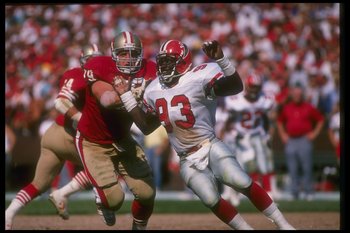 Otto Greule Jr/Getty Images
A star in the SEC at Auburn, Aundray Bruce was supposed to be a dynamic pass-rusher for the Atlanta Falcons. After being drafted first in 1988, he lasted four years in Atlanta.
Bruce started all 16 games his first two seasons, but his playing time dwindled after that. The Falcons tried using him at tight end as well. Concerns about his understanding of the playbook and mental lapses led to him leaving Atlanta in 1992.
He played for the Oakland Raiders until 1998, but Bruce was never a starter. The Falcons saw no return on their No. 1 overall investment.
Carolina Panthers: Rae Carruth, No. 27, 1997
Brian Bahr/Getty Images
Rae Carruth's story is one everyone in the Carolina Panthers' organization would like to forget.
After posting decent numbers his rookie season, he broke his foot in the 1998 opener and sat out until the next season. That's when history gets grim.
Cherica Adams, the woman Carruth was dating, was shot in a drive-by, and Carruth was convicted of conspiracy to commit murder. He's now in jail until 2018.
The Panthers couldn't have known anything like this would happen, so it's not a reflection on their operation. Still, it's one draft pick they wish they could take back.
New Orleans Saints: Russell Erxleben, No. 11 Overall, 1979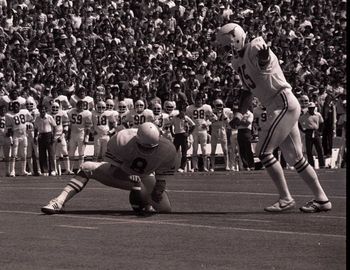 courtesy San Antonio Express-News
Remember the Jacksonville Jaguars getting flak for selecting a punter in the third round? The New Orleans Saints can easily top that.
New Orleans drafted Russell Erxleben at No. 11 overall because of head coach Dick Nolan's wish to take the kicker/punter.
The Saints had severely struggled in the kicking game the season before. However, Erxleben didn't even win the starting job his rookie year.
He finished 4-of-8 on field goals for his career. Erxleben made it four years as a punter, but that was the end of the line for him.
He still remains the highest-drafted kicker in NFL history since the AFL-NFL merger. Legal issues have followed him since. He was arrested in February for charges regarding an alleged Ponzi scheme.
Tampa Bay Buccaneers: Bo Jackson, RB, No. 1 Overall, 1986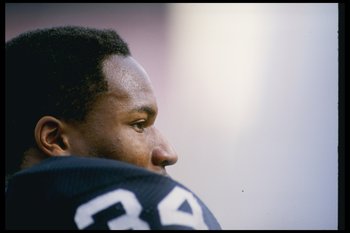 Mike Powell/Getty Images
What happens when you sink your first overall pick into a player who doesn't sign?
Bo knows.
The Tampa Bay Buccaneers were a mess back in 1986, and so were the theatrics as they attempted to sign soon-to-be-crazy-famous Bo Jackson after drafting him first overall. Jackson refused to sign, took up baseball and was drafted a year later by the Oakland Raiders, who got his few jaw-dropping seasons before injuries took their toll.
This might be the best player on this list (he was definitely the best athlete), but when you invest the first overall pick in a given draft in a player who never plays a snap for your team, you've done something quite wrong.
Jackson, of course, went on to become one of the most famous men in sports and Tecmo Bowl.
San Francisco 49ers: Rashaun Woods, WR, No. 31 Overall, 2004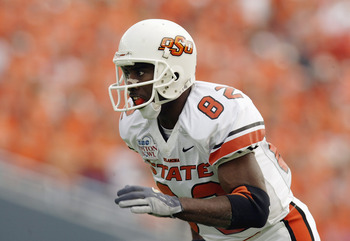 Ronald Martinez/Getty Images
Terrell Owens in his prime left a giant set of cleats to fill. Rashaun Woods couldn't even get his feet in them.
Woods was the 31st overall selection of the San Francisco 49ers in 2004, when the team was still excellent and looking to T.O.'s replacement to keep the good times rolling. Unfortunately for them, Woods was a colossal bust.
He caught just seven passes for 160 yards and a touchdown before the 49ers shipped him out of town. He tried to catch on with two other teams, failed, spent a little time in NFL Europa and the CFL, then moved on to coaching.
The 49ers, of course, fell apart shortly thereafter and only recently returned to relevance. Woods was part of the reason why.
Seattle Seahawks: Dan McGwire, No. 16 Overall, 1991
George Rose/Getty Images
Dan McGwire was pegged as the quarterback of the future for the Seattle Seahawks in 1991. He finished his career with five games started, two touchdowns and six interceptions.
That's not exactly what Seattle envisioned.
The Seahawks drafted Rick Mirer two years later, but after he went down with an injury, it was McGwire's time to shine again. Only, he didn't shine. At all. And that was the end of his Seattle career.
McGwire spent a year with the Miami Dolphins in 1995, and that was the end of his NFL career.
The Seahawks could have taken Brett Favre in Round 2 in that same draft.
St. Louis Rams: Lawrence Phillips, No. 6 Overall, 1996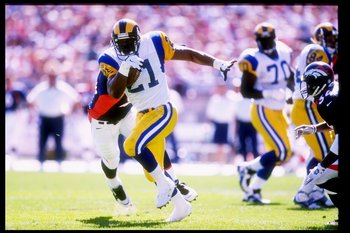 Brian Bahr/Getty Images
There were red flags about Lawrence Phillips during his college days with the Nebraska Cornhuskers. He was arrested for assaulting his girlfriend his junior year.
But the St. Louis Rams still felt comfortable taking him at No. 6 overall, and they paid the price, and I'm not speaking about his salary.
He continued to have off-field issues at the next level, even spending time in jail during his rookie year. After just two seasons with St. Louis, the team released Phillips. His NFL career never took, but his run-ins with the law followed him throughout his life.
The Rams also traded Jerome Bettis with the intention of replacing him with Phillips. Luckily, Marshall Faulk came along a few years later to salvage their mistakes.
Arizona Cardinals: Andre Wadsworth, No. 3, 1998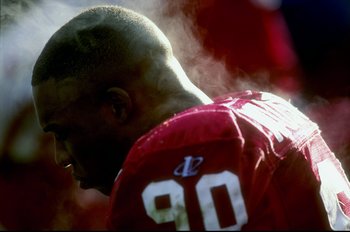 Harry How/Getty Images
Andre Wadsworth started his career with a holdout that lasted until the Arizona Cardinals' season opener. He played all 16 games his rookie season, but injuries started to take their toll in the following offseason.
After undergoing knee surgery, he was forced to miss significant time leading up to the 1999 season. Wadsworth underwent microfracture surgery after his third year, and that was basically the end of his career.
He tried a comeback tour in 2007, but the New York Jets released him in September. Wadsworth continued to feel like he was worth more than his body was capable of delivering after several injuries.
The Cardinals tried to sign him to a one-year deal in 2000, but Wadsworth didn't sign.
Keep Reading